Washington hoops standout Walker II starring for 3-0 Eagles football
Sep 21, 2022
Courtesy photo
Andre Walker II is known for making opponents look silly with a basketball in his hands. Last year, the quick-as-a-hiccup guard helped lead Houston Booker T. Washington to its first regional final since the early '90s, averaging 10.6 points, 6.2 assists, 4.1 rebounds and two steals per game.

This fall, though, Walker is also opening eyes as a big-time playmaker on the gridiron.
Playing football for the first time since middle school, the senior has been a huge addition for the Eagles, who are 3-0 for the first time since 1999. Walker, a starting receiver and kicker, has three touchdown catches in his last two games and connected on 16 point-after-touchdown attempts this season.
In all, he has 117 yards and three touchdowns on four catches, averaging 29.3 yards per catch, in three games heading into Friday's district game against Kashmere.
"I love it," said Walker, son of Houston ISD athletic director Andre' Walker. "I love playing with these guys. They make it fun. I really wish I had played football since I was a freshman. I really enjoy it."
Head coach Kelvin Chatham first approached Walker last year about playing football. The coach had seen what the 5-foot-9, 175-pounder could do on a basketball court. He was impressed with the young man's athleticism.
Chatham said Walker right away looked like he'd be a natural on the football field. It is not the first time he has converted someone from basketball to football. He did the same as an assistant coach at Aldine Nimitz a few years ago with Karl Reynolds, who was a star on the court for the Cougars, played football his last two years at Nimitz and is now the top receiver as a junior at Houston Baptist University.
"At first, I told Andre just come kick for me," said Chatham, aware that soccer was Walker's first love and a sport he excelled in through middle school. "After getting him out there, I said, 'Hey, you could play a little receiver, too. Can you catch the ball?' I got him that way, and he just kept wanting to learn more and more and more. Our first scrimmage, he was making plays. The rest is history."
Walker was enamored with the football team's work ethic and bond. The players seemed to always be working and having fun doing it.
Whenever the basketball team showed up to campus for summer workouts, the football team was leaving either the weight room or field.
"I really enjoyed what Coach was doing with the kids and how they were getting better," Walker said. "Coach is a dude who keeps it real with you. You see some of the transformation these kids have had. They have a lot of chemistry from being together every day putting in that work every day."
When Walker first went to kick during a practice, he'd look toward the other side of the field and see the rest of the players having a good time while working hard doing position drills and going through conditioning.
It was then he decided he wanted to be more than the kicker.
"I asked coach about playing a position. Any position," Walker said. "I just wanted to be with the guys. He put me at wide receiver. I knew I could do something productive to help them."
Walker has barely even sniffed his potential. He is still learning on the fly.
Being a senior and among the top of his class academically, Walker's class schedule is light this year. When he's not in class, he meets with Chatham, a former college receiver, and discusses the ins and outs of playing the position, like getting open, running routes and how to set up an opponent.
Chatham said Walker is a student of the game.
"Coach makes it simple for me," Walker said. "I'm still learning. Coach C has helped me big with my stance, my footwork, my burst, my routes. I've got raw talent, so right now it's just about keeping it simple and keep growing."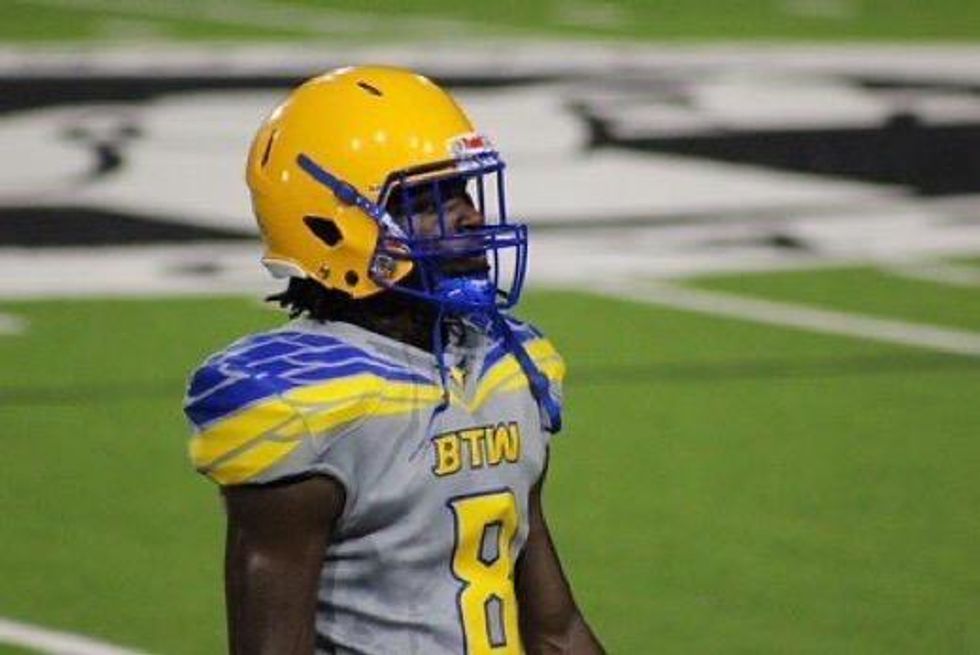 Houston Booker T. Washington senior receiver Andre Walker II.Courtesy photo
Walker said football will make him more aggressive, stronger and faster on the basketball court later this year. He also likes that he's able to help lead a different team.
"I was one of the leaders on my basketball team, so being able to come to another team and help lead is something I feel I can do and I'm having a lot of fun with," he said.
So much so that Walker is even entertaining a collegiate future in football. He is open-minded to playing either basketball or football at the next level. Ideally, he'd like to go to Prairie View. He's also interested in Texas and Houston.
"Either sport, really. It doesn't matter to me," Walker said. "I just want to get the opportunity to go to college. I don't know what will come out of this but hopefully I can get an offer.
"The main thing is winning district. Hopefully, we can get to the playoffs. It's been a while since we made it to the second round. But I just want to get better as a person, really."