Bradley Collier (Vype)
Following Fort Bend Christian Academy track's superb season in 2022, which was capped by the school's first TAPPS 5A title for the girls and a bronze finish for the boys, the Eagles' track program finally had the opportunity to put some Championship gold on their fingers last week.
The FBCA girls, headlined by now-sophomore Bayleigh Minor breaking school records and winning five gold medals at State (Long Jump, Triple Jump, 200 & 400 meters, and 4x400 meter relay), were finally awarded their State rings to commemorate their historic achievement.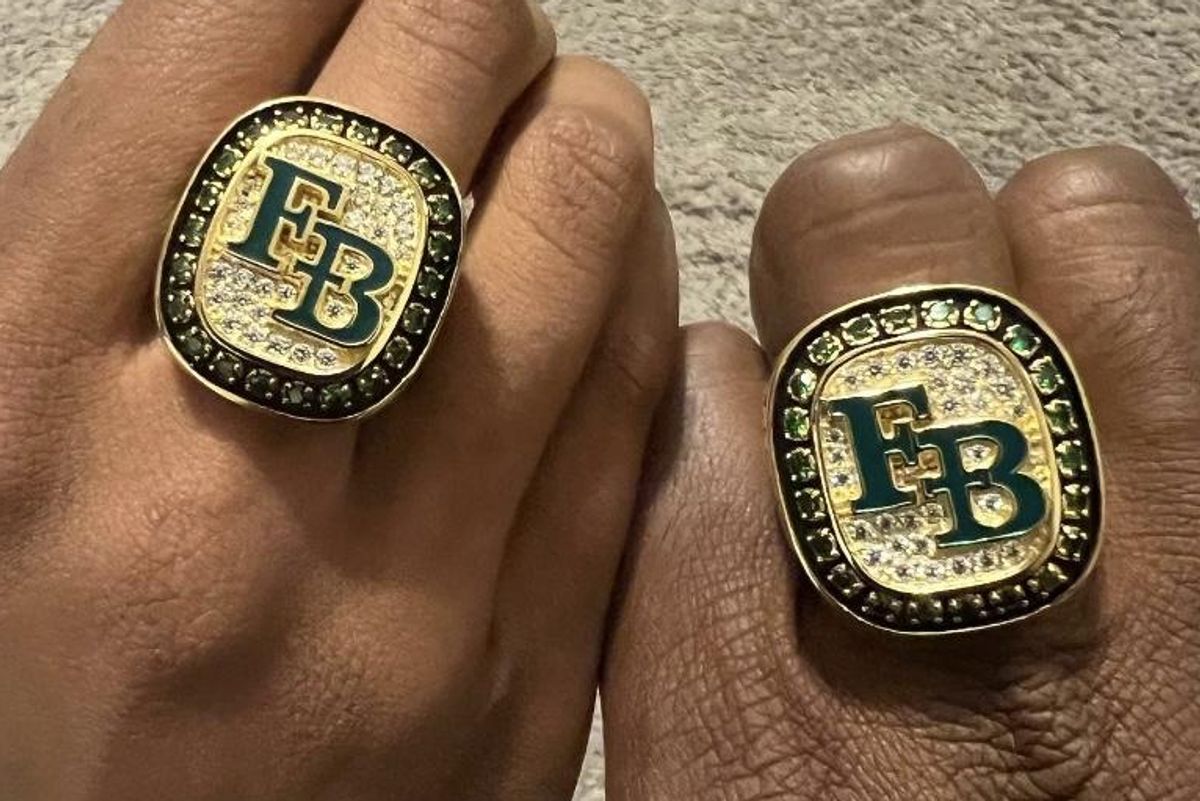 The FBCA Track State Championship rings, worn by Coach Deon Minor, and his daughter, BayleighPhoto acquired from Coach Minor's Twitter
"It was just one of those milestones that we had set out for at the beginning of the year," said track coach Deon Minor. "The goal has always been to win State. The girls knew if they worked together and continued to put the work in, they could get that major accomplishment. When I presented them with their rings, they were super excited and it was great to celebrate that."
The Eagles won the State Championship with 138 points, which could not have been achieved without coach Minor, convincing a few athletes to push their limits by competing in new events.
"I had a couple of missing pieces that stepped up last season," Minor said. "[Graduated senior] Bailey Hanner was one of our stud volleyball players and she ended up winning gold in the high jump. Even my daughter [Bayleigh Minor], I had to convince her to jump. We were trying to win State and needed those points and I knew she could do it. She really excelled to win both the long and triple jump. Some of those missing pieces were instrumental factors in our win."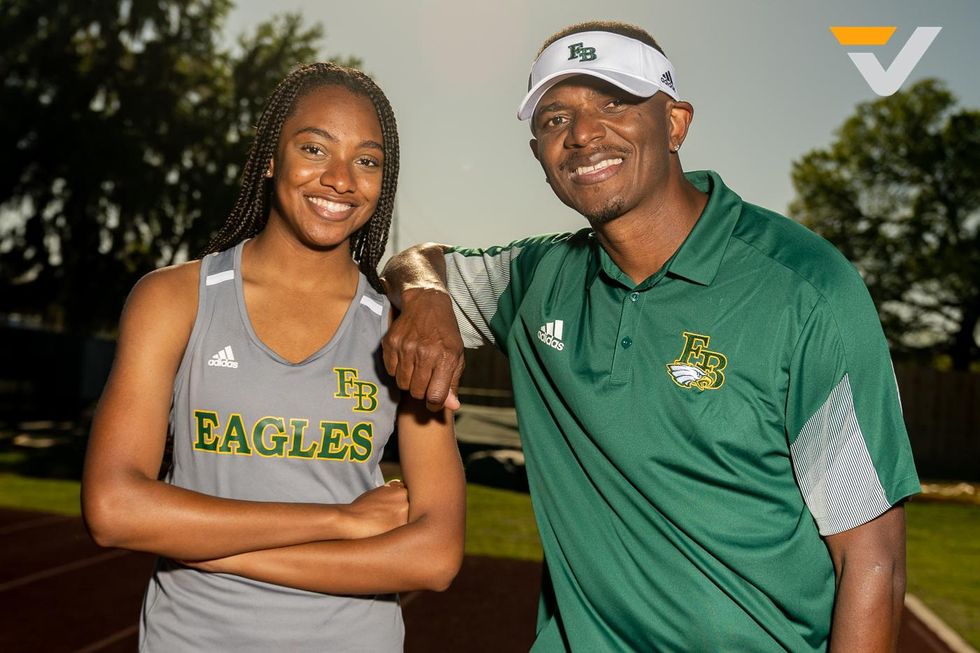 The '22 TAPPS State MVP, Bayleigh Minor, with her father, Head Coach Deon MinorBradley Collier (Vype)
Even though Minor and his team just celebrated last year's performance, they are already preparing for their upcoming season this Spring.
"They [his team] have been working hard," said Minor. "That's what they want to do, now. Once you get a taste of victory, you just want to try to do it again. We lost three seniors last year, but my girls are loaded. When I tell you that, you know that they're ready."
The TAPPS Track Championship will be here before you know it, so be prepared to hear about FBCA when that time comes. The Eagles track team will see to that.
Northwest ISD
After a tough season last year, the Trophy Club Byron Nelson Lady Bobcats soccer program is ready to get right to work and do whatever it takes to have a more positive season. Looking strong with a lot of chemistry, what can fans expect to see from the Lady Bobcats this season? VYPE DFW is here to tell you!
A Look Back
Last season, the Lady Bobcats had a less-than-ideal start that started to snowball as the season progressed. Unable to find the proper footing, the team finished their season with a 2-9-4 overall schedule (2-5-4 in district play) with a 6th place spot in their district's standings. The team worked hard and continued to show growth through many of their moments on the field and, despite their record, they were able to pull of victories over Keller Fossil Ridge and Keller Central.
What's to Come
With a new season ahead, the Lady Bobcats are looking strong and have continued to build chemistry on the field. After opening their season with a tough 4-0 loss against Flower Mound Marcus, Byron Nelson was able to fend off Lubbock Coronodo to finish in a 0-0 tie before recording a 4-0 victory over Grapevine.
Led by Nadia Ortiz, Grace Berry, Shelby Erskine, Rachel Raper, and more, the team is looking sharp and can be expected to continue on the up trend they are on. Their first game of the new year will be in a tournament where they will face off against Lubbock Cooper- looking to show everything they have - on January 12th. From there, the team will continue to finish their non-district schedule and prepare themselves for district play. Fans can certainly expect a better season. This squad is strong and has a drive to be great! Be sure you catch the team in action!
The Lady Bobcats will open district play at home against Keller Fossil Ridge on January 24th at 6:30 p.m.
Northwest ISD Athletics
After a strong season last year, the Byron Nelson Bobcats are looking to get right back to where they left off. VYPE DFW takes a dive into the program and lays out exactly what fans can expect from the Bobcats as they enter their new schedule!
A Look Back
Last season, the Bobcats posted a 63% winning percentage as they plowed through their schedule with a 12-7-1 overall record. In preseason play, Byron Nelson posted great victories over the likes of Austin Westlake, Arlington Lamar, South Grand Pairie, and more before opening district play. In district, the team defeated Southlake Carroll, V.R. Eaton, Keller Fossil Ridge, and more to finish third in their district with a 7-4-1 district record. Entering playoffs with high hopes to continue forward, the Bobcats fell in a hard-fought 3-0 match against Euless Trinity.
What's to Come
The team opened their season with a 2-1 victory over the Frisco Raccoons earlier this week. Led by Brenden Ferguson, Jorge Morales, Logan Jones, Jackson Tibbitts, Pierce Dahlin, and more, the Bobcats are ready to get the ball rolling through the rest of their schedule. Through non-district play, the team is set to face off against Sachse, Red Oak, Little Elm and more before opening district play in Keller against Keller Fossil Ridge on January 27th.
The Bobcats can be expected to play hard this season. With speed on their side and a dedication to the game, Byron Nelson should have no problem working through their district schedule and making another playoff appearance- this time going further than last year. Show up to games and get loud because this is a squad you aren't going to want to miss on the field this season!
The team's next game is January 5th at 4 p.m. in a tournament where they open against Sachse.
Join the #VYPETEAM
Get up to date news from all over the country!