The Greater Houston area is loaded with elite talent in every sport. Welcome to the VYPE Playmakers, powered by UTMB Health, where we highlight five student-athletes making a difference on the field or track.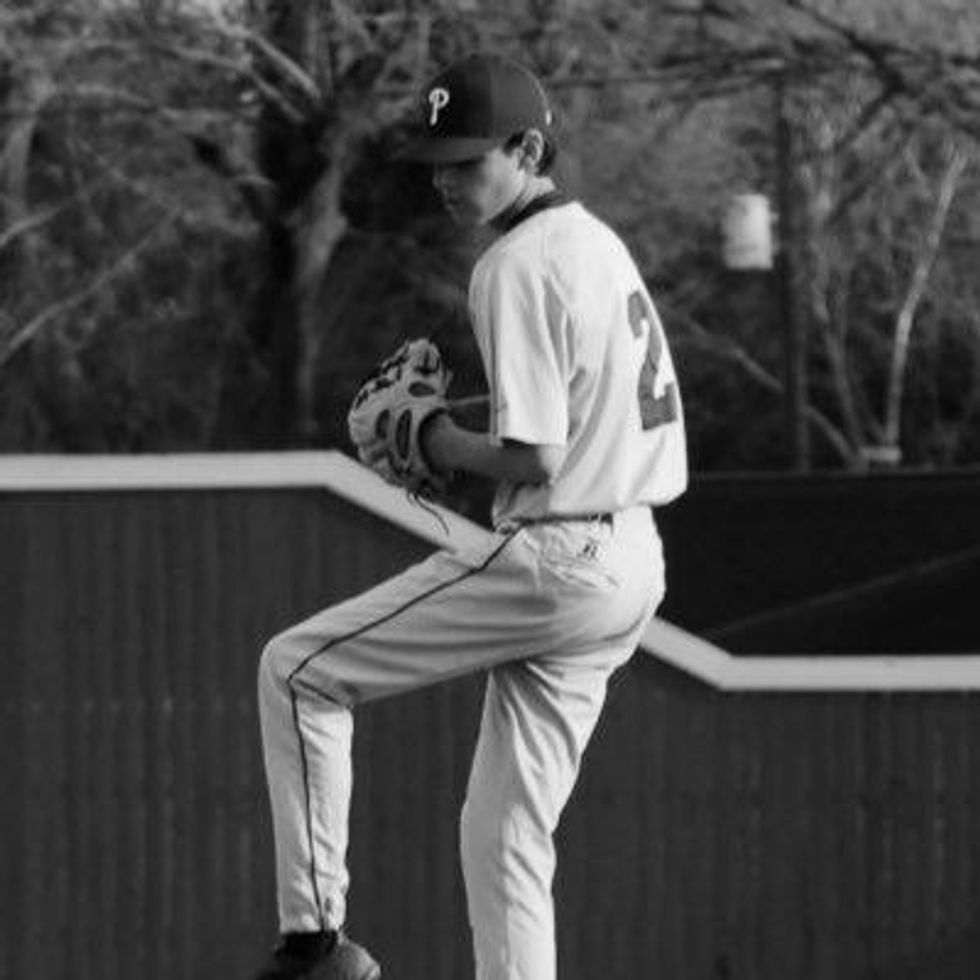 Pearland senior Logan Scott.Courtesy of Logan Scott social media
>> Logan Scott, Pearland, baseball
Scott drove in two runs for the Oilers in their 6-2 Class 6A regional quarterfinal win over Clear Creek last weekend to advance Pearland to the regional semis. The senior infielder has been steady for the Oilers all season, hitting .264 with 23 RBIs. He is dynamic with the glove, with only five errors in 68 chances in the field. Scott has turned seven double plays this season and boasts a .926 fielding percentage.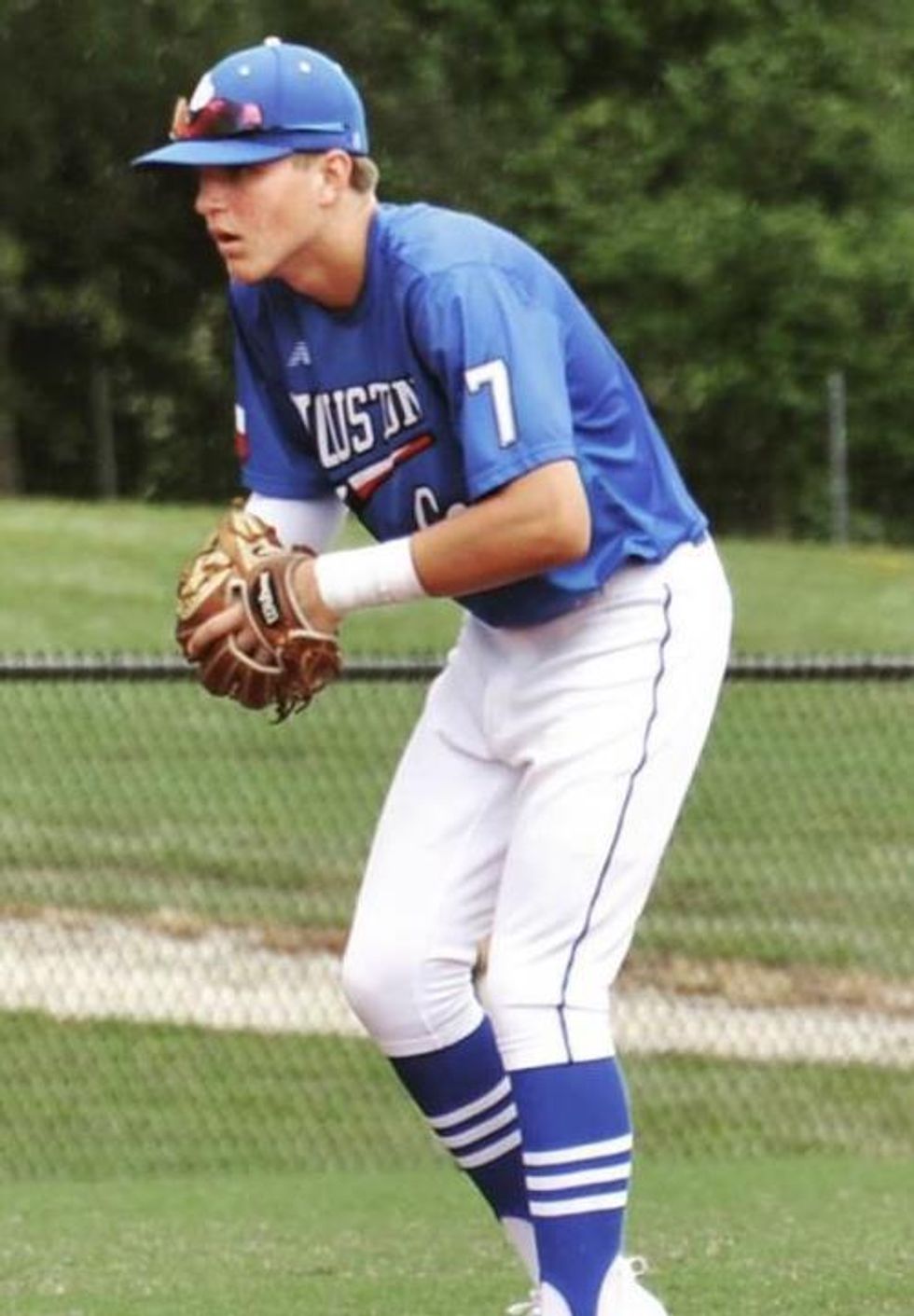 Friendswood junior Collin Goolsby.Courtesy of Collin Goolsby social media
>> Collin Goolsby, Friendswood, baseball
Goolsby came up clutch in helping the Mustangs sweep Crosby in their Class 5A regional quarterfinals last weekend. In the decisive 4-1 Game 2 win, Goolsby went 2-for-3 with a triple and two RBIs to pace Friendswood. The night before, Goolsby was even more electric at the plate in a 12-0 Game 1 win, going 2-for-4 with a home run and four RBIs. The junior is a Houston Baptist University commit.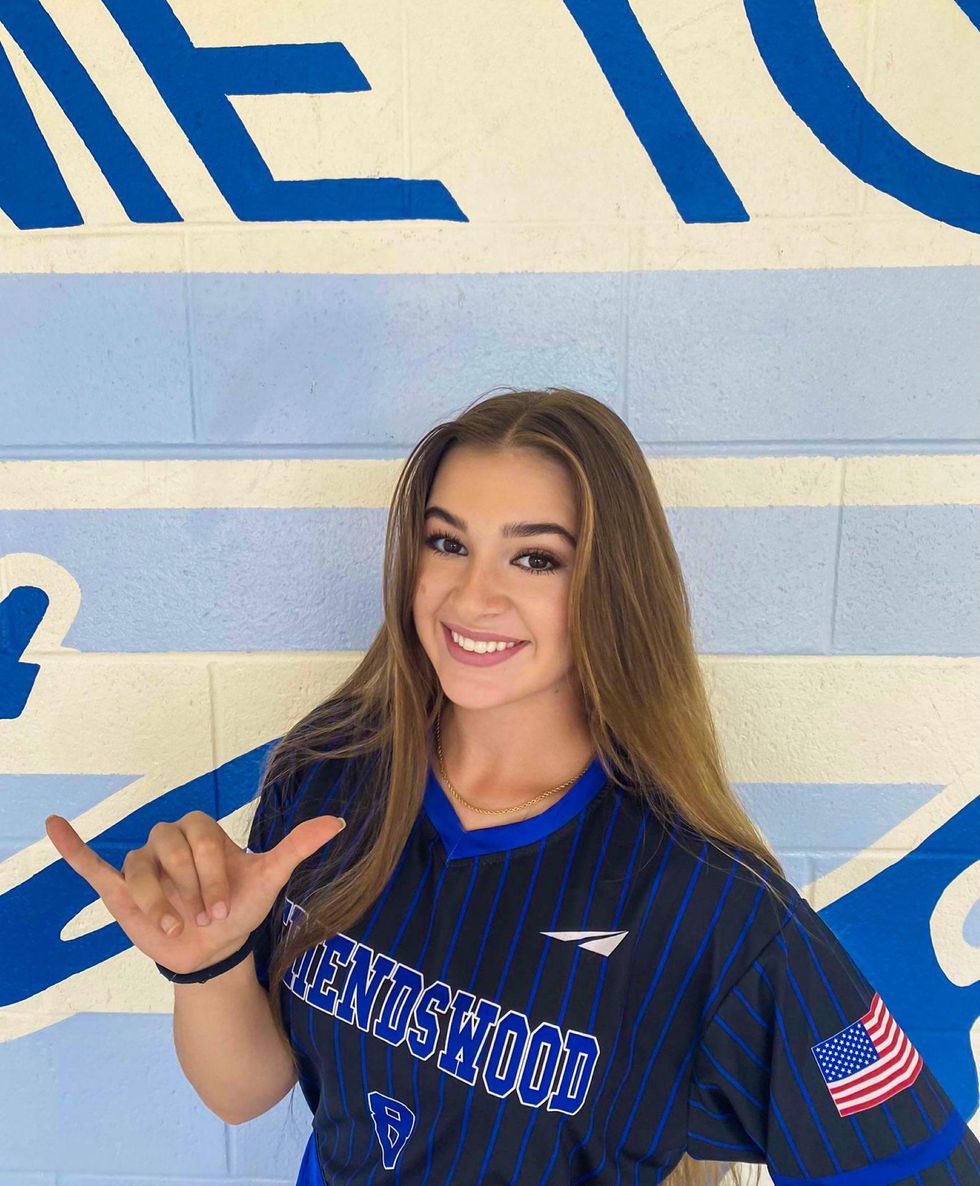 Friendswood sophomore Baileigh Burtis.Courtesy of Baileigh Burtis social media
>> Baileigh Burtis, Friendswood, softball
Burtis had an outstanding sophomore campaign, helping lead the Mustangs all the way to the regional semifinals before falling to No. 1 state-ranked Lake Creek last week. Burtis hit .413 with 32 RBIs and three home runs. She led the team in hits with 52 and had a .456 on-base percentage. Burtis and Friendswood will be a premier threat once again in Region III-5A next season. The Mustangs only graduate two seniors.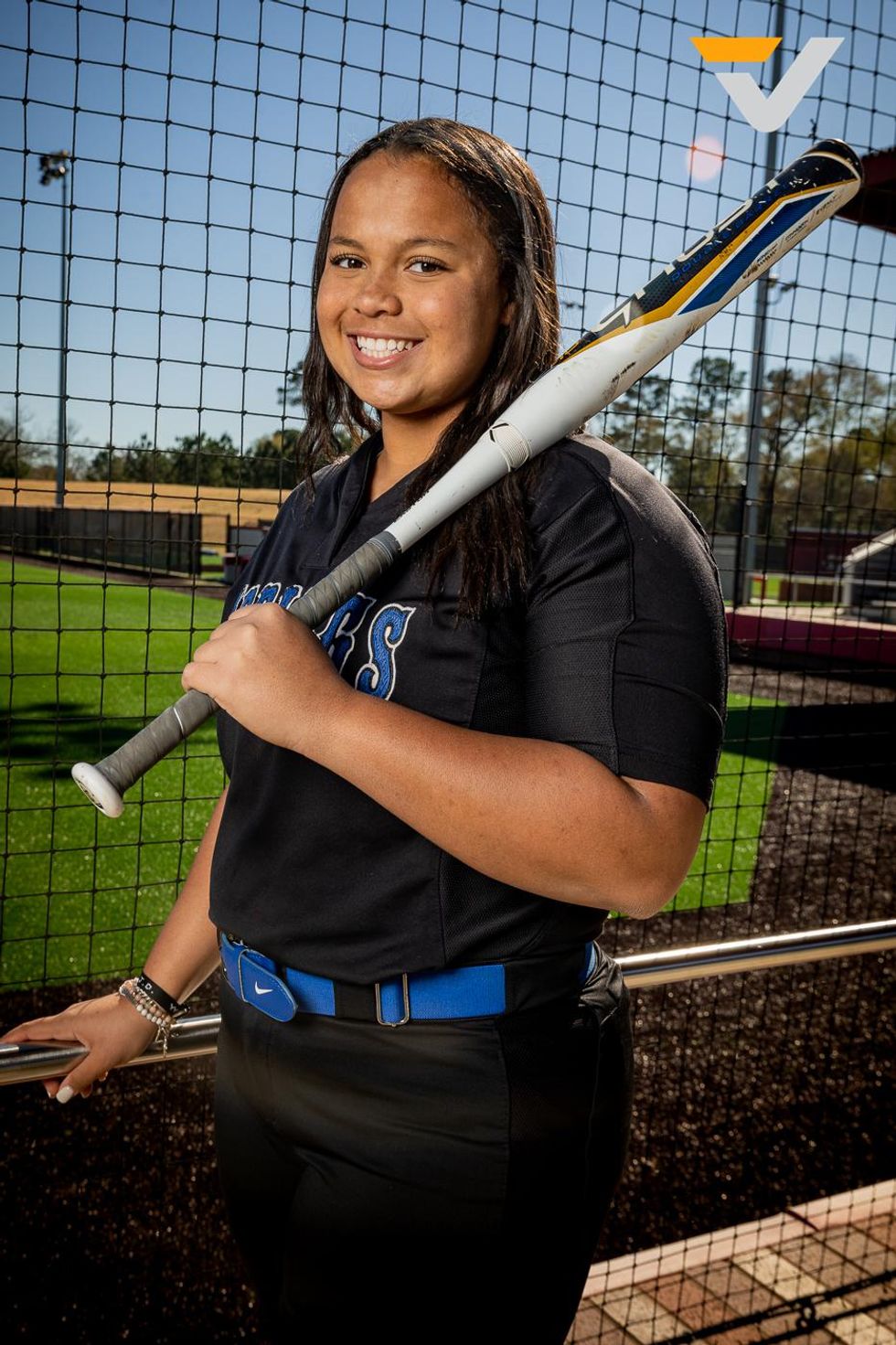 Clear Springs junior Anna SolesVYPE Media
>> Anna Soles, Clear Springs, softball
Soles was central to an impressive 2022 season for Clear Springs, which went 28-6, won the District 24-6A title and made it to the regional quarterfinals. Soles hit .417 with 29 RBIs and led the team in hits with 40. The junior had a .500 on-base percentage and as many walks as strikeouts (13). The Kansas commit was perhaps even more spectacular in the circle, going 7-2 with a 1.55 ERA and allowing 11 earned runs in 49 2/3 innings,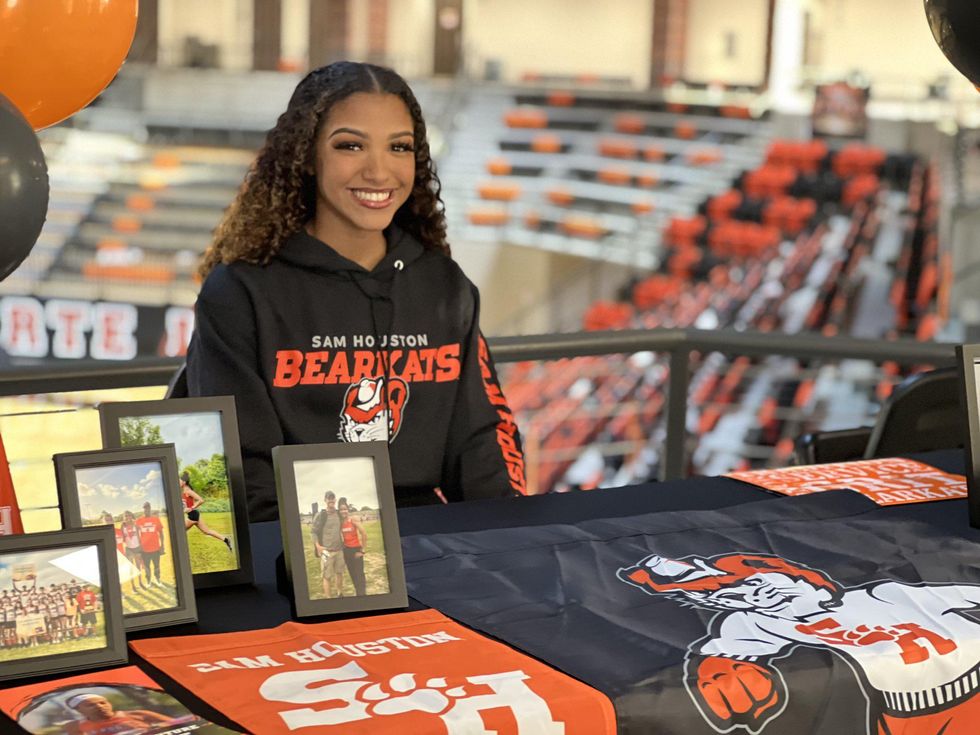 La Porte senior Naomi Green.Courtesy of Naomi Green social media
>> Naomi Green, La Porte, cross country/track and field
Green was a dominant force on the track and course in 2022, resulting in a scholarship to run for Sam Houston State University. In cross country last fall, Green finished second at the district championships and seventh at the regional championships to qualify for state. Her personal record in the 5000 meter run is 19:15.00. This spring, on the track, Green finished fifth in the 3200 meters run at the regional meet and 10th in the 1600 meter run at the regional meet. She has PR marks of 5:27.59 and 12:07.35 in the 1600 and 3200, respectively.
Our specialists recognize the importance of being able to maintain an active lifestyle and whether you're looking to address a joint injury, receive prompt treatment for a concussion, or simply improve your overall athletic performance, UTMB Health Orthopedics Sports Medicine is here to help.
Hockaday Athletics
Hockaday athletes have been building quite the legacy for the athletics department over the course of a few years. Most recently, the Daisies Lacrosse team won the 2022 SPC Lacrosse State Championship in an exciting matchup to mark their third state title (2018, 2021, 2022) under the same head coach- Molly Ford Hutchinson. VYPE DFW was given the opportunity to interview Coach Hutchinson and some of the athletes following their title victory!
To read the interview, become a VYPE Insider today!
History of Excellence
The Hockaday Daisies Lacrosse team has made state appearances all six years that Coach Hutchinson has been at the reigns. While some might think keeping a team focused on a common goal throughout the off-season, coach Hutchinson believes that one of the main reasons the athletes remain in focus even through the off-season is that the majority of them are multiple-sport athletes. "Many of our athletes are multi-sport athletes which gives them the opportunity to play other sports, develop a field sense, hand-eye coordination, and a deeper IQ of team sports," Hutchinson said. "We start mid-February so the season is quick for us and the girls are focused the entire season. The coaching staff and team have an expectation to be playing in the SPC and State Finals every year."
With high expectations, the mantra of "We Are One," and the drive to be great, the team has been able to post several successful seasons. Many people might wonder what has been the secret for Hockaday Women's Lacrosse. "We meshed really well on and off the field," said Hutchinson. "You can feel the camaraderie and energy every day at practice. We also had depth on our bench. We run two midfield lines which keeps us fresh throughout the game. We also had freshman that were big contributors to the team."
Strong Seniors
Hutchinson acknowledged that the freshman class made big plays throughout the season, but also added that the senior class was extremely special. "[The seniors] were selfless and wanted what was best for the team," Hutchinson started. "We had one of the top players in Texas on our team- Minje Kwun. She has dominated for the last three seasons and has made a significant impact on the program. Landry Grover was a workhorse in the midfield for us and our defensive backbone. She will be heading to Denver next season. Anna Gum, will also be heading to play in college at Hamilton. She is our ground ball queen and was always a consistent player for us."
VYPE was given the opportunity to talk to two of those seniors (Grover and Kwun) before she focuses on the next chapter in her career. "Wearing the Hockaday jersey is one of the best parts of stepping on the field," Grover told VYPE. "It means playing for a school that really cares about female success in sports and a coach that pushes us to exceed the Texas Lacrosse standard. That is was Hockaday Lacrosse is all about. I'm very proud to call myself a Daisy."
Kwun went on to add her feelings about playing for Hockaday: "Our coaches- Coach Molly, Coach Morgan, and Coach Posie are the most thoughtful and intelligent people, so I feel very lucky to have learned from them. Also, our athletic director- Coach Surgi- and Hockaday athletics truly cares for each student-athlete, so it was amazing to represent the program."
Making Memories through Big Accomplishments
Any coach or athlete will tell you that with each season comes new goals, new accomplishments, and new memories. For coach Hutchinson, some of her favorite memories come from state title victories. However, if you were to ask her what some of her favorite memories have been outside of winning championships, it comes down to using time to bond with the team even on trips while contributing to their winning record. "Our California spring break trip [was a favorite memory from this season]," Hutchinson told VYPE. "We played Torrey Pines, La Jolla, and Coronado. This was great momentum for us heading into the second half of the season."
The little moments have truly paid off in big moments and the way the team has battled through each moment has shown a lot of growth for the Hockaday Daisies. With growth comes the ability to accomplish huge things on and off the field. "The seniors had never won a SPC Championship and that was huge for them," Hutchinson said in regards to what she felt was one of the biggest accomplishments on the season. Aside from winning state, though, Hutchinson believes another big accomplishment came on the California spring break trip where the team was able to go 3-0 out of state at the beginning of the season.
"I knew this team was going to be very special," Hutchinson told VYPE. "After winning in 2021 with a very good team, adding eight impactful freshman to the mix, plus the growth of our veterans was going to make this team even deeper."
The Weight of State
Each athlete has a goal in mind when they step onto the field before each game. For the Daisies, winning SPC state has meant a great deal for the athletes on the team. Kwun talked a little bit about what winning meant to her. "Winning state this year has been one of my favorite memories of my life so far. Playing with my teammates for one last time and making our coaches and Hockaday proud was the best feeling ever."
"Winning state definitely gives you the title of being the best in Texas, but for me it really just celebrates the amound of work we put in during the season and allows us to put Hockaday lacrosse on the map," Grover added.
Freshman Mae Flanagan also spoke about what winning state has meant for her. "It's super special, especially with this team, because we are definitely like a family. After all the hard work we put in all season, it was the perfect close. I think it also set a precedent for our next three seasons and will be our motivation to do the same next year."
Sophomore Riley Damonte added her emotions about winning state: "To me, winning state reflects the team's hard work that was put into this season. All the practices that ran long and infinite hundreds led us to this moment. It feels like a well-deserved title for all the work we put in."
In The Zone
To win state, athletes have to be focused as well as have a common goal. Kwun, Grover, Flanagan, and NAME outlined what the tone of the entire state game was like for VYPE:
"Our coaches set the tone before the tournament began," Kwun told VYPE. "They told us to play smart, support each other, and to never change our game plan based on our opponent. I believe we maintained this tone through the weekend during the semifinal and championship games."
Staying focused was a key part in winning state, according to Grover. "We really just focused on playing Hockaday lacrosse. We knew we had all of the tools to succeed, but we had to go out in the tournament with the mentality to get points up on the board and to not let our opponent get close to us. We like to use the phrase 'PTM' which means 'pedal to the metal' as well as 'protect the meadow' and that's what we did throughout our season."
"In our game against Flower Mound, we let them come back a bit at the end. During the championship game, I think we raised our intensity towards the end to prevent the same thing from happening. Our mindset coming in was to play Hockaday lacrosse and if we played our game, we would come out with the win. I think we ended up playing one of the most cohesive games of the season. Everyone on the field felt confident and supported by their teammates. The only thing we adjusted were our draws- we used different draw takers and sent the ball to various spots to gain possession throughout the game," Flanagan told VYPE about the tone throughout the state tournament.
Damonte also spoke about the tone on the field. "Going into the game, the whole team was very excited and ready. That energy translated right onto the field. During the game, we all remained very positive and continued to support each other as that was something we had been working on for the entire season. Some of my favorite memories this season were right after goals were scored and I think that speaks to our positive tone on the field. I think it's important to remind your teammates to stay positive because if they do, it has a direct impact on their game."
The direct impact Damonte speaks of is evident in such a strong team who not only is strong enough to win championships, but also to forge bonds with each other that are not easily shaken nor broken.
Learning from the Athletes
As much as athletes learn from their coaches, any good coach will tell you that their athletes have a fair share of lessons that they- in turn- teach the coaches. For Hutchinson, that lesson has been about hard work. "Hard work pays off; working on your craft is key to being successful and the best player on the field. They have taught me that this concept is not dead."
Hockaday's Impact
After the seniors had their chance to outline what playing for Hockaday has meant for them, Flanagan and Damonte were given the chance to tell VYPE what donning the Hockaday jersey means to them as athletes who will be reutning to the field:
"Playing for Hockaday is about so much more than just lacrosse," Damonte told VYPE. "It has allowed me to make amazing friends who I love spending time with and who I really treasure. Hockaday Lacrosse is more than just a team, we are a family and there is not one person on the team who I dislike. Additionally, playing for Hockaday allows me to play with the best players in Texas which is so amazing because every day I push myself to compete with my teammates."
"I think the whole team agrees that we would all not be where we are without the Hockaday coaching staff and Lacrosse program," Flanagan started. "They are the best coaches anyone could ask for. My family has a long history at Hockaday, so representing them while playing lacrosse has been the highlight of my year."
Focusing on What's To Come
The off-season is a time to sharpen skills. Since the team is comprised of many athletes who continue to play outside of the school's team, Hutchinson is confident that they will keep their skills topnotch for next season. "Many of our players play club lacrosse so they continue to keep their sticks in their hand. They are also dedicated to off season training in the weight room which makes a huge difference. We also have athletes that are playing other sports outside of lacrosse which helps us build an all around athlete.
True
Courtesy of Sutton Hull
Sutton Hull is the only underclassman in Katy High's everyday lineup. It's tough to tell, however, with how well Hull is playing in these playoffs.

The Tigers are 29-7 and in the regional semifinals for the first time since 2009. A big part of their 6-0 romp through the postseason so far is Hull, a sophomore outfielder hitting in the middle of the order, batting .421 (8-for-19) with five RBIs, four doubles and three runs.
"The key for me has just been to not let the moment get too big," Hull said. "The atmosphere has been electric for the entire playoffs. I've just been trying my best to not get caught up in all the craziness and focus on the end goal. I always try to keep my mindset the same, whether I'm in a slump or hitting well."
Hull said his biggest improvement throughout the season is maturity at the plate. Early on, he said he was too anxious while hitting and struggled to stay disciplined.
"I take a deep breath before every pitch of every at-bat," he said. "Whenever I'm in a bigger at-bat, I take a deeper breath. It also helps to have great hitters behind me that will get the job done if I don't. Being able to trust the people behind me takes a lot of pressure off my shoulders."
Hull has worked tirelessly to adjust his timing so he can better hit breaking pitches, something not many pitchers had successfully in their arsenal while he was on the sophomore team last season.
He broke onto the varsity scene in dramatic fashion. In his first at-bat in a tournament game in late February, Hull drilled a pinch-hit, walk-off three-run home run.
"It was a huge confidence-booster," Hull said. "It showed me I could compete at the varsity level and set me up well for the rest of the season. It gave me the confidence to hit in any game scenario."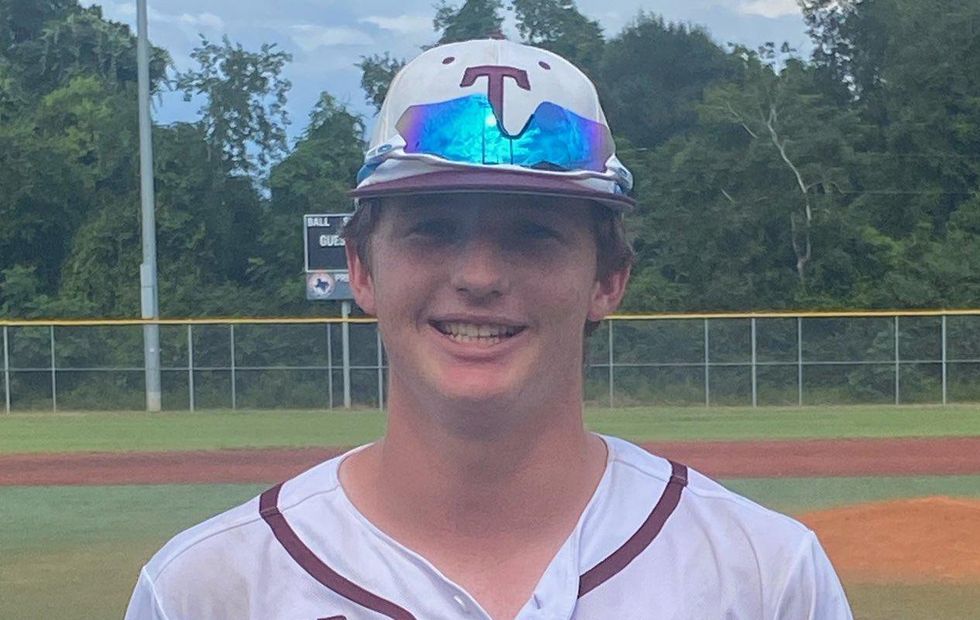 Katy High junior Sutton Hull.Courtesy of Sutton Hull
Hull credits his strong debut season to the many upperclassmen who have taken him under their wing.
Junior Graham Laxton has been crucial. Laxton was in the same spot last year that Hull is in now; a sophomore on a veteran-laden club with great expectations.
Junior Nayden Ramirez offers encouragement and timely pointers about the game. Junior Reese Ruderman looks out for Hull. Senior Jhonnatan Ferrebus is a leader by example; because of him, Hull has learned the importance of playing every play with passion and energy. Senior Dominic Melchor is always there to pep up Hull after a bad game.
"Everyone on this team has welcomed me and influenced me in so many ways," Hull said.
Pitching and defense are the backbone of Katy's success this postseason. Juniors Lucas Moore and Caleb Koger have been lights-out on the bump. Ramirez and senior Parker Kidwell headline a stingy defensive infield.
It's also no coincidence that the Tigers are enjoying their best playoff run in 13 years in coach Tom McPherson's final year at the helm.
"I think Coach Mac's retirement has made us want to win even more," Hull said. "He's had such an amazing career and we all want him to go out on a good note. He has taught me so many different things about baseball and life. He has helped me become mentally stronger, which has helped a lot in the playoffs."
True
Join the #VYPETEAM
Get up to date news from all over the country!