VYPE Austin/San Antonio Helmet Stickers: Week 10 (11.2.22)
Nov 02, 2022
Welcome back to another edition of VYPE Austin/San Antonio Helmet Stickers for the 2022 Texas High School Football season.
There were tons of amazing performances last week across the Central Texas. We compiled all of those top performances in the VYPE Austin/San Antonio Football Player of the Week Fan Poll - CLICK HERE TO VOTE - but then we boiled that down to what we felt were personally the Top 7 performances of the week
These are Week 10's Helmet Sticker selections (in no particular order).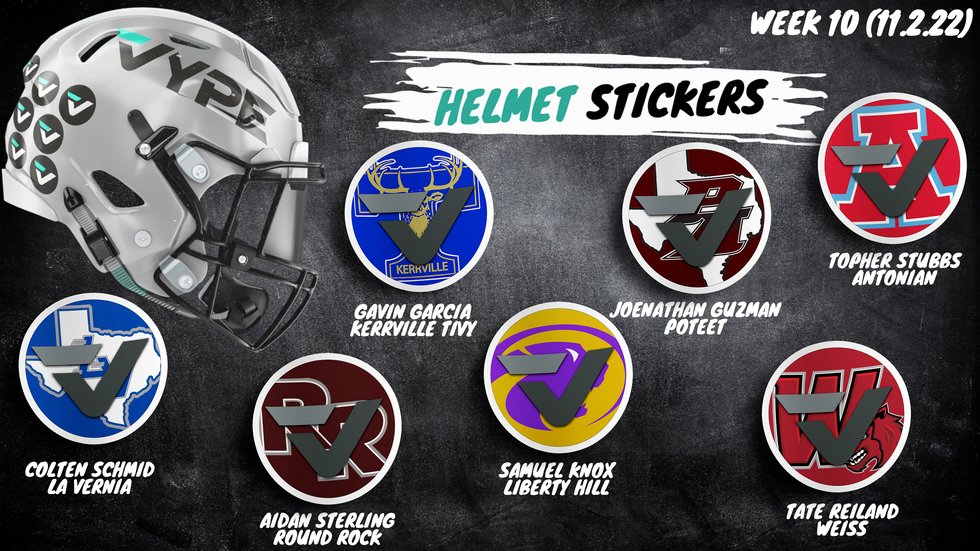 COLTEN SCHMID-LA VERNIA
Colten was integral in La Vernia's 28-27 win over Beeville Jones on Friday compiling 157 yards on only 4 receptions with 2 of those being touchdowns. He also added 60 yards on returns to help set up La Vernia with good field position.
AIDAN STERLING-ROUND ROCK
Round Rock is on it's way to a second place finish after their 48-21 win on Friday over Cedar Ridge. Wide Receiver Aidan Sterling accounted for 142 yards and 4 Touchdowns on only 7 receptions in the contest.
GAVIN GARCIA-KERRVILLE TIVY
Kerrville set it self up for a winner takes 2nd place in district in this weeks contest with a 35-31 win over Veterans Memorial last week. Gavin Garcia was unstoppable on the defensive side accounting for 20 tackles, 1 sack and 3 tackles for loss against the Patriots offense.
SAMUEL KNOX-LIBERTY HILL
The Panthers have kept up their dominant season with a 61-7 win over Bastrop last week. While the offense usually gets all the love with the legendary slot-t scheme, Samuel Knox shut down Bastrop's offense Friday. Knox had 15 total tackles, 2 tackles for loss, and 1interception that he returned for 50 yards.
JOENATHAN GUZMAN-POTEET
Talk about a dominating performance. In their 23-9 win over Crystal City JoeNathan Guzman had 14 tackles, 4 tackles for loss, 1 forced fumble and probably the most impressive stat at all......7.5 sacks!!!!!
TATE REILAND-WEISS
Weiss secured its playoff spot last week with a 49-21 win over Midway. Quarterback Tate Reiland was impressive in the win going 19/27 for 301 yards and 5 touchdowns in the win.
TOPHER STUBBS-ANTONIAN
Antonian set itself up with a winner take all district championship with St. Thomas this week after their 27-14 win over Concordia Lutheran this week. Topher Stubbs did it all for the Apaches in their win carrying the ball 17 times for 139 yards, having 54 yards receiving and 1 touchdown on 3 receptions, 3 total tackles and 1 sack.