VYPE ATX/SATX Football and Volleyball Rankings Week of 8.29
Aug 29, 2022
It's the time for our updated Volleyball and Football Rankings. How do things stack up after 1 week of action of Football? And how about Volleyball as we get ever closer to district play? Scroll down to find out.
** Records come from maxpreps unless otherwise noted.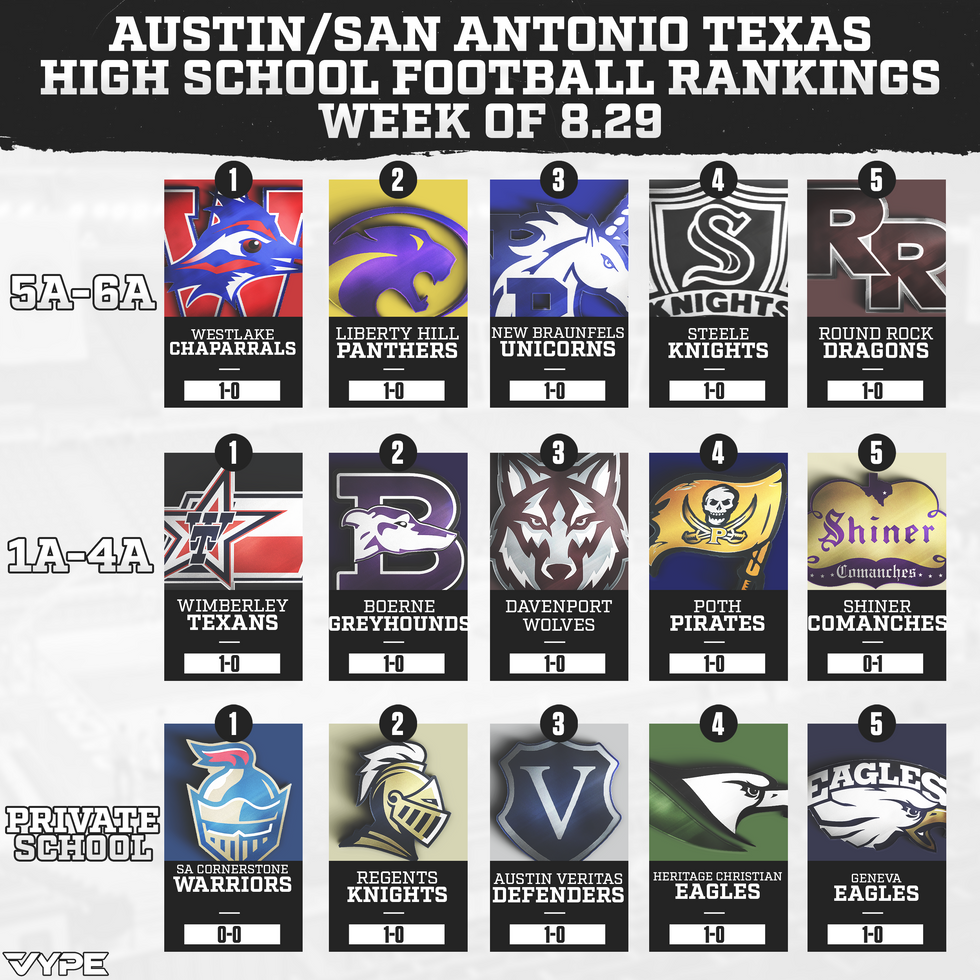 5A-6A: There was some great action in Week 1 of the Texas High School Football season. This Top 5 may have been the hardest of the bunch. So many teams could be in these slots. One of the most surprising victories came from the Unicorns win over Denton Ryan. That win sees them jump to the 3 spot in this weeks rankings. Falling out is Lake Travis after their loss to Arlington Martin. While Bo Edmundson might not have played in this game, their defense looks like it could be something that needs fine tuning as the season professes. Westlake started slow but finished with a bang against Ridge Point and will face a Judson team that is coming off a thrilling win against San Antonio Johnson.
On the Outside Looking In: New Braunfels Canyon, Anderson, Dripping Springs, Bowie, and Manor
1A-4A: Wimberley takes over the top spot after Shiners loss to Hallettsville, though Shiner still stays in the rankings. Davenport also moves into the rankings for the first time after the Week 1 victory over Victoria West. Shiner, as mentioned above, gets a little grace and stays in the rankings but will need a win this week to stay there.
On the Outside Looking In: Floresville and Marble Falls
Private School: While Cornerstone didn't play this week we still kept them in the number 1 slot. While we could have moved them for not playing we decided to keep them there until they at least play a game. Regents looked impressive in their win against Central Catholic and Geneva sneaks in at 5 with their win over St. Michael's.
On the Outside Looking In: St. Stephens, St. Anthony, TMI and Hyde Park.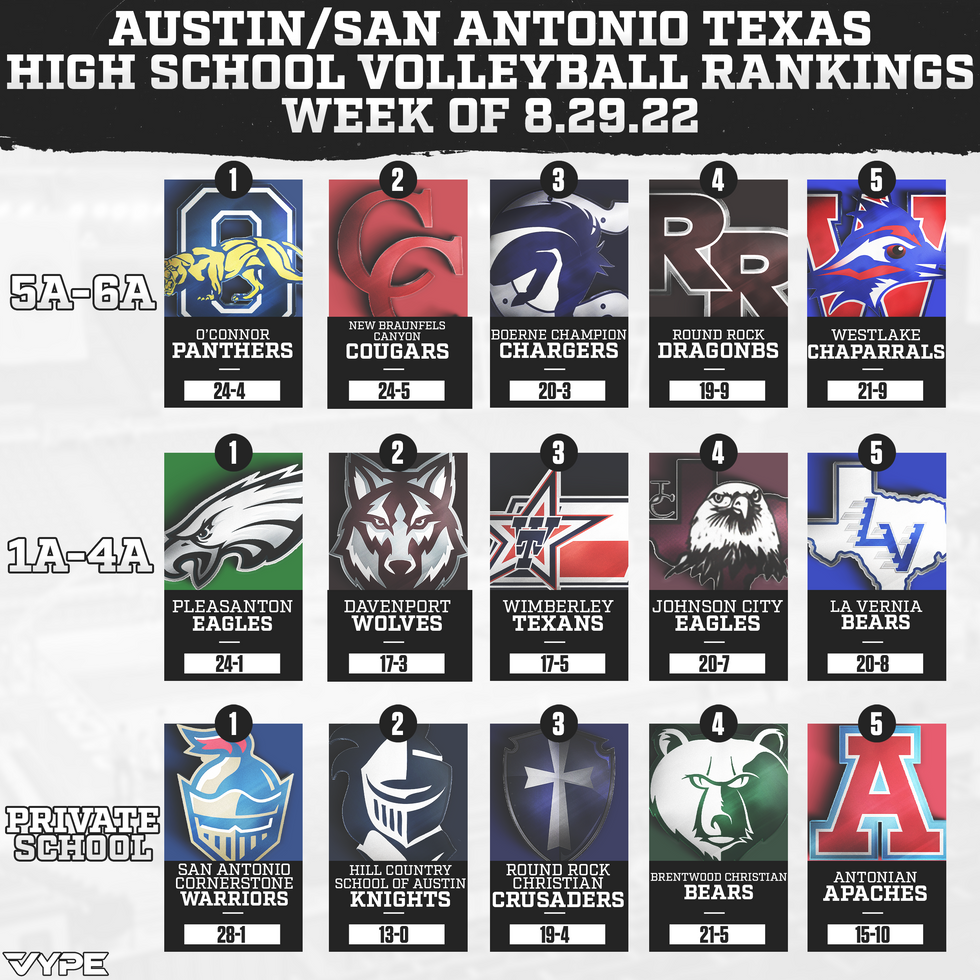 5A-6A: O'Connor and New Braunfels Canyon hold onto the top two spots after impressive showings this week. After that we have 3 new entries into the Top 5. Champion comes in with a great tournament showing this week. Round Rock replaces Liberty Hill after their head to head win this week and Westlake rounds out the top 5.
On the Outside Looking In: Vista Ridge, Harlan, Cedar Ridge, Clark, Liberty Hill
1A-4A: Pleasanton stays in the one spot continuing their impressive start to the season. Wimberley climbs back into the rankings while Davenport jumps to the two spot. Johnson City and La Vernia round things out in the rankings and October 7th may be one to circle on the calendar as that could be a big game between Pleasanton and La Vernia
On the Outside Looking In: Randolph, Floresville and Boerne
Private School: After weeks of toying with the top spot, Cornerstone finally takes it this week after winning Volleypalooza, including a win over 5A-6A top ranked O'Connor. Hill Country slides to number 2 and Round Rock Christian stands firm at 3. Brentwood Christian moves to 4 and looks to challenge Round Rock as the top Austin team.
On the Outside Looking In: Incarnate Word, John Paul II