TWICE AS NICE: Arceneaux lifts Beaumont United late as 'Wolves secure second straight state 5A title
Mar 13, 2022
Joshua Waclawczyk | VYPE Media
SAN ANTONIO—Late during the fourth quarter of yet another intensely close playoff game, Beaumont United coach David Green Jr. turned to his star, senior Terrance Arceneaux.

"I told Terrance that if he didn't finish strong, we weren't going to win this game," Green said of the 6-foot-7 wing and University of Houston signee. "Get some offensive putbacks and get some big free throws. Big fella, he stepped up tonight."
With his team trailing by one point, Arceneaux scored 10 points over the final 2-minutes, 19-seconds to spur a 12-6 closing run and lead United to a 62-57 win over Mansfield Timberview in the Class 5A state championship game Saturday afternoon at the Alamodome.
Arceneaux, named the game's Most Valuable Player, compiled 14 points, 10 rebounds, four steals, three assists, and three blocks in igniting United (36-3) to its second straight state title.
"I was looking at the score and realizing it was my last game," Arceneaux said. "Coach Green said I had to pick it up if we wanted to win. I settled down and was ready."
.@BUBasketball2 senior @UHCougarMBK signee @TArceneaux21 talks about his clutch play, scoring 10 points in the final 2:19 of the fourth quarter to lift his team to victory. #UILState #txhshoops @beaumont_united @KPRC2RandyMcpic.twitter.com/ks1jvYDI5i

— VYPE Houston (@VYPE Houston) 1647127858
It was a back-and-forth affair up to that point. A gritty, physical—and often sloppy— game came down to "the little things," per coachspeak.
United won the battle of the boards, 35-26, including a 12-6 advantage on the offensive glass. It had more chances at the free-throw line, 20 attempts to Timberview's 12.
"To win a state title game, you have to have a couple of things go your way," Timberview coach Duane Gregory said. "If those things don't go your way, it makes it tough. There were some bobbled balls that landed right back in their hands and they were able to convert. In a game like this, it's a bucket here and there, a rebound here and there. The ball tips off a hand, and which way does the official call it? It's the bounce of the ball."
Green agreed. The Timberwolves made just enough plays.
"I've got to give all praise to my Lord and Savior, Jesus Christ," Green said. "Like I've said, He gives favors, and I know he's given this United basketball team some favor. I'm so proud of these young men. Great game by two great teams. But at the end, we made more plays and that was the difference."
.@BUBasketball2 coach David Green Jr. with opening statements. #UILState #txhshoops @beaumont_unitedpic.twitter.com/lHMGGfF8kU

— VYPE Houston (@VYPE Houston) 1647127422
It was a tough first half for United. Its star duo of Arceneaux and junior guard Wesley Yates III combined for six points on 2-for-9 shooting.
Fortunately, sophomore guard Kayde Dotson was dynamic in the first half and kept United in it, scoring 12 points on 5-for-9 shooting.
"He told me, 'Coach, tonight's my night,'" Green said of Dotson. "He knew they were going to double Wes. He said, 'Coach, I'm going to be on tonight.' That's the mindset this young man has. He's a sophomore. I said, 'Show me what you've got.' He carried us. We needed every point."
Added Dotson, who scored a game-high 17 points: "Coach gives me the green light. I had to score. We had early-game struggles, and I had to keep us in the game."
Down 31-27 at the half, United outscored Timberview, 17-10, in the third quarter as Yates started asserting himself with six points in the period, including five right away to start to put United on top.
Defense was key for United in the second half. Susceptible to dribble penetration in the first 2 ½ quarters, particularly from guard Donovan O'Day who scored 16 of his 18 points in the first half, the Timberwolves did a better job defensively making shots tougher for Timberview.
"He's a great player, but we let him go downhill and get too many layups," Green said. "We had a breakdown on defense. The second half, we stopped the layups. We didn't have those mental lapses in the second half. We kept the guy in front and made the shot difficult. They followed the script."
As the game got tighter, United got stronger. It was used to this. Through a rigorous non-district schedule that included playing in a national tournament and playoff wins over Goose Creek Memorial and Crosby by a combined seven points, the Timberwolves thrived once again as the clock wound down.
"They don't panic," Green said. "We were battle-tested for this moment. They can handle pressure. I'll say, 'Hey, do you want me to call timeout?' They'll say, 'Coach, we've got it.' That's the kind of kids we have here."
Specifically, Arceneaux.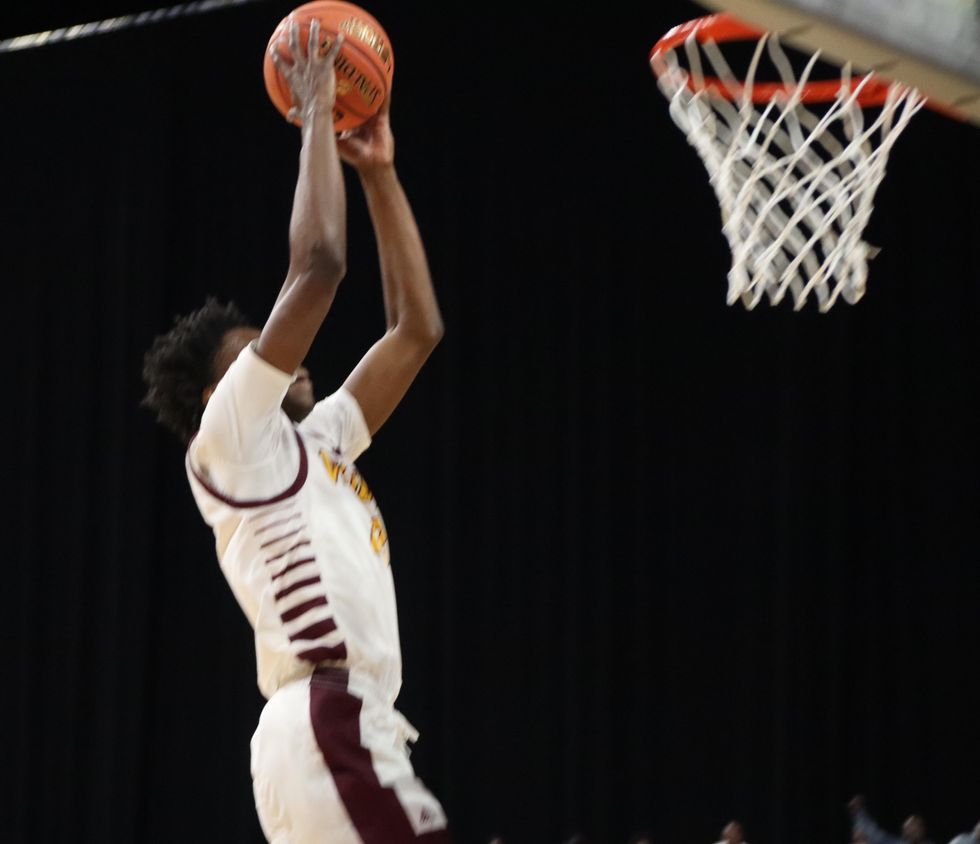 Beaumont United senior Terrance Arceneaux gets a breakaway slam to end the first quarter of Saturday's Class 5A state championship game at the Alamodome in San Antonio.Joshua Waclawczyk | VYPE Media
With United trailing 51-50, Arceneaux got a huge offensive rebound and putback for a 3-point play that gave the Timberwolves a lead they would never relinquish. He added a breakaway lay-in off a Timberview turnover after that.
In the final 90 seconds, he went 5-for-6 from the free throw line.
"Coming in my freshman year, the goal was to win state," Arceneaux said. "Me and Coach Green sat down. He told me what I needed to do to get better. He stuck with me, believed in me. All my four years, to have me up on varsity just to get better. Now look at us. Two-time state champs. It means a lot to do it twice."
After the game, unsolicited, Green teared up when explaining how much Arceneaux meant to him and the program.
"I'm going to miss this guy," said Green, his voice breaking. "He's like a son. He bought into the vision of this program. He never wavered. People wanted him to score a lot of points, and he'd say, 'No, Coach, I'm going to follow the script. I don't care what people say. I'm going to do it your way.'
"He's the reason, along with these other guys, why we're successful. He's not selfish. I'm going to miss him. Bur God's got great things for him in his future."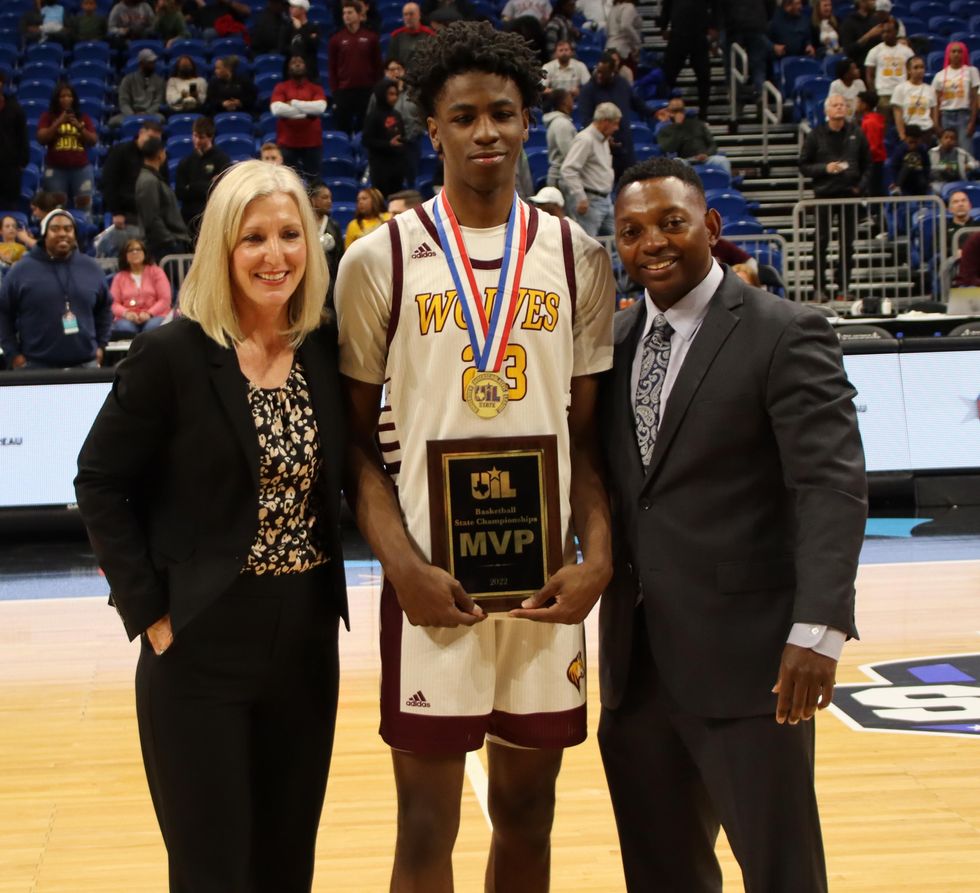 Beaumont United senior Terrance Arceneaux was named the 5A state championship game's Most Valuable Player.Joshua Waclawczyk | VYPE Media
True