SILVER LININGS: Austin's Murray finds self on road to recovery from injury
Aug 08, 2022
VYPE Media
Sometime during a workout on an elliptical in July of last year, Adell Murray reached her breaking point.

Having recently suffered a second traumatic injury in three years, the Fort Bend Austin junior volleyball player was at a crossroads. As intense classical music played throughout the session, images of great sports heroes who had triumphed through pain and misfortune permeated Murray's thoughts. The kind that movies turn immortal, like Rocky and Vince Papale.
Self-pity turned to inspiration. Resilience fought off the brink of surrender.
"I was just so fed up with having my body have a toll over me, and winning, and I just set my mind to it that I was going to fight," Murray said. "My body wasn't going to win. I wasn't going to be the loser of this battle with myself. I wasn't going to be defeated by my body because I couldn't fight my way back to the top."
In late June of last year, Murray, then an incoming sophomore, dislocated her left knee for the second time in four months. Only this time, it was a complete dislocation.
"It was an outer body experience," Murray said. "I was like, 'This is not happening.' First day of nationals. There's college coaches all around. And I was holding my kneecap."
She missed her entire sophomore high school season.
The injury came 18 months after Murray suffered a dislocation of her left ankle, along with a compound fracture and sprain.
Both injuries occurred during tournament games for her club team, Houston Juniors. Both caused Murray to miss substantial time and begot torturous self-evaluation.
But both made for a better Adell Murray. A better player. A better person.
As Austin's season opener Tuesday against Bellaire looms, when she will take the court as a Bulldog for the first time since November 20, 2020, Murray is her best self.
"I learned I'm a fighter. You can let an injury define you, and I did not want that," Murray said. "If anything, I wanted my injury to make me. Make me into a better athlete, a better teammate and a better person, and I think it did. I wouldn't wish any of these traumatic injuries on anybody, but I would be wrong if I said it doesn't account for some of my success.
"I'm grateful I took something out of it instead of it taking something out of me."
'WHY?'
Austin coach Kristin Goodman might as well have seen a unicorn when she first got a glance of Murray two years ago.
"Adell didn't look or play like a freshman. She made you do a double-take," Goodman said. "She was quick, she could read the ball. She got a touch on every block. She's just super quick and so intelligent when it comes to ball play. It's uncanny she was only 14 years old doing that."
Murray had an outstanding freshman year on varsity, totaling 122 kills, 39 digs, 30 blocks and 17 aces in a shortened season due to COVID-19. She was named an all-district first team selection.
"It was amazing," Murray said. "So fun."
With the skill and advanced play she exhibited, it would be difficult for anyone to understand how just eight months earlier, Murray's bone in her left foot was out of her skin, her shoe smeared in blood, as she glared blankly at the ceiling and the bright lights of a gym during the second day of her first tournament for Houston Juniors.
"Normally when you're lying on the ground, you'd think you're just scared, but I was just wondering, 'Why?'" Murray said. "I'd never had that happen before, and now this extreme injury happened."
Murray said a parent who was a surgeon argued with doctors against removing Murray's left shoe, with her foot pointing the opposite direction of where it should be.
"She won," Murray said of the parent.
As Murray was taken to the hospital in an ambulance, she grabbed her mother's phone, got on Snapchat and took a photo of her leg.
Murray had surgery in December 2019. She was cleared less than three months later. She was perfectly fine for freshman tryouts at Austin that August.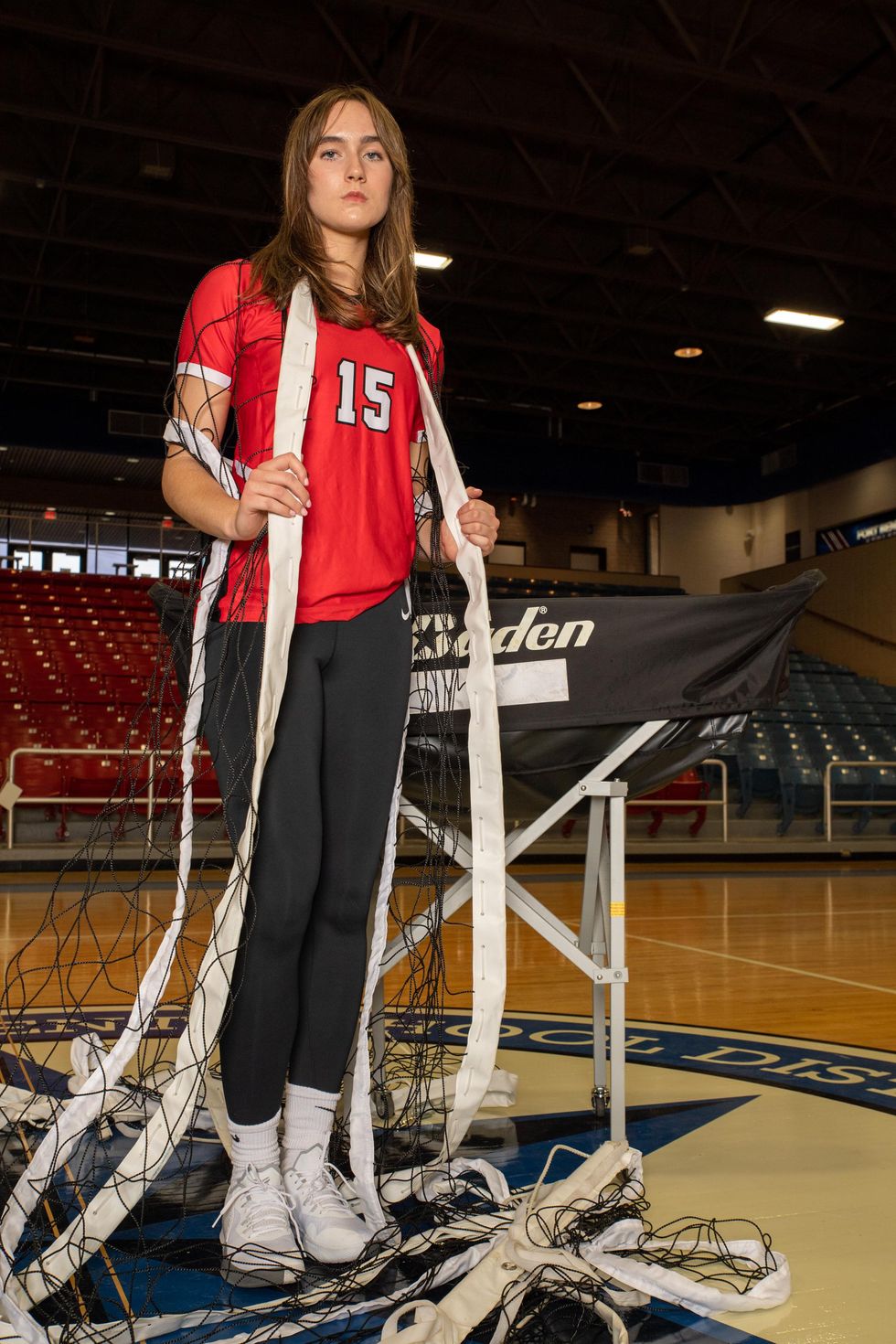 Fort Bend Austin junior Adell Murray.VYPE Media
'ASSISTANT TO THE ASSISTANT'
Murray first dislocated her knee at a club qualifier tournament in Orlando in March 2021, 15 months after her ankle surgery.
Turning quickly to get to a ball, she felt a shift in her left knee. It wasn't a full dislocation. She didn't even know it was dislocated until she got an MRI.
Murray was out a couple weeks and then back on the court, this time wearing a knee brace.
The first day of nationals, which Murray's club team qualified for, in Las Vegas was in late June.
"I'd never been so excited to play," she said. "I was just warming up on the court with my partner, peppering. It's nothing. I happened to take a normal step backward, felt a shift and my knee dislocates. Fully out of place. I'm on the ground, clutching my knee. We have to wait for one of the trainers to come and put it back in place."
Murray went to the same surgeon she had worked with for her ankle injury and was given two options. The first was to not get surgery and play, with a 75 percent chance of a dislocation happening again. The other was to get surgery and run that risk down to less than five percent.
Murray chose to do surgery in August to be ready by club season. The following summer was when she could start talking to college coaches, so she desperately wanted to be healthy and back on the court by then.
Murray had knee surgery August 17 of last year. In the month or so before then, she worked out daily so she could be as strong as possible going into the procedure.
"So I'd have less to make up for after it," she reasoned.
The initial thought was she would be cleared by December 17. However, while the knee was healed by then, Murray's leg was not strong enough. The quad was not building muscle at the pace that was desired, and Murray would risk tearing the ACL if she returned to the court.
"I had my ankle injury, and I had to rebuild my whole calf muscle," Murray said. "With my knee, I had to rebuild a lot of my quad."
Murray went through physical training at Texas Children's Hospital in Sugar Land. In the meantime, Goodman made sure to accommodate her star player and designated Murray an assistant coach.
"We called her the assistant to the assistant," said Goodman, a fanatic of "The Office." "It was just so great having an extra set of eyes, and even though she's only going to be a junior, she's so intelligent and so aware of the court. It was like having another coach on the bench. I made her know she was wanted, she was needed."
Murray kept stats. She helped run practices. She watched film with the team. She learned how to mix up shots and switch offense by studying the game from the sidelines.
She was able to key in on the subtle nuances of the sport. She learned how to communicate by watching how the juniors and seniors led. During rough periods where she felt helpless and sad, Murray leaned on her best friend, junior team manager Laurn Pham, for support.
'UP TO ME'
To be cleared, Murray's strength in her left leg had to be within 10-15 percent of the right leg. In February 2021, two months after she was initially supposed to be cleared and six months after surgery, the difference was only about 50 percent.
Murray was transferred to Texas Children's in Katy for advanced treatment to help rebuild muscle faster. She was able to get the difference down to 15-20 percent in six weeks through BFR therapy, which reduces blood flow to the extremity to enhance muscle activation.
"The training was not fun at all," Murray said. "The thing about injuries is it's easy to forget not just how much it hurts mentally, but physically. I had to relearn how to walk correctly both times. It was hard. I'm not a patient person, but I had to be. I learned quickly to put all my effort into getting better instead of sulking. At the end of the day, it was up to me to get better and up to me to understand that nobody was going to do this for me."
Murray leaned on family, coaches, friends. The rehab was self-driven, she said, but their words and faith worked wonders.
"The belief people had in me made me believe in myself as well," she said. "If I didn't have them, I wouldn't have made it out as well as I did. But there were times where I didn't accept that love and support, and it was just me. So, I also turned to reading, which really helped. It helped me not focus on everything."
Goodman, Murray said, was "crazy supportive." The two would talk about Taylor Swift or books, passions they each share. Murray turned to stories with strong female protagonist characters and inserted herself through that. She yearned for fantasy tales of battles and adversity.
Finally, in March, Murray was cleared.
"The first day she got cleared and got to come in the gym and play with the girls … it was like a breath of fresh air," Goodman said. "When she took that first step onto the court and put her ankle braces on and pulled up her knee pads, it was like, OK, this is it. We can start getting back to normal."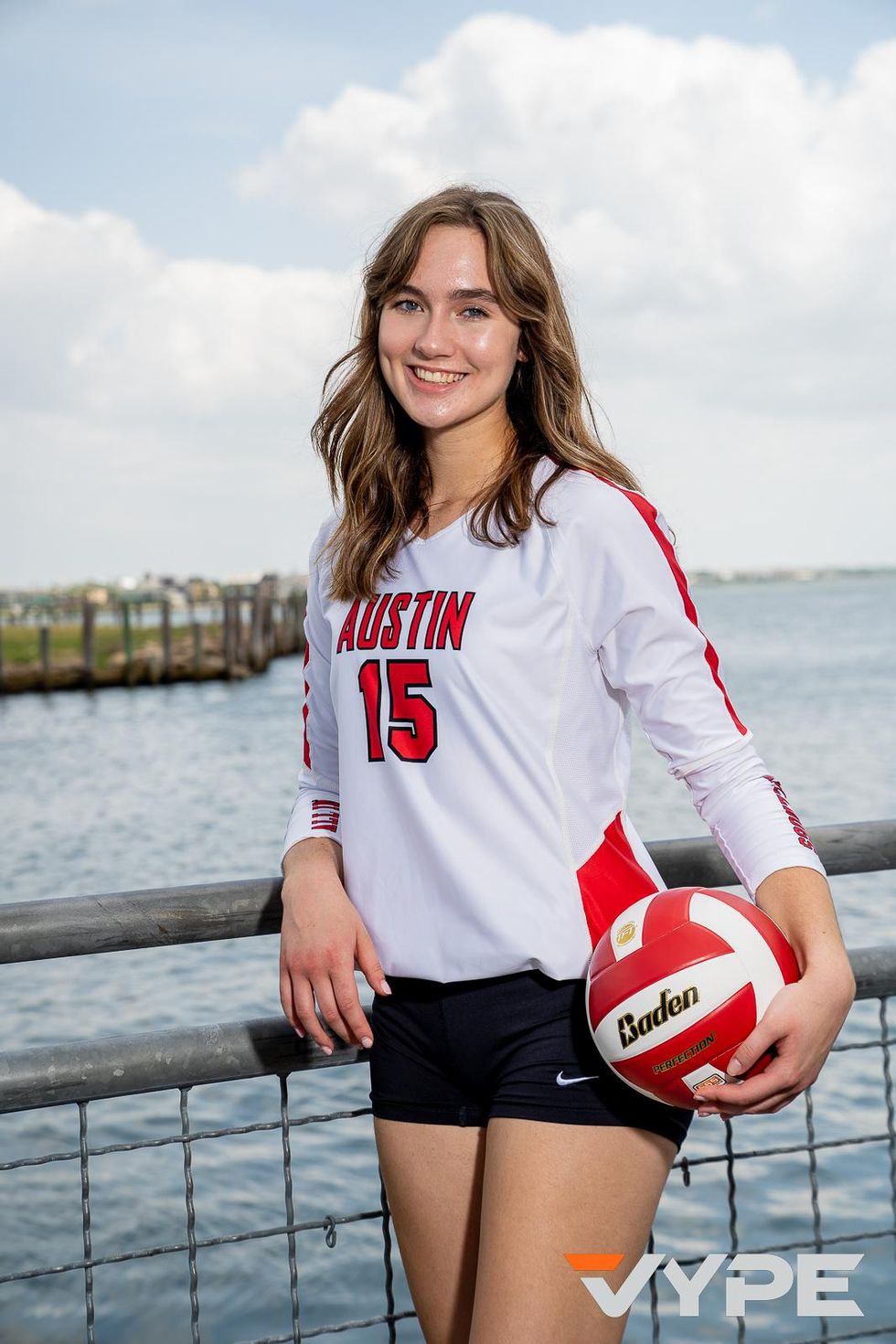 Fort Bend Austin junior Adell Murray.VYPE Media
A LOVE-HATE RELATIONSHIP
Murray's left leg has a cadaver in the knee, for strength, and metals and screws in the ankle.
"My left leg is set," she laughs.
She said it feels fine. It's tough to do strength workouts. The cadaver holds the knee in place and shifts the kneecap in a way it has never been positioned. It's difficult to do lunges or weighted squats and she doesn't have the same range of motion. But Murray is optimistic she can rebuild some of the mobility she once had.
It's the mental that has been slower to subside.
"I'm mostly back to being the old me," Murray said. "I get a little bit tense when there's a tight ball coming, because that's how I got my ankle injury, and I get a lot of PTSD things before I play. All my injuries have been freak accidents, so I get scared that something could happen again. Sometimes I get flashbacks to that feeling of being on the ground, clutching a dislocated body part, but it's part of the mental recovery. They're dying down. There will still be mental scars."
Goodman said she expects Murray, who typically plays the middle, to play all-around this season. Murray played right-side hitter during the club season and Goodman said that was a good look.
"I just know I can't have her off the floor," Goodman said.
Murray said she's most looking forward to being on a team again. As a player. As one of them. Not as an observer.
"I love school season," she gushed. "I'm with people and coaches that I love. You're not under as much stress as there is for club. There's so much support, from the student section to the athletic director to coaches and family and friends and parents. I'm really looking forward to being a part of that again."
Murray said her injuries matured her. She's always had the focus to be the best. She couldn't be the best on the court, so she worked her hardest to be the best at beating injury.
Along the way, she discovered helping athletes may be where her future lies. She wants to play volleyball in college, ideally for an Ivy League school, but has a passion for athletes and psychology. She yearns to be a resource for athletes who struggle mentally and/or physically and help them fight their demons.
Just as she has and continues to do.
"Don't focus on what you don't have," Murray said. "I did that a lot, but you can't really afford to. You have to focus on what you can have and what you will get once you're healthy again. I'm tougher and willing to fight more. I don't even know where I would be without those experiences.
"I hated it, but I also love who I am because of it."