SETX powers to fight for supremacy in District 12-5A-DII
Aug 22, 2019
The bus rides up and down Interstate 10 will be interesting as the district that combines east Houston and Southeast Texas will be up for grabs.
These smaller communities are passionate about football like PN- G, Nederland, Barbers Hill and Crosby. The barber shops will be buzzing starting in August as rivals and traditional powers prepare for battle.
VYPE is offering fans the opportunity to purchase a copy of the magazine and have it delivered to you, instead of waiting to find it in stores.
CLICK HERE TO ORDER - 2019 VYPE Houston Football Preview Magazine
VYPE District 12-5A-DII Preseason Rankings

Port Neches-Groves
Nederland
Barbers Hill
Baytown Lee
Santa Fe
Crosby
Vidor
Dayton

(Bold Denotes Playoff Teams)
VYPE Preseason Awards
MOST VALUABLE PLAYER: Ijenea Wooley, Baytown Lee
OFFENSIVE MVP: Kade Scott, Nederland
DEFENSIVE MVP: Santiago Agudelo, PN-G
BREAKOUT PLAYER OF THE YEAR: Nate Hays, Santa Fe
SLEEPER TEAM: Baytown Lee
Port Neches-Groves Indians
Port Neches-Groves comes into 2019 on a somewhat "rebuild" year after losing generational- talent Roschon Johnson (University of Texas) to graduation. However, don't cry just yet for PN-G as they return one of the best linemen in the state in OL Jaylen Garth (6-foot-5, 290-pound). Coach Brandon Faircloth also brings back WR Kaleb Wuenschel (624 yards, 2 TDs receiving) and will have confidence in junior QB Blake Bost taking over the reins of the offense come late August. The defense will be led by the dynamic trio of LB Santiago Agudelo (100 tackles), DL Josh Patterson (50 tackles, 5 sacks) and LB Donovan Bergeron (50 tackles, 1 INT). As with every year, PNG's big game will be Nov 11th vs Nederland in the annual "Bum Phillips Bowl".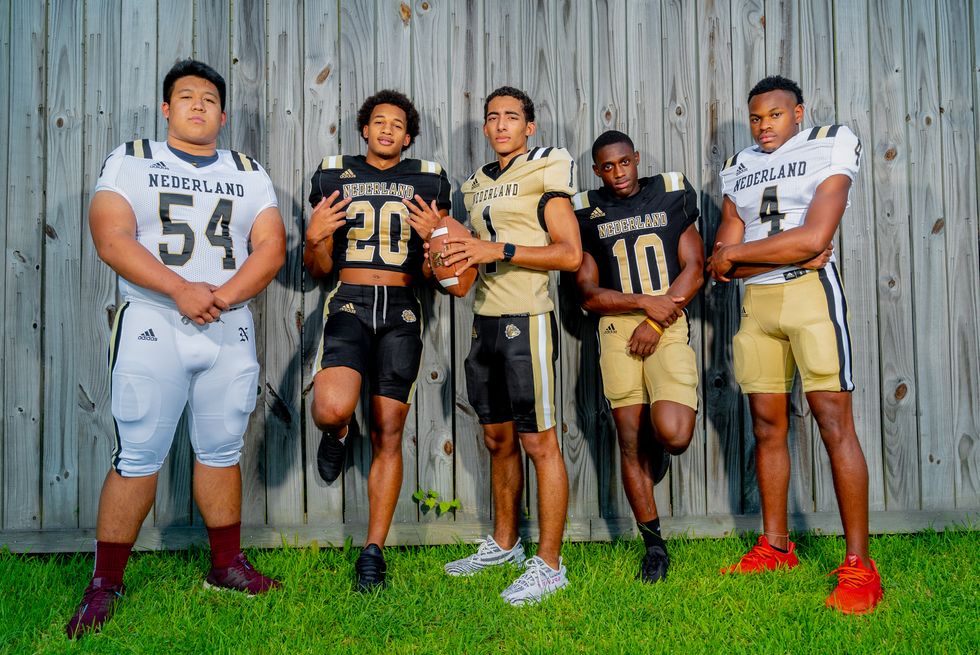 Nederland Bulldogs
Nederland is still reeling from their 2018 area-round playoff loss to FB Marshall 63-24. The Bulldogs were thriving heading into that game after finishing their regular season 9-1. Coach Monte Barrow no doubt is looking for a repeat season beginning in August as new faces reload in Bulldog Country. Running back Kade Scott (1,085 yards, 10 TDs total) will be the workhorse in the backfield and QB Bryce McMorris (461 yards, 3 TDs passing) will be asked to up his game for any success to happen. McMorris split time at the quarterback position last year but 2019 this will be all his show. On defense, the secondary will lead the way with the talented trio of CB Logan Nguyen (3 INTs), CB Cedric Pete (2 INTs) and returning all-district safety Kerrington Broussard. The Bulldogs could have the inside track to the district crown as they host Barbers Hill (10/4) and PNG (11/8).
Barbers Hill Eagles
Tom Westerberg enters his third season at the helm of Barbers Hill and this fall could bring some dynamite as "The Hill" returns plenty of able bodies with 32 returning lettermen. The offense returns five starters with offensive lineman Casey Collier (Minnesotacommit) leading the way. At 6-foot-7 and 300-pounds, this "road-grader" will anchor the running game and fortify QB Conner Dunham's (388 yards, 4 TDs passing) ability to find WR Cameron Cauley (326 yards, 4 TDs receiving) in open spaces. The defense should be more experienced from as DB Branden Heffernan (4 INTs) will team with LB Cavin Branin to keep the Eagles in games late. In order to move up in the playoff seeding, the Eagles will have to win on the road against Nederland (10/4) and Port Neches-Groves (11/1). A win at either place could bring a first playoff win.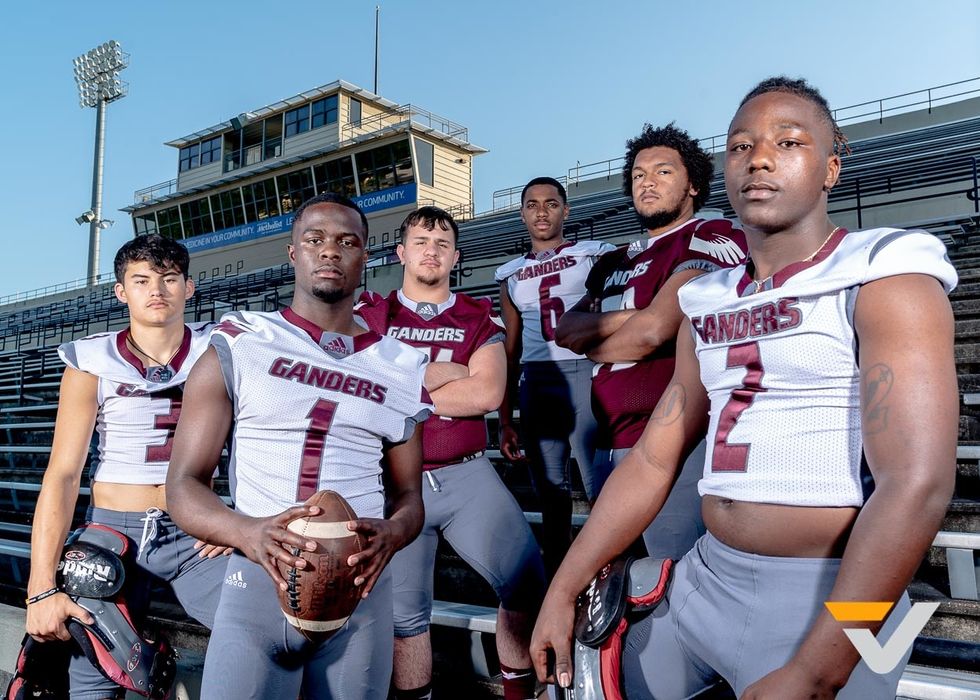 Baytown Lee Ganders

Baytown Lee is a powder keg waiting to explode this fall. Coach Tim Finn is looking at a strong returning core of talent led by returning District MVP QB Ijenea Wooley (2,452 yards, 24 TDs passing; 912 yards, 8 TDs rushing), who is a playmaker in every aspect. Wooley is a big-bodied quarterback who is a load to bring down. RB/LB Ja'Kenan Davis (475 yards, 5 TDs rushing; 605 yards, 3 TDs receiving) is on the cusp of having a breakout season, giving Finn an explosive 1-2 punch. This could be one of the best backfield's in the district at season's end. Defense is the only thing that will keep the Ganders from a breakout playoff appearance. LB Kyle McKiernan (55 tackles) and DE Edgar Pulido (45 tackles, 4 sacks) will lead the charge but the only question is will they have enough. Pivotal games on the schedule will be home games versus Sante Fe (10/4) and Crosby (11/8). As Wooley goes, so goes the Ganders this fall.
Santa Fe Indians
Santa Fe comes off a 2018 season where they experienced their third playoff appearance ever. Although they lost 53-13 to FB Marshall, the Indians have a renewed sense of confidence heading into the fall. Recently promoted head coach Matt Bentley takes over for Mark Kanipes, who took the Brazosport coaching position. The Indians bring back talented ATH turned QB Nate Hays (618 yards, 4 TDs receiving) and another two-way players Bruce Erekson and Cameron Bennett at DB/WR. Tight end Dalton Stevens and defensive lineman Reece Dobson (52 tackles, 4 sacks) bring much needed versatility to the Indians' 4-2-5 defense. Playoff ramifications will come October 18 at Crosby for the fourth and final playoff spot.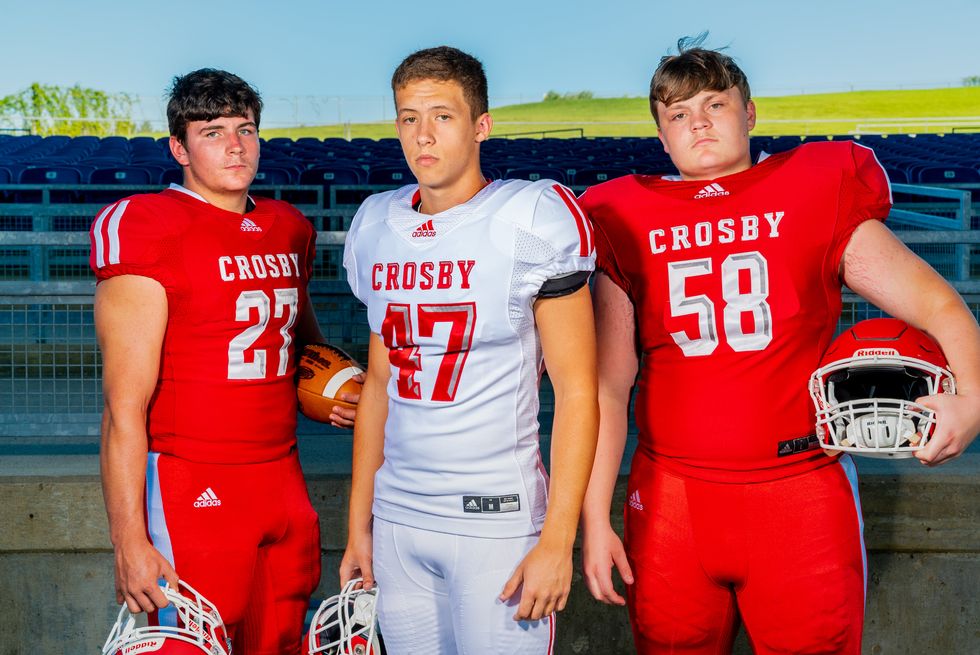 Crosby Cougars

After suffering through a debilitating district budget crisis coupled with the departure of coach Jeff Riordan to Chapel Hill, the Crosby Cougars are limping back to stability with new coach Jerry Prieto. The former Corpus Christi Veterans Memorial offensive coordinator brings with him a winning attitude as he will need it with a young team that needs its swagger back. The Cougar offensive line is solid with bookend tackles Keegan Schexnayder and Blaine Berry, which will help the passing game. Receivers E'Monte Wilson and Hubert Mitchell will be looked upon as scoring playmakers with ATH Deniquez Dunn most likely leading the charge from behind center. Defensively, LB Hunter Bailey and DB Marcus Jnoffin will lead a crew that will need to grow up fast in order for Crosby to see the postseason. Also watch for kicker Trevor Helburg. High risk, high reward will be the Cougars for 2019.
Vidor Pirates
Questions abound for Vidor this season as respected coach Jeff Matthews has unproven talent with junior QB Quentin Root slotted as the opening week starter. The Pirates suffered through a six-week losing streak last season that nullified an optimistic 3-0 start. Vidor's unique Slot-T offense should open up possibilities for top RB Brad Nunez (1,398 yards rushing) as Ammon Hutson opens up some lanes for him. Defensively, LBs Mason Brown (120 tackles) and Gage Galloway (86 tackles) will anchor an experienced front with six returners. Josh Wright will be one to watch in the secondary. Must-win games will be at home versus Sante Fe (10/12) and Dayton (11/9), sandwiched around a road contest against Lee (11/2).
Dayton Broncos
Dayton is up against a proverbial wall this fall as competitiveness will be their main goal. The Broncos went 0-10 last season but were in four games that were decided by seven points or less. A bright spot for the Broncos will be their athletic QB Chris Olige (711 yards, 4 TDs receiving), who moves over from slot receiver. Also look for sophomore WR/DB Donovan Orebo to have an impact on offense. Defensively, LB Gavin Bennett (98 tackles, 2 sacks) is a solid contributor, but will need help to keep the score close. If everything breaks their way, Dayton could be a four win team for 2019.
Keep reading...
Show less