Longtime friends Edwards, Tryon meet as opposing coaches in TAPPS 5A state semis
Nov 18, 2021
VYPE Media
Fort Bend Christian Academy coach Alex Edwards and Second Baptist School coach Chandace Tryon are district rivals on the volleyball court. Not only are the two schools natural rivals in all sports, but they're almost always competing for championships.

Still, it'd be tough to find opposing coaches who are as close and have the history Edwards and Tryon do.
"We almost have a sisterhood," Edwards said. "There's just this connection."
"We were very close, and still are," Tryon added. "She's great."
The two are adorably complimentary of each other, holding in each other in the highest regard. Almost as if they're each other's No. 1 fan.
That is, however, until you bring up the time they won a contest when they were teammates on the University of Houston's volleyball team. Edwards and Tryon were "sisters" paired together as a tandem by then-head coach Molly Alvey. They named their "sister" group "Salt-N-Pepa," after the famous 90's hip-hop artists.
Edwards and Tryon performed a rap song that won a team event. When you ask who's the better rapper of the two, Tryon gives a look of, "Seriously?"
This is one topic she won't defer to Edwards.
"Me!" Tryon said, laughing. "OK. Come on, now. I'm pretty sure I even wrote it."
From pepper drill partners and rap stars for the Cougars to the TAPPS 5A State Semifinals as opposing head coaches, Edwards and Tryon enjoy a fruitful and endearing relationship, one rich in fun, enjoyment and winning. A lot of winning.
Edwards' Fort Bend Christian Academy Eagles play Tryon's Second Baptist School Eagles on Friday afternoon in Waco for the right to play in the state final Saturday.
"I am glad it's her and we get to do this together, and I think it's great that someone from our district will get to be in that final," Tryon said.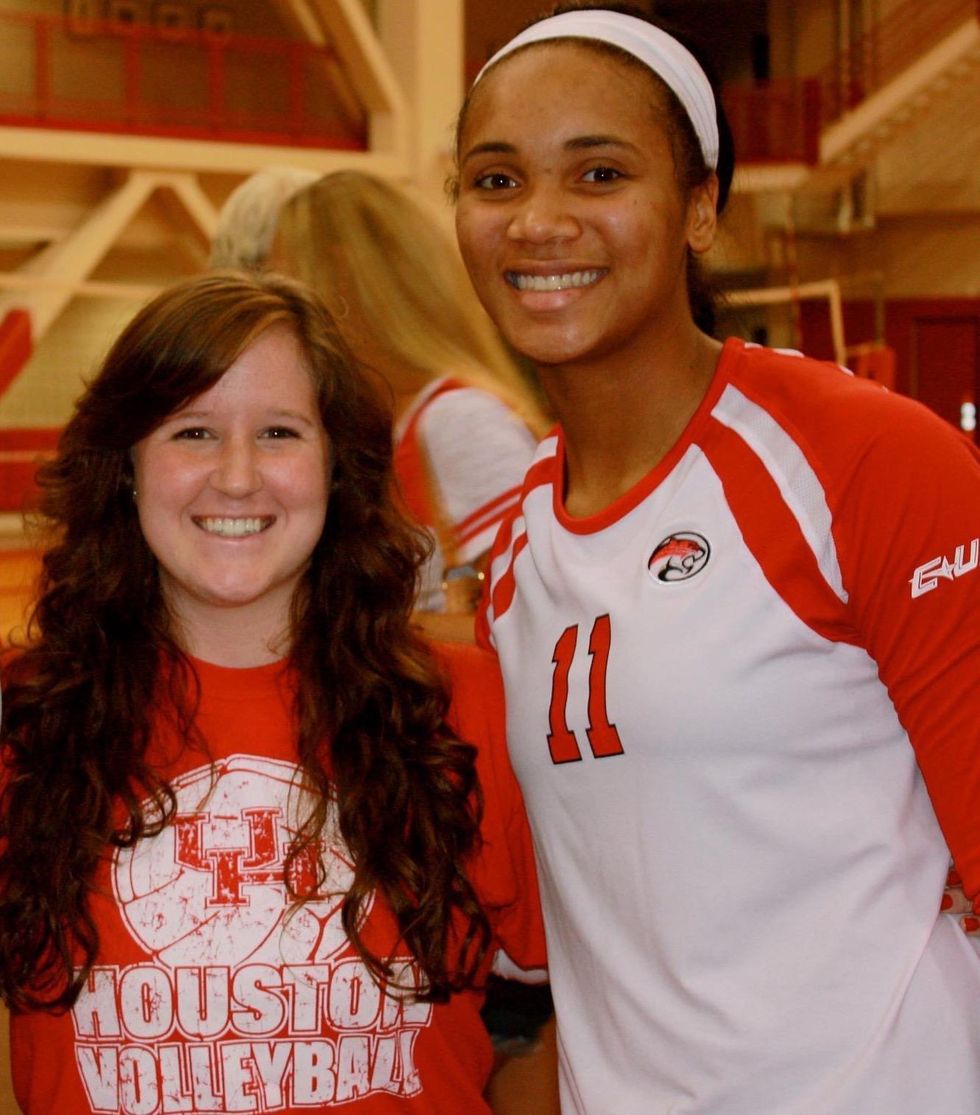 Alex Edwards, left, and Chandace Tryon are pictured during their playing days at the University of Houston.Courtesy Photo
BEST FRIENDS
Edwards and Tryon played three years together for UH from 2010-2012. Edwards, a Katy native, was a libero. Tryon, from Corpus Christi, was a middle blocker.
When the Cougars traveled for road games, they were roommates. They attended Fellowship of Christian Athletes events together. When Tryon ever needed a ride, Edwards picked her up.
Even recently, each coached club volleyball together for Houston Skyline.
"We were, basically, best friends," Edwards said. "That's my girl. It's funny how we're now having to compete against each other. It's nice to have a friend who you compete with and get to experience all of this together. It's the first time for both of us."
As Cougars, Edwards coached Tryon on how to play better defense in the middle. Tryon, the team MVP in 2012, found someone who matched her drive and passion for the sport in Edwards.
"We did everything together," Tryon said. "She matched my competitiveness. She was in-your-face, high-speed. I loved it."
After her Eagles beat rival Victoria St. Joseph in the Regional Final on Saturday, Edwards hustled to watch the last moments of Tryon's Eagles beating Brentwood Christian.
The game had barely ended when Tryon felt her cell phone bing with a text message.
"See you Friday," it read from Edwards, accompanied with eye emojis.
"Can't wait!" Tryon typed back.
"I don't think either of us planned for this to happen," Edwards said, laughing. "We're friendly and it's all good, but, yeah, I probably won't talk to her again until after the game."
"I don't want to get into too much conversation with her right now," Tryon confirmed with a chuckle.
Each team personifies its head coach. Like Edwards, FBCA is defensive-minded. Second Baptist School is geared through its offensive skill, like Tryon.
Edwards praises Tryon for how she gets her middles involved in the action.
"That just goes back to who we were as people and players," Edwards said. "You coach what you know."
FBCA is "very high energy, very in-your-face," Tryon said. Like their head coach.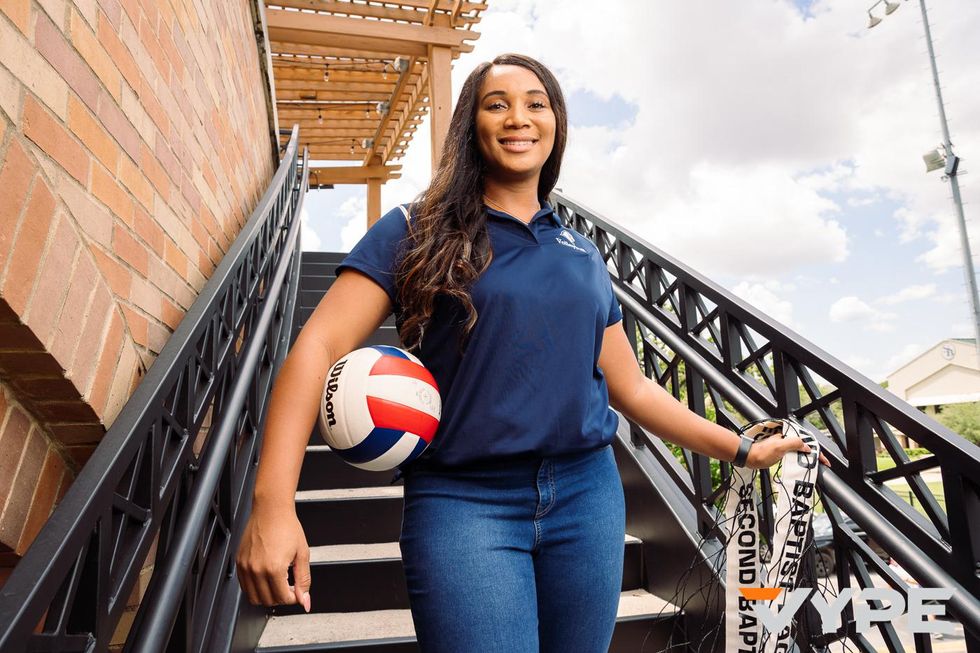 Second Baptist coach Chandace Tryon.VYPE Media
LOOK AT THEM NOW
FBCA is 33-4 in Edwards' second year at the helm. The Eagles went 17-11 and fell in the area round last season to Victoria St. Joseph, which is why Saturday's win was so sweet.
Edwards has more senior leadership this year with the quartet of Reagan Heflin (Nicholls State softball signee), Avery Hodge (Oklahoma softball signee), Bailey Hanner (Texas State volleyball signee), and Lily Baker. Heflin, Hodge, and Hanner are staples of the program, and all understand the gravity of the opportunity that lies in front of them.
Schematically, FBCA, which won the District Championship, is playing as well as it has all season because middles Bayleigh Minor (a freshman) and Oyinkansola Ajimotokan (a sophomore) are more involved in the offense, particularly the last two wins when Minor posted a combined 30 kills, four solo blocks and three block assists, and Ajimotokan had seven kills and four block assists.
Their emergence has awarded Edwards two more attackers alongside Hanner (489 kills this season) and freshman Layne Bulow (229 kills).
"The team, in general, knows this is a great opportunity," Edwards said. "We're playing well, we have the pieces, we have the team, we have the team chemistry."
Tryon is in her first year leading Second Baptist School after spending the previous five seasons as head coach at The Village School.
Second Baptist is 31-7 and finished second in district to FBCA after going 2-8 in a district-only 2020 schedule.
"A lot of people here have been here for a while, and they've seen the girls grow over the years," Tryon said. "You hear a lot about, 'Wow, we're so proud of you girls. Look how far you've come!' and so forth. It's been exciting."
Tryon doesn't speak on the difference between this year's team compared to last year's because she wasn't around last season. But she has a coach on staff who was.
"She tells me it's just an energy," Tryon said. "It's most of the same girls (from last year). We have one new player. I'm super adamant about running things high-energy and competitive in practice, while also, at the same time, making it fun. I want these girls to enjoy their experience."
Second Baptist School is led by the outstanding play of its three captains: senior Alexis Gill (241 assists, 120 digs, 69 kills), senior Julia Sauvageau (233 digs) and senior Autumn Malone.
Not only have they been crucial on the court, but also in getting others to buy into Tryon's philosophies and setting the bar regarding work ethic.
"These girls just really love volleyball," Tryon said. "They have that mindset that whatever needs to be done, they'll get done."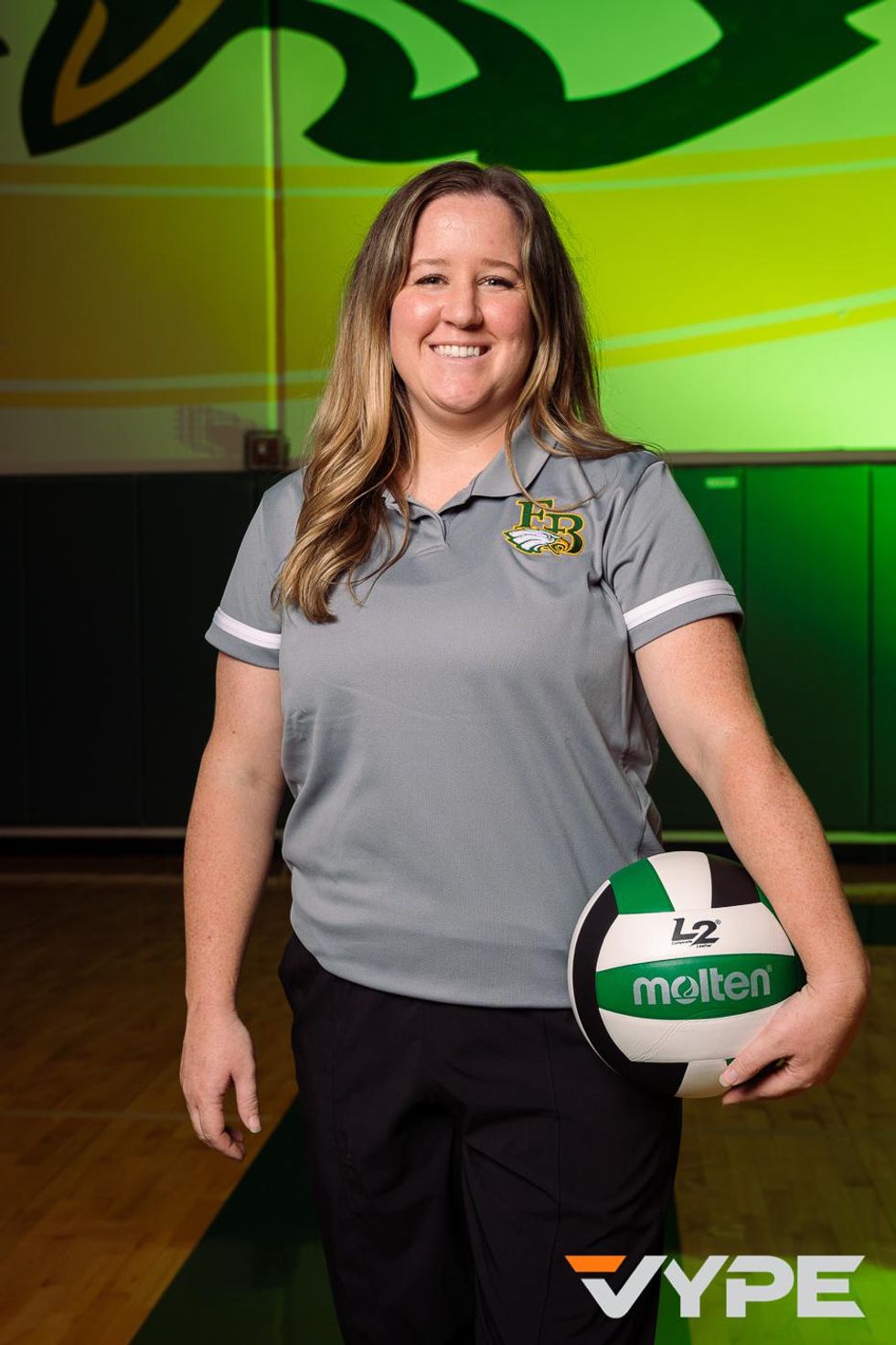 Fort Bend Christian Academy coach Alex EdwardsVYPE Media
'A LOT MORE PROMINENT NOW'
FBCA swept Second Baptist School during the district season. FBCA won the first meeting, 3-1 (21-25, 25-17, 25-21, 25-19), before winning the second, 3-2 (25-19, 25-19, 21-25, 16-25, 15-13).
The latter matchup secured the outright district title for FBCA.
"To be honest, I think we needed that (last game) personally as a push for my program," Edwards said. "We'd had so much success, but we also needed to be prepared for teams to adapt and adjust for us. Second Baptist did a really good job of that, to where we had to make adjustments and change some things on the fly."
Now, with this third meeting, there's no telling what to expect. All Edwards or Tryon knows is they'll be going through it together.
Tryon laughs at how far their relationship has come.
"It's a lot more prominent now," she said.
Silly and goofy, with a competitive intensity that rages within, Edwards and Tryon have come a long way. Just like their respective programs.
"You never know what the road's going to look like," Edwards said. "We didn't cross paths at all during preseason. We both started getting some early success, and once we got into district, I was like, 'Oh, wow, this is going to be the team we have to beat.'"
Now, to have a shot at a state championship, one best friend will have to beat the other.