Goose Creek Memorial has new General
Aug 22, 2019
By Bradley Collier
There is a new General in town leading the Goose Creek Memorial Patriots into the 2019 football season.
Shannon Carter comes over from Cinco Ranch, where he served as the defensive coordinator. He's no stranger to the district, however, serving as an assistant for Baytown Sterling less than a decade ago.
He's got his work cut out for him, inheriting a program that hasn't been to the postseason since 2013.
"I got here a little late in the year, but that comes with the territory in Texas high school football," the former Tulsa Hurricane said. "We just coached them up with the time we had. We are going to develop a new culture here. Our staff wants them to play hard and just learn what we want them to do."
It will start in the weight room and the classroom.
"They have built a good baseline of strength before I got here," he said. "What we want to start developing throughout our entire program, from the middle schools to varsity, is speed and explosive power. There will be a learning curve in understanding a new scheme on offense and defense, but we will be prepared when we get on the field in the fall."
The straw that will stir the drink will be Emerson Haywood, who can play virtually anywhere on the field. Haywood will likely move to QB1 for the Pats.
"Emerson is extremely fast and athletic," Carter said. "He has the experience and leadership that a new coach loves to see. "We will put him in position to be successful at quarterback," he said. "We will be multiple-spread and get him in space with a run-pass option offense. He's a pretty special athlete and we are expecting a really good year out of him, but we will divvy it up to several players."
The offensive line has a pair of returners in center Jace Davis and tackle Braedon Paige, who will need to control the locker room and lead from the trenches.
Holden Hill may be a dual-purpose athlete for Goose Creek. He's a shifty running back and can also flip to cornerback. The offense is going to need a boost, after averaging 234 yards a game last season.
While the offense has some experienced pieces, the defense only returns one starter. Thankfully for Patriot fans, Carter is an expert on the defensive side.
"We have to replace quite a few athletes on that side of the ball, but we will run a multiple odd-front defense," he said. "We will have to be an attacking defense to have success."
The Patriots will need to get their defense, which gave up over 370 yards per game in 2018, in check, playing in the explosive District 9-5A-DI.
New Caney and Porter are dangerous offenses that can put huge numbers on the scoreboard through the air. Port Arthur Memorial is tough on the ground and has some of the most physical athletes in the region. Kingwood Park is well-coached and a perennial playoff program.
"This is a tough district, no doubt," he said. "There are some very consistent programs here. We are going to try and fight our way into the pack and into the top four."
...
THE MAGAZINE
VYPE Goose Creek August 2019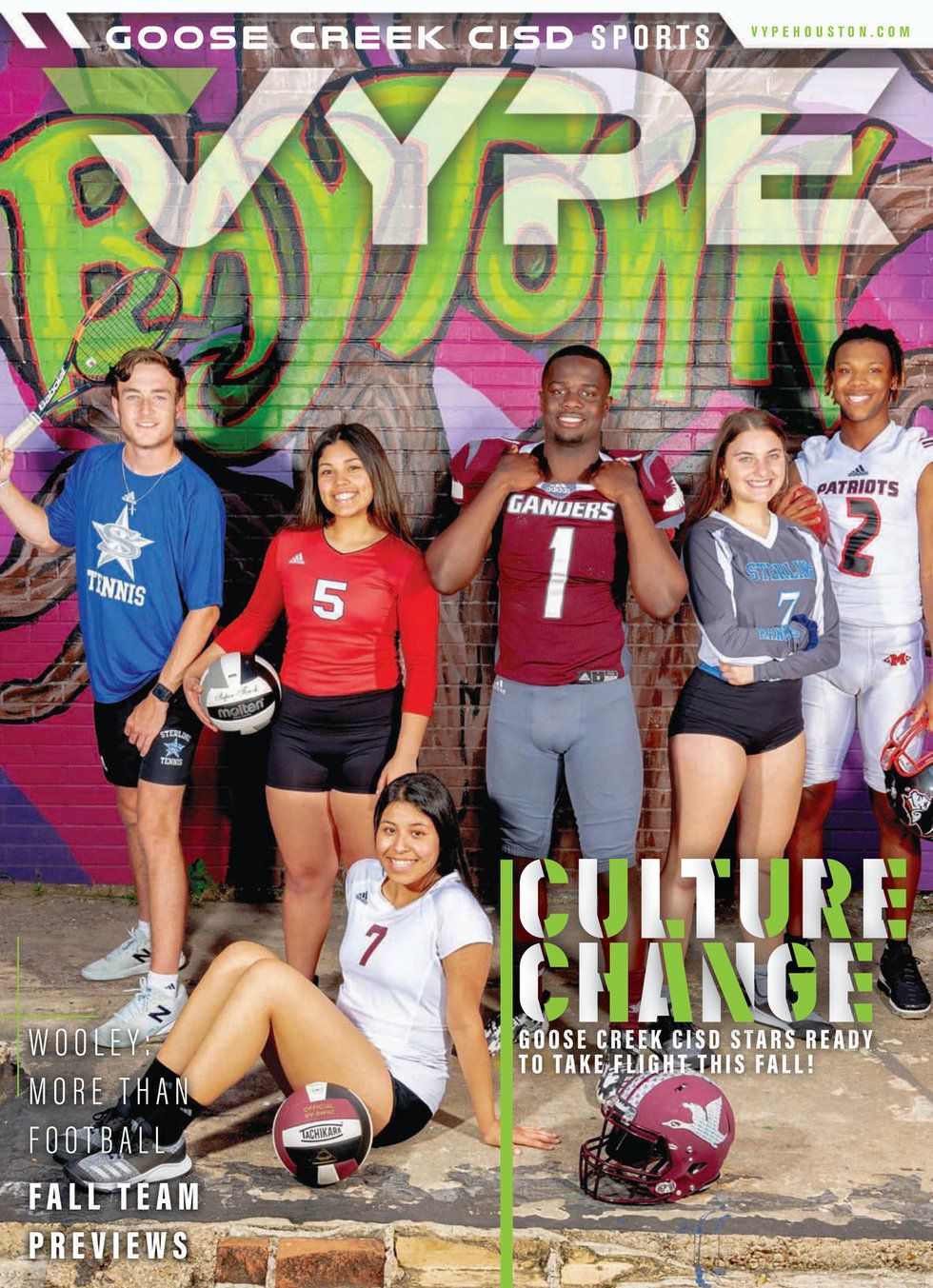 VYPE Goose Creek August 2019 www.ourdigitalmags.com
Keep reading...
Show less