Garza, Iowa Colony prepping for inaugural football season
Aug 04, 2022
Iowa Colony football
From the first day the UIL permitted fall practices on Monday, Iowa Colony football coach Ray Garza III and his staff and players were up against the clock, furiously starting the process of creating and building an entire program from no point of leverage.

Kneepads arrived last week. The first few days of fall camp were spent installing offensive, defensive and special teams schemes. The Pioneers know they want to be multiple on offense and play an odd-numbered front on defense. They just don't who will be playing, let alone who will be playing where.
There was no offseason. Only about six weeks of summer strength and conditioning camps at Caffey Junior High and now a few weeks of fall camp before Iowa Colony, Alvin ISD's fourth high school that takes most of its population from Manvel High, plays its first football game—a varsity one, at that—August 26 against Fort Bend Christian Academy.
"Kids are excited. Coaches are excited," said Garza, formerly defensive coordinator at Shadow Creek. "First time our kids were actually able to get into the building. Great facilities. They'd been wondering what it looks like and what all is available to them.
"When every place you go is the first someone's ever been, I think it has a little bit more special meaning to it."
Garza is a product of Alvin ISD. He has never left, except for his college years at Texas A&M (undergrad) and Lamar University (master's).
Growing up in Manvel, he attended Manvel Junior High and Alvin High School. His first coaching job was at Harby Junior High. In 2007, he went to Manvel High and coached the defensive line for Kirk Martin as the Mavericks made the leap to varsity. In 2016, he went to Shadow Creek with Brad Butler to start the football program. In 2019, their second year of varsity play, the Sharks won the Class 5A-Division I state title.
At Shadow Creek, the Sharks played two years of a renegade junior varsity schedule before playing in a varsity district. At Iowa Colony, the Pioneers, a Class 4A program, are jumping right into the varsity fire before school doors even open.
"It will be different," Garza said. "The kids know they're playing for the playoffs and a state championship. They have the right to do that. They have to earn it. And our kids are young, so we're having to mold leaders, whereas when you have a year or so, those kids have stepped up already from the older classes. Our kids now are in younger classes. So, we're helping bring them along and keeping them on the right path so they become those leaders."
Garza said the program's numbers currently sit at around 115-118 kids. The program consists of sophomores and freshmen this initial year.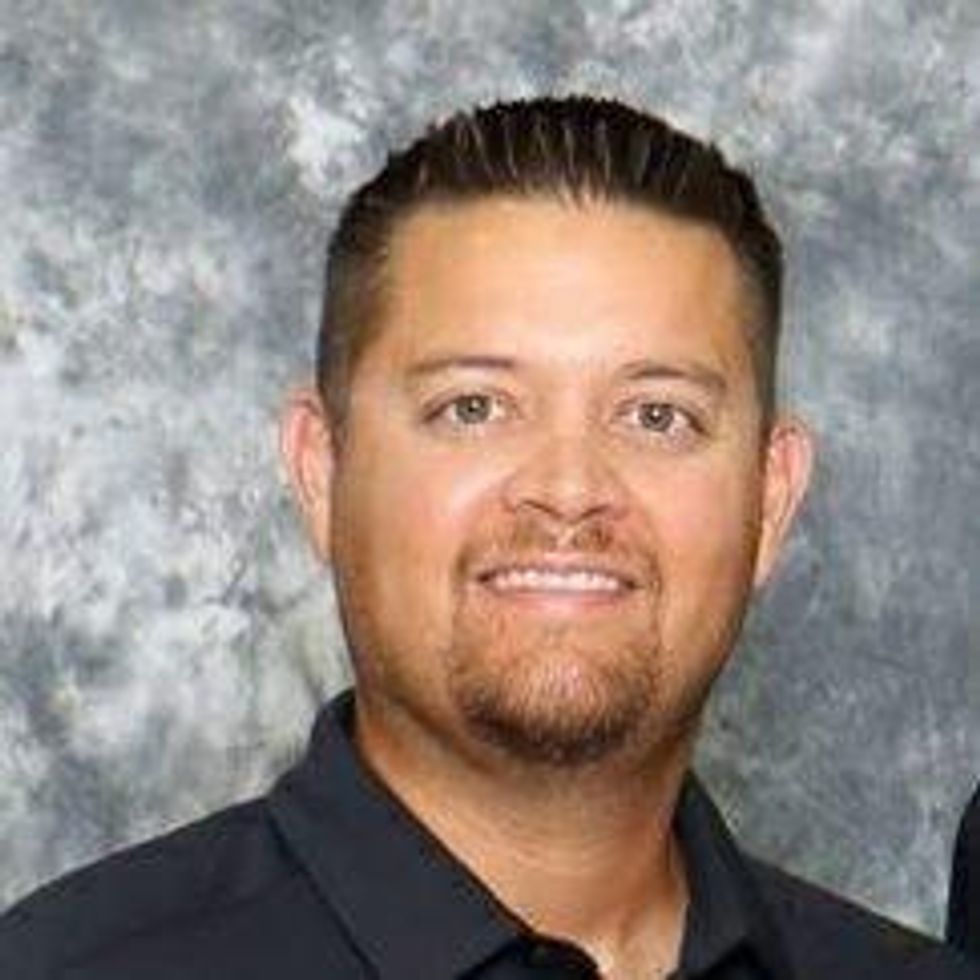 Iowa Colony coach Ray Garza III.Courtesy photo
Garza's focus is laying a foundation and cornerstone.
"You can't overlook the small things when you're talking about building a program," Garza said. "There's a lot of playoff games in my time at Manvel and Shadow Creek that I coached in that I know programs have a solid foundation of the process in how they do things. It becomes a part of who they are and what their kids expect when they go through everyday procedures."
His primary emphasis is consistency. Kids will understand standards, and those standards won't change. Coaches will know what to expect from kids. Kids will know what to expect from coaches.
Garza wants a family environment. Good programs, he said, have kids that care about the person next to them.
Building relationships is a priority.
"You can't go from point A to point Z," Garza said. "Where are we trying to go? What are we trying to achieve? What does that look like? How do we get kids to buy in? Especially where we're at right now, where our kids are jumping right in it, those are things we talk about."
Garza started establishing relationships with kids when summer camps began the second week of June. He already knows his players well. He admires their toughness and passion for not just playing football but studying it and learning it.
Sophomore defensive end/tight end/left tackle Chris Johnson, sophomore center Tyson Windham and sophomore running back Jacody Miles have asserted themselves as leaders, players who hold themselves and others accountable.
It's all a promising start. There is a lot to work with. But Garza also knows it will take time.
"You've got to be focused on every day," he said. "Getting better today than where we were yesterday. Did we get a better football IQ of what we're teaching? Are the kids starting to understand? Putting kids in the right position is our job every day. That's the goal. It hasn't changed from when I was at Manvel or Shadow Creek. But the only way to achieve that goal is to make sure we're taking care of the foundation of this football team."
True