College Station, Lufkin look to hold off Magnolia schools for District 8-5A-DI
Aug 21, 2019
By Bradley Collier
PRESEASON RANKINGS
College Station
Lufkin
Magnolia West
Magnolia
Tomball
Waller
Willis
Caney Creek
…
VYPE's PRESEASON AWARDS
MVP
Hunter Dunn, Tomball
…
OFFENSIVE MVP
Austin Sosa, College Station
…
DEFENSIVE MVP
Jerrin Thompson, Lufkin
…
BREAKOUT PLAYER OF THE YEAR
Price Hubbard, Waller
…
SLEEPER TEAM
Waller Bulldogs
...
District 8-5A-DI could see an avalanche of playoff teams for the 2019 season as College Station and Lufkin are locks for the top two spots. Magnolia, Magnolia West, Tomball and Waller will be fighting for the two remaining spots as we will see a flashback to 2018, when three teams battled it out for the last two spots on the last weekend.
College Station Cougars
College Station had a somewhat disappointing 2018 campaign as they lost a key district game to Magnolia West that slid them down to the third seed. That meant they would end up playing eventual state champion Highland Park in the area round. The Cougars would put up a good fight, but the 28-20 second-round loss would leave a bad taste for a team that was the 2017 defending state champions. Coach Steve Huff returns five starters each on offense and defense. The leaders will be led by the versatile QB/WR Austin Sosa (5-foot-11, 175-pounds) and LB Michael Medlin (5-foot-11, 195-pounds). The Cougars got some great work in, winning the state 7-on-7 tournament. Another advantage for the Cougars is that they will host every important district game in 2019. Lufkin (10/11), Magnolia (10/18), Tomball (11/1) and Mag West (11/8) all come to College Station in 2019.
…
Lufkin Panthers
Lufkin is the Lion King coming into this season as coach Todd Quick has 11 starters returning off their 10-2 team from 2018. The Panthers will be led by 4-star heat-seeking missile Jerrin Thompson (6-foot-1,170-pounds), who will roam the passing lanes like a panther stalking a deer. Look for Lufkin to be on a mission after a disappointing area-round loss last year to Lone Star, 49-21. Their district game of the year will be October 21 when they travel to College Station for the district crown.
…
Magnolia West Mustangs
Magnolia West goes into "rebuild" mode for 2019. Their charismatic coach J.D. Burna moves into an administrative role as the district athletic director. That moves last year's offensive coordinator Blake Joseph into the head coaching role. The Mustangs will miss star QB John Matocha as he moves on to sling the rock at the Colorado School of Mines. Former linebacker Tristan Brady will now call the plays on offense and will target top WR Payton Finch (1,244 yards, 16 TDs receiving). The defense returns five starters, which includes all-district LB Gage Wade (108 tackles). The Mustangs have a strong junior class, so the light in the tunnel could be a train coming through the district. The month of November will be huge for Mag West as they play at Magnolia (11/1) and College Station (11/9) to likely determine their playoff seed.
…
Magnolia Bulldogs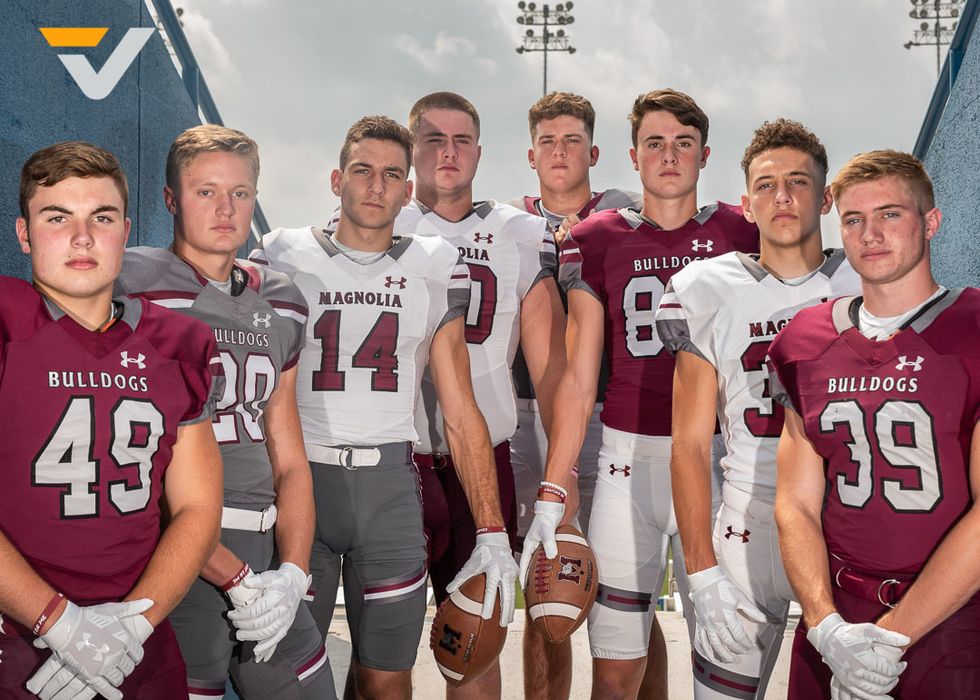 By Bradley Collier
The Magnolia Bulldogs were probably the best team NOT to make the playoffs last year. Their fifth-place finish included one-point losses to Magnolia West (28-27), Tomball (50-49) and a three-point loss to College Station, 41-38. The Temple connection to Magnolia ISD rings further true in 2019 as former Temple DC Craig Martin takes over for Sterling Doty, who moves on to his alma mater at Stephenville. If games are won in the trenches then Magnolia looks solid for 2019 as they have three bona fide FBS OL prospects in Derek Bowman (6-foot-4, 260-pounds), Kade Bond (6-foot-3, 295-pounds) and junior Matthew Wykoff (6-foot-6, 260-pounds). Bowman verbally committed to the University of Houston in the offseason. In any other 5A district, Magnolia would be a lock-solid district favorite, however, in 8-5A-DI they will most likely be fighting for the last playoff spot with Tomball.
…
Tomball Cougars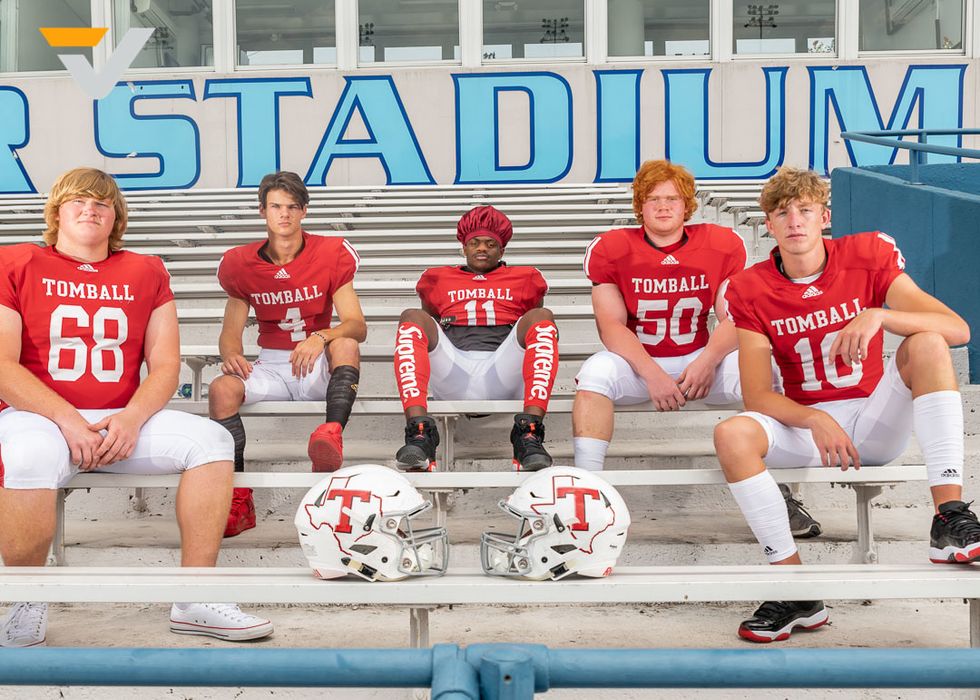 *Photo Taken Before Demas' UIL Hearing*
Tomball is a wild card coming into 2019. With a high-powered offense and a brand-new defense, the Cougars could resemble a popcorn machine with all the scoring. Returning is most likely the top QB prospect in Houston in senior returner Hunter Dunn (6-foot-4, 185-pounds). Dunn will be fun to watch as he'll have targets Jake Johnson (465 yards, 3 TDs receiving) and Jay'Ris Smith (637 yards, 4 TDs receiving). Running wild in the Cougars wide-open school will be RB Jermaine Mayes (378 yards, 4 TDs rushing). Tomball could be the first team ever to score 500 points and give up 500 points at the 5A level. Their big game comes early as the Tomball Bowl (Tomball vs Tomball Memorial) comes week one. Let the games begin.
…
Waller Bulldogs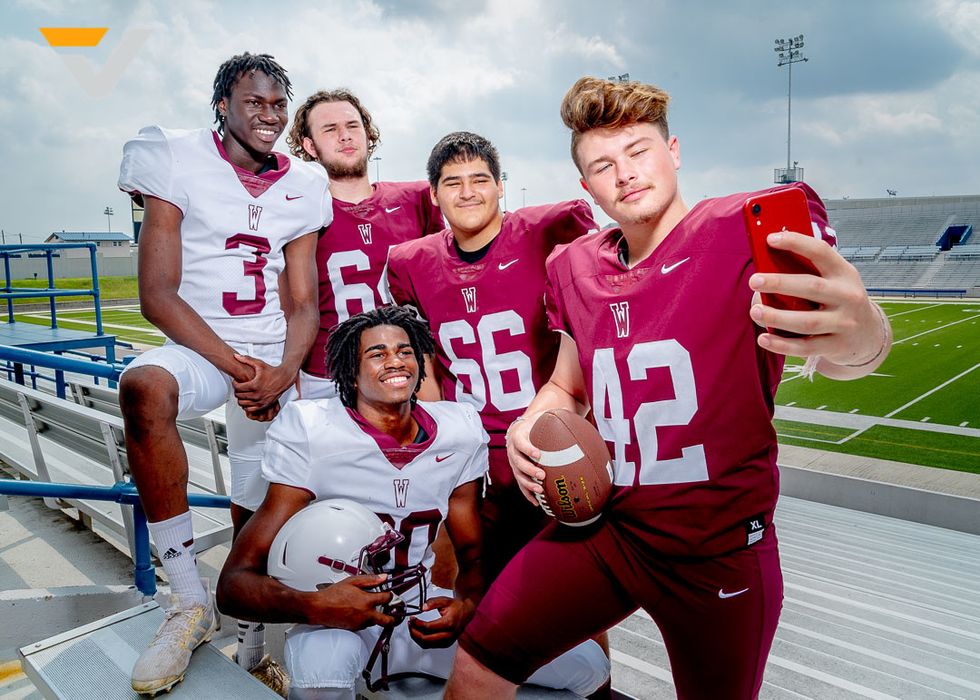 Waller could make some noise as legendary Cypress Ranch coach Gene Johnson moves down the road to coach the Bulldogs. Johnson has won big at Klein Forest, Hightower and Cypress Ranch and is a huge "get" for athletic director Jim Phillips. Johnson guided Cy Ranch to an undefeated regular season last year. Johnson's blueprint is a run-oriented offense and a sound, stingy defense. Look for RB "Big House" Price Hubbard (5-foot-10, 230-pounds) to lead the "pro style" offense of coach Johnson. The game of the year could be when Waller hosts Willis on November 1st.
…
Willis Wildkats
Second-year coach Michael Wall has a Willis team that is two years into his offense that brought multiple titles to Lake Travis. Look for Willis QB Steele Bardwell (6-foot-0, 185-pounds) to cook with hot oil with WRs Joshua King (5-foot-7, 175-pounds) and Jacoby McCoy (6-foot-3, 200-pounds) creating in space. The defense will need to bow its neck and get some spots for the 'Cats to be in the postseason conversation.
…
Caney Creek Panthers
Caney Creek is a young team with some fight. Head coach Steve Svendsen will have his hands full in this district, but look for the Panthers to fight with two-way player Isaiah Mendoza (WR/DB, 5-foot-10, 160-pounds) and RB Spencer Brandon (5-foot-10, 175-pounds).
Keep reading...
Show less