Cinco Ranch "cheerlebrity" stars on Netflix's Cheer, Ellen Show
Feb 12, 2020
One day you're cheering under the Friday Night Lights at Cinco Ranch, the next you are teaching Kendall Jenner how to stunt on The Ellen DeGeneres Show.
Okay, maybe not overnight but Shannon Woolsey (@shannonmayW) appears on the Netflix phenomenon Cheer, which has become the most recent binge show across the country.
The creators of Last Chance U descended on the small Texas town of Corsicana, home of the top cheer team in the nation – Navarro Junior College. Not the Texas Longhorns, LSU Tigers or Alabama Crimson Tide… the nation's No. 1 cheer team is Navarro Junior College.
Kids from across the country clamor to cheer for the Bulldogs and coach Monica Aldama. One of those is Woolsey.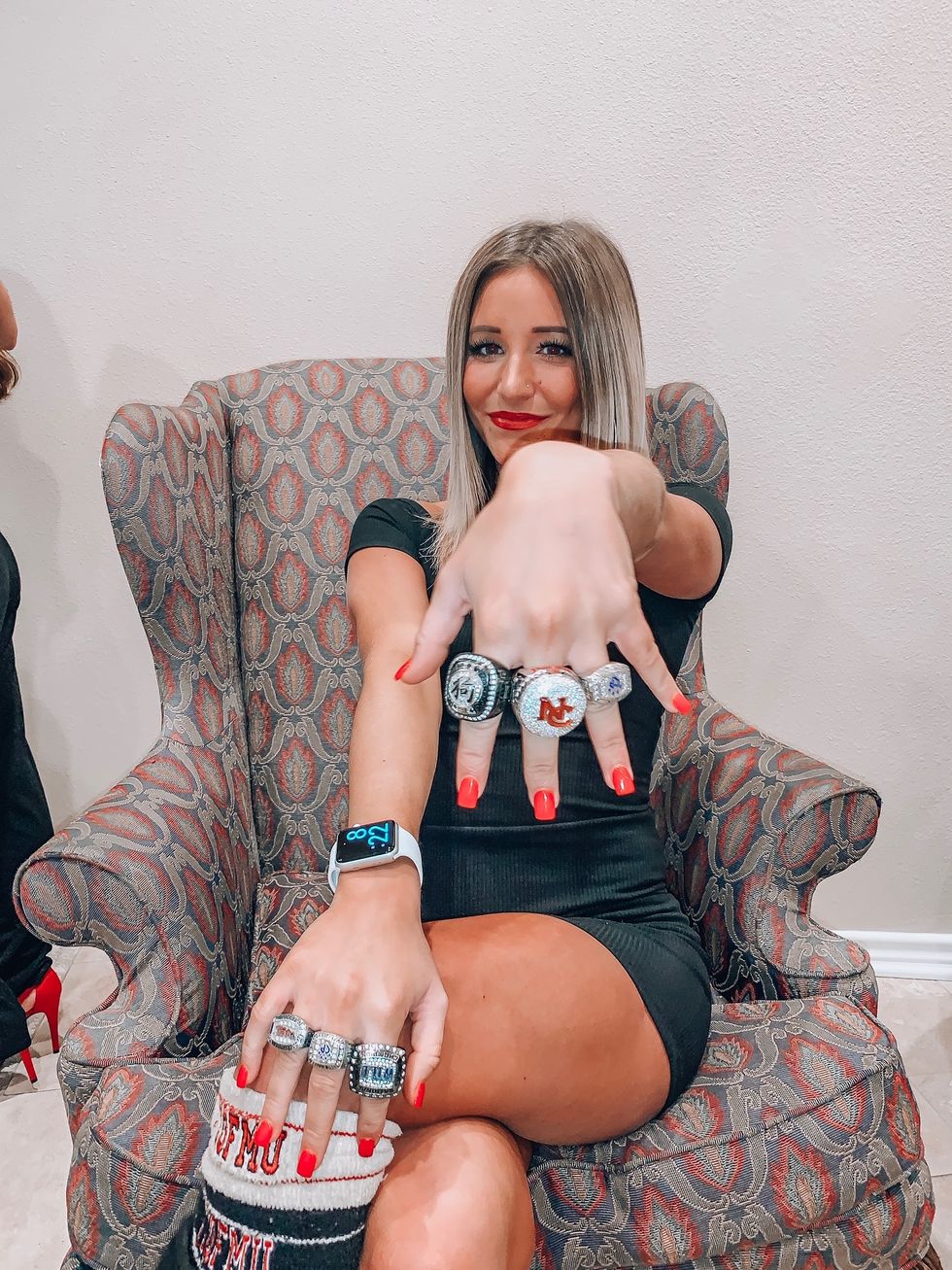 Woolsey is an all-star cheer champ and College Cheer Champ
"I started in gymnastics at Westwood (in Katy)," she said. "I was like six-years-old and kept looking at the cheerleaders. I couldn't pay attention. One of the cheer coaches picked me up off the beam and held me in a stunt and that was it. The next weekend I went to watch a cheer competition. I quit gymnastics the next day."
Woolsey graduated from Cinco Ranch and at the same time cheered for elite gyms like Prodigy, Woodlands Elite and Cheer Athletics. She made the Oklahoma State cheer team but left after a semester.
"I came home and was taking classes online," she said. "My mom said I needed to figure something out and get back into school. I liked Navarro because I could compete in college and in all-star with Cheer Athletics."
She had no idea that her decision would land her on a Netflix house-hold name.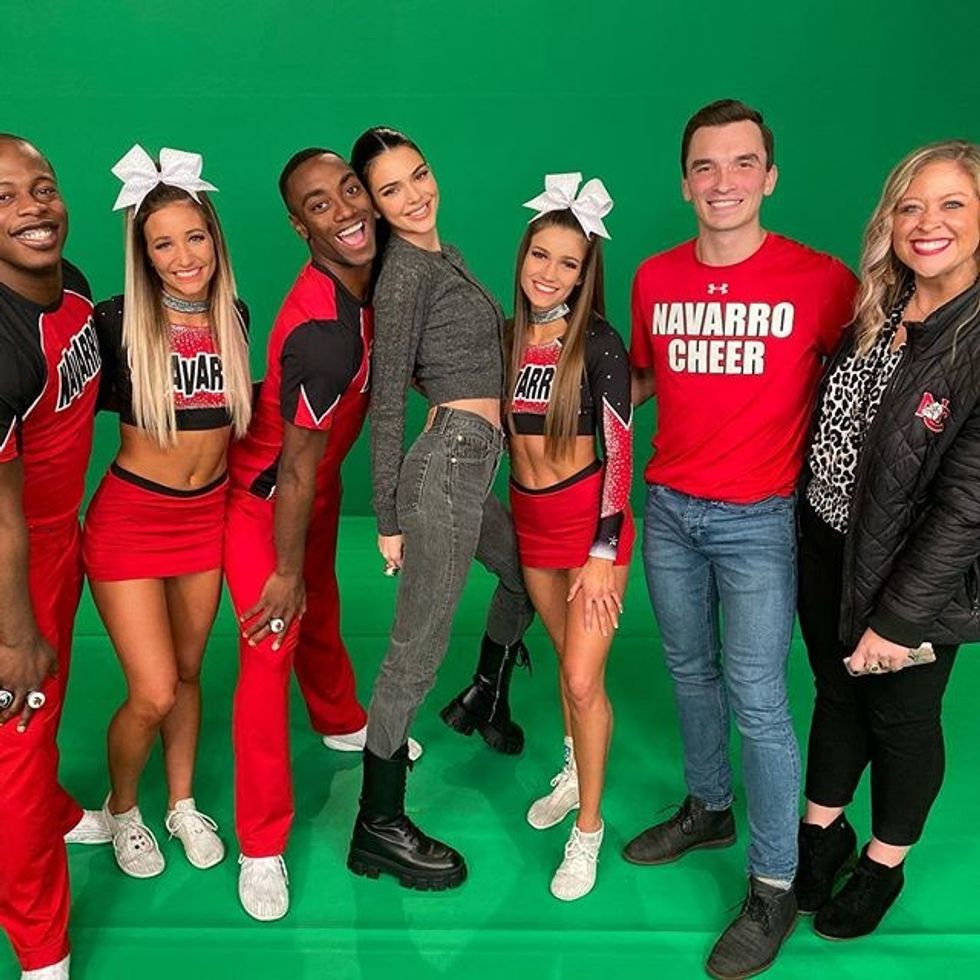 Navarro Cheer hits the Ellen Show with Kendall Jenner
"I had no idea what I was getting myself into," she said of Cheer. "We didn't really know it was going to be a thing. They came and shot one weekend and loved it. Obviously, they came back."
"At first it was weird, but as it went on the film crew became family to us. It was amazing to share our story with them."
Woolsey made the "mat", meaning she was chosen to perform at the NCAA Championship in Daytona (Florida) for Navarro – a coveted spot.
"Winning Daytona was honestly the best competition I've ever won," she said. "Especially because of the traumatic experience we had when Austin was injured on the floor. Going back into warmups and coming back to win was special. We overcame so much after so many injuries."
With the win at Daytona and the release of the show going viral, Cheer became a thing. It captured the fancy of Ellen Degeneres.
"The first time we went to LA, we did a mini-Daytona routine," she said. "It was a cool experience. The show invited us back out and four of us went back out to Los Angeles. Kendall Jenner was on the show and Ellen wanted to surprise her. I think she was obsessed with our show. We taught her how to stunt and she put on our uniform and stuff. It was incredible."
.@KendallJenner and Average @AndyLassner make the world's best cheer squad. https://t.co/OIt2CpTxAL

— Ellen DeGeneres (@Ellen DeGeneres) 1580413137.0
Woolsey returns for her third year with hopes of winning another National Championship. The heart of the program is coach Monica Aldama.
"My freshman year I was intimidated by her," she said. "She is one of the greatest human beings I've ever met. She cares about your well-being and your grades. She is a second mom to all of us. She changes lives."
From Jerry and Morgan to Lexi and LaDarius, her team comes from all walks of life.
"Jerry is the best person ever," she laughs. "Morgan came from Wyoming with virtually no cheer experience. We all come together with these personalities and mix so well. You become so close."
Woolsey is pursuing a sports medicine degree but wants to coach a few years after her cheer days are over.
"I'm not ready to be done with the cheer world," she said. "I'll see where coaching takes me, but for now I'm sticking with this path."
Woolsey has goals outside of Navarro as well.
"My drive now is to win NCA Worlds with Cheer Athletics," she said. "I've been on so many Worlds teams and never had that feeling of winning it at all-star level."
As an elite cheerleader or future coach, what would her advice be for the younger generation?
"You have to trust the process," she said. "I've gone through some many obstacles in my life. I've been injured so many times, but you can never give up. God always has a process."
Netflix did a tremendous job capturing Cheer from the bumps and bruises of the sport.
But back to the Netflix special.
"It was so accurate," she said of Cheer. "I was just so happy to see how well the sport was portrayed. It was an amazing year. I never thought my life was going to be like this."