Hitting the Beach: Beach Ball paying dividends for local athletes
Jul 25, 2019
IT'S A SPORT THAT FORCES YOU TO BE GOOD AT EVERYTHING. Every position. Every skill. Every portion of volleyball – hitting, serving, ball placement, communication and physical endurance – that usually takes six players to fully operate.
Instead, it is just you and one teammate, roaming a slightly smaller court. But the biggest difference is the fact that the hardwood floor that you would normally launch yourself off is replaced with the always shifting sand.
"Beach volleyball is extremely challenging," Goose Creek Memorial's Zoe Martinez, who first saw beach volleyball in a magazine when she was 10, said. "It tests all of your skills as a volleyball player."
Martinez and teammate Nadia Karabanoff of Barbers Hill accepted the challenging sport and qualified for the USAV Beach Nationals in California at a tournament in Galveston this past summer. This marked the third time Martinez has qualified for the national beach tournament.
Karabanoff, who is coming off a solid freshman season for the Eagles, is using her sand season to improve her indoor game, which she is hoping will pay off starting in August.
---
"The sprints, jumps and countless touches on the ball in the hot Texas sand have all taken part in preparing me for the upcoming fall season," Karabanoff said. "I feel that training in the sand not only elevates the physical skills of the game but also the mental. Working through my own mistakes and finding ways to correct them without the help of a coach develops me into an overall better player."
This duo was just the tip of the iceberg of Houston-area talent headed to the national tournament.
During the past few years, the trend of beach volleyball has exploded.
Clear Falls' Mia Johnson, who started playing beach volleyball during her freshman year, agrees that playing outdoors in the summer improves her ball control during the fall.
This makes her game better overall by just playing what she considers a "very challenging" sport.
"A lot of things are taken into consideration since there are only two people on the court," Johnson said. "You have to know who's righthanded or left-handed, who hits on the right side or the left side, who's taking who's seam in serve receive, or who's going to block. Beach volleyball is all about strategy."
Blakely Montgomery – Johnson's teammate at Clear Falls and for the beach season – got into beach when Johnson needed a teammate and saw immediate benefits.
"I think playing beach has helped me a ton. You learn new shots and see the court differently. Defensively, I'm able to tell my hitters during the indoor season what spots are open," Montgomery said.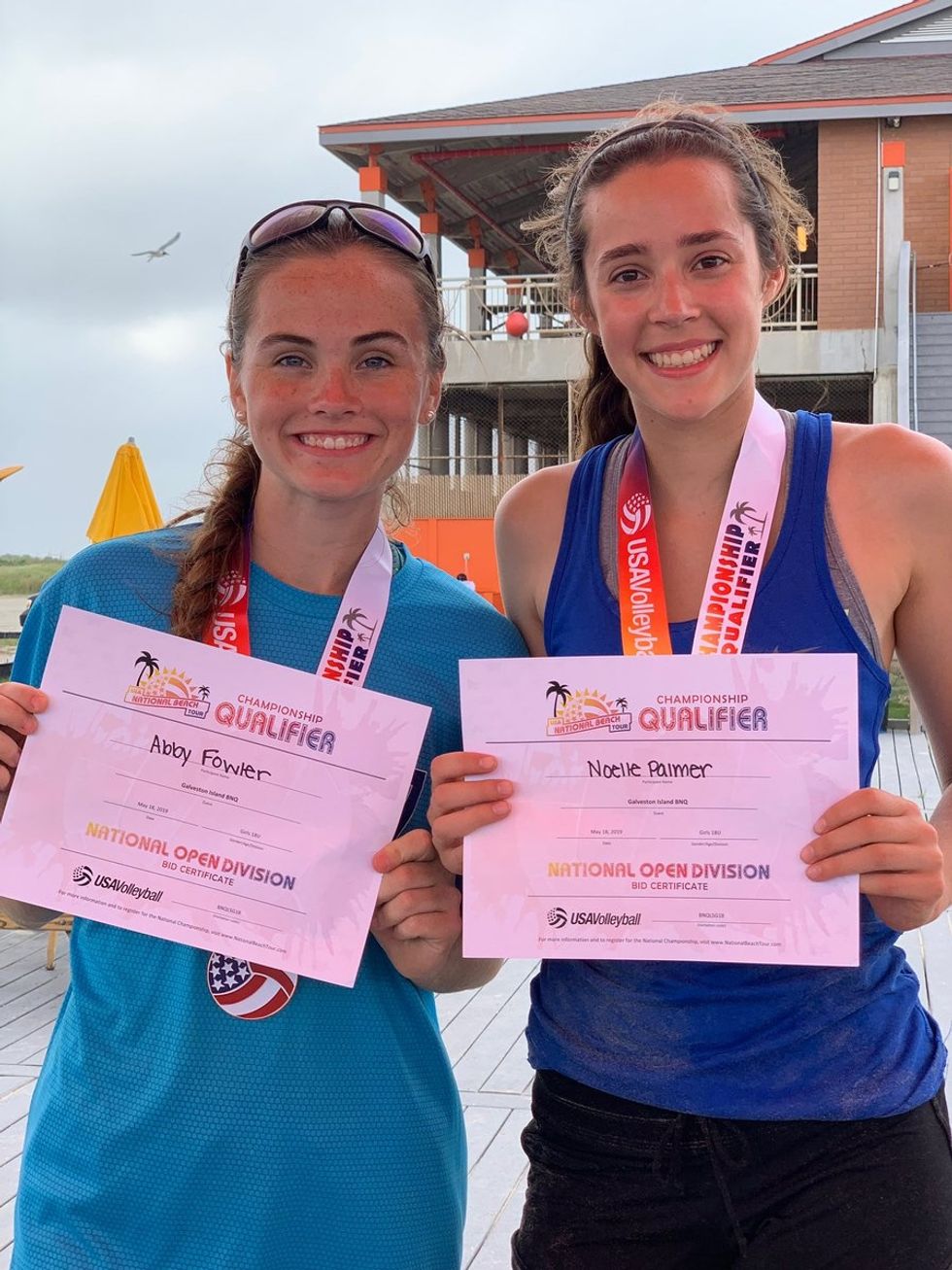 Oak Ridge's Abby Fowler, who was introduced to beach volleyball at 13, fell in love with the sport after one practice.
Fowler teamed up with College Park's Noelle Palmer to qualify for the USAV Beach Nationals. Playing beach volleyball, Fowler admitted, has made her faster and more explosive for indoor volleyball. It also helps develop a skill that can't be tracked on the stat sheet.
"You definitely have to communicate more in beach, but most importantly you have to trust your partner and their decisions made on the court," Fowler said. Palmer, who started playing beach volleyball for fun when TAV Houston constructed sand courts, decided to go all-in this summer season and she hopes it pays off. "I feel like beach volleyball has helped my indoor game in a lot of ways," Palmer said. "It has forced me to communicate more and become a better leader. I also think that beach volleyball has helped my indoor defense, as I feel like I can read the ball better and move quicker."
So, what do coaches think about the rise of beach volleyball?
"Beach volleyball is such a strategic, high-paced game. It forces its players to see the court, become a multi-skill/multidimensional player and develop leadership qualities," Goose Creek Memorial coach Casey Veen said. "Beach volleyball helps increase verticals and builds endurance. I believe that an athlete who plays beach develops quicker and has a higher volleyball IQ.
"I love to hear that an athlete plays or has an interest in beach, because I know that they are not only staying in shape over the summer, but are playing at a more elite level."
Outside of the physical skills, it's all about communication.
Barbers Hill coach Kristin Goodman believes playing beach volleyball makes athletes great utility players on the hardwood.
"Athletes who play both sand and indoor volleyball have great communication skills," Goodman said. "They are also able to hit great shots on offense and they are usually the ones comfortable going to the floor to get a ball up. They are so used to sacrificing their bodies in the sand."
Despite the rising popularity of beach volleyball, it is not currently a high school sport overseen by the UIL.
"I would like to see high schools in the area add beach volleyball to their athletic programs," Martinez said. "I would also like to see more opportunities for boy's teams at Texas schools."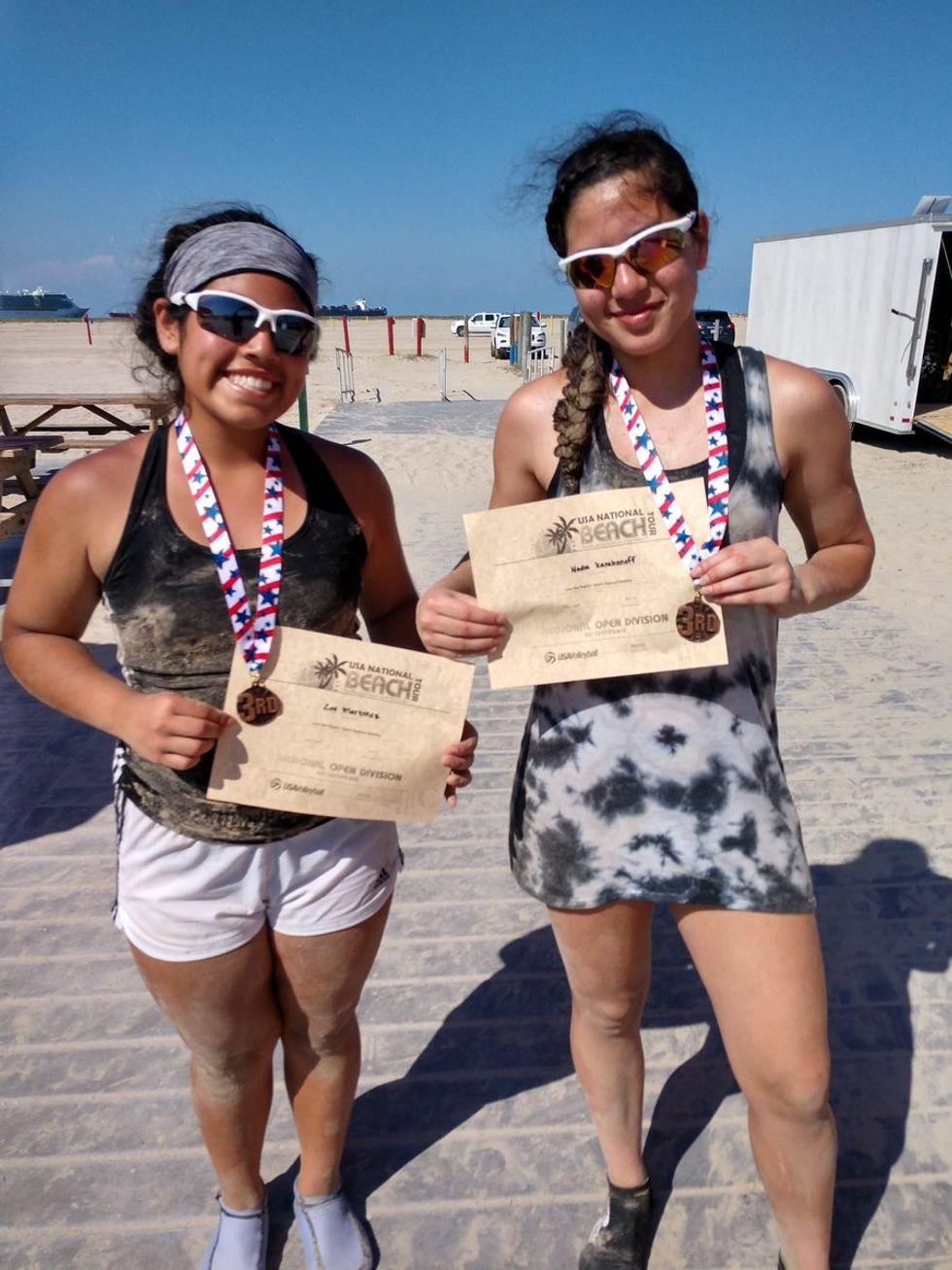 Despite the UIL not having beach volleyball as one of its core sports, college programs across the country have taken notice of the rise of the Olympic sport.
According to an American Volleyball Coaches Association report from October 2018, 53 college programs across the NCAA, NAIA, CCCAA, NJCAA and NWAC were considering starting the sport in the 2019-2020 or 2020- 2021 seasons.
After that, 84 programs look to potentially start between the 2021-2022 and 2024-2025 seasons. The AVCA had the count of current college volleyball programs at 84 NCAA programs. There were 16 NAIA programs and 27 NJCAA programs declared to have beach seasons for the 2019-2020 season.
In the 2018-2019 season, there were 38 teams in the California Community College Athletics Association.
"I believe beach volleyball will be more popular than indoor volleyball in the next five years," Johnson, who is verball committed to the University of Hawaii at Manoa for beach volleyball, said. "I've noticed so many younger girls at beach tournaments, which makes me think that the sport is gravitating towards future high school and college players."
In a 2017 report by the AVCA, $3.345 million worth of scholarships were given out across the then-95 beach programs, which had 1,410 roster spots.
Some of the most notable programs looking to potentially add beach volleyball in the future include Baylor, Houston, Auburn, Oklahoma, Texas A&M, Sam Houston State, Central Florida, Stephen F. Austin, Gonzaga, Oregon State and Washington State.