Jamey Wright (VYPE)
Lutheran South girls basketball is on the cusp of returning to the postseason for the sixth consecutive season.
Remaining a competitor on an annual basis in a formidable TAPPS division (District 5-5A), is easier said than done. With rivals who are perennial contenders, such as TWCA and Second Baptist constantly challenging for the top spot, the fact that the Pioneers consistently rise to the occasion is a testament to their tenacity.
LSA (15-7) currently holds the No. 2 spot (8-2) in the district, with the playoffs only weeks away. This can be attributed to the dynamic talent that LSA has on the court, particularly that of junior guard Makynna Robbins, who is currently averaging 18 PPG, an absurd 14 rebounds per game, with an additional two steals per game.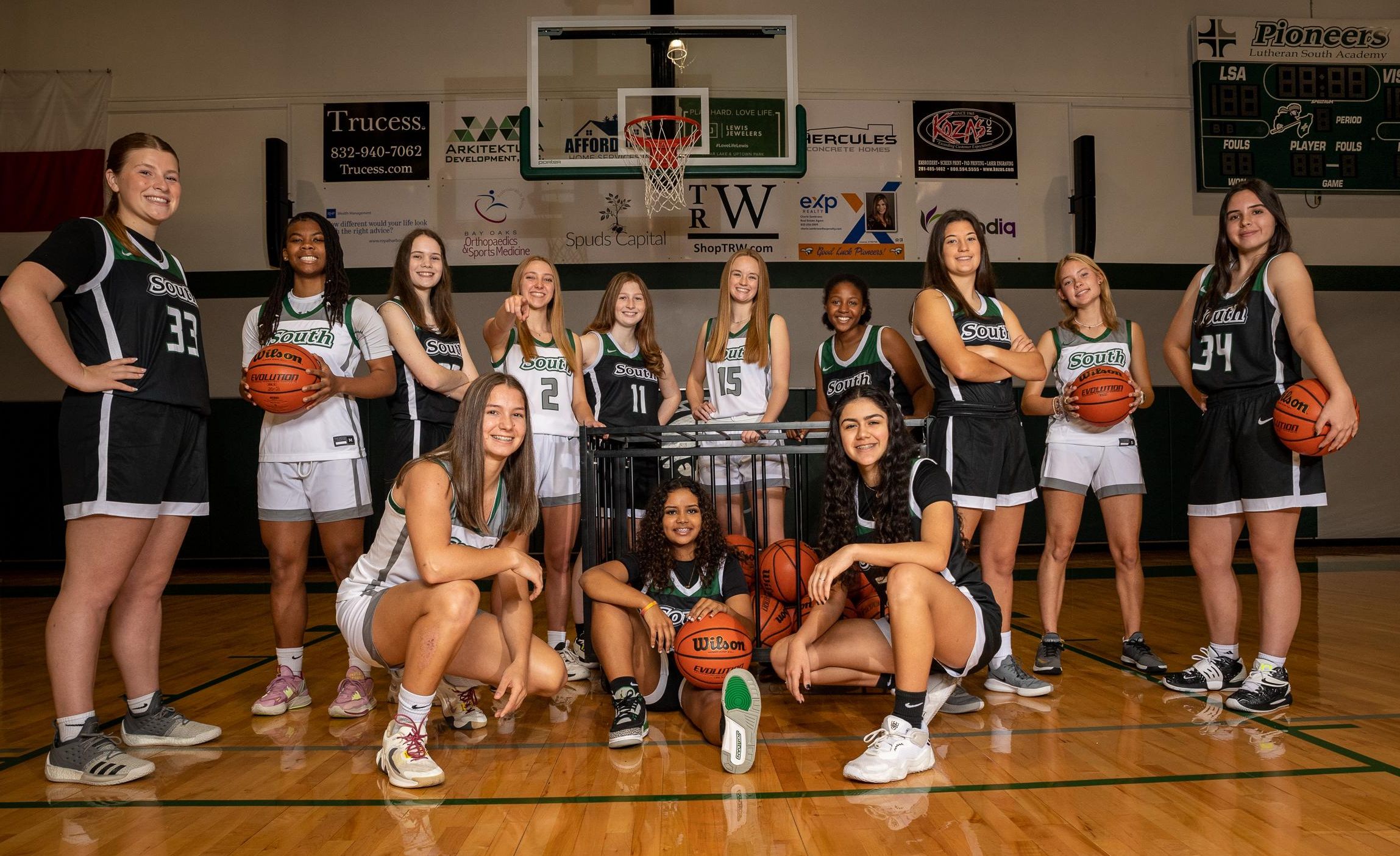 2022-23 Lutheran South Academy Girls BasketballJamey Wright (VYPE)
"I had the role of being the only standout of the team last season," she said. "This year, we have a much more complete team with Dakota Watson (Sr.-G), Caroline Schepmann (Sr.-P), Bianca Barba (Jr.-G), and Adori Howard (So.-SG). Three or four of us have scored in the double-digits in recent games."
Robbins and her teammates are no strangers to the playoffs, however, they have faced some unlucky first-round exits in recent years. But according to Robbins, this year will be different.
"I expect us to play our best basketball of the season in the playoffs," said Robbins. "I also expect us to make it to Waco for the Final Four. We pose a tougher match-up for our opponents this year with multiple scorers on the team."
The 5-foot-11 guard has been instrumental for the Pioneers over the past three years. She made history by passing the 1,000-point high school career milestone in their recent 61-38 victory over St, John XXIII. College offers should be expected to roll in, sooner rather than later, and that's exactly what Robbins will be waiting for.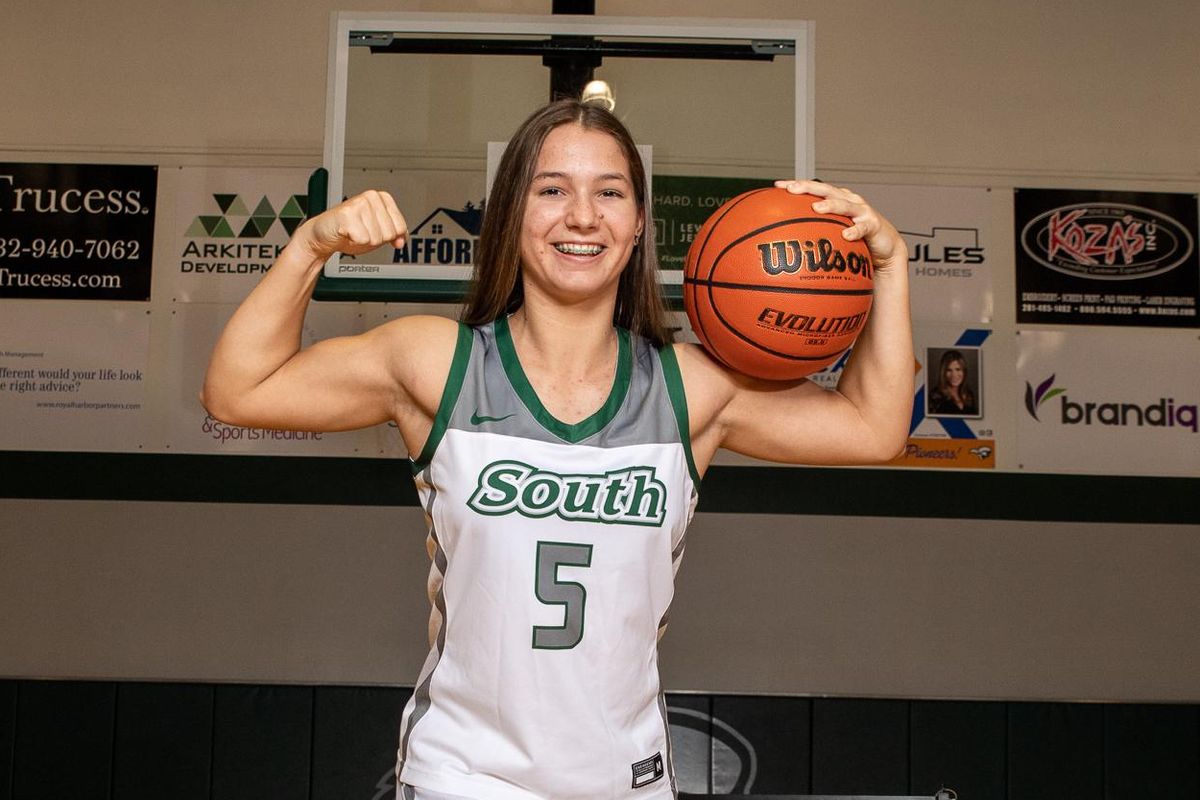 Jamey Wright (VYPE)
"I will be playing in college," she said. "This summers camps and club tournaments will help me determine my options of where I want to go after I graduate."
The postseason is quickly approaching and LSA is aiming to make a deep run. Subsequently, Robbins still has one more year left as a Pioneer, and she intends to continue adding to the Lutheran South Academy legacy, which she has the utmost respect for.
"I love playing for coach [Garret] Riveness who gives me every opportunity to succeed. I have two aunts that were Pioneer basketball players and I'm still chasing one of their records," she said. "Ultimately, I am blessed to be a part of the Pioneer legacy, where athletes like me can play their primary sport at a high level and still be a three-sport athlete."
Sugar Land, Texas — Fort Bend Christian Academy students and families gathered on campus on Wednesday, February 1, to celebrate five outstanding athletes as they signed National Letters of Intent to play sports at the collegiate level. Three athletes signed to play football, one signed to play football and baseball, and one athlete signed for cheerleading.
Brady Dever has committed to play Division I Football and Baseball for Brown University in Rhode Island. He has played football for six years and baseball for 15 years, a three year varsity letterman, and has been at FBCA since his sophomore year. Brady has received many awards during his time at FBCA. He has been awarded in football for District MVP, District Offensive MVP, 1st Team All District (2021, 2022), 1st and 2nd team All State, VYPE Player of the Year (2021, 2022), and TAPPS Division 2 Player of the Year. In baseball, Brandy was awarded 1st Team All State, 1st Team All District, Houston Newcomer of the Year, Perfect Game Top 500 Player in the Country, and more. His favorite memory was winning the football state championship and hitting a walk off grand slam last summer. While at Brown, Brady will major in Economics.
Bryan Domino has committed to play Division I Football for the University of Houston in Houston, Texas. He has played football for 13 years, two of those years at FBCA. Bryan has received numerous awards during his time at FBCA. He has received 1st Team All State (2021, 2022), Finalist for Touchdown Club Offensive Player, Wide Receiver of the Year Finalist, and has been recognized by VYPE and numerous other organizations across the Greater Houston area. His favorite memories include winning the football state championship this season and learning how to correctly play the game, scoring touchdowns, making big plays and winning. He plans to study Kinesiology with an emphasis in Sports Management.
Braylon Gardoni has committed to play Division I Football for Columbia University in New York City. Braylon has played football for 12 years and is a three year varsity starter at FBCA. He was awarded 1st Team All State Wide Receiver (2021, 2022), All District Wide Receiver (2020, 2021, 2022), Co-Offensive MVP, and Academic All State (2021, 2022). His favorite memory is winning the football state championship this season. Braylon plans to major in business and finance.
Nina Singleton has committed to NAIA Division 1 COED Competitive Cheer for Xavier University of Louisiana. Nina has cheered at FBCA for all four years of high school and cheered competitively for 13 years. Her favorite FBCA memories are cheering for the football team and the TAPPS Cheer Competitions. Nina has been awarded and recognized by TAPPS Varsity Cheer 1st Team All State (2022), All State Honorable Mention (2019, 2020, 2021), 2nd Team All State (2021, 2022), All Star Tumbling Award, THE ONE National Champion, Jamfest National Champion, and NCA National Champion. Nina plans to study Psychology Pre-Medicine and attend Physician Assistant School.
Lucas Vargas-Diaz has committed to play Division I football for the University of Miami in Florida. Lucas has played football at FBCA for two years and has been awarded All District, ranked number 9 offensive lineman in Texas, and was the number 27 overall private school recruit. His favorite FBCA memory is beating Regents School on the last drive of the game and winning a State Championship this season. Lucas plans to major in Biology.
"FBCA is very proud of these athletes and their accomplishments. They are all extremely talented and make the FBCA community proud," said Aaron Carpenter, FBCA Director of Athletics. "We are very excited to see what lies ahead for these dedicated student-athletes as they continue at their respective universities."
The John Cooper School Athletic Department held a signing ceremony on Wednesday, February 1 in the Dunlap Gymnasium to recognize senior Kade Meyer who will be competing at the college level in the fall of 2023.
Meyer will play baseball for Rhodes College, Memphis, Tenn. Parents, faculty, coaches and teammates joined Athletic Director John Hoye to honor Meyer.
"Kade is not only a great student and athlete, but a top character person that is an asset to any team he belongs to," Hoye said.
"Kade has this goal since he got into our program to play college baseball," said Mike Williams, head coach for the school's baseball program.
"Nobody will ever out work him. He will serve as one of our team captains this year and help lead us in SPC play."
Join the #VYPETEAM
Get up to date news from all over the country!