We are officially in Week 5 of the Texas high school football season and in the private school world and there has been a little bit of movement.
Kinkaid continues to play really good football this season, while Second Baptist School has picked up three nice wins to move to 3-1 on the year. A few teams did not play last week, so there was little movement in the rankings.
Check out the Top 10.
VYPE Private School Top 10 (Week 5 – 9.20.21)
Kinkaid Falcons (4-0) – Defeated Katy St. John XXIII 56-6
The Woodlands Christian Academy (3-0) – DNP
St. John's (3-0) – DNP
Second Baptist School (3-1) – Defeated Cypress Christian 49-14
St. Thomas (3-1) – Defeated Houston Christian 42-0
Bay Area Christian (4-0) – Defeated Rosehill Christian 17-0
Fort Bend Christian Academy (2-2) – Lost to Fulshear 38-28
St. Pius X (2-1) – DNP
Northland Christian (2-1) – Defeated Lutheran North 14-6
John Cooper School (2-2) – Defeated Cistercian 47-21
The process of buying a home can be stressful! The process of building or renovating a home can be terrifying. Kelly Malatesta is the best in the business as one of the Top 20 Overall mortgage brokers in the COUNTRY as ranked by Scotsman's Guide. She and her team can make the construction process go smoothly with their unmatched products and customer service. Go to kellytx.com to run your construction or renovations scenarios.
Courtesy Ty Baker's Twitter Profile
HOUSTON – Ty Baker '23 had a sophomore pitching season to remember with Second Baptist School's baseball team.

As one of the aces for Second Baptist School, which reached the TAPPS State Semifinals last spring, Baker posted video-game-like numbers.
In district play, he posted an ERA of 0.00. No, that's not a typo. Overall, he posted a 0.38 ERA, while going 4-0 with two saves, holding opponents to an abysmal .092 batting average and striking out 59 in 144 batters faced.
"Last year we fell short in the playoffs, which was obviously a disappointment," Baker said. "Our goals are to sweep district again and win state this year. We have a lot of great returning players that will have big impacts, and a couple of transfers that will be studs."
Second Baptist School's upcoming baseball season is sure to garner plenty of attention, especially at the collegiate level, including that of new Texas A&M head coach Jim Schlossnagle, who made the move from TCU in the offseason.
In July, Schlossnagle got another checkmark on his recruiting board in the form of Baker committing to the Aggies for 2023.
"Texas A&M has always been a top choice," Baker said. "I've always wanted to play in Texas and in the SEC, so it checks both of those boxes. The new coaching staff is awesome, and Coach Yeskie (the pitching coach) is an awesome guy and Coach Schlossnagle is a proven winner.
Baker continues, "The new staff has been great with recruiting, and I think all of us are very excited to see how we can help Texas A&M baseball win a national championship."
Baker, who enters his junior season in 2021-2022, has been working on his mechanics a lot this summer to get his three pitches – fastball, curveball and changeup – where he wants them to be.
It also helps that when he walks into a practice at Second Baptist School, his head coach Rayner Noble, is the all-time winningest baseball coach at the University of Houston and set to be inducted into their Hall of Honor this week, and his pitching coach is World Series Champion Andy Pettitte.
Not a bad combo.
"Having Coach Noble as a head coach is a great resource because of his years coaching in college. He has excellent experience and really understands the game," Baker said. "Coach Pettitte has been super influential on my pitching as well. He is awesome to have in the dugout and has really helped my mental game and holding on runners. He is a great man I want to emulate on and off the field."
But at Second Baptist School, for Baker it is more than what happens between the white lines of the baseball diamond that makes this place feel special for the future Aggie.
"I love SBS. From the classroom to athletics, you always feel like the faculty want you to succeed and are genuinely interested in you," Baker said. "Our athletic facilities and programs are top-notch."
The Concordia Lutheran Crusaders are set to enter district play after a competitive tournament and non-conference slate where they went 19-6.
Now, it's for real, especially with St. Agnes also vying for the district crown.
There is a new culture for the 'Saders as new coach Brandon Smeltzer tries his hand at grasping a coveted TAPPS State Title.
While Sophie Keene (Baylor-commit) gets much of the attention, the play of senior outside Sydney Whitfield could determine how far the Crusaders ultimately go.
The Liberty-commit is a big-time talent, who is ready to emerge as a superstar after her first three seasons at Concordia Lutheran.
"Whitfield is a stud and has a whip of an arm," Smeltzer said. "She's so athletic."
With over 110 kills so far, Whitfield is on the cusp.
VYPE caught up with the senior to talk shop.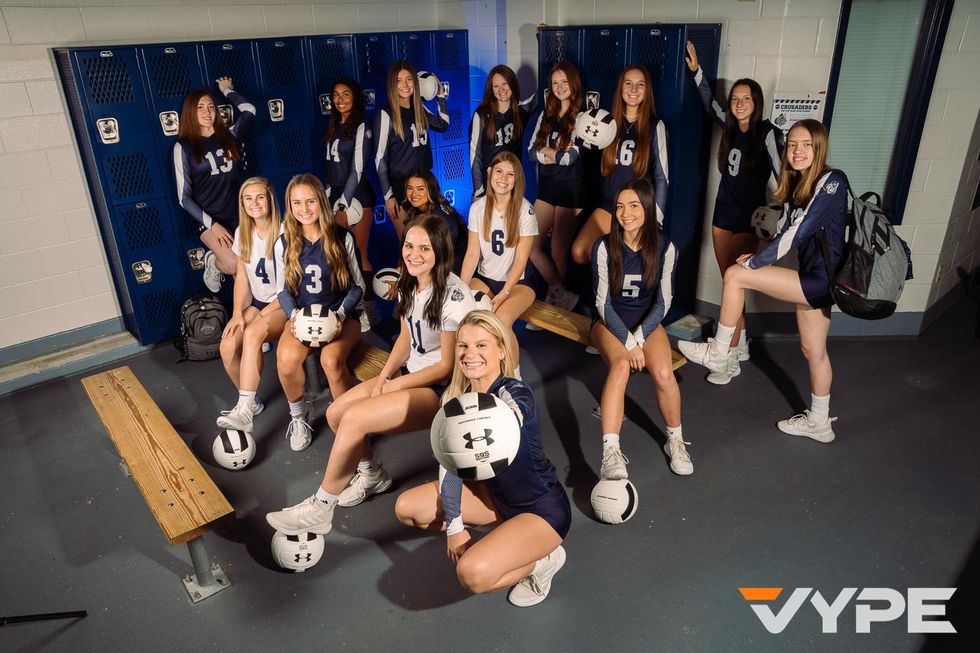 …
VYPE: What's is something off the wall that people might not know about you?
WHITFIELD: I'm obsessed with trucks. Like a white, lifted, F-150, yeah. I wouldn't drive it but I wish I had a boyfriend who drove one.
…
VYPE: It's already your senior year, what's the plan?
WHITFIELD: I'm excited how our new coach uses me. I feel like I'm working on leadership. I want to just continue to get better and grow as a teammate as I get ready for college.
…
VYPE: What have you improved on most over the year?
WHITFIELD: During the club season, I just worked on my shots as much as a I could. Also, my vertical jump.
…
VYPE: Liberty is in Virginia. What did you love about the school?
WHITFIELD: I'm just ready for a different scene, you know? I loved the coaches and the atmosphere was so welcoming. It's a great fit.
...
VYPE: Concordia Lutheran has been so close. What will it take to win state?
WHITFIELD: Everybody wants to win state, right? We've been there before and we wanted it, but the other team wanted it more. It's that simple. We have to want it more.
Join the #VYPETEAM
Get up to date news from all over the country!