VYPE Houston Fall National Signing Day Wrap: Area athletes ink college decisions
Nov 12, 2020
HOUSTON - It was a busy day across the City of Houston.

Area athletes across multiple sports signed their National Letters of Intent to seal their college choices. Swimmers, basketball stars, baseball standouts and volleyball studs were amongst the signees.
VYPE Houston traveled to multiple signing day events including Spring Branch ISD's Memorial and Stratford High School, St. Pius X, The Woodlands Christian Academy, Concordia Lutheran, Lutheran South and a few others. VYPE also had submission of photos from around the area.
Check out some of the best images and soundbites from the day!
VYPE Started the day over at Memorial High School where there were 11 student-athletes that signed their National Letters of Intent.
One of the players included in the signing day was Brianna Ellis signing with Auburn softball.
For a full recap of the Memorial High School signing day on Wednesday -CLICK HERE
Then VYPE traveled over to St. Pius X where Macy Matula signed with Texas A&M women's soccer, Emily Dear signed with UTSA softball and Jennifer Schmalz signed to play softball at the University of Dallas.
VYPE caught up with the future Aggie.
While that was going on, VYPE had reporters over at The Woodlands Christian Academy where back-to-back State Champion Ben Shearer signed with Arkansas, Caedmon Parker inked to play baseball at TCU, Austin Boyd signed with Hendrix College and Payton Moser signed with Heidelberg University.
VYPE was on hand and caught up with the newest TCU Horned Frog.
There was also a big soccer signing as former Kinkaid standout and current Xavier Academy student Jordan Guy signed with Big 12 Conference power Oklahoma State women's soccer to play for the Cowgirls.
The final stop of the day was Stratford High School, where there was a class of eight signing their letters out at the High School stadium. Among that group was University of Houston baseball signee Tab Tracy and Rice baseball signee Mark Perkins.
Tracy and Perkins had a bit of fun after the signing as the current Stratford baseball teammates looked towards being college rivals down the road.
There were some other notable signings around the Houston area in what ended up being a very busy day.
Episcopal Volleyball Boasts 4 DI Signees, Pair of Baseball, Lacrosse player sign as well

Entering the season we all knew Episcopal was going to be legit. Unfortunately they never got to play for a SPC Championship. On National Signing Day they got to celebrate a stellar class including Cimone and Bria Woodard signing with Howard, Sania Petties inking with Mississippi State and Hailey Black heading to Cal State Fullerton.
Izzy Ehrlich signed with Colorado State University-Pueblo ThunderWolves women's lacrosse, Marco Gutierrez signed with Texas A&M-Corpus Christi and James Taussig signed with Radford.
Ashlyn Svoboda signs with Northwestern State University
Raven Adams signs with Texas State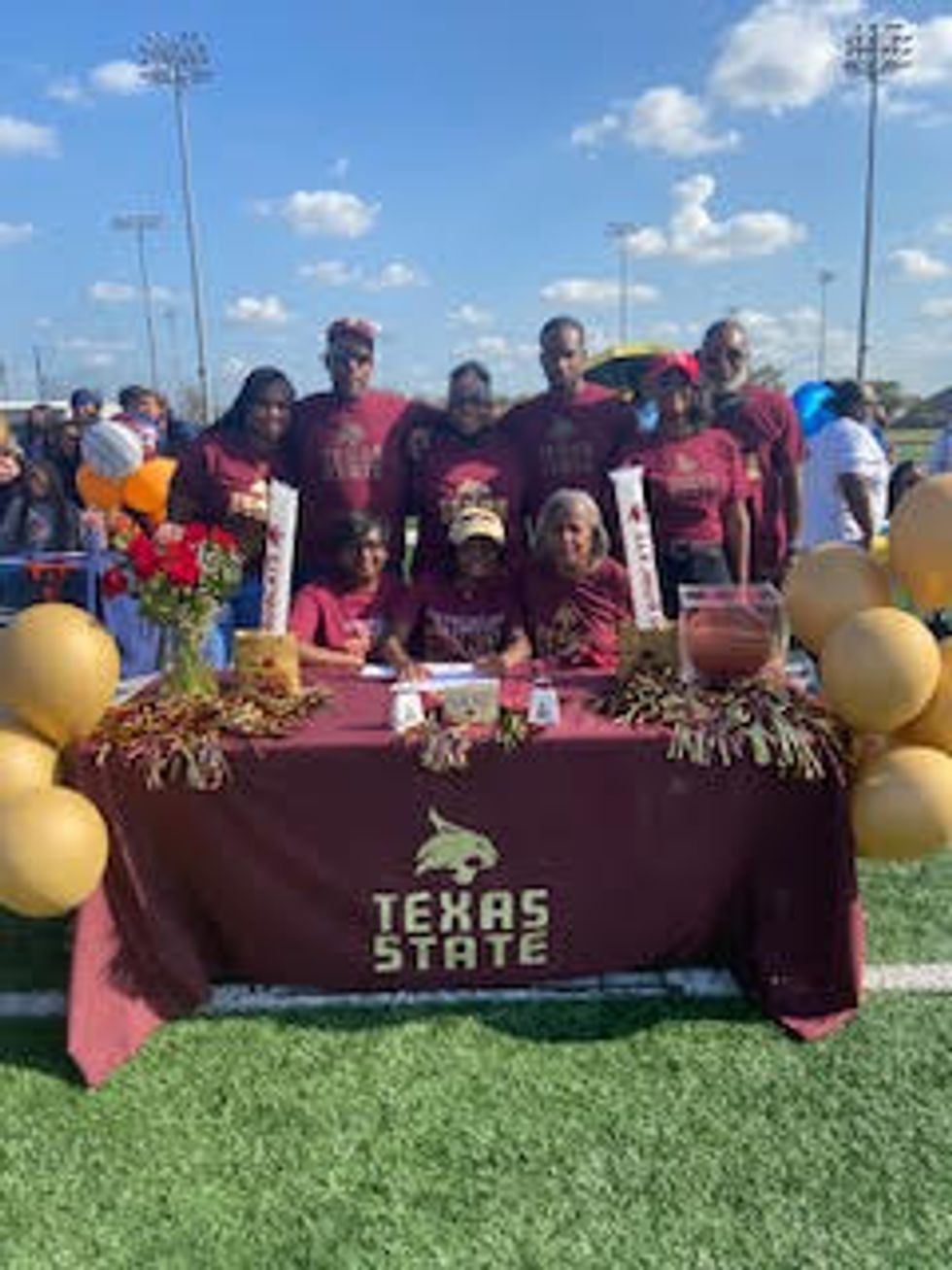 Raven Adams is heading to Texas State. Last season, Adams became the first Ridge Point Panther to ever surpass 500 career assists. She enters this season with 918 career points and will eclipse the 1,000 point mark in a few weeks. Adams averaged 10.6 points and 6.5 assists per game a year ago. She is a player to watch in the city this year.