VYPE 2022 Countdown to Kickoff: District 10-4A-DI
Aug 23, 2022
Photo By Juan Deleon | Special to VYPE
Last season, LCM pieced together a historic season and reached the State Quarterfinals.
Out of this district, three other teams made the playoffs a year ago – Vidor, Huffman, Lumberton – and a few others were close. No team in this district lost more than four games a year ago.
So, this is a competitive district with little room for error with only six teams in it and four playoff spots up for grabs. This makes every game big.
PREVIOUS DISTRICT PREVIEWS (2022)
PRESEASON RANKINGS
Lumberton Raiders
Little Cypress-Mauriceville Bears
Vidor Pirates
Splendora Wildcats
Huffman Falcons
Livingston Lions

VYPE PRESEASON AWARDS
MOST VALUABLE PLAYER: Da'Marion Morris, Little Cypress-Mauriceville
OFFENSIVE MVP: Lucas Powell, Lumberton
DEFENSIVE MVP: Jared Odom, Vidor
BREAKOUT PLAYER OF THE YEAR: Tyler Wilkins, Huffman
SLEEPER TEAM: Huffman Falcons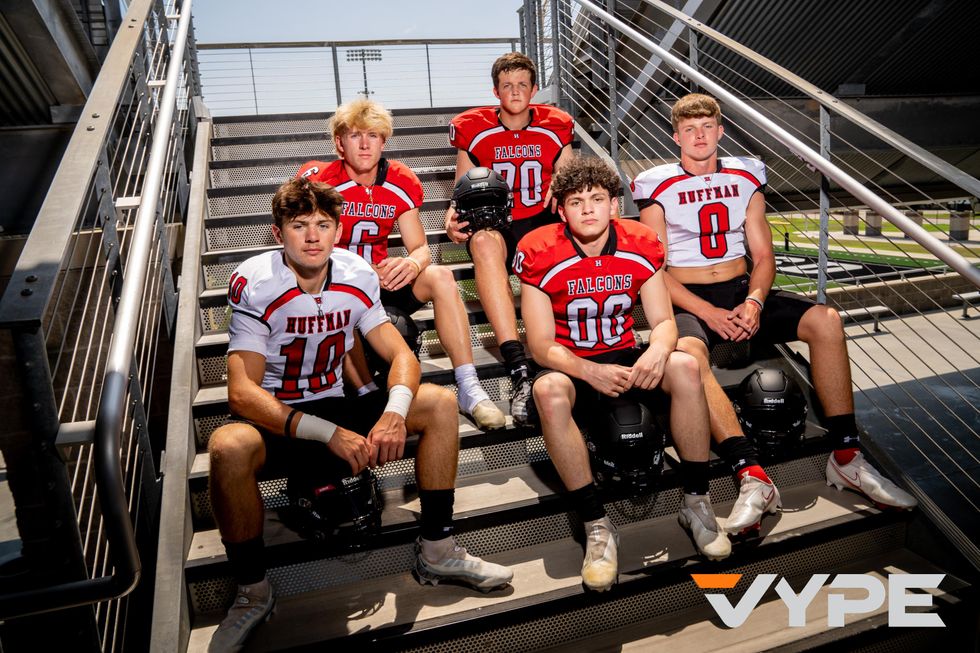 Lumberton Raiders
Lumberton made the playoffs for the third time in the past four seasons last year but fell in the first round. Their deepest run in the postseason came back in 2007 when they reached the Regional round. Can they recreate that magic in 2022? Reigning Offensive Newcomer of the Year Lucas Powell will have something to say about it. Powell had monster numbers a year ago as a sophomore passing for 2,552 yards and 25 scores and rushing for another 10 touchdowns. Jaddon Ward comes back as the top rusher for the Raiders, busting off for 981 yards and 11 scores, while Trey Kersh was the top target with 847 yards and seven touchdowns on 71 receptions. Defensively, Brock Jackson returns as the leading tackler with 74 last year and five sacks. Other names to take note of include Brady Fuselier (WR), Kaleb Koch (WR), Gabe Hernandez (OL), John Lamberth (OL), Grayden Spencer (DL), Jared Morgan (LB) and Carson Rea (LB).
LITTLE CYPRESS-MAURICEVILLE BEARS
LCM made a historic run in the 2021 season, including knocking off El Campo during their playoff run. Eric Peevy knows how to build winning programs, just like he did at Beaumont West Brook. Good thing for him is that he returns District MVP Da'marion Morris at running back. Morris rushed for more than 1,800 yards and 22 scores a year ago. He was also big on defense with 38 tackles and six interceptions. Amier Washington will hold down the defensive line (64 tackles, 21 TFL) to go along with Jarvis Riley (64 tackles, 4 sacks). Another name to remember includes Dean Reynolds (QB). VIDOR PIRATES Vidor has never been to the playoffs in three consecutive seasons. Never and they've been playing football since 1940. This year could be the season they do it under Jeff Matthews, who enters his 24th season leading the Pirates. Vidor returns second-team, all-district back Ricky Gall, first-team tight end Brayden Root, first-team defensive end Jason Watson, first-team linebacker Jarrett Odom and first-team defensive back Dane Villadsen. Last year, Gall rushed for north of 800 yards and six touchdowns, while Odom anchored the defense with his amazing 117 tackles, followed by Watson's 82 tackles and eight sacks. With 12 starters back, this team could be in line for that third-straight postseason trip.
SPLENDORA WILDCATS
Laine Sambrooks enters his second season of leading the Splendora Wildcats. In year one, they went 4-6 and were just on the outside looking in at the playoffs. Splendora has gone to the playoffs twice (2018, 2020) in the past four seasons. First-team, all-district quarterback Harrison Facundo is back under center after passing for 1,300 yards and 13 scores a year ago. Jason Williams will be the leader of the defense (72 tackles, 4 sacks). Other names to take note of include Kaden Grahlfs (WR) and Sean Carsten (FS). With experience on the roster and a good number of games under their belts, this could be a team that jumps up and takes one of those playoff spots.
HUFFMAN FALCONS
A new era begins at Huffman as Mike McEachern exits to take the Athletic Director job at Pflugerville ISD. Now, it is Joey Buchta's team to take over. The group he leads now has nine starters returning including first-team, all-district wide receiver and defensive back Tyler Wilkins. He has 17 career interceptions, eight of which came last year, and had 1,086 all-purpose yards. Other key returners include first-team, all-district kicker Jonathan Klepetko and second-teamers Will Swartz (DE), Harrison Dupnick (DL), Dylan McMullen (RB) and Noah Silman (OT). Keys to success include "running the football and stopping the run, doing the little things right and compete and embrace all roles", according to Buchta.
LIVINGSTON LIONS
Finis Vanover enters year five of leading the Livingston Lions. Since he has come in, the program has gone from going 0-10 in his first season to eight wins in 2020 and winning an outright district title for the first time since 1963. Last year, the Lions went 5-5. Now, in 2022 there will be some pieces to replace on offense but the defense does return some nice players. First-team, all-district defensive lineman Zaylon Bogany, first-team linebackers Connor Starr and Kendrick Williams are set to be back. Watch out for Tay McNeal at QB as he is a dual-threat (878 passing, 473 rushing) and will be joined in the backfield by Zach Williams.
True