Photo by Bradley Collier
The North Shore Mustangs are the Class 6A DI Region III Champs… again.
The sixth straight time to be exact.
While the 'Stangs got off to a slow start Saturday falling behind 14-0 in the first quarter and 14-6 at the half, North Shore came out of halftime with that #Eastside juice. That renewed spirit put Atascocita away 34-28 to advance to the State Semis against Westlake (14-0) at The Pfield in Pflugerville.
"We didn't play our best football," coach Willie Gaston said about coming out after halftime. "We took their best punch, and it was going to be up to them to come out and respond. They did that and I'm really proud of the players and the coaching staff for their halftime adjustments. That was the difference."
WR Christopher Barnes had to long touchdown receptions and the special teams had a punt block and score to turn the tide.
"That guy is electric," Gaston said of Barnes. "It's our job to get the ball in his hands and let him do his thing."
GALLERY BY BRADLEY COLLIER
Bradley C. Collier (VYPE)
The 5-foot-9 combo guard Shun'teria Anumele transferred from Brookshire Royal to join the Bulldogs for her senior season. While that might seem like a daunting task for some, that isn't the case for her.
"It's been really good so far, they've made it easy for me," she said. "On some teams you don't really gel together because of ego, but with this group it's not like that at all. We all want to see each other win and we've been playing great together."
"Great" would be an understatement.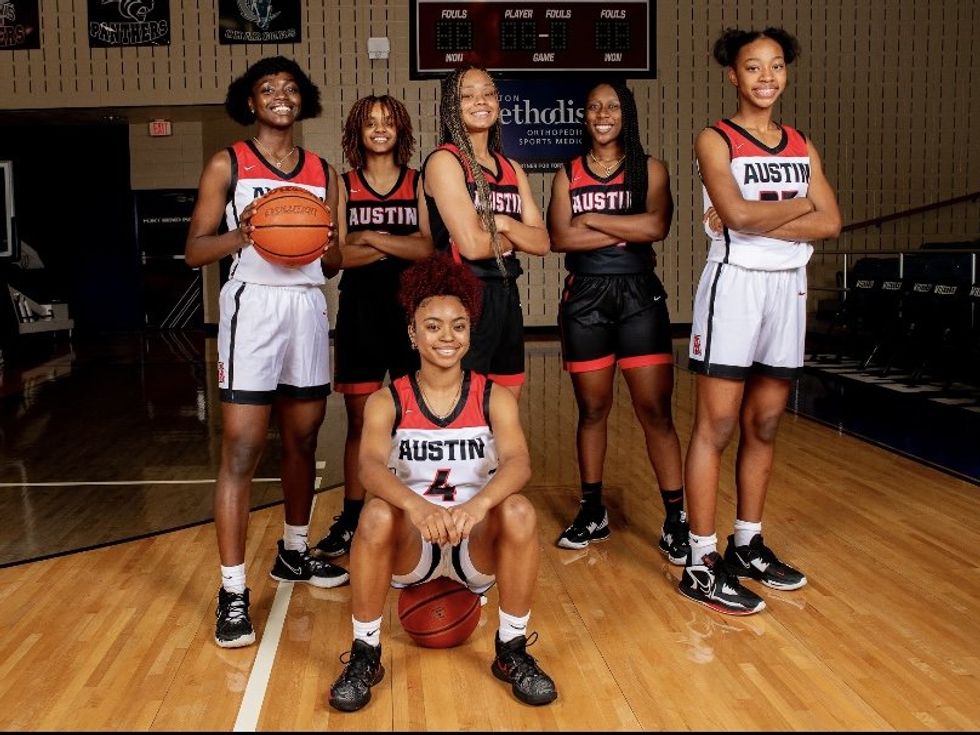 The stars of 2023-24 Fort Bend Austin Girls Basketball Bradley C. Collier (VYPE)
Since combining forces with the likes of Andrea Sturdivant (Jr. G), Crystal Schultz (Sr. G), Aminah Dixon (Jr. G), and Pfieffer Greene (Fr. F), FB Austin is now 12-1 (3-0 in district) through their first 13 games.
Anumele in particular is already averaging over a whopping 26 points a game, in addition to the 3 assists and 4 steals per match she tallies.
It's evident that something is working.
"For us, our strength has been our defense and our communication," said Anumele. "Some of the girls on the team are talented but they're young, so for them it's a mental thing. For upperclassmen like myself, we have to help them to understand that the game is both physical and mental. If they can follow what the coach is telling us and the example we try to set, then everything will be alright."
Anumele sets quite the example, now that she committed to Saint Louis University earlier in November.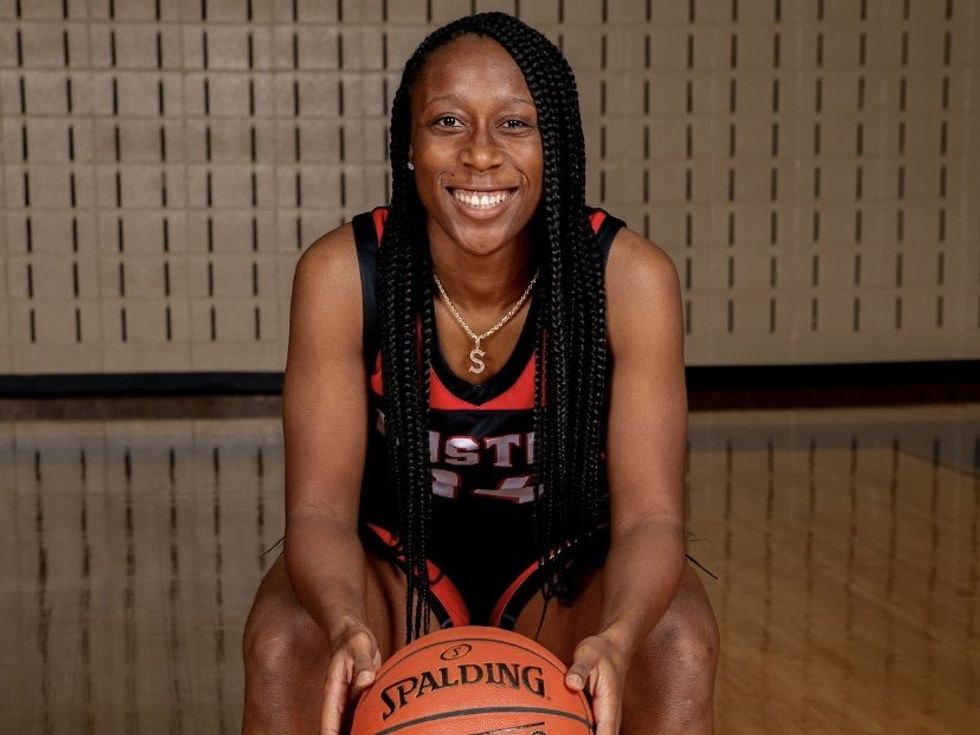 Bradley C. Collier (VYPE)
"I committed to Saint Louis because of the genuine vibes I got from coach Tillet as soon as I got onto the campus," she said. "She saw me play one time and she just knew from there that I was a kid that she could see playing for her program."
"I'm definitely going to be homesick when I get there, but I know it'll be for the better. It will be a hard adjustment, but I know my family will come visit, and it's for my career, so that's what matters."
The soon-to-be Saint Louis Billiken models her game after her favorite player, LeBron James, and the athleticism that she brings has already begun to pay dividends for her and the AHS Bulldogs.
Watch out for them as the season progresses.
Jamey Wright (VYPE)
Cinco Ranch's junior setter put up her best stat-line to date (1,385 assists, 388 digs, 137 kills) over the course of the Fall season which resulted in the team reaching the State Final for the first time in program history.
Despite her individual accomplishments which also earned her an All-State Tournament nod, O'Brien conceded that she didn't do it alone.
"I was very blessed," she said. "We have a great group of girls, and we all just have a great connection. Being able to lead the team, not just by setting, but through the mental aspect – having everyone on the same page – was a responsibility I cherish. But I wouldn't be where I was without my teammates and their performances. It's been one heck of a ride."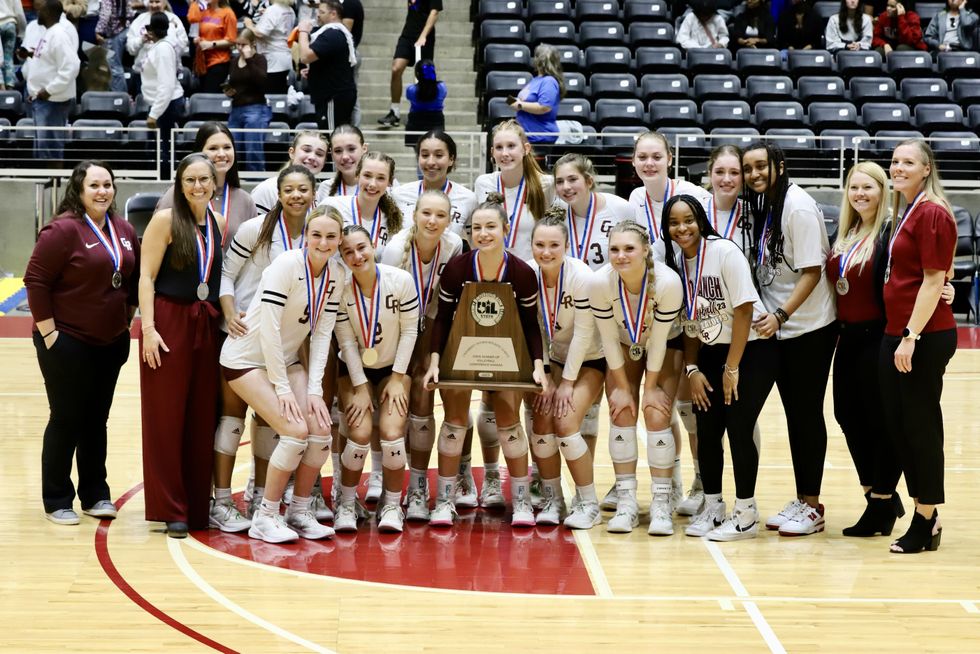 Photo provided by Kassidy O'Brien
She and her teammates enjoyed the full "state experience" when they were sent off to Garland, TX this past month for the tournament.
"It was really cool," said O'Brien. "We walked through the halls and all the students were out cheering for us. We had this charter bus that passed by all the junior high schools that feed into Cinco, and their students were there waving and holding signs. That kind of support for us was something else."
The Cougars would ultimately come home with silver medals around their necks, after their bout with Grand Oaks in the title game. However, that doesn't dismiss the fact that O'Brien and co. set a new precedent for the program.
Since then, O'Brien recently got the chance to make her official visit with her future team at the University of Kentucky, where she got to witness the group become SEC champions.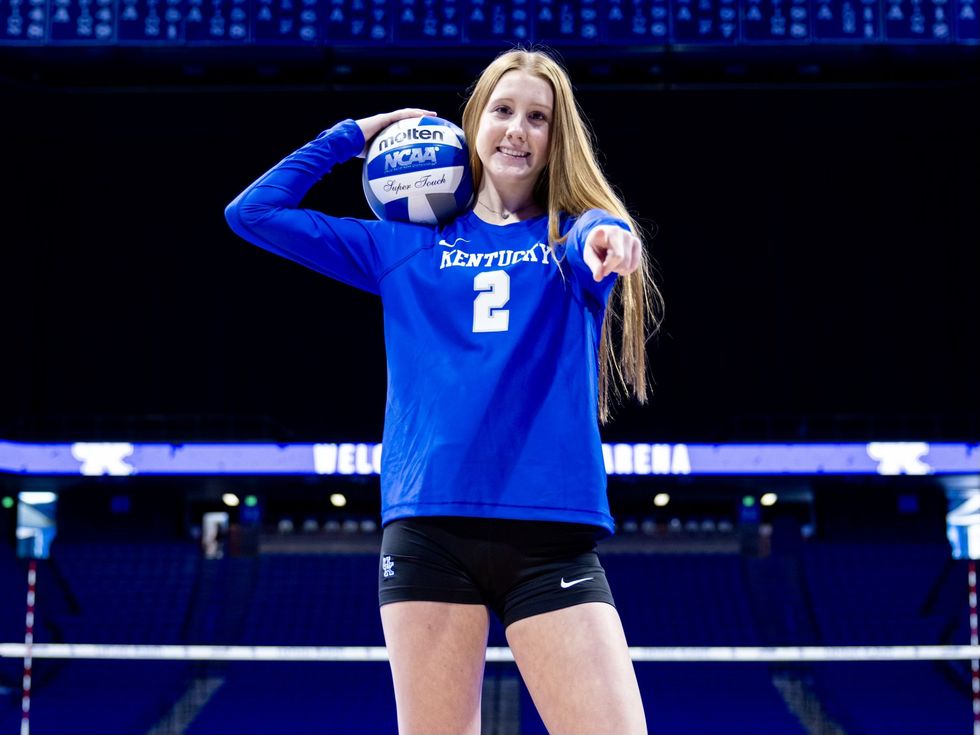 Photo provided by Kassidy O'Brien
"The visit was amazing," she said. "The coaches are wonderful there, and being able to witness them compete in their last game to win the championship was crazy to watch in person. Seeing all the feels in the atmosphere was really reminiscent of what we (Cinco Ranch) had. We also did some other fun things like go around campus and visit the Keeneland horse-racing track, so it was all kind of an overwhelming experience."
The good news for Cinco Ranch is that O'Brien, along with various other key players, such as Gabriella Martinez and Maggie Finnegan, have another year to play before they graduate and move on to their respective colleges.
So, what's next for the Cougars?
"We're definitely going to have to rebuild a little bit next season, because we're losing some big players, like Makenna (Loo), Ariana (Willis), Shea (Rainosek), and Emily (Killam) to graduation," O'Brien said.
"But, I think going forward, and remembering how far that we made it is going to be a big piece in our advancement. Since we did go so far, people are still going to be coming for us because they know what we're capable of."
With that mentality, who's to say that Cinco can't do it again a year from now?
Join the #VYPETEAM
Get up to date news from all over the country!