The Woodlands Highlanders have advanced to the Regional Semis for the first time since 2020 after two blow-out wins over Nimitz and Klein Cain in the opening rounds.
As the playoffs whittle down, the competition gets incrementally tougher. For the Highlanders... it's Duncanville week.
This Highlanders are staring facing a similar situation as playing defending State Champs North Shore on live television in Week 1. Now, the stakes are higher facing Duncanville, who has made it to four-straight Final Fours. While the loss to North Shore (49-21) was harrowing, it prepared the Highlanders for this Duncanville matchup.
"For a long time, we have talked about 'keeping the wolves away' and not worrying about outside influences that we can't control and that really have no idea what goes on within a team," coach Jim Rapp said. "All that really matters is what we believe. Our team has improved throughout the year, and I don't think we have played our best game yet. Duncanville has a quality team. We scrimmaged Atascocita and played North Shore this year. We learned a lot from those matchups. We will be ready to play on Saturday."
"The whole team has grown from our losses to North Shore and New Caney. We just got refocused," said star junior QB Mabrey Mettauer, who has thrown for 2,468 yards and 31 TDs this year while also rushing for 537 yards and 7 TDs. "Honestly, we just all started focusing on us and nothing else. It's about wanting it more than anyone else on that field. That's why I think we've been successful."
The turning point of the season has been the insertion of Arkez Gomez at RB. Gomez was an all-district athlete at New Caney last season, but has committed to running the ball in the second half of the Highlanders run in 2023.
"Our thoughts going into this game is to dominate and play fast, physical and fearless," Gomez said.
Gomez has been on a hot streak in the playoffs with five rushing touchdowns. His play has opened up the passing game, led by WRs Quanell Farrakhan Jr., Patrick Rabel and Branson McShaffry.

Defensively, The Woodlands will have to match the Panthers' speed and athleticism.
"We are amped up for this matchup," senior DB Cooper Starcke said. "The playoffs have a different feel to it and we know everything is on the line every week. Duncanville is a very good team and has had so much success, but we know we are a good football team as well. We are playing for each other at the perfect time."
Up front, Mitchell Blakeslee (Air Force-commit) and Steele Herndon will keep the linemen of their LBs Tommy Kratt , Jacob Pondant and JT Goff. Brady Carlin, Wei Wei and Luke Jones will need to contain the Panthers' receivers.
The special teams play is also a strength with Scott Starzyk punting and kicking. He's automatic.
"First and foremost, we will need to be fundamentally sound in all three phases of the game," Rapp said. "We need to continue to play solid defense and tackle well. Offensively, we will need to spread the ball around, be explosive, and be able to run the football when necessary. Next, we will need to be solid in special teams, to cover and tackle, to protect and block, and make quality kicks. If we accomplish that, it is going to be a heck of a game.
The North Shore experience, refocusing and a renewed confidence has The Woodlands looking for an upset against one of the biggest brand in Texas. Now, it's time to play ball.
It's Duncanville week.
The Texas High School football has rapidly advanced into the third round. The perrenial powers have punched their tickets to the Regional Semis.
One small town, however, is soaking up the experience of playing football over the Thanksgiving holidays -- Brazos High. It's a right of passage for programs taking that "next step".
"You try to explain what it [postseason football] is like," said Brazos coach Ryan Roecker. "They are getting the full experience from our community, which has really rallied around this team."
This Class 3A team from the small town of Wallis, Texas has exceeded expectations by making the playoffs with a record of 7-3, before knocking off a favored Lexington (35-28) in Round 1. They crushed Hebbronville (42-15) last week.
The Cougars have not lacked talent in previous years. The main reason they've missed the postseason in the past was due to costly injuries on a team that doesn't have many additional players on their limited roster.
"We've had some bad luck with injuries in the past," coach Roecker said. "Everybody's been a little dinged up, but we have been able to escape that major injury bug that has taken some of our top players down for multiple games or an entire season."
Despite the odds, Brazos has managed to push through the adversity with the help of key players -- QB/FS Bryson Bennet, center and nose guard Jonoah Fonseca, and do-it-all RB Vinny Aguilar, who rushed for over 230 yards with three touchdowns in their Round 2 win.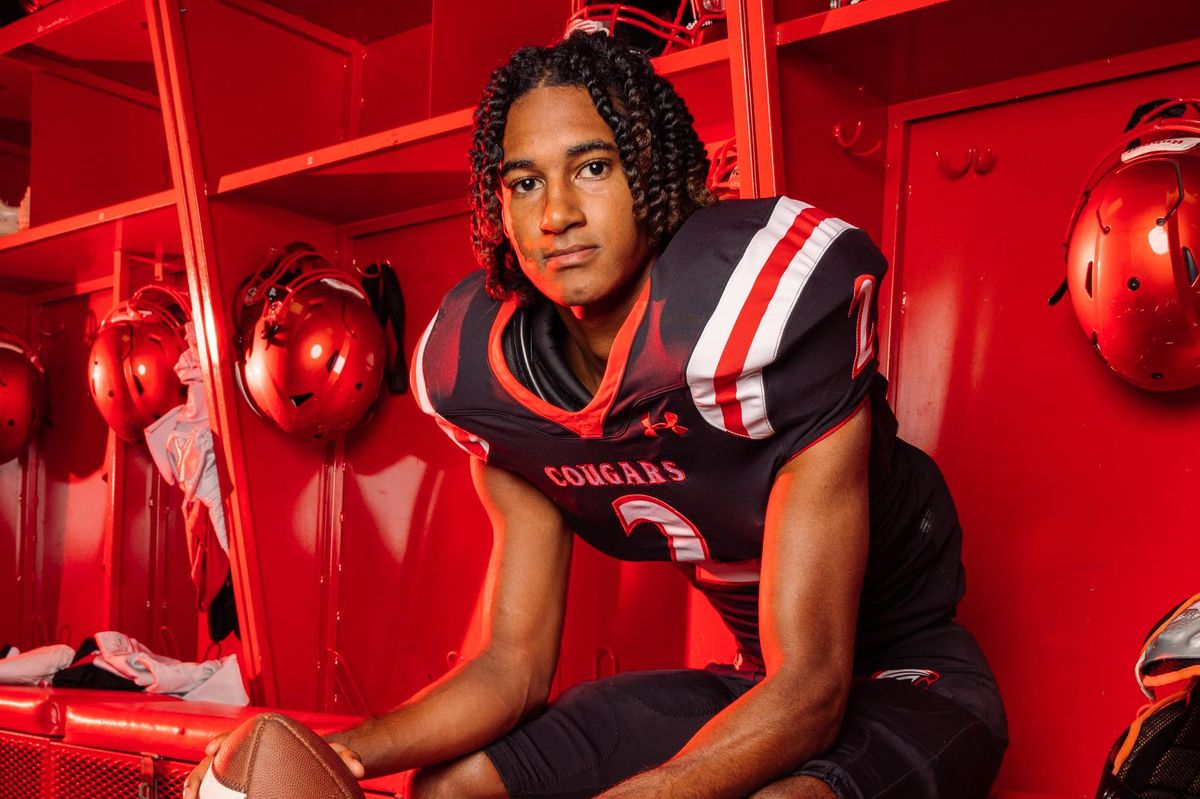 QB Bryson Bennet
"These seniors were 9-1 as freshmen," said coach Roecker. "We just had some rough times through COVID and other situations. They've displayed poise for four years in Brazos."
The Cougars are set to face off against power Tidehaven Friday at 2:00 PM at Freedom Field in Pasadena, Texas. Brazos lost their first matchup against Tidehaven in the regular season (33-13), but this is a team with a newfound confidence. The reason? They support of the Wallis community.
"Our slogan this football season has been -- 'Band of Brothers'," Roecker said. "It's a special group. When you have a group of guys and nobody is worried about touches or who gets the touchdowns or who gets recognized - they can be dangerous. Just the fact that the team only cares that the family gets the recognition is pretty special in his day and age."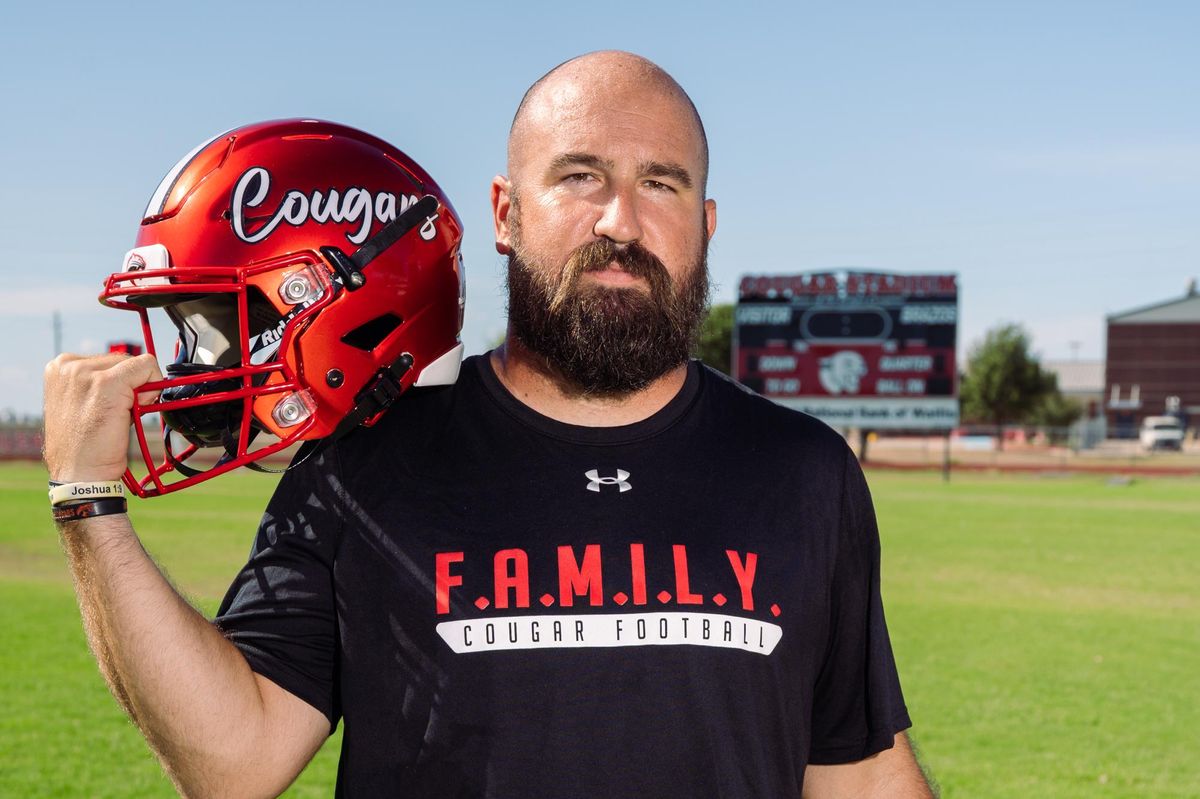 Coach Ryan Roecker
Aldine ISD schools have seen many student-athletes go on to play at the next level, especially in football.
This year alone, you have Nimitz DB Cory Huff Jr. (Baylor), MacArthur WR Justin Williams Jr. (Rice) and Eisenhower WR Ryan Niblett (Texas). The talent in Aldine ISD is always there, but the question is -- who will be next?
The next star athlete has emerged at Eisenhower, following his breakout sophomore campaign.
Eisenhower sophomore Joseph Albright has gained the attention of many DI programs. The recently rated 4-star played safety and RB for the Eagles making plays all over the field.
"It all started with my cousin. I use to look up to him when I was younger," Albright said. "He was the rising star of the family and I used to want to be like him, so my parents finally decided to let me play at age five."
Playing at such a young age, Albright gained a passion for the game. He now dreams of where football can take him.
"It's been a blessing for me," he said. I'm looking forward to becoming the first in my family to play college football."
Albright saw most of his varsity action on the defensive side of the ball, where he had 52 tackles, 6 tackles for loss, 7 pass breakups and two Interceptions. One was a 102-yard pick-six. The sophomore also got some playing time on offense and in the kick-return game accounting for 220 total yards, two rushing touchdowns and a kick return touchdown.
"This season was great for me. Coming in last year as a freshman and starting on varsity for four games was great, but an injury set me back," he said. "This year was the year to redeem myself and show everyone why I should take my talents to the next level. I really enjoyed it."
Albright had a great mentor in WR and teammate Ryan Niblett -- the 4-star Texas-commit.
"He's a very humble, smart and hard-working person," he said. "He really showed me that it doesn't matter what school you're at, if you put the work in, you'll be successful anywhere. He's like a big brother to me. If there's anything he can help me with, he would be more than happy to help me. I appreciate him so much for leading the way for me."
While he has made his presence known on the recruiting landscape, Albright is ready for the offseason -- when legends are made.
"I plan to get in the weight room and gain more weight to build my body up," Albright said. "Also, I plan to do a lot of conditioning to help build my endurance."
The future of Eisenhower mentioned he will be hitting some college camps this summer and will run track in the spring.
All in a day's work for Aldine ISD's "Next Big Thing".
Join the #VYPETEAM
Get up to date news from all over the country!