The College Park golf program made history this month by sending the girl's team to the UIL State Championship. After placing 3rd at the Region II-6A tournament with a score of 329-322, the team qualified to compete at state.

"The experience of first qualifying, and then playing in the UIL 6A State Championship, was amazing for the girls," head coach, Stephen Tatum said. "To play in a tournament that has the caliber of talent individually and collectively as teams was a true honor. We have a very strong tradition of female golfers at College Park and these girls are a big part of that."
The team traveled to Georgetown, Texas to compete from May 10th-11th. Their Day 1 score was a 318 and on Day 2 they earned a 322. Overall, they finished the competition with a final score of 640 strokes. The top individual finishers for College Park were sophomore, Gracie Heinle and senior, Alexa Gonzalez.
"The environment was intense and competitive. At the same time, everyone was very excited to be there and ready to get out on the course" junior Elizabeth Stallons said. "The extra pressure helped me stay focused and allowed me to make better choices around the course."
After having their season cut short last year, the team was never able to compete at the District level. This season they placed second to The Woodlands, which allowed them to advance onto Regionals. The competition was tight, as The Woodlands edged the team by 33 shots. At Regionals, College Park placed third behind The Woodlands and Mansfield.
"They were a very hard-working group dedicated to getting better each day. We also benefited from the most recent UIL realignment that altered which teams were in Region II" head coach, Stephen Tatum said. "Both of those factors helped us achieve our goal of going to the State Championship."
Despite having a lengthy history of sending female athletes to compete at the collegiate level, no College Park female team has ever qualified to compete at the State level. Though they did not place, the 20-21 team paved the way for future trips to the State Championship. Four of the five varsity athletes will be returning to compete next season.
"I am most looking forward to making more memories as a team and representing College Park again after such a great season this year. I am so excited to see what we can do as a team next season" sophomore Sydney Jackson said.
THE DAVIS GOLF TEAM HAD A MAGICAL SEASON IN 2021 UNDER THE DIRECTION OF DISTRICT COACH OF THE YEAR ALFONSO HUBBARD.
While they have proven formidable on the course, his student-athletes have excelled in the classroom.
Let's start with the ladies. The trio of Mia Paz, Anum Badat, and Ashley Flores has completely changed the face and expectations of golf in Aldine ISD.
"I got into golf because I was looking for a sport in high school," Paz said. "I thought golf would be the easiest, but I was very wrong."
They have combined on 23 tournament wins in their careers and will play golf at the collegiate level. All three were All-District selections along with Janeth Mendoza. They were also Academic All-District selections and joined by Jazmine Garcia, Stacy Uzowuru, and Jennifer and Sophia Flores. The girls' team's average GPA is a staggering 3.83.
"We've been so successful because of our teamwork," Paz said. "The familiar bonds we've made have also played a huge role. We all want each other to have success and we've gone down this road together to greatness."
On the boys' side, Anderson Branch, Israel Reyes, Jesus Pecina, and Ta'Quorise Dixon earned All-District honors, while Branch, Reyes, Pecina, Peter Ngo, and Andy Buu were All-Academic picks. The teams' overall GPA is over a 3.5.
So, what's going on at Davis?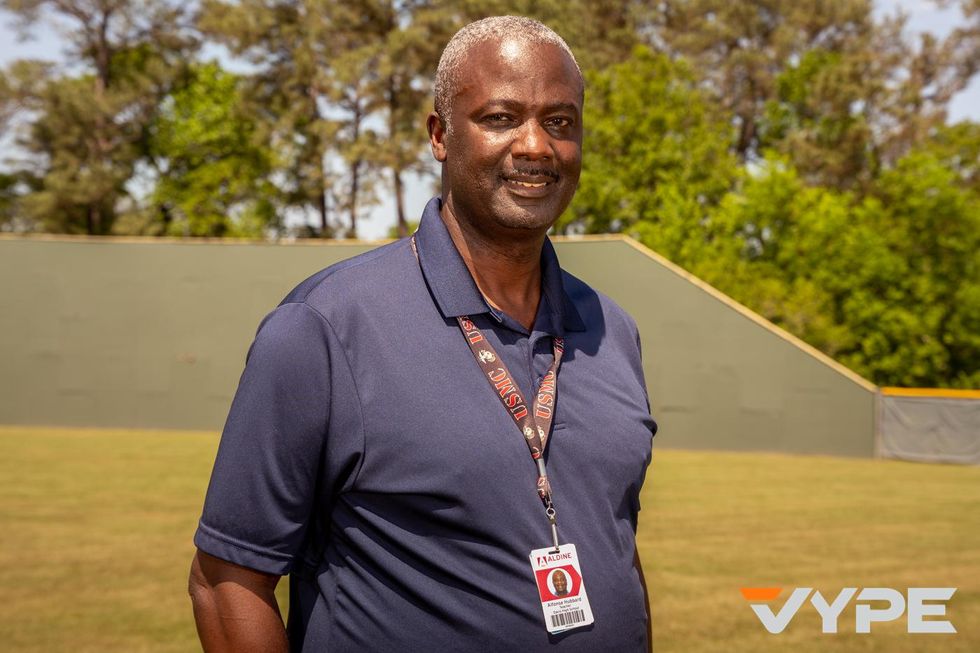 Hubbard runs a tight ship. The New Orleans-native is a marine and came over from private industry (Compaq Computers) to education. The engineering teacher has built his golf program with a sound blueprint.

"My kids don't really have any experience coming in," he said. "It's a blank slate. I've been blessed to partner with First Tee of Greater Houston.
"I'm a believer in their nine core values – honesty, integrity, sportsmanship, respect, confidence, responsibility, perseverance, courtesy, and judgment – which will take them well beyond golf."
The Davis team also learned from Cypresswood golf pro Tirrel Baymon, who really took interest in the Falcons.
"As a team, we have great bones," Hubbard said. "He just gave them the fundamentals and away they went."
Davis boys and girls won district and advanced to the Regional Tournament.
"I've been blessed with great students and I've learned so much more from them, than they have from me," he said. I'd beg to differ.
CLICK HERE TO VIEW DIGITAL MAGAZINE
Jaime Wright || VYPE Media
H-Town High School Sports rolls on! In case you missed it, check out the full-length episode on YouTube below! Don't forget to subscribe to VYPE on YouTube for more great video content!
CLICK HERE TO PURCHASE VYPE PHOTOS
For all the ways you love to play, Academy Sports and Outdoors makes it easier than ever to gear up and have fun out there! Get free shipping on your favorite brands at academy.com or get free curbside or in-store pick-up at your Academy store.
Join the #VYPETEAM
Get up to date news from all over the country!