Team Gallo: Byron Nelson Golf is led by sibling golfers
Nov 11, 2021
Byron Nelson Golf
Being able to play a sport with your sibling next to you is something some athletes get the opportunity to do, but not often do you get the opportunity to be co-team captains with your sibling. At Trophy Club Byron Nelson, Gage and Keagan Gallo get to do just that within the Bobcat golf team. VYPE DFW was given the opportunity to interview the two on their experience playing for Byron Nelson with one another:
Keagan Gallo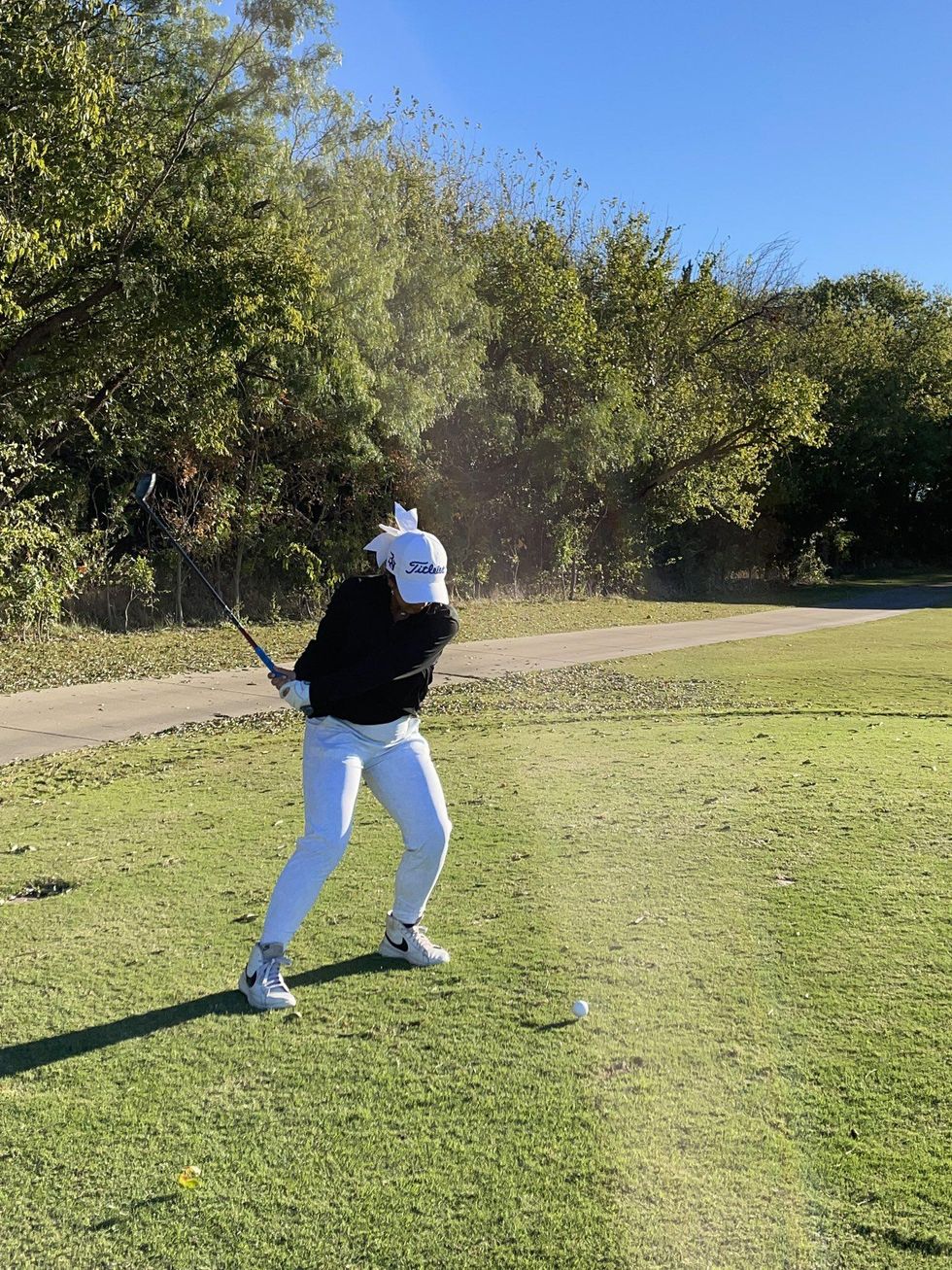 Byron Nelson Golf
As a senior, Keagan has been with Byron Nelson's golf program for four seasons and because of that, there's no doubt that she has made plenty of great memories on the team. Her favorite, however, is pulled from her sophomore season while the team was traveling. "Going to Texarkana with my best friend, Mac. We had eaten eight loaves of Outback bread and six baskets each of Texas Roadhouse rolls."
Keagan doesn't have a hard time staying focused during the offseason. In fact, looking forward to this season knowing she was going to be a captain with her brother helped her stay focused. "Knowing that my brother and I would be looked at more in the spotlight since we are biracial and siblings [kept me focused]." With that focus, Keagan has been able to secure a positive mindset headed into the current season. Keagan's main mindset? "Make an impact on these girls so they can learn to love the game," she said.
Keagan also has personal and team goals for the season. While her personal goals include making an impact on the young girls she is helping to lead, her goals for the team are "learning from the upperclassmen" and "growing the program." With her goals and mindset, it's not difficult for her to stay focused throughout golf tournaments. "Staying in the moment and not thinking ahead of time," is what's important to Keagan while golfing in tournaments.
Keagan hopes to major in business advertising and kinesiology when she goes to college.
Gage Gallo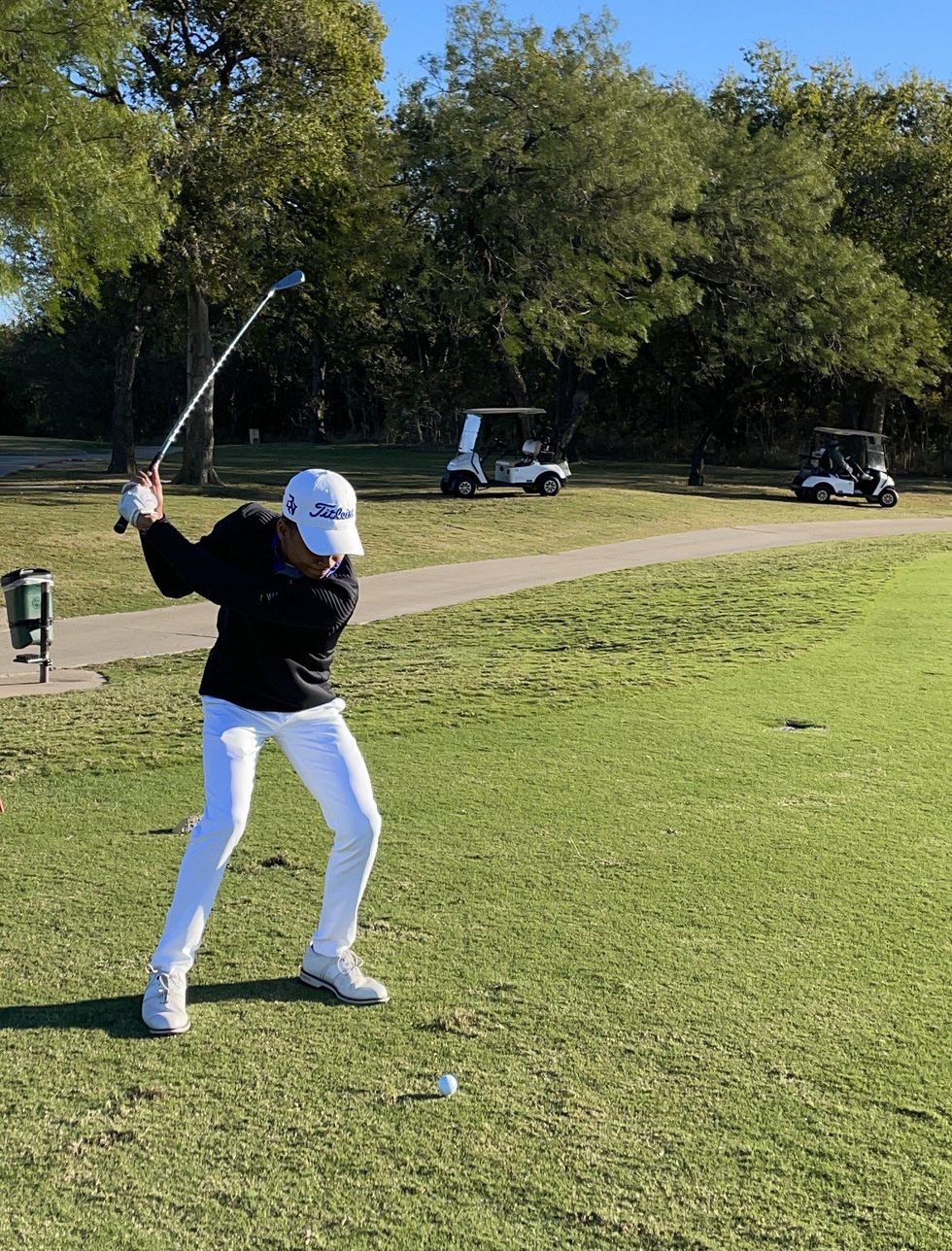 Byron Nelson Golf
As a junior at Byron Nelson, Gage has been with the team three years and is currently in his second term as captain of the team. Some of his favorite memories simply come from just being able to be with the group, he says. "My favorite memory has to just be hanging around the team- especially this year. We have the same team as last year, so we've all been around each other and it's always fun to be around the boys."
Improvement has always been key for Gage when it comes to remaining focused during the offseason. "In the offseason, I was really persistent with my game. I worked on the things I was struggling with and stayed focused on doing the little things so I could improve," he told VYPE. His mindset going into this season is to just take things day by day. "I want to just take it a day at a time," Gage said. "I wanted to improve a little bit everyday with the main goal being regionals and state." With that mindset, Gage has made his individual goals very clear: "I want to make it to state this year," Gage said. "Last year I made it to regionals as an individual, but came up short with making it to state. So, I really want to break that and get to state." As a team, Gage says the Bobcats want to make it to regionals. "We have a hard district with a lot of talent, so we're all working to get better everyday so we can go to regionals as a team."
Although Gage is just a junior, he hasn't quite ruled out the idea of playing golf in college. "The big thing for me is just finding a program that I can fit into. There are a lot of good programs out there, but the biggest thing to me is not only having a good team program, but having good academic programs as well." Gage wants to major in business with a focus on finance and sales.
It's a family thing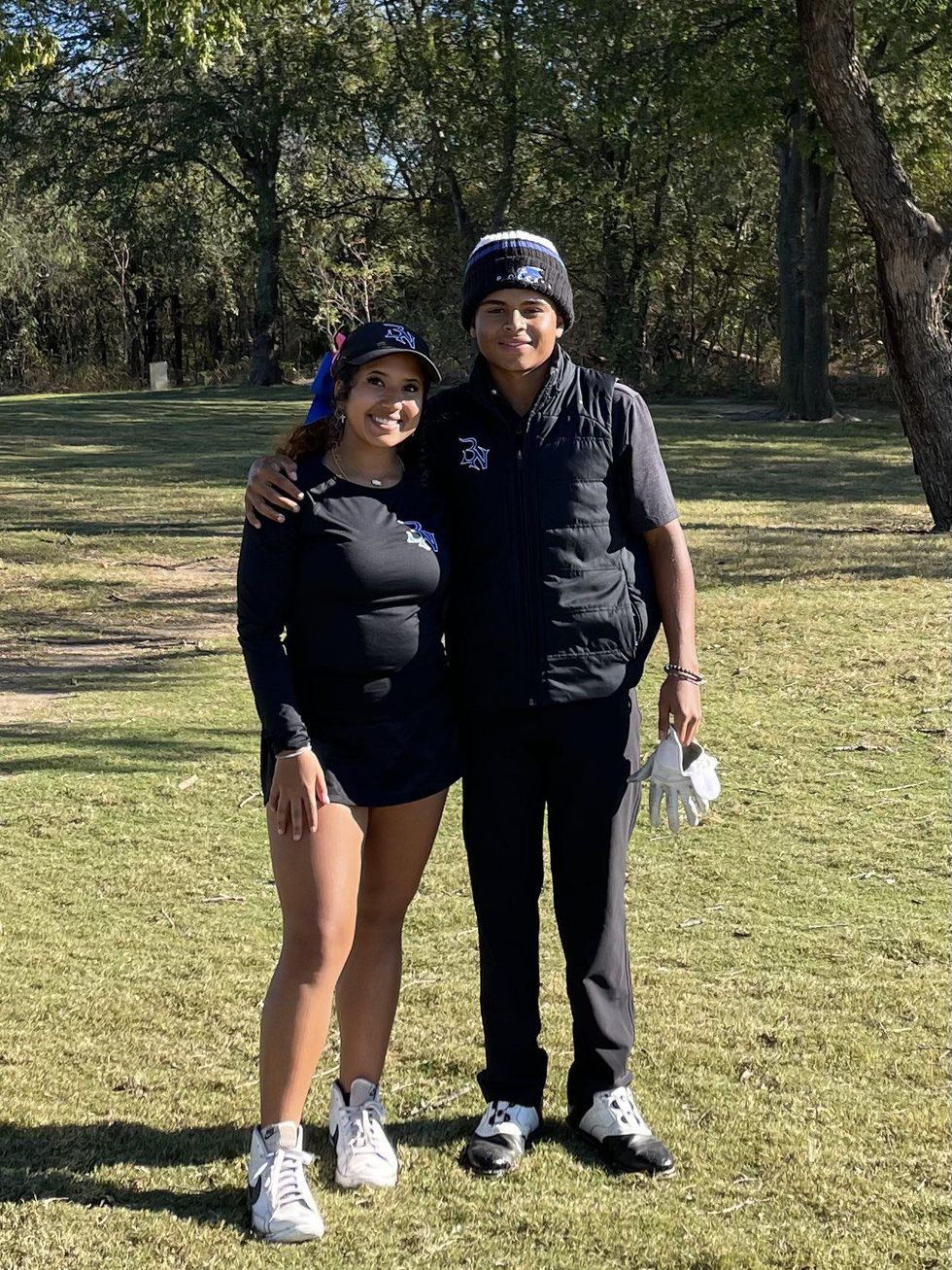 Being one person who loves a sport is one thing, but being able to share your love for that sport with your sibling is something that's special. Keagan recalls great memories as a kid that helped her gain interest in golf: "Watching Tiger Woods while growing up and putting into solo cups with plastic golf balls with my dad when we were younger [helped my interest]," Keagan told VYPE. Gage also said that his dad is one of the main reasons he became interested in golf. "My dad really got me interested in the game," started Gage. "I played football, but wanted a second sports, so I decided to play golf with him and it just kind of stuck from there."
When asked what it's like to play golf with one another, the Gallos did not hold back on sibling love or sibling rivalry:
Keagan: "It can be great sometimes- unless he plays bad... then he gets out of his fun zone."
Gage: "It's always cool to play with my sister- especially the last tournament we had where we played the 4 ball together. It's fun to just be competitive around her and have a good time."
Last season was pretty successful as far as the Gallo siblings are concerned. They answered on what they believed made it successful:
Keagan: "True individual work. My past captain and I would always work together, so we always had a solid top three with the addition of an underclassman."
Gage: "I think the team just put in a lot of work and really focused out at practice. We had a good bit of success last year, but I feel like the work we've been putting in this past semester we're really going to put our name out there during the Spring semester."
Fun Questions:
Keagan

Who are your favorite sports teams?
"LSU football/baseball and the Kansas City Chiefs."
Who do you look up to as an athlete?
"Dwayne Wade."
If you could have dinner with one person (dead or alive) who would it be? What would you want to talk to them about?
"Lil Peep. What made him decide to be himself and not worry about what everyone thinks about him."
Gage
Who is your favorite sports team?
"New Orleans Saints."
Who do you look up to as an athlete?
"Ray Lewis and Tiger Woods."
Coach's Comments:
Byron Nelson golf coach Barry Hawkins had only good things to say about the Gallo siblings. "Both Keagan and Gage were awarded with our Newcomer of the Year Award during their respective freshman years. Keagan was also named Most Improved Player her sophomore year. Gage was named Player of the Year last year and won our Academic Award his freshman year. They are both major influences in carrying out our traditions and keeping our players informed. They are true liaisons between the coaches and the rest of the team."