2020 VYPE Public Softball Preview: Dark Horses
Feb 19, 2020
Photo by Bradley Collier/VYPE Media
The 2020 season is here.
VYPE breaks down the Public School Softball sector in this section. The next set of teams we dive into are the Dark Horses, which are squads who were just on the fringe of being contenders in 2020 but who could definitely jump into that category by spring's end. Check out the VYPE 2020 Public School Softball Dark Horses.
This article appears in the 2020 VYPE Houston Baseball/Softball Preview presented by Champion Energy, which will be hitting newsstands next week in the Houston-area
Katy Tigers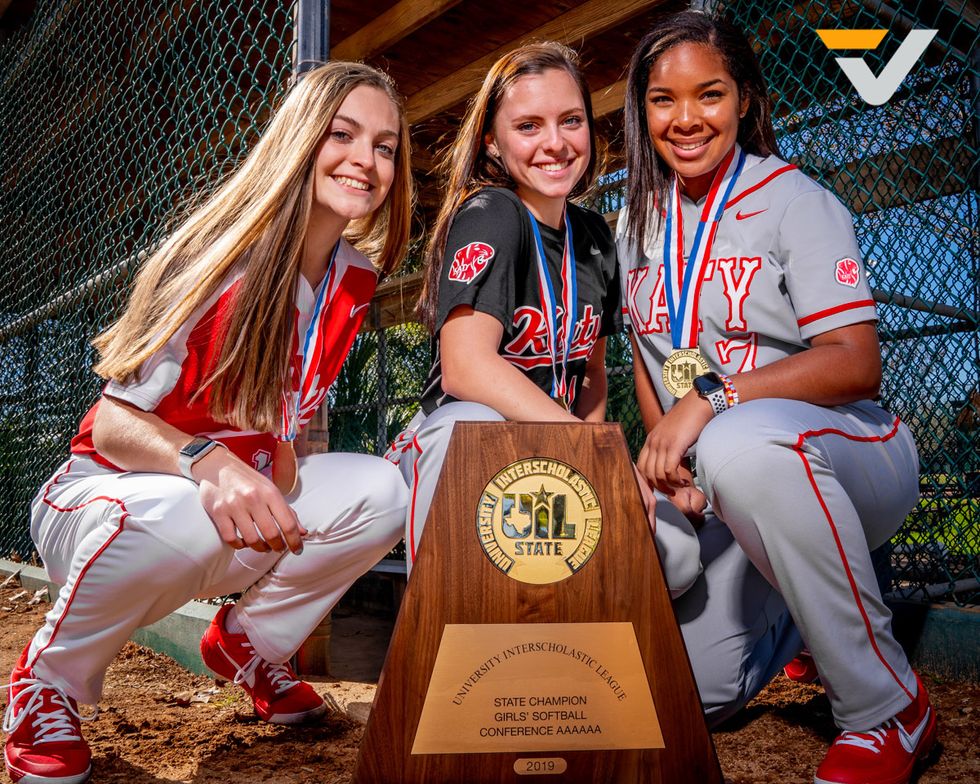 Katy's Kailey Wyckoff, Sydney Blakeman and Olivia McFadden
Photo by Bradley Collier / VYPE Media
Katy won its second state title in program history last season with a loaded team. The Tigers finished the year 37-2 and beat Klein Collins for the state crown. Kalum Haack enters his 23rd season leading Katy and will have to replace six key players, making this group "very inexperienced" from the start. Some of the big names Katy will have to replace include Tori Whillock (Texas Tech), Chloe Cobb (Texas Tech), Cait Calland (LSU), Amy Hitt (Blinn), Chloe Woodward (Blinn) and Allyssa Leblanc (A&M Commerce). Haack will look towards first-team, all-district selections Sydney Blakeman (UTSA), Olivia McFadden (UTSA) and Kaylee Wycoff for early leadership and production. Other players to watch are Allyse Castillo (Mary-Hardin Baylor) and Dominique Crespo (UH-Victoria). This Katy team won't be the one we saw last year but should still make some noise once the pieces come tog
Bridgeland Bears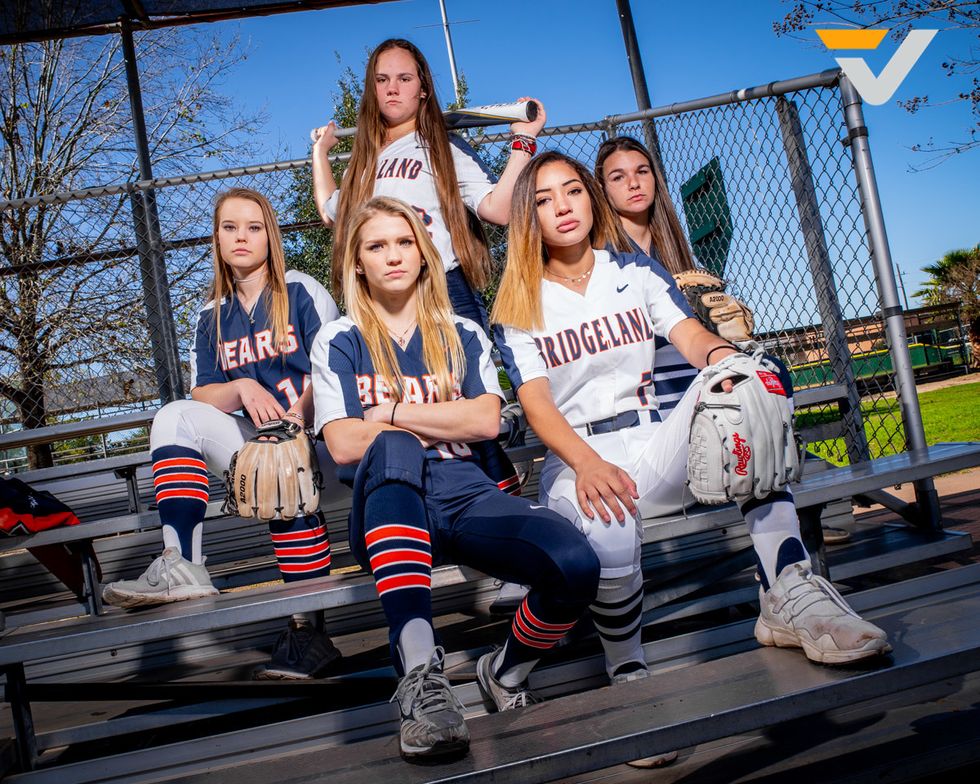 Bridgeland's Mackenzie Stuart, Raina Lange, Makenzi Jenkins, Kylee Gibson and Acie Prince
Photo by Bradley Collier / VYPE Media
The Bridgeland Bears arrived on the scene in 2019 and made some noise in their first varsity season. The Bears went 21-10 in District 14-6A play and advanced to the area round of the playoffs. Not a bad start for a young program. What's great about a start-up program is that the majority of the team is back for 2020. Candi Weige enters her third season leading the Bears and returns eight starters. Kylee Gibson (University of Houston) was named District 14- 6A Newcomer of the Year last season after hitting .468 with 28 RBIs and 20 doubles as a sophomore. Bridgeland also brings back first-team, alldistrict picks Brodie Quinlan (Sam Houston State), Jaelyn Simmons and Raina Lange (Texas State). Second-teamers Mackenzie Stuart (Tyler JC), Makenzi Jenkins and Acie Prince (Blinn JC) round out the group. Another player to watch is Maya Barnes (Prairie View A&M). Lange (10-2, 2.48 ERA) and Jenkins (9-6, 3.24 ERA) will serve as the one-two punch in the circle for the Bears. This team could make a sneaky run in 2020.
Friendswood Mustangs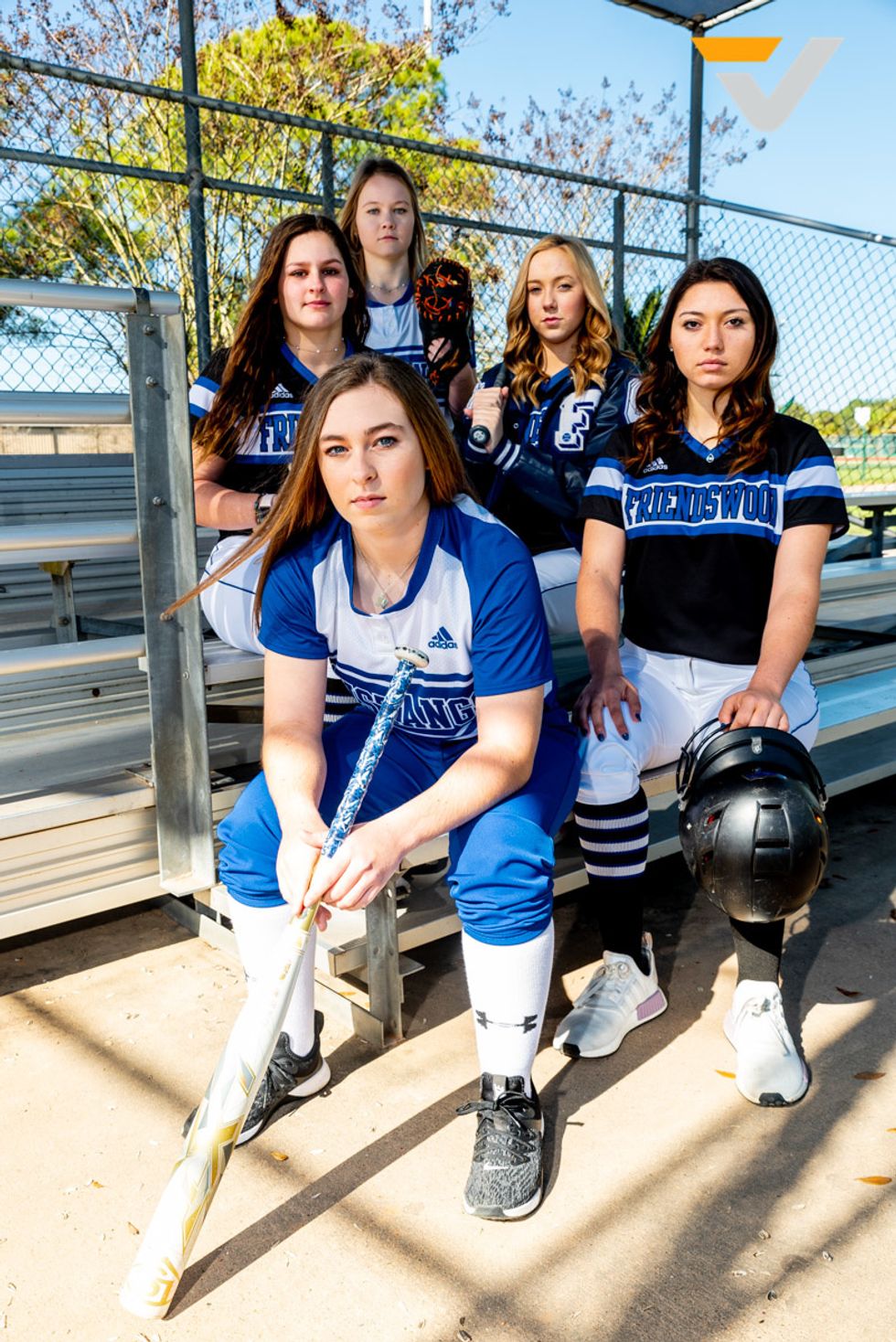 Friendswood (Alphabetical Order) Caylynn Esparza, Reagan Jones, Bayleigh Lay, Chloe Riassetto and Tricia Yarotsky
Photo by Jamey Wright
Heading into 2020, Friendswood will try and do something they haven't accomplished since the 2011-2012 seasons – making the playoffs in back-to-back years. The Mustangs reached the postseason last year and reached the Regional Quarterfinals for the first time since 2010. Friendswood hasn't made the Regional Semifinals since 2006 and/or the Regional Finals since 1999. Last year's run was ended in a one-run loss to Barbers Hill, which reached the Regional Finals. So, can Friendswood make a historic run this spring? They have the players to do it. Start with sophomore Chloe Riassetto, who went 12-3 with a 2.02 ERA and 138 strikeouts in 100 1/3 innings in the circle last year. On top of that, Riassetto hit .471 at the plate with 37 RBIs, eight doubles and four home runs. She is a force. Pair that with Caylynn "KK" Esparza, who led the team at the plate hitting .510 with 39 RBIs, 11 doubles and six home runs. That is a dynamic duo to have back. Other players to watch include Tricia Yarotsky (.582, 22 RBIs), Reagan Jones (.412, 25 RBIs) and Bayleigh Lay (.434, 23 RBIs, 10 2Bs).
Splendora LadyCats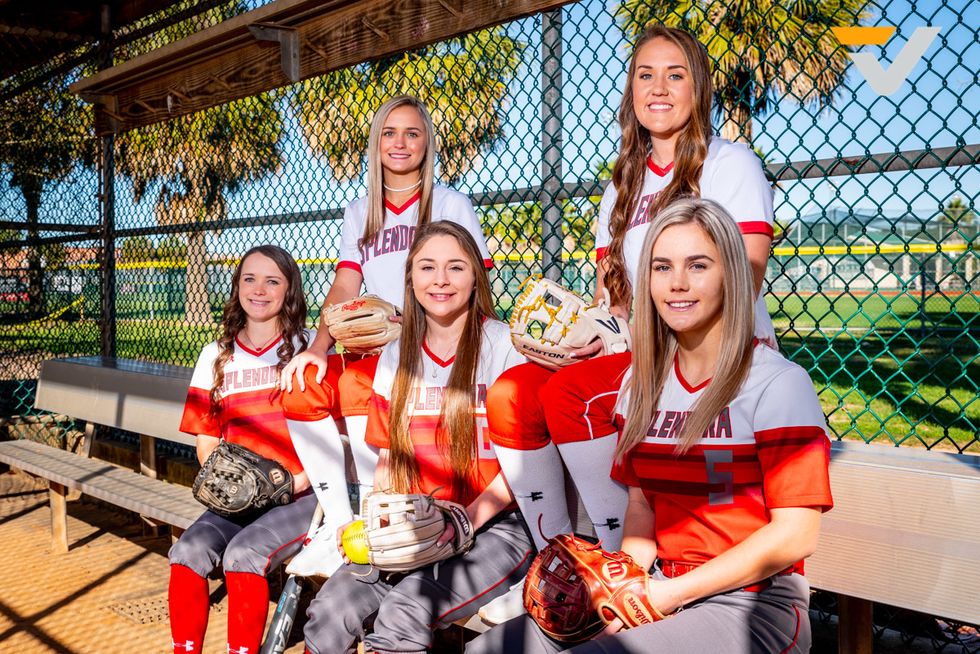 Splendora's Mackenzie Lakey, Shaelyn Sanders, Gracie Bumpurs, Kaicey Hagler and Keeley Wright
Photo By Jamey Wright
Splendora is coming off a year where they made their deepest playoff runs since 2012. The LadyCats reached the Regional Semifinals, where they fell short to Robinson in a threegame series, losing the final two games by just one run each. Splendora finished 29-5. Deana Eubanks enters her sixth season at Splendora and has a loaded roster. With seven returners, the group is led by District MVP and TSWA All-State selection Caleigh Millican (Baylor). Also returning is District Utility Player of the Year Shaelyn Sanders (Blinn) and first-team, all-district picks Gracie Bumpurs (University of Texas-Arlington) and Kaicey Hagler (Houston Baptist. Keely Wright (University of Southern Mississippi) earned second-team honors, while Mackenzie Lakey (Navarro) was named honorable mention. Having so much experience returning is going to be key for Splendora's success in 2020, according to Eubanks. If the LadyCats are able to make a deep run again, the only team standing in their way between here and Austin could be defending Class 4A State Champion Huffman. What a matchup that would be in the playoffs!
Spring Lions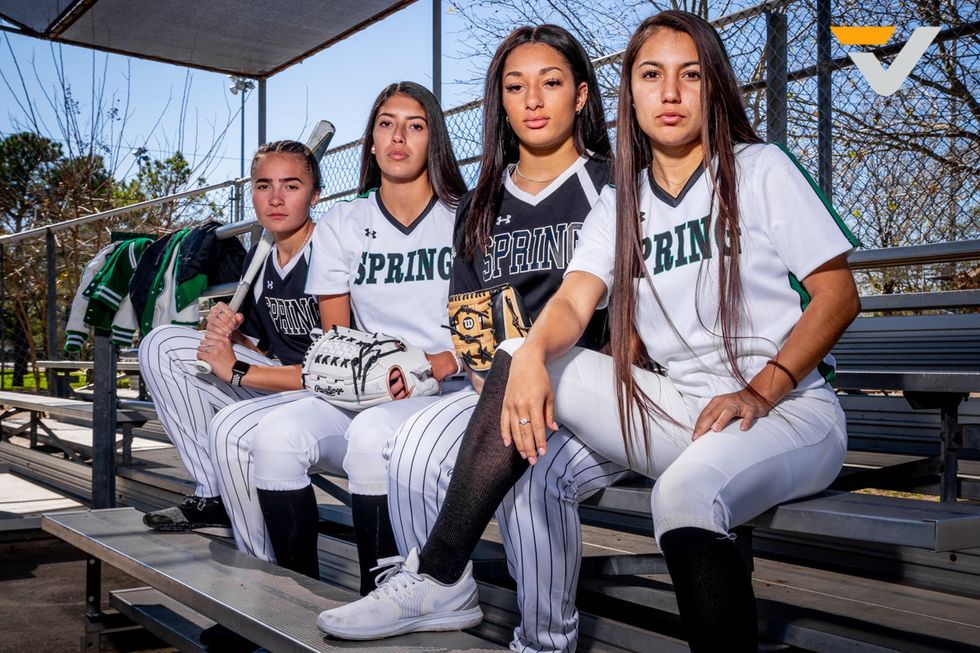 Spring (Alphabetical Order) Chloe Gomez, Madalynn Leal, Jayla Park and Jayda Williams
Photo by Bradley Collier / VYPE Media
Julie Wyrick enters her 20th season leading the Spring Lions softball program. Wyrick enters this season needing just 14 wins to reach her 450th at Spring, and currently sits 45 wins from No. 600 for her career. Last season, Spring reached the playoffs for a 13th-consecutive year and advanced to the third round, finishing 20-8 overall. The Lions bring back five starters but will have to replace talents like Yonni Moore (Baylor) on the roster. First-team, all-district picks Madalynn Leal (LSU Eunice) and Chloe Gomez (McNeese State) will lead the group. Other players to take note of include Chloe Houghton (Laredo College), Savannah Hernandez (Sul Ross) and Jayda Williams (Grambling). Some freshmen who could be well known at the end of the year include Mariah DeBose, Bella De Los Santos, Ella Reyes and Kaylee Barrera. Keys to success for Wyrick is all based on "fundamentals, doing things right and getting buy-in from every player".
Cypress Ranch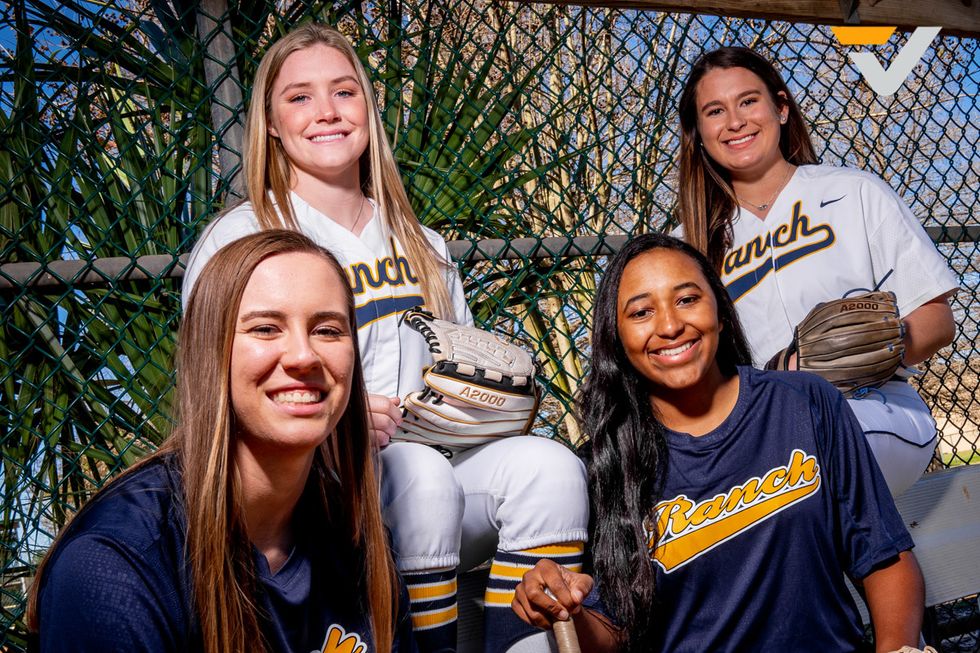 Cypress Ranch (Alphabetical Order) Camryn Camouche, Kendall Johnson, Britton Rogers and Emily Strupp
Photo by Bradley Collier / VYPE Media
For the third time in program history, Cypress Ranch reached the Regional Semifinals in 2019. The Mustangs fell short to Wylie and finished the year 25-8 overall. Is 2020 the season they finally break through and get to a Regional Finals? Sarah Mueller enters her ninth season at the helm of the program and is just 13 wins from No. 200 for her career. She brings back four starters as they look to make the playoffs for a ninth-straight season. One of the key pieces back is University of Georgia-commit Britton Rogers, who was the District MVP last year. Rogers posted a 17-3 record with a 0.11 ERA and 204 strikeouts in 2019. Other key returners include Camryn Carmouche (first-team, alldistrict), and Emily Strupp (honorable mention, all-district). Kendall Johnson (Blinn), Molly Yoo and Adelyn Becerra are other names to take note of as well.
Oak Ridge War Eagles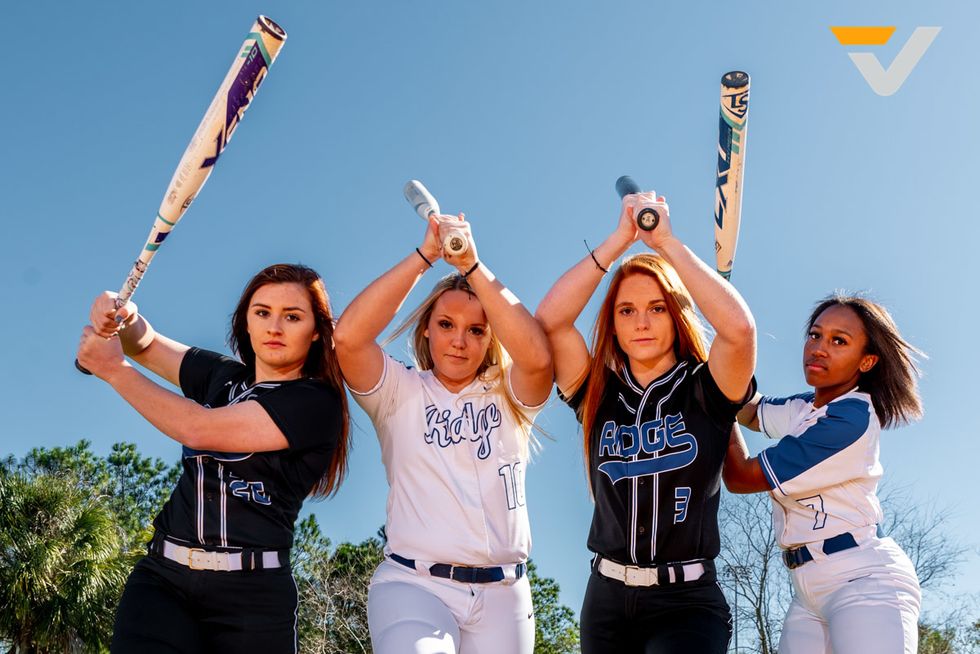 Oak Ridge's Macee Cobb, Kennedy Reynolds, Samantha Graeter and Morgan Brandon
Photo by Jamey Wright
Oak Ridge has experienced sustained playoff success. Ten-straight years in the playoffs and a Regional Quarterfinals appearance last year, Oak Ridge finished 23-9. Stephani Rougeau enters her second season as the head coach and has six returners back. First-team, all-district selections Morgan Dutton (.443, 13 2B), Kennedy Reynolds (.471, 14 HR, 38 RBIs) and Samantha Graeter (.397, 10 RBIs) lead the group. Reynolds, who is committed to McNeese State University, was also picked for the TGCA All-Star team in 2019. Other players that could play a factor in 2020 include Mackenzie Ward (UTEP), Macee Cobb (Grayson College), Brittany Cobb (Odessa College), Emily Lyons (Concordia University Texas) and Bailey Barille (Blinn). Keys to success Rougeau said, "are staying aggressive, healthy, making big plays and being fundamentally sound".