2019 Preview: Private School Sleepers
Aug 19, 2019
These are the teams that are on the radar but have some work to do. The leader of this group hands down is The Woodlands Christian Academy.
The Warriors could by year 's end be contending for a title. The offense has the weapons,Caleb Chappelle is a freak on both sides of the ball, so watch for them.
Bay Area Christian is another with a for sure 1,000- yard rusher in Andrew Brown back in the mix and watch out for The Village School with 10 starters back. The other teams will have holes to fill in significant spots but are all on this list for a reason.
VYPE is offering fans the opportunity to purchase a copy of the magazine and have it delivered to you, instead of waiting to find it in stores.
CLICK HERE TO ORDER - 2019 VYPE Houston Football Preview Magazine
VYPE PRESEASON AWARDS

MOST VALUABLE PLAYER: Caleb Chappelle, The Woodlands Christian Academy
CO-OFFENSIVE MVPS: Andrew Brown, Bay Area Christian School Dane Jackson, The Woodlands Christian Academy DEFENSIVE MVP: Garri Smith, The Village School
BREAKOUT PLAYER OF THE YEAR: Thomas Meadough, St. Pius X
SLEEPER TEAM: Frassati Catholic
The Woodlands Christian Academy Warriors
The Woodlands Christian Academy has high hopes this fall with eight starters on both sides of the ball returning off of last year's 8-4 campaign. They Warriors reached the second-round appearance in the playoffs. Caden Queck returns at the quarterback position primed for a big year. Queck passed for 1,230 yards and 15 scores a year ago. But the real show on offense is Dane Jackson. The junior rushed for 1,622 yards and 23 scores last year, earning him second-team, all-State honors. Jackson broke the 100-yard mark in eight games, with his season-high being 226 yards against Grand Oaks. On the offensive and defensive side of the ball, Caleb Chappelle is a match-up problem. Offensively, Chappelle had 34 grabs for 537 yards and seven scores. Defensively, the senior pulled down 10 interceptions, and was also a threat in the kick return game with more than 700 yards. Also watch for LB Aaron Monsivaiz (82 tackles, 5 sacks), OL/DL Blake Leslie and WR Caedmon Parker. The coaching staff expects even better play from its returning players and sees more unity up and down the roster. This could be the breakout year third-year head coach Randy Hollas expects.
Bay Area Christian School Broncos
How good was Bay Area Christian School last spring? Well considering they went 9-4 and reached the state semifinals with a young team, they were pretty good. But how good can they be in 2019? With seven starters on offense back, including first-team, all-state offensive lineman Matthew Hopper, OL Tanner Pool and RB Andrew Brown, the unit should churn nicely. Brown rushed for over 850 yards and 12 scores last year and could reach over 1,000 in 2019. The same number of starters are back on defense, including DL Kyle Sink (26 tackles, 5 sacks), LB Noah Melancon (52 tackles) and DB Wesley Barnes looking to make plays, it would be smart to expect even more from the Broncos. Head coach Les Rainey has gone 17-17 in his first three years. The buildup of this program is evident after winning more games in year three than in his first two years. The fall looks even more promising than ever for the defending district champs.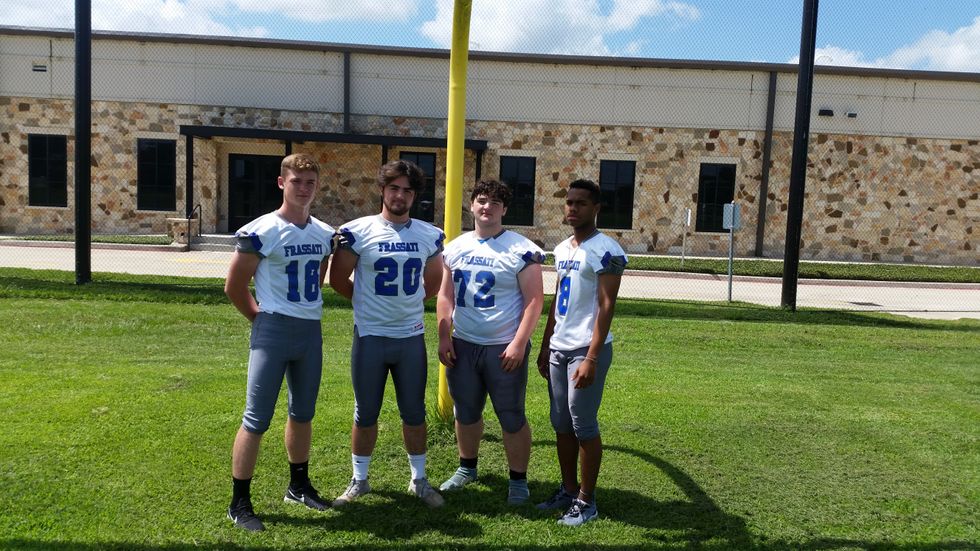 Frassati Catholic's Joey Abrams, James Cassidy, Joe Cassidy and Cohen Walker
Frassati Catholic Falcons
A 1-7 season doesn't seem to have diminished the optimism at Frassati Catholic. The Falcons return nine starters on offense and seven on defense including RB James Cassidy, who was a second-team, all-district selection. Forrest Winston also returns but is moving from quarterback to receiver after an honorable mention season at that position. Defensively, watch for Joseph Cassidy (honorable mention, all-district), DB Joey Abrams (second-team, all-district), DB John Hill (honorable mention, all-district), and punter Gio Jabbour (second-team, all-district). This group should muster together more than one victory in 2019 and could surprise in their district. Coach Calvin LaFiton believes the keys to success this season are "heart, toughness, offseason conditioning, discipline and sound fundamentals" for his Falcons' squad.
St. Pius X Panthers
Gone is the Texas high school football legend Grant Gunnell. The now-Arizona quarterback graduated as the all-time leader in career passing yards (16,108) and passing touchdowns (195) in the history of high school football in Texas. That's not an easy player to replace. But that will be tasked to first-year coach Billy Noonan, who played quarterback at St. Pius X. Noonan comes over from Tomball. It's weird to put St. Pius X in the Dark Horses category, but the Panthers have A LOT of Division I talent to replace. Heading into 2019, St. Pius X will be seeking its 27th-straight playoff appearance but only return two starters. At the quarterback position, Noonan will look towards a pair of transfers to battle for the job. Carson Rodgers comes over from Klein Collins, while Cameron McKeon comes from Second Baptist. Rodgers' grandfather Kenny played quarterback at St. Pius X as well. Other players to watch for St. Pius X include Jagger Pagano (LB), Thomas Meadough (WR), Braeden Benys (DE/OL) and Jalen Davis (RB/CB). Noonan says "we lack experience, we don't lack talent" to describe this team.
The Village School Vikings

Kevin Bagot enters year five at The Village School and this team could be the biggest surprise in Houston. After going 6-4 last season and making the playoffs for a second-straight year, a title run could be in the cards for this squad. With 10 starters coming back, the Vikings have significant experience. Garri Smith returns after being selected first-team, all-state a year ago. Also returning on the defensive side of the ball is Tyler Woods (second-team, all-state) and Marshall DeBenedicitis (honorable mention, all-state). Offensively, Jo'Qwan West (second-team, all-state), Nicholas Andoh (second-team, all-state), Ansh Bhandari (honorable mention, all-state) and Koronje Gilbert (second-team, all-state) are all back. Bagot believes the keys to success this year include great play from four senior linemen and quality depth.
St. John's Mavericks
A new era has dawned at St. John's as Kevin Veltri takes over the program coming over from Kinkaid, which has won the last two SPC 4A State Championships. If Veltri can inject some of that energy and mojo into the St. John's program, watch out. The Mavericks are coming off a 5-4 season and return 13 starters from that team. Unfortunately, St. John's didn't get to experience the full senior season of quarterback Wesley Gow, who was lost to injury early on. George Caldwell got some much-needed experience a year ago and will be the full-time starter. Caldwell finished last year with nearly 1,000 yards passing and nine touchdowns. His top target will be Will Leger at tight end. Leger also plays on the other side of the ball at defensive end. Other key players will be Will Skinner (WR/DB), Miller Humphreys (OL/LB), Peter Cannon (WR/ DB) and Lucas Desjardins (WR/DB). Building depth and culture are two items on the top of Veltri's list as he steps into the head coaching seat at St. John's.
Keep reading...
Show less