Week 7 DFW #TXHSFB Preview
Oct 10, 2019
It's a light schedule for moi this week, covering just one Thursday night game that puts me into a 4-5A Division I matchup. Next week should be a bigger slate of games to break down.
---
THURSDAY: Birdville vs. Carrollton Creekview
It's the third district game this week for 4-5A, and the top four are exactly who we thought they'd be by season's end. There's a three-way tie for first right now, but all signs point to Denton Ryan being the class of the district with Birdville, Heritage and Grapevine battling it out for the 2-4 spots.
DISTRICT 4-5A DI
OVERALL
DISTRICT
TEAM

W

L

W

L

DIFF
Denton Ryan

5

0

2

0

+225
Birdville

3

2

2

0

+93

Colleyville Heritage

3

2

2

0

+62
Grapevine

3

2

1

1

-21
Denton

2

3

1

1

-89

Carrollton Creekview

2

3

0

2

-41

Carrollton Newman Smith

0

5

0

2

-208
Carrollton R.L. Turner

0

5

0

2

-253
Previewing Birdville (3-2, 2-0)
Birdville has district wins over Turner and Grapevine and could very well be 6-0 in district by the time November rolls around.
In those two games, quarterback Stone Earle has thrown six touchdowns and 425 yards. He's the unquestioned leader of the offense, having thrown for more than 1,000 yards this year and 19 touchdowns, which is tied for third in the area in 5A. Below are the pre-district and district splits.
| | | | | |
| --- | --- | --- | --- | --- |
| GAMES | COMP-ATT | PCT | YDS | TD |
| 1-3 (Pre-district) | 39-75 | 52% | 619 | 13 |
| 4-5 (District) | 25-39 | 64% | 425 | 6 |
A good boost in production from Earle during the most crucial time of the year, which is what any coach would hope for out of a veteran quarterback. Earle's also done a great job of distributing the ball around. Ten players have caught a pass with seven of those going for touchdowns.
What's also picked up for Birdville in the past couple of games has been the defense. Coming into district play, it was giving up 29.67 points and 396 yards per game. In the two district games, the Hawks have given up 21 points and 235 total yards.
Previewing Creekview (2-3, 0-2)
Offensively, Creekview is a very hit-or-miss team - leaning more towards this miss. In its first game it was shutout. It the second, it put up 42. Coming into this game, Creekview has scored just 14 points after being held off the scoreboard last week against Colleyville Heritage. The offense is entirely reliant on the run, as Creekview has only attempted eight passes this year with as interceptions as it does completions (2).
Isai Pena, Edgar Paige and Brett Esch each have 47 or more carries through five games and have combined for nine touchdowns. But the offense is not potent enough to win in modern Texas high school football. Averaging 193 yards of offense and 15.4 points a game doesn't do much for getting a team into the playoff hunt.
And a loss in this one for Creekview essentially put them out of contention for a playoff spot with Denton Ryan next on the schedule.

Previewing the Game
After beating Grapevine by 10 last week and the offense and defense finding their respective grooves, it's hard to not see Birdville walking away a winner in this one. Creekview gives up 319 yards a game, while holding teams to a respectable 23.6 points.
However, the Creekview offense doesn't have the firepower in this district to keep up with the playoff-bound teams. The Mustangs have only beaten two teams that are as bad, if not worse, than them
This week and the next two for Birdville are essentially trap games. It shouldn't have much of a problem with Creekview on Thursday, it should come out ahead against Denton next week and easily dispatch Newman Smith in two weeks before it locks horns with Colleyville Heritage and Denton Ryan to close out the regular season.
Creekview could certainly play with a bunch of energy early on in this one, but the talent on both sides of the ball for Birdville should be overwhelming.

Prediction: Birdville 45, Creekview 13

Follow @iamspeters for live updates of this game.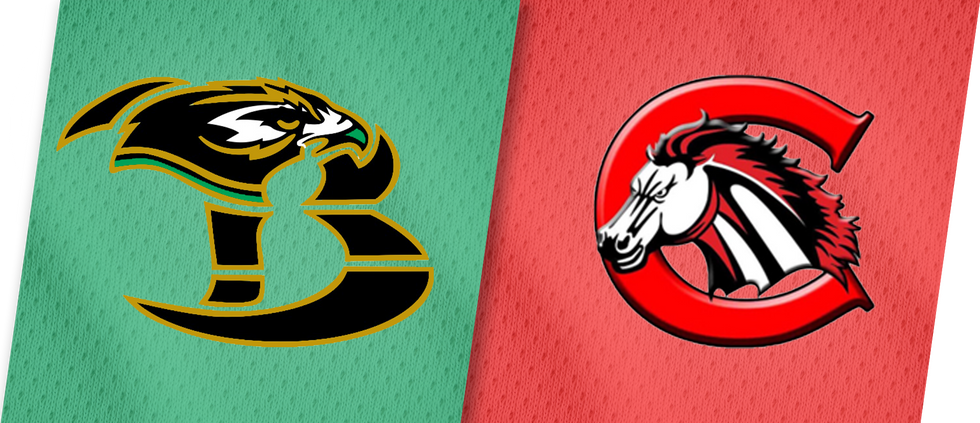 Other notable Week 6 DFW #TXHSFB games
THURSDAY
5-5A DI: Frisco Independence (5-0, 2-0 ) vs. Frisco Lone Star (5-0, 2-0)
7-5A DII: Lovejoy (3-2, 2-1) vs. Frisco Reedy (4-2, 3-1)
San Antonio Cornerstone (5-0) vs. TC-Cedar Hill (4-1)

FRIDAY
4-6A: Arlington (5-0, 2-0) vs. Arlington Bowie (4-1, 2-0)
TAPPS 2-D1: Bishop Dunne (3-2, 0-0) vs. Parish Episcopal (3-1, 0-0)
6-6A: Lewisville (4-1, 1-1) vs. Coppell (2-3, 1-1)
9-6A: Prosper (5-0, 2-0) vs. Jesuit (3-2, 2-0)
5-5A DII: Aledo (4-1, 3-0) vs. Burleson (5-1, 3-1)

TAPPS 1-D3: Pantego Christian (4-1, 0-0) vs. Arlington Grace Prep (3-1, 0-0)
9-4A DI: Athens (4-1, 0-0) vs. Waxahachie Life (4-1, 0-0)
5-5A DII: Burleson Centennial (5-1, 3-1) vs. Cleburne (4-1, 2-1)
8-4A DI: Dallas Carter (4-0, 1-0) vs. Alvarado (4-2, 1-0)
8-5A DII: Corsicana (5-1, 4-0) vs. Royse City (4-1, 2-1)
TAPPS 1-D2: FW Southwest Christian (4-1, 0-0) vs. FW Christian (3-2, 0-0)
TAPPS 1-D2: Grapevine Faith (4-1, 0-0) vs. Frisco Legacy Christian (4-1, 0-0)
7-6A: Mansfield Summit (5-0, 2-0) vs. Cedar Hill (3-2, 2-0)
7-4A DI: Melissa (3-2, 1-0) vs. Anna (4-2, 1-1)
7-4A DI: Paris (4-2, 1-1) vs. Celina (4-2, 2-0)
5-4A DII: Sunnyvale (5-0, 0-0) vs. Caddo Mills (4-1, 0-0)
6-5A DII: Red Oak (4-1, 2-0) vs. Dallas Kimball (5-0, 2-0)
TAPPS 2-D2: McKinney Christian (4-1, 0-0) vs. Tyler Grace Community (3-2, 0-0)
SATURDAY
8-4A DI: Dallas Wilmer-Hutchins (3-2, 1-0) vs. Carrollton Ranchview (5-1, 1-1)
6-4A DI: Fort Worth Benbrook (3-3, 1-1) vs. Fort Worth Dunbar (1-4, 1-0)