VYPE U: Strake Jesuit Football Players Reflect on COVID-19 and How it Will Affect Their 2020 Season
Apr 02, 2020
Pete Nguyen/SJ Yearbook
The loss of spring sports is one of the many impacts that COVID-19 has had on high schoolers in 2020. Athletes have had to put up with suspensions of their season that leaves them no assurance on whether or not they will be able to come back to school and play. Meanwhile, they are looking for ways to workout while their school weight rooms and other gyms are closed. As for seniors who are not playing in college, they have to deal with the possibility of not getting to play their favorite sport one last time.
While spring sport athletes are likely to get the brunt of what COVID-19 has to offer for the sports world, those who play in the fall still seem to have hope of getting to play in their upcoming season. Regardless, a global pandemic that may not be as prominent in five months will still have its effect on athletes, especially football players, now.
Upcoming seniors Jacob Psyk and Max Merril are both team captains for the 2020 Strake Jesuit football team and are looking to play in college at the Division 1 level. Yale, Penn, and Abilene Christian are some of the many teams that have offered both athletes. Even though the first game of their senior year won't kickoff until early September against renewed rival Jesuit Dallas, the two are still hindered by the societal effects of COVID-19, as it raises unknowns about what's to come of spring football and their recruitment. VYPE U Ambassador Robert Gonsoulin took some time to interview Merril and Psyk in order to learn how both players are ensuring that the team is staying on track during these difficult times and what their outlook is for next season.
Max Merril - 2021 #67 Offensive Tackle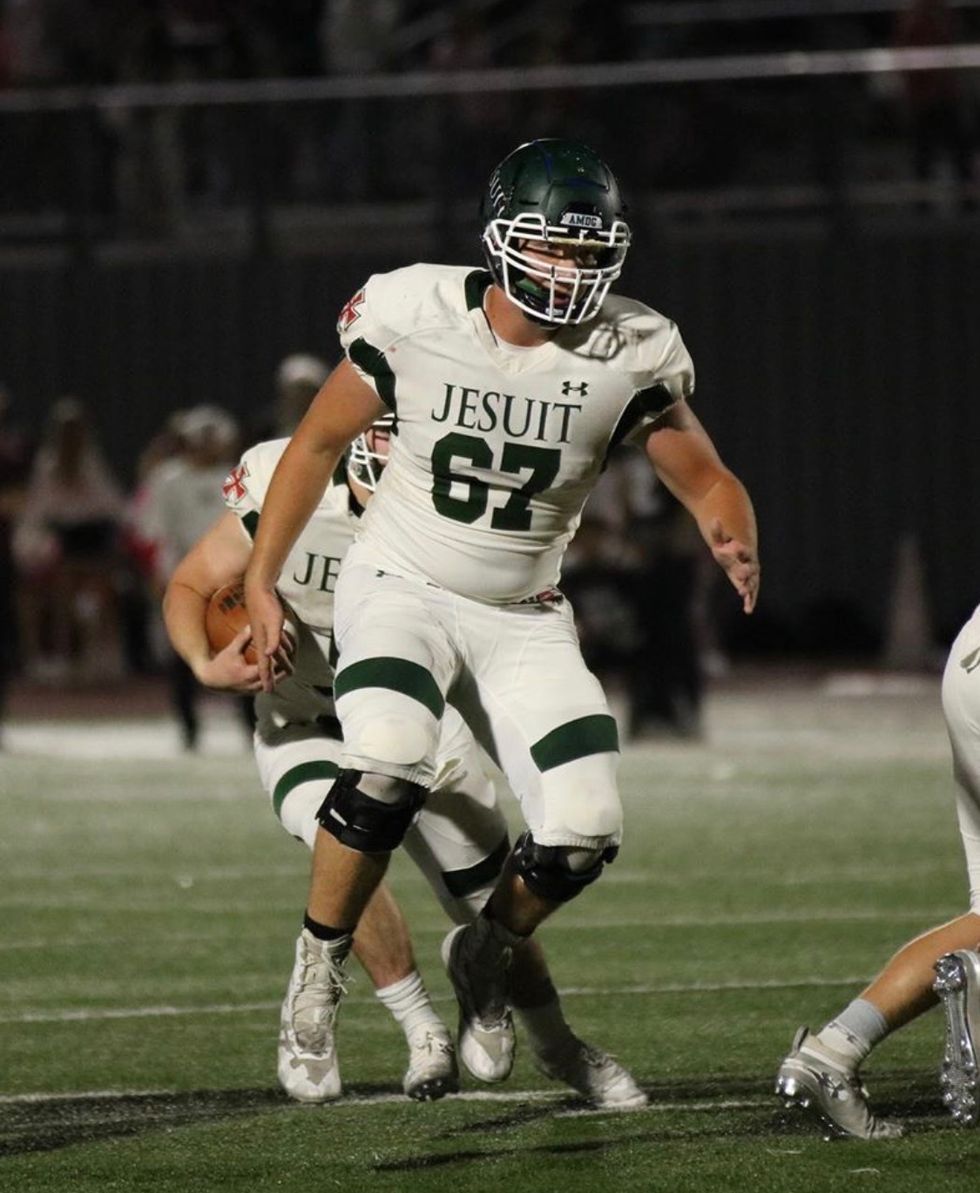 Pete Nguyen/SJ Yearbook
Background Information: Two-Year Varsity Letterman, 2019 1st Team All-District, Ranked #6 2021 OT in Texas among private schools by TXPrivateSchoolFBGuy on Twitter
Playing on the offensive line, also known as "the trenches," is one of the aspects of a football team that requires some of the most knowledge for being able to read a defense. It also requires a great deal of communication from the whole unit. Having two years of being a varsity starter under his belt, none of this is new to Max. He knows what it takes to keep his offensive line prepared during the summer and heading into every Friday night.
Gonsoulin: What have you been doing to ensure that you and the rest of the offensive line are staying prepared for the 2020 season, despite possible delays in spring football and summer workouts because of the coronavirus?
Merril: Our group of guys are still having offensive line meetings to get together and watch some film……..As this situation advances, we plan on coordinating some workouts that we need to do. Our group has a lot of accountability, so we should all be good.
Gonsoulin: You have a lot of senior offensive linemen returning next year. Describe the experience and relationships y'all have with each other and how y'all will be able to use that chemistry as an advantage heading into next season.
Merril: I've spent so much time with those guys the last two years, that I'm very comfortable with them doing their jobs on the line, and that is a huge advantage for us to have.
Gonsoulin: What are you doing to stay in shape during this time to prepare for summer workouts since all gyms in Houston are closed due to the coronavirus?
Merril: So far, I was lucky enough to have a set of weights, but I'm also getting in a lot of body weight work, as well as some running to stay in shape.
Gonsoulin: What is your opinion on getting to play Jesuit Dallas next year, given that this is the one and only season where you'll ever get to do this?
Merril: I think it is an awesome opportunity to show how good our program is. I'm glad we've moved on to bigger and better things.
Gonsoulin: Whataburger is a fan-favorite eating spot in Texas and if you put that with Texas high school football, you have the best of both worlds. What is your favorite thing to order from Whataburger?
Merril: I gotta say I'm a big taquito guy. Either that or the Patty Melt.
Jacob Psyk - 2021 #99 Defensive End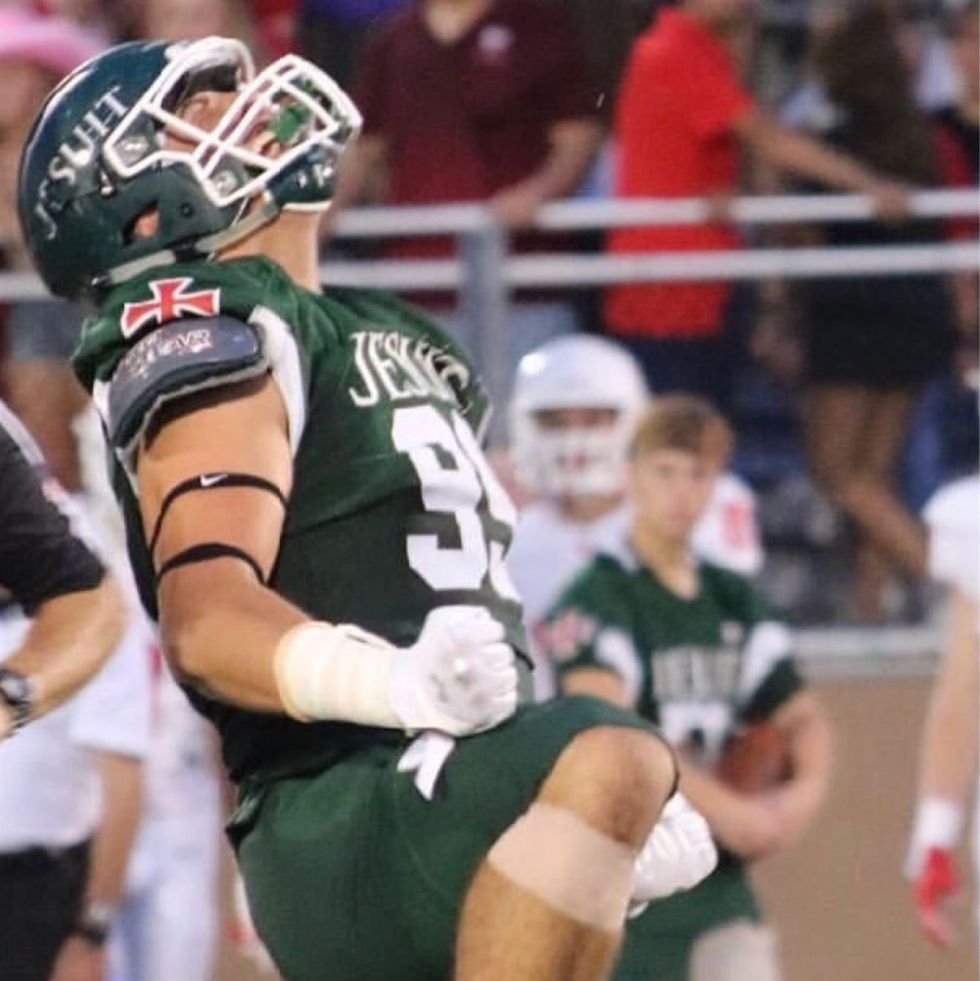 Pete Nguyen/SJ Yearbook
Background Information: Two-Year Varsity Letterman, 2019 1st Team Unanimous All-District, Ranked #5 2021 DE in Texas among private schools by TXPrivateSchoolFBGuy on Twitter

Ever since he first became a part of Strake Jesuit's football program during the fall of his freshman year, Jacob Psyk has always been familiar with putting the team first. He is working hard to make sure he gets better and gets to where he wants to be in spite of the limits that the coronavirus has placed on the team's ability to work together. Now entering into his final season of high school football, Jacob plans to leave everything he has on the gridiron before playing at the next level, not holding anything back.
Gonsoulin: Although it is a necessary precaution, how do you feel about spring football, a time where high school football recruits can rack up some of their biggest offers, getting delayed a long period of time or even cancelled because of the coronavirus?
Psyk: It's tough. At first, I was bothered by it, but everything happens for a reason. Yes, the offers come, but I was more concerned about how our team would respond and learn to grow together. This time away from each other will hopefully allow us to get closer and learn as a group what it takes to be where we want to be.
Gonsoulin: What workouts are you doing on your own to stay in shape during this time?
Psyk: I've actually found an old gym with my dad that's still open. I've been doing my weight training there and the conditioning/agility work on a turf field right next to my house.
Gonsoulin: Last season, y'all ended up reaching the 6A Division 2 Regionals, where you lost late in the second half against Cy-Creek. As a defensive leader, how do you plan on getting the team ready for next season and getting even further beyond the third round?
Psyk: Last year against Cy-Creek, we came across a really potent offense. Yes, the week before, we faced a lethal offense in Westbrook, but we took them lightly. Shifting towards this year, no one will be taken for granted. As last year taught us, anyone can win on any given Friday.
Gonsoulin: What are the team's goals for next season?
Psyk: The team goals for the season are pretty obvious. Win district. Win state. No exception.
Gonsoulin: What does it mean for you to be going into your senior season as it will be your last time playing before the next level?
Psyk: Senior year is special. Last time playing with the guys for the past three years, and it's crazy how fast time has gone. As a senior, I want to leave a mark on this program and carry the rich tradition here, hopefully showing the younger guys the right way.
Gonsoulin: Lastly, what is your favorite place to eat at?
Psyk: Chipotle.
---
Max Merril and Jacob Psyk have been a part of many memorable moments while playing for Strake Jesuit. This includes starting for a 10-2 team in 2018 and in 2019, defeating State Runner-Up Beaumont Westbrook by twenty-eight points in the second round of the playoffs after losing to them by forty earlier in the season. This year, they want to fall nothing short of their team goals. They will be faced with new opponents, like Jesuit Dallas, C.E. King, and Dekaney, who all made the 6A Division 2 Playoffs in 2019, and Shadow Creek, the reigning 5A Division 1 State Champions. Not to mention that they will also be facing familiar district rivals Pearland and Pearland Dawson again later in the season. Merril and Psyk believe that their team can overcome anyone on their schedule in 2020, as long as they cover everything that needs to be covered in the spring and summer: team workouts, film, learning the playbook, etc. The ability to do each of these things has been impacted by the coronavirus, which is something that every high school football team is going through.
Many high school athletes have had to deal with losing a season of getting to play their favorite sport because of something never before seen in the past century. COVID-19 has even imposed struggles on athletes who play sports in different seasons, such as making it harder for them to train. Football players, like Psyk and Merril, are lucky enough to have the hope of getting to play in the coming season, but they won't be taking that for granted.
Keep reading...
Show less