Photo by Bradley Collier
The most important ingredient in a healthy football program is leadership.
It can't come from the coach, but the players. Who are the alphas in the locker room? The voices?
Meet Concordia Lutheran's three leaders inside the 'Sader program. Quarterback Lou Lamar moved from his safety position to take over as the team's signal-caller last year when called upon. When he speaks, his team listens.
Gianluca Decillo sets the tone in the weight room, while anchoring both sides of the line. He leads by example and flexes his muscles against opponents.
Drew Windler has been around the program for years. He's a Concordia Lutheran-lifer and rallies the troops on the field and in the classroom.
In our three-part VYPE Original, we go inside the Concordia Lutheran program for Spring Football, capturing the new Crusader culture and its high school hopefuls.
The final episode of "On My Whistle" will air Tuesday, May 24th.
Stay tuned.
EPISODE 2
VYPE Media
As the only senior on Cypress Ranch's varsity softball team, Molly Yoo felt alone coming into this season. Scared, even.

"I've done all these things and getting ready for the next part of my life, and some of these girls, their high school career is just beginning," said Yoo, a four-year varsity letterman and Nicholls State commit. "They haven't even gotten into the recruiting process yet, and I have. Yeah, I was scared."
Yoo had conversations with coaches and her parents that were cathartic. She ultimately extinguished those druthers when the team needed it most.
In the offseason, the team, mostly of sophomores and juniors, was separated in cliques. "Super split," Yoo said. At first, Yoo, wanting to be liked by her teammates, let it slide. But it got to be too much as the division seeped into January, weeks before the start of the season.
"We had to push each other to get out of our comfort zone," Yoo said. "Talk to each other and build those relationships. I'm not the type of person that will be really loud. But eventually, I was just over everything."
Yoo started taking initiative. She arranged team dinners at her house. She encouraged the team to gather at someone's house prior to games to get ready.
"We were going to do everything together," Yoo said. "It was hard for me to speak up and say something because I don't want them to be afraid of me. I like to lead by example. But I have expectations for us as a team and I know they have the same for me."
The Mustangs have since lived up to great expectations, even surpassed them. So has Yoo.
Cy Ranch (25-13) is back in the regional semifinals for the first time since 2018. A big why is Yoo.
The two-way talent is 17-8 in the circle with a 1.51 ERA and a .174 batting average-against. But what jumps out like the elephant in the room is Yoo's incredible 9.7 strikeout-to-walk ratio, 223 punchouts to 23 walks.
She said her command and abhorrence of free passes come from playing for her 16U team when a pitcher was pulled if they walked two batters in a game.
"I hated to get pulled, so I worked really hard to not walk anyone," Yoo said. "I really don't like to lose. Each at-bat is like a mini-game in itself. My focus is only on the batter I'm facing and what I have to do to beat them."
Yoo is a left-handed pitcher, a rarity in softball.
"As a hitter, you're not used to seeing the ball come out from a different side," she said. "It can get in your head a bit. Most lefties have a lot of weird movement, too. I've never understood it. But I can throw a fastball and it will wiggle."
And Yoo knows about hitting, too. She's not just the Mustangs' ace. Yoo leads the team in RBIs (51) and home runs (four), and hits .371 with a .431 on-base percentage.
But it's pitching that has her heart.
"It's my bread and butter," Yoo said. "It's a game inside of a game. One day, you can be on, throwing as hard as you can and balls will be breaking. And the next day, things aren't going your way. I like the challenge of working and improving. I always have something to get better at."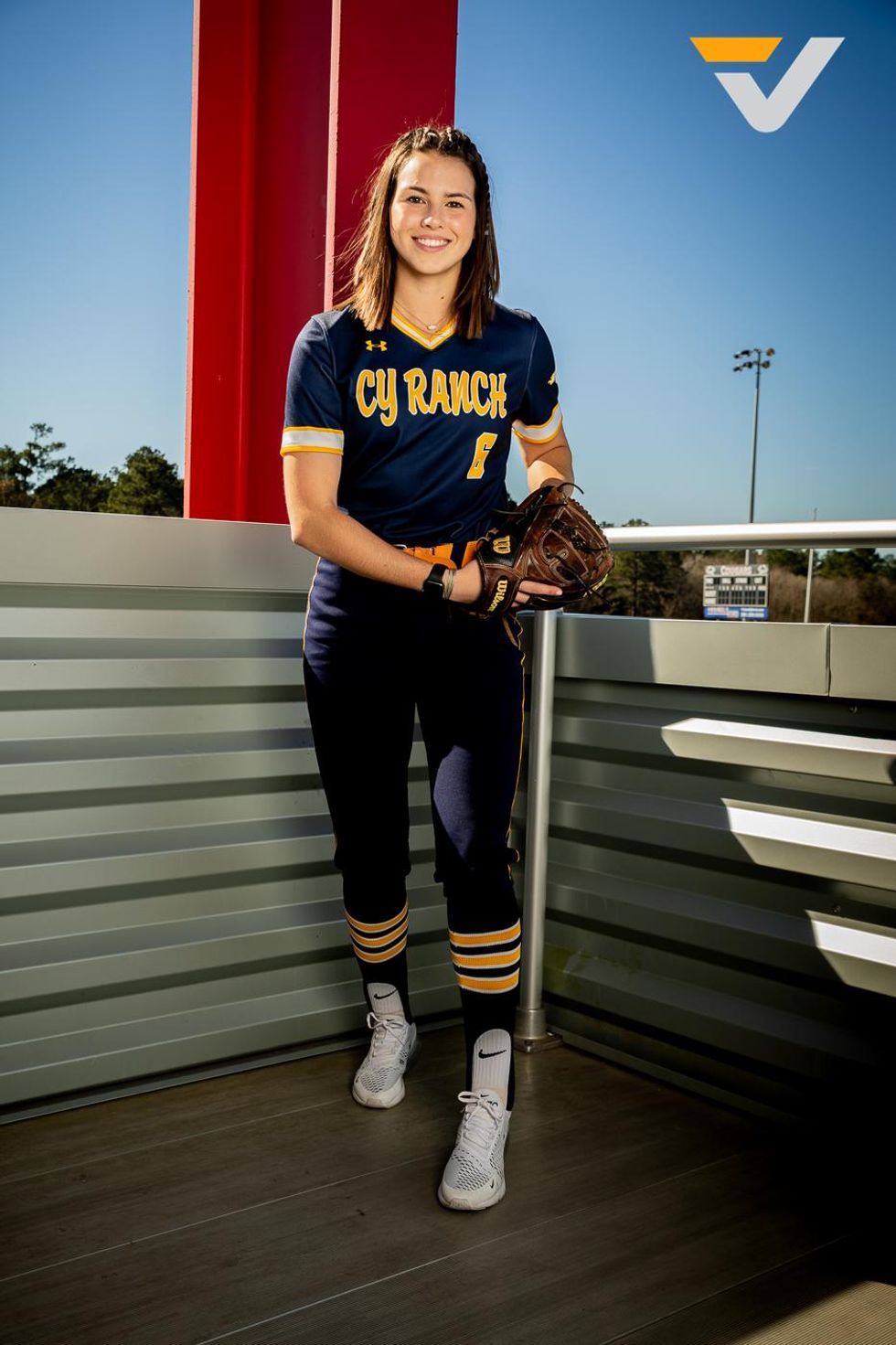 Cypress Ranch senior Molly Yoo.VYPE Media
Ever since the Mustangs became closer as a team— "We're not just teammates now," Yoo said. "We're a family."— following a tenuous start to the season, Yoo said she is more relaxed. She credits her play on the field to what she helped transpire off it.
"I know we have what it takes to bounce back from anything," she said. "I'm able to play loose."
Yoo is stronger and faster this season. The spin and speed of her pitches are better.
Yoo has always had a nasty curveball, but now the rise ball is just as dangerous. What once was a "struggle pitch," she said, is now one of her best.
"I know we all want to work on the things we're good at, and I do, too," Yoo said. "But I also try really hard to work on the things I'm not good at."
That list isn't long. In the box, Yoo is doing better keeping it simple and not always trying to swing for the fences. In the circle, she's become adept at studying a hitter's body language.
Are their shoulders slumped? Are they excited? Where are they standing in the box? Can she jam them inside with a curveball or should she go higher and out?
Whatever Yoo does, it's working. Now she wants a trip to next week's regional finals, where Cy Ranch hasn't been since 2015.
Lake Ridge stands in the way. But Yoo has expectations for these Mustangs. And they have expectations for her.
"It's been amazing," Yoo said. "It's kind of coming full circle. When I was a freshman, we made it to round four, but I was on the bench and didn't get to see the field much. Now I'm kind of in the center of it and it's crazy. It's so exciting."
True
As we head into the 2023 Football season, we take a look at the top 2023 recruits from across the state of Texas. Our last Top of the Class focused on the top ATH's, this week we end our Offensive Top of the Class by looking at the Offensive Linemen.
**Rankings reflected as of May 18th **
**Stats and Rating gathered from Max Preps**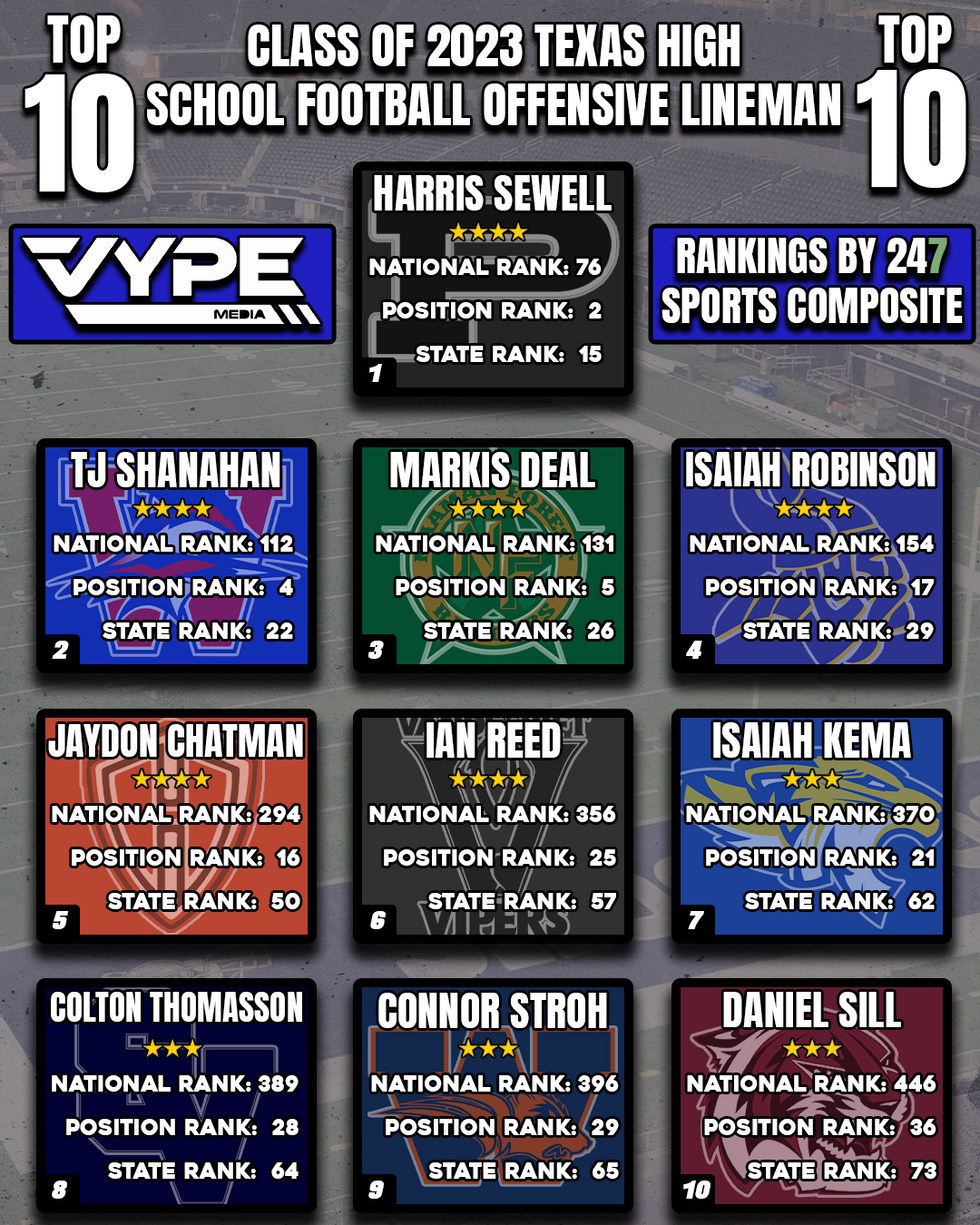 Harris Sewell- Odessa Permian: The top offensive linemen in the class of 2023 is Harris Sewell. The 4-Star Guard from Odessa Permian looks to continue the MOJO spirit during his senior campaign and is currently down to 5 schools heading into his senior year: Clemson, A&M, UT, OU and Alabama.
TJ Shanahan- Westlake: The Westlake Offensive linemen will try and help lead the Chaps to their 4th state title in a row. He will be protecting a new QB this season. But the #2 Linemen for the class of 2023 is one of the key cogs into another state title run.
Markis Deal- Naaman Forest: The 6'6" 290 Jr currently holds 41 offers and is a versatile athlete on both side of the ball for Naaman Forest. He will head into his senior season not only looking to narrow down his offers, but to commit. His play during that time will go a long way in him making that decision.
Isaiah Robinson- Lamar: The 4-Star offensive linemen out of Arlington Lamar has been busy this Spring. Not only has he found himself competing in the State Track meet, he has also been racking up offers left and right. Expect Robinson to have a monster senior season.
Jaydon Chatman- Harker Heights: Texas is hoping to land Chatman to it's impressive OL room after his senior season, as the Longhorns have been pursuing him since Early September of 2021. The 6'4" 286lb Chatman will head into his senior season looking to build upon his successful 2021/22 campaign.
Ian Reed- Vandegrift: Reed is one of the most talented athletes in the states capital, and help lead Vandegrift to the 3rd round of the playoffs in 2021. He recently narrowed his schools down to his top 10 ahead of the 2022/23 season.
Isaiah Kema- Frenship: The offensive guard out of the Lubbock area comes into his senior season with accolades a mile long including 6A 1st Team Texas All Sate and being part of the ESPN Top 300.
Colton Thomasson- Smithson Valley: The Texas A&M commit comes into his senior season as the lone San Antonio Linemen on this list. The 6'8" Linemen has been impressive not only in his Junior season but also during Spring camps. Expect another great season from Thomasson.
Connor Stroh- Wakeland: Stroh comes into his senior year having narrowed down his schools to 5: Arkansas, Texas, A&M, Florida and Auburn. The Wakeland linemen is a versatile linemen that can play either tackle or guard and is talented in both positions.
Daniel Sill- A&M Consolidated: Sill comes into his senior year having been committed to Texas Tech since December of 2021. With the decision of what college to go to out of the way, Sill will come into 2022/23 focused on the season and improving his craft.
True
Join the #VYPETEAM
Get up to date news from all over the country!