Photo from Fields' Twitter Handle: @ElijahF2023
North Shore is on the cusp of returning to the UIL 6A State Championship for the fourth time in the last six years. The team that stands in their path is another perennial contender, Austin Westlake, who they are set to face off against in the State Semifinals.
The Mustangs' defense has been relentless, throughout the postseason. Most recently, they held the explosive Atascocita to 7 points, last Friday, which allowed their offense to seal the victory.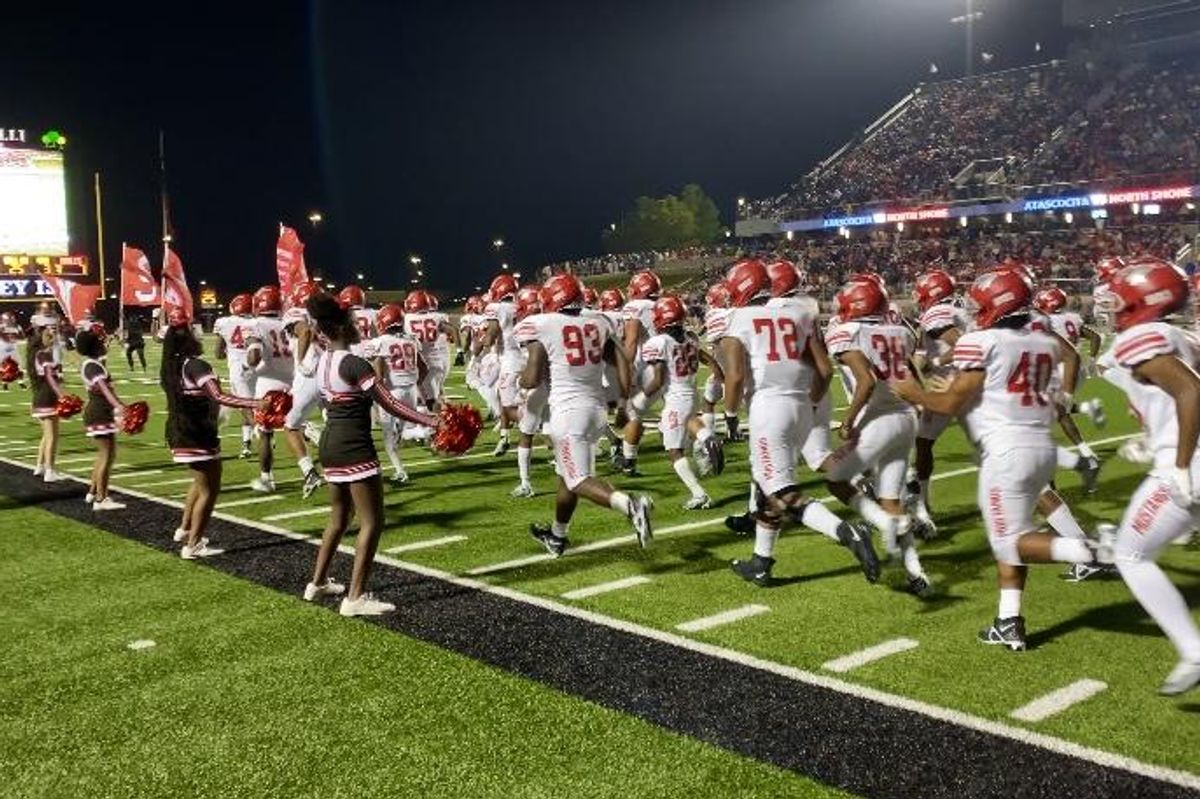 The Mustangs run onto Randall Reed Stadium prior to their Regional Championship victory, against AtascocitaMatthew Ogle (Vype)
One of the heroes on this stacked North Shore roster, DE Elijah "The Hulk" Fields, has established himself as a force to be reckoned with, on their tenacious defense.
"I got that nickname ["The Hulk"] when I was younger," said Fields. "I've been dominating since little league and that title has just kind of stuck with me."
Fields transferred from Spring High to North Shore, last year. His performance has only escalated since then, earning First-Team All-District honors, this season, which he attributed to the culture of the football program.
"[Compared to Spring] the culture here [North Shore] has been a nice change," Fields said. "Everyone wants it more, and there's more leadership. I've seen everybody has just bought in and we've become a brotherhood. Spring just got new coaches so they're still in the rebuilding process, whereas, in North Shore, everything is set and, really, it's all on the players."
The majority of current high school football players began their playing careers during their youth when they were inspired to compete through their adolescent years.
Fields is no exception, as his passion for the game was sparked by his uncle, Ramonce Taylor, who played running back for the University of Texas from 2004 to 2006 and, later, played in the Canadian Football League, as well as the U.S. Indoor Football League.
"My uncle [inspired me to play football]," said Fields. "He played for Texas, so he knew what it took it takes to play at the next level. He [Taylor] instilled that dedication and competitiveness in me. I need to have that 'dawg' in me always."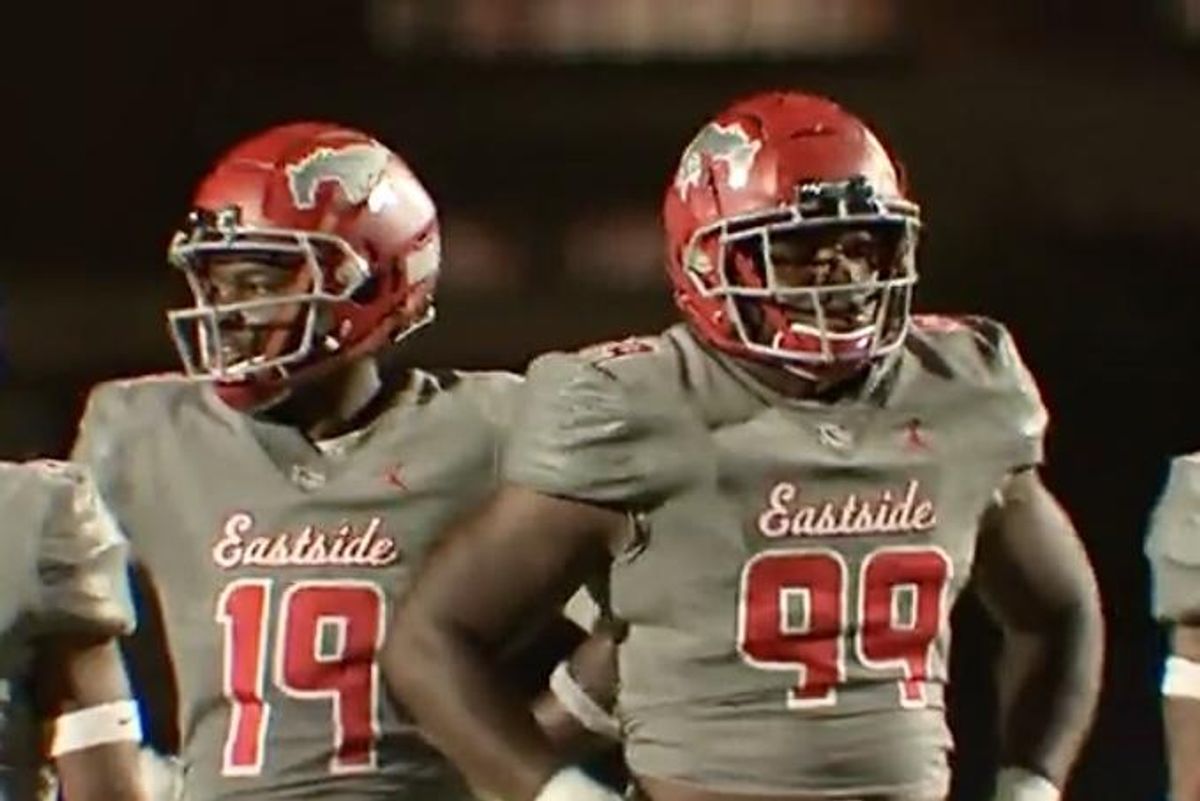 With all the accolades "The Hulk" has racked up, he's obtained offers from several universities to continue playing ball at the collegiate level, including Mary-Hardin Baylor, Midwestern State, Northern Iowa, and more.
However, Fields and the Mustangs, currently, have one goal in mind: Add another State Title to the North Shore legacy. They will be one win away from doing so if they can advance past Saturday's matchup, against a fellow undefeated heavyweight, Austin Westlake, at Rice Stadium at 3 p.m.
"We just gotta keep going like we have been doing, each week," Fields said. "Day in and day out, we're focused on the next opponent in front of us. Getting a ring would be crazy, but it's just this game that we are worried about since we will be facing a team that wants it just as badly as we do."
@CoachJLuna-Twitter
It's been building. Over the last few years the Poth Pirates have found sustained success in the playoffs. Last year they made it to the State Quarterfinals where they lost to eventual state champion Franklin. It was then that coach Jeff Luna and his Pirate staff and players knew they had something building and jumped at the chance in 2022 to build on last seasons success.
"You know honestly we don't feel any pressure. We have more of an excitement and relish the opportunity feel than pressure," said coach Luna. "Coming off last season when we reached the State Quarterfinals for the first time since 1969, we knew what type of team we had coming back and the possibility we had of making a run deep into the playoffs."
To get to this point, they first had to do what all teams have to do each and every season; replace graduating seniors with only 4 starters returning on offense and 5 on defense. But that didn't concern Coach Luna too much.
"Every year we lose some very talented players to graduation and have to rely on some of the younger guys to step up and fill those roles," said coach Luna. "We believe in our program and the developmental process we use to get these players ready to fill in. Our mentality whether it's a loss to graduation or injury is the same, we rely on the next man up and our kids prepare that way."

It didn't take long to know that the 2022-2023 season could be something special, and it was actually a loss that helped them see that. Week 3 was a rematch against Shiner, a team that defeated them 39-10 last season. This season it came down to a miraculous 2 point conversion by Dalton Brooks to give Shiner a 1 point win.
"After the 1 point loss to Shiner, the look in the eyes of our players told me a lot about the possibility of the season," coach Luna said. "From that moment on, our team became a Family and it kind of spring boarded us forward into the rest of the season. Keeping the guys focused has not been hard, these guys have been locked in since the playoffs started. We have a tremendous support system in place from our Administration to our Community."
The Pirates have gotten to this point in the season by what can only be described as complimentary football. Their offense and defense have been huge all season. And when one may struggle the other has stepped up in big moments, especially in the playoffs.
"You know, we are averaging 46 ppg and allowing only 7.8 ppg which equates to a pretty good complimentary football team," said coach Luna. "In the area game vs. Boling, our defense struggled some and gave up some big plays to get down early. Our offense did a tremendous job keeping us in the game and eventually we ended up winning that ball game 42-34. Our offense was able to carry us through that game. We have also been pretty solid in our Special Teams, which obviously is a big part of the football game especially in the playoffs."
As for the defense? They stepped up in a big win last week for the Pirates. In what can only be described as a defensive battle, Poth came out with a slim 12-6 win over Tidehaven.
"We knew going in that Tidehaven was a very well coached, talented team with an explosive offense and a stingy defense," said coach Luna. Defensively, I thought we did a good job running to the football and creating turnovers. Our defensive line was able to get pressure on their QB and made him feel uncomfortable in the pocket which helped out pass defense. We gave up a 58 yard TD pass with a little over a minute left in the half where our DB had good coverage, it was just a good throw and catch. Nevertheless, we were able to get a FG in the second half and shut them out defensively, so very very proud of our effort all night long."

Now Poth turns its attention to what many are considering one of the "Cinderella teams" left in the playoffs, Harmony, who defeated Newton 36-32 last week.
"When I watch Harmony on film, the thing that you immediately notice is how big they are up front on both sides of the ball. In addition, they have as an explosive QB as we have seen all year long that does a great job managing the game," said coach Luna. "Offensively, they are very patient and don't make a lot of mistakes. They don't turn the ball over and very rarely are they behind the chains. We are gonna have to get them in some long yardage situations and then do a good job of containing their QB and play sound on the back end of things. Defensively, they are an aggressive, attacking defense that will load the box to stop the running game. We will have to be very efficient offensively, take care of the football, and do a great job executing.
With so much on the line, trying to get back to the state championship for the first time since 1968, the Pirates aren't changing their mentality heading into the state semifinals.
"We hang our hat on the 212 mantra," said coach Luna. Although this is obviously a bigger stage, we always prepare for every game with the same mentality and with the same intensity. We have also been talking to them about seizing the moment. We are making history in Poth and loving every minute of it."
That 212 mantra is felt not only by the team but by the community as well who has been there every step of the way for the Pirates.
"I would like to thank all of Pirate Nation for their support thus far," said coach Luna. "We need to fill the stadium with Navy and Gold on Friday Night and show this Team the support they deserve. We are playing for all the ones that wore the Navy and Gold before us and setting the standard for all the ones that will come after us!! WE AIN"T DONE YET!!"
Rebecca Deragon (VYPE Media)
The Warriors of winter showed up and showed out at the VYPE DFW campus takeover of Argyle Liberty Christian School for the 2022-23 winter sports media day. Liberty Christian's girls basketball, boys basketball, swim, wrestling, boys soccer, and girls soccer athletes stepped in front of the camera to get their fans hyped up for their seasons ahead. Check out the hype video and photo gallery from the day below!
VYPE VIDEO
Hype video created by Ibifiri Jamabo.
Photo Gallery
For more photos from the media day, please visit VYPE Photos!

Be sure you catch the Warriors in action during their respective seasons this winter!
Join the #VYPETEAM
Get up to date news from all over the country!