Team of the Week: Lake Creek Softball presented by Allegiance Bank
HOUSTON – In 2021, Lake Creek suffered just two losses in a 38-2 campaign.

They came against Barbers Hill on May 26 and 27. It was the Region III-5A Championship series. One step from advancing to the UIL State Softball Tournament.
The pair of losses – 3-0 in Game 1 and 6-5 in eight innings in Game 2 – stuck with Lake Creek through the entirety of the offseason.
"They've had those two games in the back of their head all year long," Lake Creek coach Michelle Rochinski said. "They knew they could do it."
It fueled the team motto for the 2022 season of #UnfinishedBusiness.
As Maddie McKee slapped down the tag to complete a game-ending double play to secure a 7-2 Game 2 victory over Santa Fe on Thursday night it moved Lake Creek to 39-0 overall and punched their ticket to the UIL State Tournament.
"It was very motivational to lose last year and come into this round better than we came in last year into Round 5," McKee said.
Coming into the 2022 season, Lake Creek was the heavy favorite in the City of Houston to make a run like this.
The Lions have collegiate talent up and down the roster led by Florida-commit Ava Brown, LSU-commit McKee, UTSA-commit Kalee Rochinski, Syracuse-commit Madelyn Lopez and Texas Lutheran-signee Caelee Clark.
Sometimes a lot of the attention will shine on Brown, who is now 28-0 in the circle with more than 312 strikeouts on the year. Or on McKee, who leads the team with 47 RBIs followed by Lopez's 45 and Brown's 40.
But being 39-0 entering the UIL State Tournament next week comes down to a lot more.
On Thursday, it included a diving catch in left field by Piper White, who then got up and threw it to Lopez at third for an inning-ending double play in the fifth, ending a Santa Fe threat and preserving a 5-2 lead. It was the courtesy runners who come in and make heads up decisions on the basepaths. Finally, it was a perfectly executed back and forth run down to close out the game in the seventh.
This was a team effort.
"This team they play for each other," Rochinski said. "We're not a one or two-man show. It's a full team and it took every single one of us. From everybody on the bench, to the starters to the pinch runners. It took them all."
Lake Creek junior Ava Brown added: "Every win we've had has been a team win. We've all worked so well together. I think just being able to know that we're playing for each other and moving on with each other feels so much better."

Despite all the hype around Lake Creek – being No. 2 in the country by MaxPreps and No. 1 in Texas, being the USA TODAY Sports/NFCA High School Super 25 No. 1 team in the country for a ninth-straight week – the Lions have just been playing this one game at a time.
"We try to block it out," McKee said with a smile. "But it comes at us sometimes. You just have to stop looking at it and keep your head down and just keep winning."
Rochinski added: "We've tried to not pay too much attention to it. They know they've had a target on their back all year long. I would say they've done a pretty good job of keeping it together."
Throughout the playoffs, Rochinski and staff have talked with their team about winning "two games a week".

Lake Creek did that against Magnolia (11-0, 8-5), Waller (5-3, 7-3), Friendswood (8-0, 10-0) and now Santa Fe (5-0, 7-2) to advance to the UIL State Softball Tournament.
Now, it is two more games – the Class 5A State Semifinal and State Championship – they will need to win next week to complete the perfect season at 41-0 and bring home the program's first-ever State Championship.
"It's very exciting, I'm very excited to go there," McKee said. "I know we've got it in us. We've been waiting for this for three years."
Rochinski added: "Our motto all season has been unfinished business and they've done it. We're not done yet."
True
...
BOYS GOLFER OF THE YEAR FINALISTS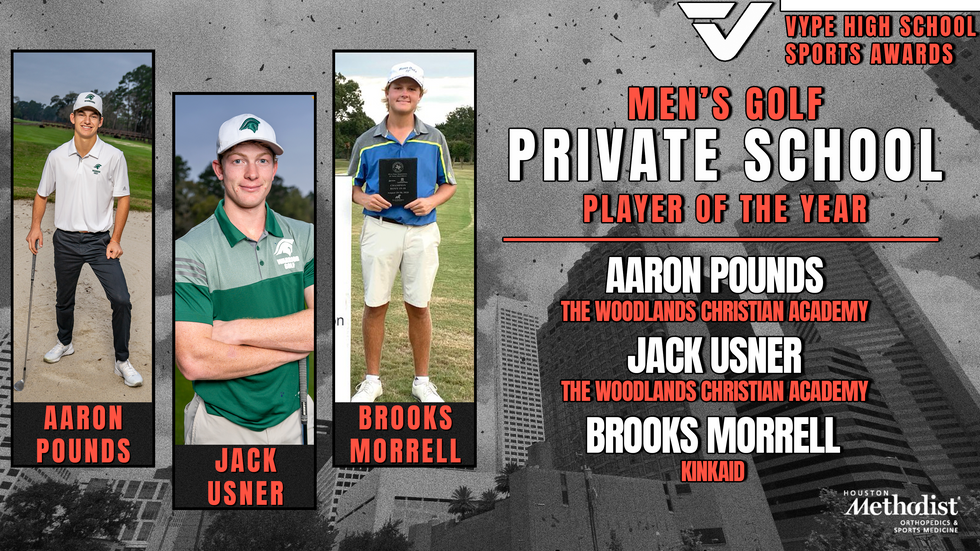 GRILS GOLFER OF THE YEAR FINALISTS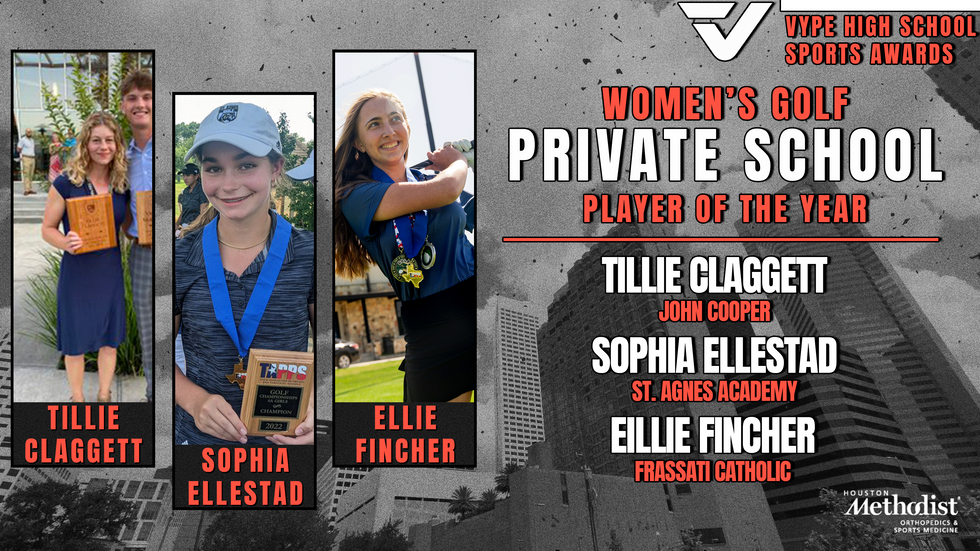 Watch the video below to find out who won the Private School Boys and Girls Golf VYPE Awards presented by Houston Methodist Orthopedic & Sports Medicine
Houston Methodist Orthopedics & Sports Medicine is Houston's leading provider of orthopedic services, from sports medicine to joint replacement. Houston Methodist offers comprehensive diagnostic, treatment and rehabilitative services with a high standard of excellence for elite athletes, active adults and student athletes. Houston Methodist serves as the official health care provider for the Houston Texans, Houston Astros, Rice Athletics, Houston Livestock Show and Rodeo™, Houston Ballet, Houston Symphony and Houston Grand Opera.
Join the #VYPETEAM
Get up to date news from all over the country!