Welcome back to another edition of VYPE Austin/San Antonio Helmet Stickers for the 2022 Texas High School Football season.
There were tons of amazing performances last week across the Central Texas. We compiled all of those top performances in the VYPE Austin/San Antonio Football Player of the Week Fan Poll - CLICK HERE TO VOTE - but then we boiled that down to what we felt were personally the Top 7 performances of the week
These are Week 5's Helmet Sticker selections (in no particular order).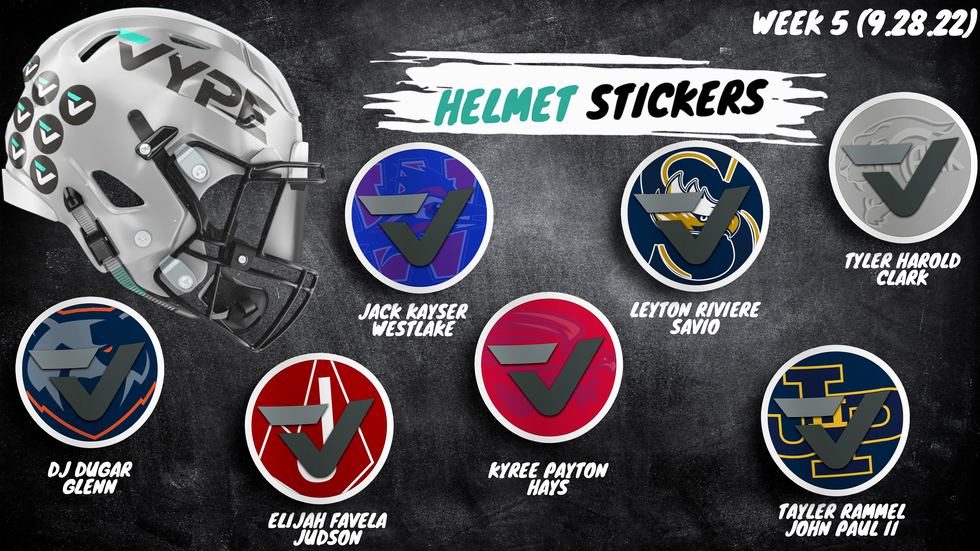 DJ DUGAR-GLENN
In Glenn's 38-28 victory last week versus Hendrickson, DJ could not be stopped. He rushed for 261 yards on 28 carries. This included 3 touchdowns. The Hawks had no shot on stopping him as he averaged almost 10 yards a carry with a long of 63 yards.
ELIJAH FAVELA-JUDSON
Judson got back on the winning way after 3 straight loses. One of the keys to that victory was Elijah Favela. Favela was near perfect completing almost 85% of his passes going 33/39 for 443 yards and 5 touchdowns through the air and adding another 49 yards on the ground through 7 carries.
JACK KAYSER-WESTLAKE
In the Battle of the Lakes, Westlake faced its toughest competition to date this season against Lake Travis. But behind the legs of Jack Kayser, Westlake stayed undefeated and continued its 40+ game winning streak. Kayser carried the ball 30 times for 211 yards and 2 touchdowns.
KYREE PAYTON-HAYS
Earning his second Helmet sticker of the year is Kyree Payton who has continued his amazing 2022/2023 campaign. Going against one of their toughest opponents yet, Hays defeated Boerne Champion 34-29 with Payton leading the way for the Hawks. Payton carried the ball 21 times for 233 yards and 1 touchdown.
LEYTON RIVIERE-SAVIO
After their loss in Week 3 to Holy Cross, Savio has rebounded with wins against John Paul II and Brentwood Christian. Leading the way for the Eagles against the Bears was Leyton Riviere. Riviere was 16/32 for 375 yards and 3 touchdowns with another 11 yards on the ground.
TAYLER RAMMEL-JOHN PAUL II
Speaking of John Paul II, the Guardians got back in the win column beating St. Andrew's 42-27 this past Friday. Junior Taylor Rammel was 13/22 for 245 yards and 5 touchdowns in the game while also adding 69 yards on the ground on 9 carries.
TYLER HAROLD-CLARK
Our lone defensive player on the list this week is Tyler Harold of Clark. In their 58-17 over Lee, Harold tallied 11 tackles and 2 sacks for the Cougars
Welcome to a new addition to VYPE's content for the 2022 season!!
Every Tuesday we will release a Fan Poll, for you the fans to vote on the VYPE Football Player of the Week Presented by Sun and Ski Sports. Voting will remain open until Noon on Friday, September 30th. The winner will be announced via VYPE's social media accounts on the same day.
Did we miss someone? Every week you can submit requests for players of the week to joshua.waclawczyk@vypemedia.com or DM him on twitter @josh_wac_vype Please submit your nominee no later than Monday night.
Please note that the use of voting software or bots will result in a deletion of votes and a potential DQ from the contest. PLEASE try to keep this fair and fun for all involved!
All athlete polls and their content are only associated and created by VYPE Media and its staff. The content is not created or voted on by any corporate sponsor or marketing partner. Please contact VYPE Media directly if you have any questions, comments, or concerns around our Fan Polls.
If you need gear for skiing, snowboarding, cycling, running, hiking and more, Sun & Ski Sports has it in-stock and ready for your upcoming adventures! Shop in-store at their 13 locations in Texas, or sunandski.com.
Join the #VYPETEAM
Get up to date news from all over the country!