Against all odds, the Logos Prep Lions flexed their resiliency against the favored Hill Country Christian, earning their first TAPPS Six-Man 1A State Championship.
With only 4 minutes left in the game, and facing a deficit of 18 points, it appeared that Logos Prep's chances of a Title were over. However, the Lions went on a tear to pull off a miraculous comeback, in which, they defeated the Knights 54-52.
"When you combine toughness and focus you end up with execution," said Head Coach Kevin Edelbrock. "For us, we have a special group of kids, and that's what it usually takes to pull off a victory like this, as a 25-point underdog. And that's what our boys were able to do, especially at the end."
In order to pull off this type of upset, Coach Edelbrock explained that the team's "secret ingredient" to their victory could be attributed to the seniors on the team, namely, RB Barrett Zgarba, LB Nathan Rabb, and WR/FS Cole Hogan.
"They [the seniors on the team] exemplified what it means to never give up," Coach Edelbrock said. "We talk a lot about not worrying about the score or result, but just 'Do the next right thing.' Those young men are led by six different captains who stayed focused and never gave up. They have no quit in them."
Another clutch performance that cannot be overlooked is that of senior Kicker Carson Goldy, who managed to deliver three successful onside kicks to flip the momentum of the game.
"He [Goldy} has all the talent to kick at any Division 1 school in the nation and any program would be lucky to have him," said Coach Edelbrock. "In six-man football, the onside kick is of the utmost importance and, throughout the year, I watched Carson really perfect a variety of kicks. To recover three in a championship game changes everything and the entire kickoff team deserves credit."
Logos Prep, a fairly new school, opened in 2006. Considering the fact that the football program was not established until 2010, winning the school's first State Title, in football, will surely be invaluable for the school and its athletic program.
"More and more athletes are seeing our University Model school as a place to, not only, better prepare to be successful in college and in life, but, also, to have a competitive athletic experience, with coaches who truly care about them," Coach Edelbrock said. "To win, in this sort of fashion, or in any fashion, both team and individual, is something that you simply have to soak up."
This monumental victory must have been incredible to witness. However, the postgame experience will be something the players and coaches never forget.
"It [the postgame] was pure joy and exhilaration," said Coach Edelbrock said. "We were so happy for those boys and their families, as well as for everyone attached to the Logos Prep. It was a celebration like none other. The guys were going crazy in the locker room and we just reveled in all the incredible plays and all the moments that the boys made happen."
Jason Gilmore (VYPE Media)
After a season full of excellence, the Dallas Christian Chargers have finished as state champions for the second straight season. In a defense-heavy matchup, the Chargers went head-to-head with Houston's Cypress Christian Warriors. Shutting out the Warriors 24-0, Dallas Christian is headed back to Mesquite with another first-place trophy.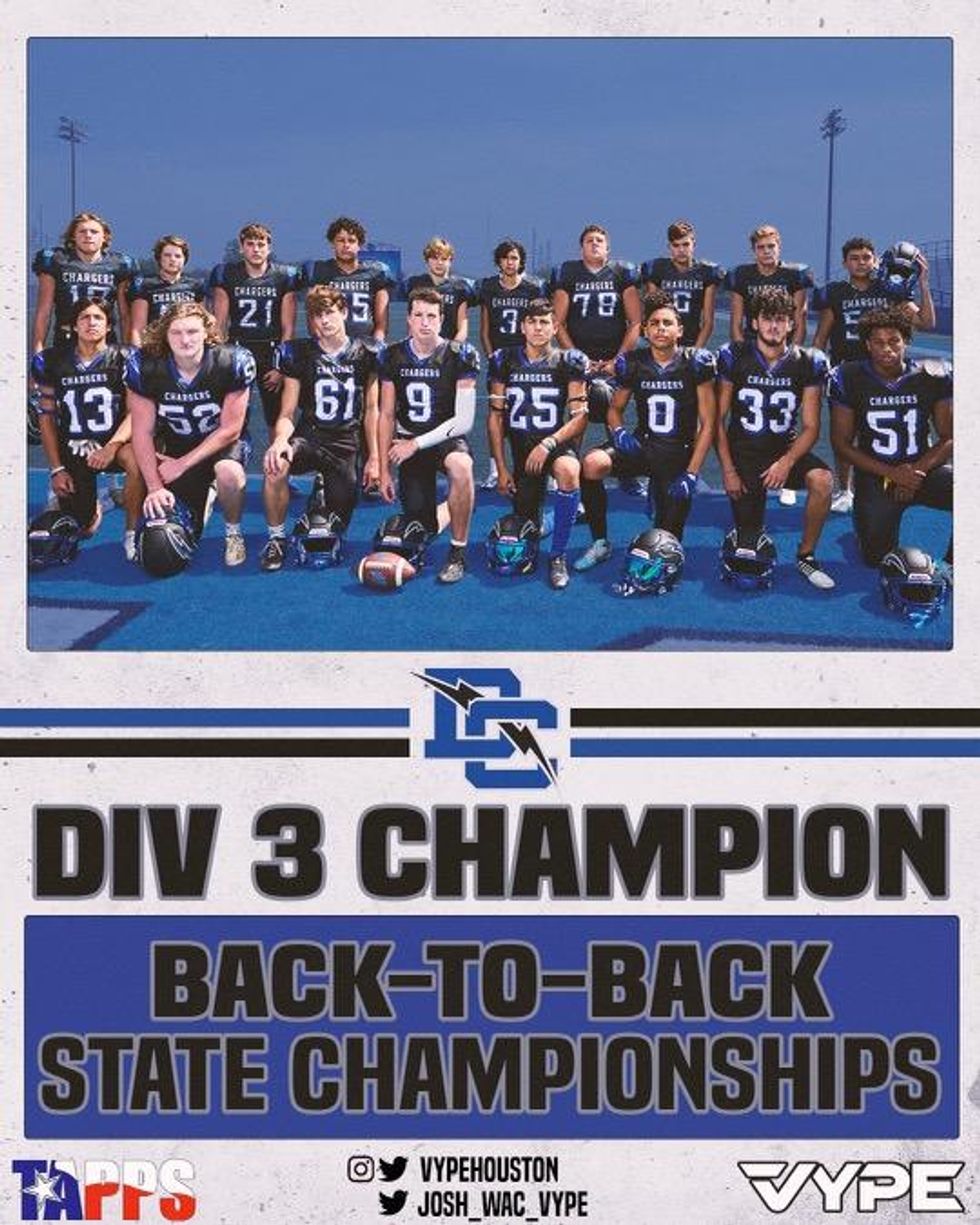 In the first half of the game, fans watched as two strong defenses faced off- ready to do whatever it took to set the tone for the rest of the game. Held to a 29-yard field goal by Zach Hernandez in their first drive of the game, the Chargers were on the board first. To start the second quarter, De'Mijae Lampkins returned a Warriors fumble 70 yards to the house for the first Dallas Christian touchdown of the game. The rest of the first half saw incredible defense on the field from both teams, preventing anymore scores and allowing the Chargers to head into halftime with a 10-0 lead over Cypress Christian.
With momentum coming out of halftime, Dallas Christian entered the third quarter ready to get the ball rolling. However, the Cypress Christian Warriors' defense was more than ready to continue putting up a fight. Midway through the third quarter, Luke Carney threw a 76-yard touchdown pass to Will Nettles; the PAT was good and put the Chargers up 17-0. The final score of the game wasn't until midway through the fourth quarter as Hernandez posted a 2-yard rush for a touchdown.
Leading 24-0, an incredible interception from Nettles sealed the victory for the Chargers.
One thing has been consistent over the last 4 years in Texas High School Football. Westlake and North Shore making deep playoff runs in Region 3 and 4 for 6A. For Westlake that includes 3 straight state championships and, now, 54 straight wins.
The last time these 2 teams faced each other, Westlake came out on top. But a new year means new teams.
"It's going to be a battle, the last two times we've played them it's going to come down to the 4th quarter," Westlake Head Coach Tony Salazar said. "We had a good chance to peek last night at their game and obviously they handled their opponent in the regional final as well. They are playing with confidence but so are we."
That confidence was on full display in the Alamodome in their 47-7 win over Brennan in the Region IV Championship Saturday. The win was the 54th in a row for the Chaps and keeps them in the hunt for a 4th straight state title.
"Whoever prepares the best and makes timely plays next Saturday is going to play for a State Championship."
Timely plays were key for Westlake in their win against Brennan. Some of those plays came from Keaton Kubecka, 4 catches for 93 yards and a touchdown, who became the main target for the Westlake quarterbacks with Notre Dame commit Jaden Greathouse limited with an injury.
"We had an idea he was going to be out of this game," Kubecka said. "Our offense didn't miss a beat, our defense played really well Brett came in and balled and Paxton still balled. That's what we learn here at Westlake when your name is called you step up."
Westlake used a balanced attack against Brennan on offense and relied on their dominant defense to stop the high powered Brennan Bears. After an early interception by Westlake the defense came up huge with an interception of their own by Will Magids, his first of two on the night. From there, the Chaps defense would come up with huge stops on special teams to set up their offense in Brennan territory on 2 of the next 3 drives which helped them get their first 10 points of the game.
"It's the fifth year in a row these guys, in my opinion, have been the top defense in Texas, either one or two," Coach Salazar said of his defense. "To hold that team to 7 points with the style of offense they have and their personnel, that's a big task and a great great job by our defense and our special teams setting our offense up."
With the regional finals behind them and the ever looming state semifinal matchup against North Shore fast approaching it will be business as usual for the Chaps.
"Just follow the blueprint," Kubecka said of the matchup. "Don't let the moment get too big for us in times like this, so we just have to keep following the goal board and just go in and have a really good game and just prepare like we do any time."
For Coach Salazar, it's simple; "These guys set a goal back in August to try and be playing in the semifinals, to try and be playing in the state championship game so they have expectations for themselves, that's not me setting the bar, it's them setting the bar."
Next week, they'll have the chance to get one step closer to clearing that bar.
Join the #VYPETEAM
Get up to date news from all over the country!