Prosper Softball Twitter Account (@PHSFastpitch)
After fighting all season to prove that they have what it takes to compete at the highest level of Texas high school softball, the Prosper Lady Eagles defeated Denton Guyer in two games during their UIL Regional Quarterfinals matchup. With a sweep over the Wildcats, Prosper moves on to the UIL State Semifinals.
During game one of the UIL Class 6A Region I quarterfinals, Prosper topped Denton Guyer by a score of 3-1. The game one win gave the Lady Eagles all the fire and confidence needed going into game two on Thursday evening. Although the Lady Eagles only recorded two hits, they were able to capitalize off of key moments and take the series.
Elizabeth Moffitt, a Fresno State commit, recorded both hits for Prosper in the 6-2 victory Thursday evening. Moffitt's first hit came. in the bottom of the third pushing runners into scoring position and allowing Prosper to score on back-to-back walks. It wasn't long before Moffitt added another hit (a two-run single) to put Prosper up 4-0.
With a handful of Guyer errors, Prosper capitalized from the plate a couple more times before the end of the game while their defense held strong allowing only two runs to score for Guyer. From the circle, Elissa Griffin pitched four innings allowing four hits and one run while sitting down five batters.

Prosper will face the winner of the Regional Quarterfinals matchup between El Paso Americas and Boswell in the UIL State Semifinals next week.
THE DAVIS GOLF TEAM HAD A MAGICAL SEASON IN 2021 UNDER THE DIRECTION OF DISTRICT COACH OF THE YEAR ALFONSO HUBBARD.
While they have proven formidable on the course, his student-athletes have excelled in the classroom.
Let's start with the ladies. The trio of Mia Paz, Anum Badat, and Ashley Flores has completely changed the face and expectations of golf in Aldine ISD.
"I got into golf because I was looking for a sport in high school," Paz said. "I thought golf would be the easiest, but I was very wrong."
They have combined on 23 tournament wins in their careers and will play golf at the collegiate level. All three were All-District selections along with Janeth Mendoza. They were also Academic All-District selections and joined by Jazmine Garcia, Stacy Uzowuru, and Jennifer and Sophia Flores. The girls' team's average GPA is a staggering 3.83.
"We've been so successful because of our teamwork," Paz said. "The familiar bonds we've made have also played a huge role. We all want each other to have success and we've gone down this road together to greatness."
On the boys' side, Anderson Branch, Israel Reyes, Jesus Pecina, and Ta'Quorise Dixon earned All-District honors, while Branch, Reyes, Pecina, Peter Ngo, and Andy Buu were All-Academic picks. The teams' overall GPA is over a 3.5.
So, what's going on at Davis?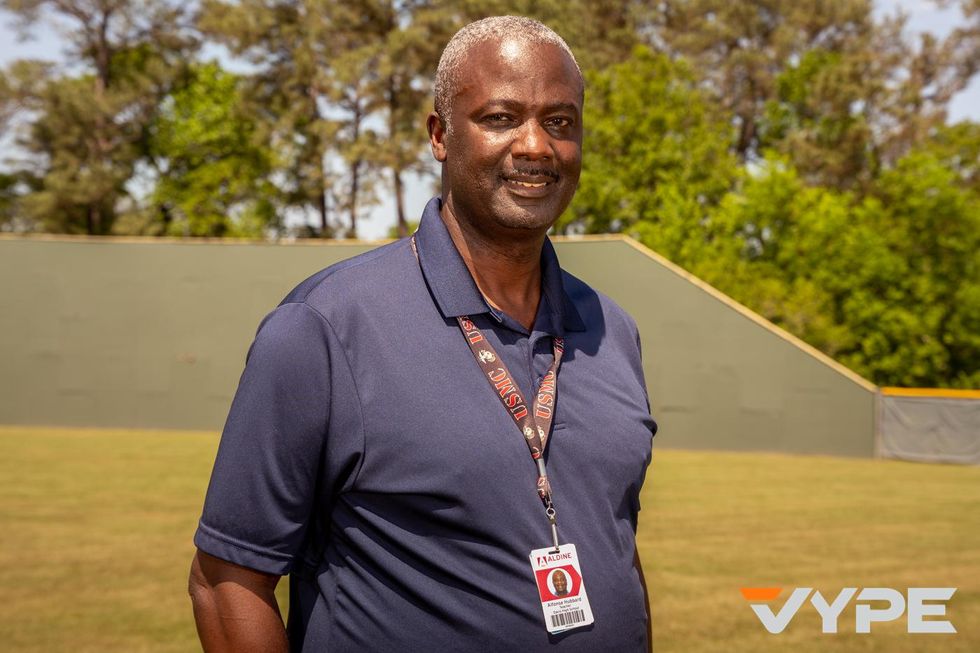 Hubbard runs a tight ship. The New Orleans-native is a marine and came over from private industry (Compaq Computers) to education. The engineering teacher has built his golf program with a sound blueprint.

"My kids don't really have any experience coming in," he said. "It's a blank slate. I've been blessed to partner with First Tee of Greater Houston.
"I'm a believer in their nine core values – honesty, integrity, sportsmanship, respect, confidence, responsibility, perseverance, courtesy, and judgment – which will take them well beyond golf."
The Davis team also learned from Cypresswood golf pro Tirrel Baymon, who really took interest in the Falcons.
"As a team, we have great bones," Hubbard said. "He just gave them the fundamentals and away they went."
Davis boys and girls won district and advanced to the Regional Tournament.
"I've been blessed with great students and I've learned so much more from them, than they have from me," he said. I'd beg to differ.
CLICK HERE TO VIEW DIGITAL MAGAZINE
Jaime Wright || VYPE Media
H-Town High School Sports rolls on! In case you missed it, check out the full-length episode on YouTube below! Don't forget to subscribe to VYPE on YouTube for more great video content!
CLICK HERE TO PURCHASE VYPE PHOTOS
For all the ways you love to play, Academy Sports and Outdoors makes it easier than ever to gear up and have fun out there! Get free shipping on your favorite brands at academy.com or get free curbside or in-store pick-up at your Academy store.
Join the #VYPETEAM
Get up to date news from all over the country!