9/29vs. Cistercian Prep* • 43-32 W
COOPER HOMECOMING!
"It is a rough road that leads to the heights of greatness."
The Dragons have certainly navigated a "rough road" this year, but it seems that they have finally started to handle the bumps as they won their third game in a row Friday night defeating the Hawks of Cistercian 43- 32. The Dragons move to 3-0 in SPC play as they continue to polish and refine looking more and more like the Dragon teams of recent times.
For the second game in a row, the Dragon offense came to life. Freshman QB Colson Collins was 19 for 28 with 265 yards and four touchdowns. Dragon receivers stood on their head led by senior WR Kaden Davis who hauled in five passes for 57 yards and two touchdowns. Junior WR Skylar Loggins found the endzone for the first time in his Dragon football career and senior WR Gus Feinberg added another touchdown to his storied Dragon career. Once again junior RB Dean Calhoun carried the load on the ground for the Dragons with 15 carries for 129 yards and two touchdowns. The Dragon defense was led by junior LB Bryce Weatherholt who tallied 11 tackles and defensive newcomer Santi Fernandez Villarreal who had six tackles and one interception. Senior DE Cooper Sansbury caused trouble in the Hawk backfield all night and it was a welcome sight to see senior CB Stephen Schlichter back from injury being physical as usual.
The Dragons found themselves on their heels at times but managed to keep the Hawks at bay enough to seal the win. The Dragons travel to Fort Worth next week to take on the Falcons of Fort Worth Country Day School.–Coach Daniel Lewis

Next up for Dragon Football:
October 6 at Fort Worth Country Day*, 7 p.m.
October 13 vs. Houston Christian*, 7 p.m. Senior Night
October 20 at Trinity Valley School*, 7 p.m.
....
VARSITY CROSS COUNTRY
9/30 at Chili Pepper Festival, Fayetteville, Arkansas
Coach George Dohner: The Cooper Cross Country teams traveled to Fayetteville, Arkansas to run the Chile Pepper Cross Country festival.
The girls started the day finishing 37th out of 83 teams. Alexis Seymour led the girls, running 20:00 for the 5k. Tahira King at 20:04 and Emma Locht at 21:54 also ran well. They were followed closely by Milla Signorelli at 21:54 and Lexi Fitz Sullivan at 21:57.
The boys finished 29th out of 110 teams. Grey Mendenhall led the pack, finishing in 69th place out of 860 runners with a time of 16:24. Jacob Bailey broke 17:00 minutes for the first time, running 16:58. Walter Day ran 17:03 followed by Aditya Pakel at 17:33 and Nathan Montes at 17:46.
I am extremely proud of the effort given by our boys and girls teams. A special shout to our Team Moms and parents for their support this weekend.
Next up for Dragon Cross Country
October 7 at St. John's Maverick Ramble, 8 a.m.
October 21 at SPC South Zone Championships, St. Andrew's Episcopal, 8 a.m.
...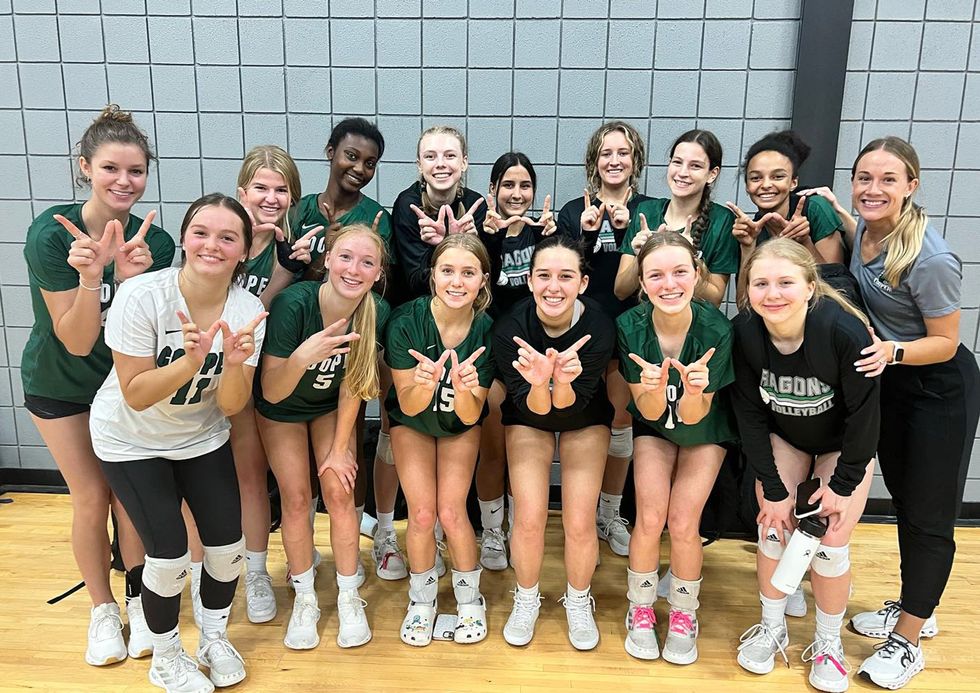 VARSITY VOLLEYBALL
9/26vs. Duchesne* • 3-0 W
9/29at St. Andrews Episcopal* • 3-2 W
9/30at St. Stephens Episcopal* • 3-0 L
Next up for Dragon Volleyball:
October 3 vs. Houston Christian*, 5:30 p.m.
October 5 vs. Kinkaid*, 5:30 p.m. Dig Pink
October 12 at St. John's*, 5:30 p.m.
October 19 vs. Episcopal High School*, 6 p.m.
October 26 vs. Awty*, 6 p.m.
Bradley C. Collier (VYPE)
One of the fastest-growing sports at Bridge City High isn't on the field or court.
It's on the water.
Dating back to 2013, BCHS has gradually been developing a club dedicated to the common passion of competitive fishing.
Along with several other schools that make up the Southeast Texas High School Fishing Association, this program consists of numerous tournaments in which teams compete against each other with the opportunity to win scholarships.
One might wonder about the full scope of its popularity.
"Our team has been growing," said one of the program's directors, Melissa Cox. "We started with just a few. We only have 30 seniors right now, but the junior class is huge, and the underclassmen team continues to grow as well. We're trying to expand our club, and they've been really fun to work with.
"Around here, we fish a lot. But it's not like football, where something brings people together. So, watching all these kids bond and compete over their common love for fishing is really special to see."
Inspired by the BassMaster Elite trail, this phenomenon has spread to the collegiate and high school level, which brings the Bridge City team to where it is today.
The Cardinals represent exceptionally well on the water. The group averaging at least three Top 30 finishers in every tournament, and had success to the tune of earning up to $15,000 in scholarships in just one season.
Fishing may be a solitary activity to some, but that doesn't mean the students can't learn something along the way.
"The kids learn teamwork through the tournament fishing program, and they learn how to be accountable for themselves," said Cox. "They are working in groups and they have a partner throughout the process, but they understand how to be individually responsible as a result."
So what does a tournament day look like for the students involved?
"Usually, the kids are blasting off pretty early," Cox said. "They can start putting their lines in the water around 7 a.m. and they tend to grind it out all day until around 3 p.m. Since most of our tournaments start around January, they can sometimes be out in 30-degree weather with icicles hanging off their boats and poles.
"That, paired with the fact that they tend to bring their own equipment and drive to the location, shows just how committed these kids are to this sport."
Sounds difficult, yet inviting. It's not hard to see what reeled these competitors in.
St. John XXIII faced off against Emery Weiner in a district matchup last week, in which the Lions community gathered to watch the team host Senior Night.
Check out the big moments from the game below!
Join the #VYPETEAM
Get up to date news from all over the country!