District is heating up and there are some great games coming up this week. Heading into that though, where do things stand rankings wise? Check out the updated rankings below.
**Records obtained from MaxPreps unless otherwise noted
**Games already played have been noted but not taken into account for the rankings
BOYS BASKETBALL RANKINGS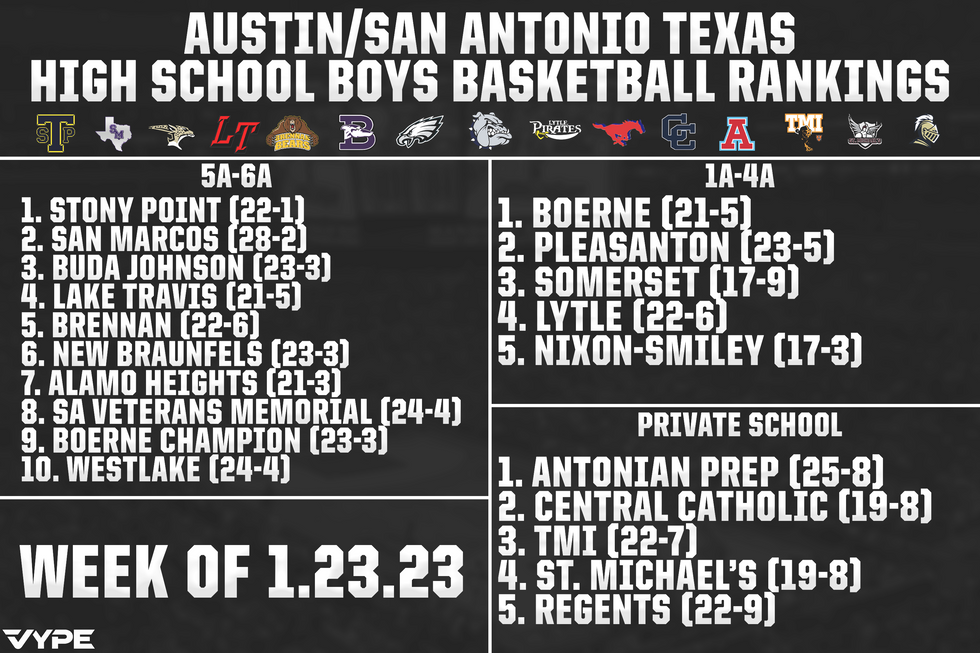 5A-6A: Stony Point stays at the top with another undefeated week and may end up staying here as we head into playoffs. The biggest matchup of the week happens tonight when San Marcos and New Braunfels battle for the top spot in district 27-6A.
1A-4A: No Changes here but Pleasanton and Somerset will matchup this week. Last time Somerset lost by 7. Can they avenge that loss and climb up the rankings?
Private School: Some losses by the top teams this week, but nothing changes as we still feel they are the top teams in the region.

GIRLS BASKETBALL RANKINGS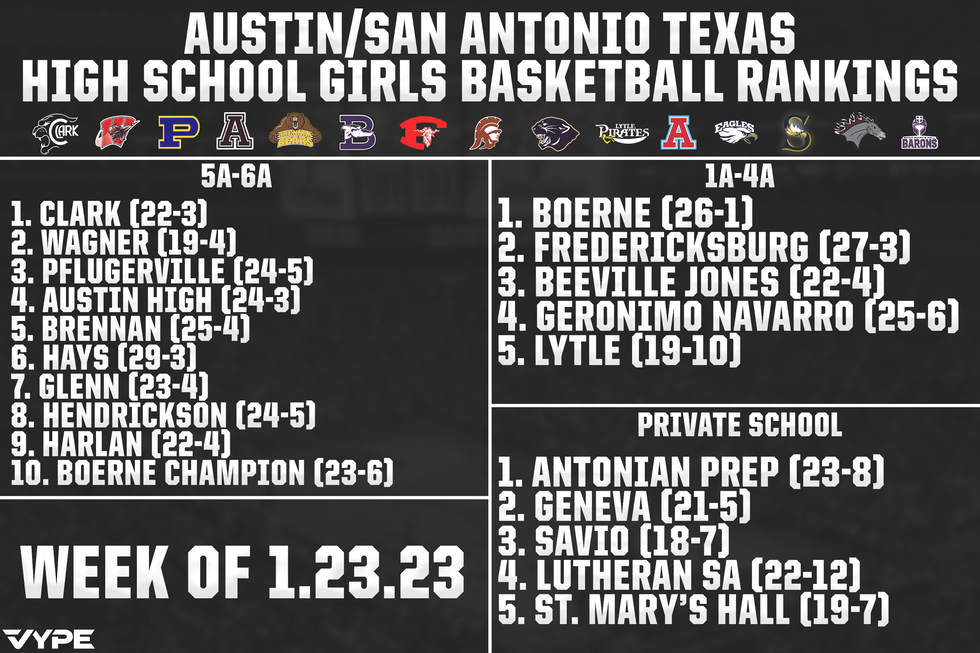 5A-6A: Only one change here as Brennan defeated Harlan last week in a close contest. Harlan dropped to 9, but that's not a testament to their loss and more so to just how good the top 10 is here.
1A-4A: No changes here as Boerne and Fredericksburg still look like the teams to beat here.
Private School: Antonian drops a game but still remains at number 1. I'm keeping my eye on Geneva though. They could be taking over that 1 spot soon.
The McKinney North Lady Bulldogs have been plowing through their schedule this season. With an undefeated district record, the team played a strong game against Sherman. Downing Sherman 61-30, the Lady Bulldogs continue to make their way toward post-season play. Check out highlights from the game against Sherman now!
McKinney North has posted a 22-6 overall record so far this season (8-0 in district play) and will play their next game in Denison on Tuesday, January 24th.
Highlight video created by Ibifiri Jamabo.
Bradley C. Collier (VYPE)
SWIMMING CAN BECOME MORE THAN JUST A HOBBY FOR SOME. FOR RANDLE'S ETHAN ESPARZA, IT'S BECOME PART OF HIS IDENTITY

"Originally, my parents just wanted me to be able to swim in the water for safety," said Randle's Ethan Esparza. "Over time, I really enjoyed it. At some point, early on, I just wanted to start swimming competitively. As soon as I did, I fell in love with it."
While swimming has become much more than a hobby, Esparza is fully-engaged at Randle High--playing percussion in the bad. He also wants to run cross country or soccer in the off-season.
But back to swimming--Following his freshman year, Esparza's ability began to flourish. The young Lions swimmer won the District 100-yard backstroke with a time of 57.17 and placed fourth in the Region VI-5A Championship. Earlier in 2022, he advanced to the State Meet on the campus of the University of Texas.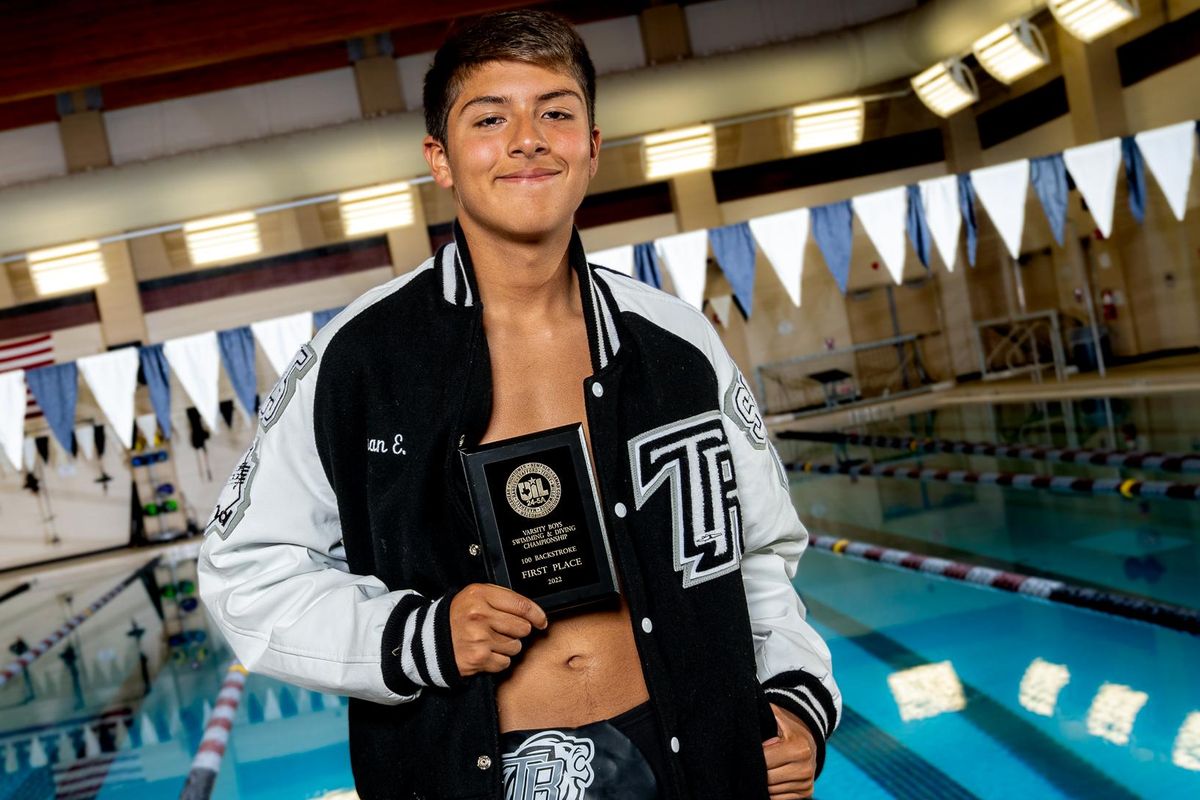 Bradley C.Collier (VYPE)
"I figured out I was pretty good at this [competitive swimming] around my sophomore year," Esparza said. "I wasn't the best, as a freshman, and struggled to keep up with all the other swimmers. I didn't place that well at State but the fact that I made it there, I thought it was a pretty good achievement."
The backstroke has always been his race, for a specific reason.
"When I was younger, I really didn't like to put my face in the water," Esparza laughed. "Originally, I didn't want to do freestyle. They [his coaches] told me I should try backstroke. I felt like that was easier for me at the time. So, I just kept with it."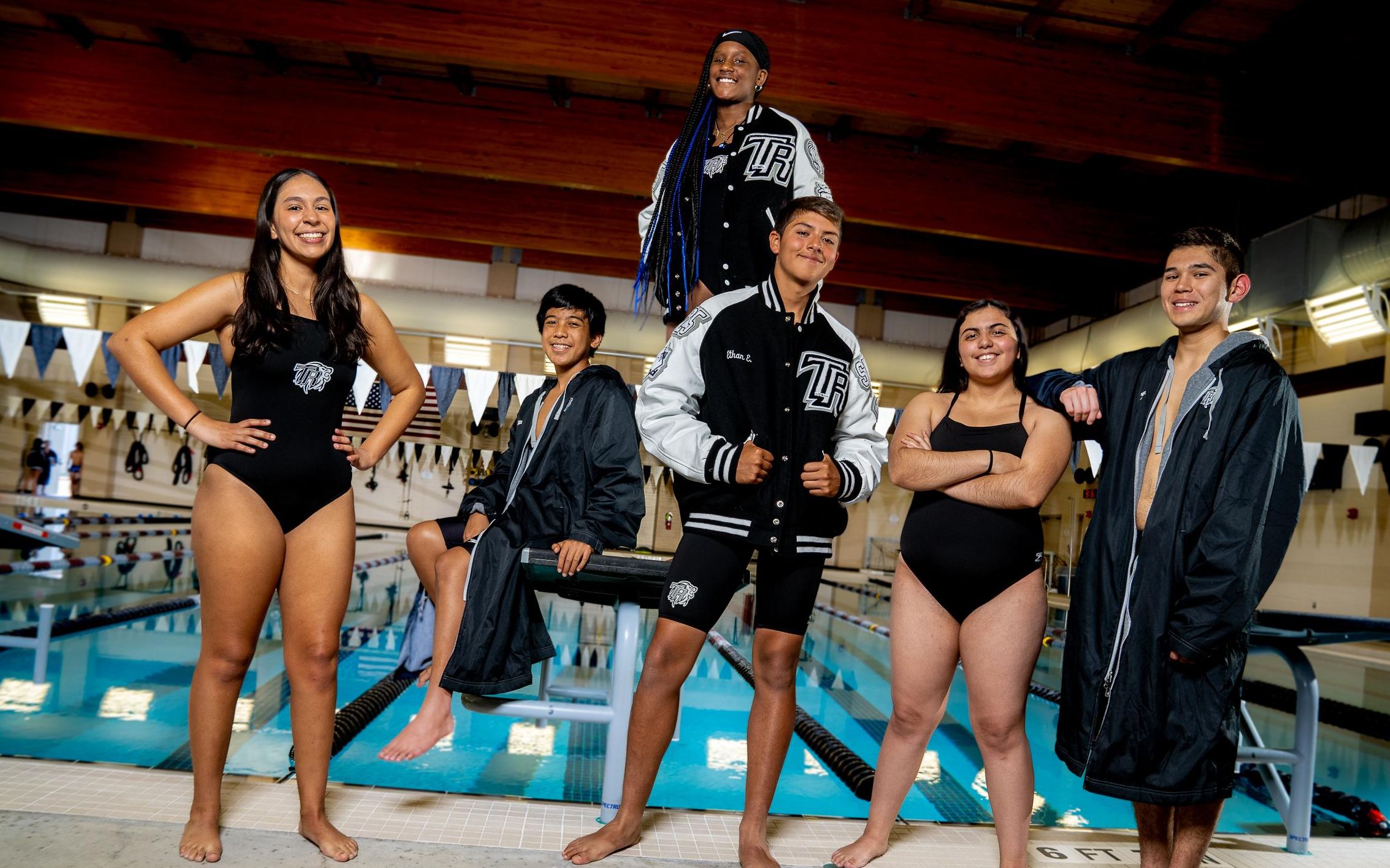 The 2022-23 Randle High School Swim TeamBradley C. Collier (VYPE)
It's no wonder that his biggest swimming influence is Olympic backstroker Ryan Murphy.
"I've met him in person at a camp and he gave me some pointers, which really helped. He also went to the University of Cal-Berkeley, which is where I want to go."
Join the #VYPETEAM
Get up to date news from all over the country!