Fort Bend Travis Softball is in the conversation for the District 20-6A Championship on an annual basis.
Regardless of the elite competition the Tigers face in their division, namely Ridge Point and George Ranch, you can never count them out.
Travis' consistent level of efficiency can be accredited to the direction of Head Coach Katie Kilgore, who is leading the Tigers to yet another stellar season.
She is the Fat Boys Pizza Coach of the Month!
Check out Fat Boy's Pizza, home of the World's Biggest Slice! Located at 10445 W Grand Parkway, Suite 150, Richmond TX!
Photo provided by HC Ryan Searle
Katy ISD Soccer is absolutely loaded when it comes to talent, which is emphasized by the fact that four teams from the same division have advanced to the UIL Regional Quarterfinals.
Not only will the surging Paetow and Jordan be facing off, but one of the most anticipated matchups of the UIL Regional Quarterfinals features a clash between district rivals -- Cinco Ranch and Seven Lakes.
Cinco Ranch has proven themselves to be an imposing force on the pitch, touting a 10-5-5 record to finish in the No. 3 spot in their top-tier district (19-6A). In addition, the Cougars upset the Fort Bend favorites, Ridge Point, in the opening round (2-2; 3-1 Penalty Shootout), before trouncing Westside (5-2) in the Area Round.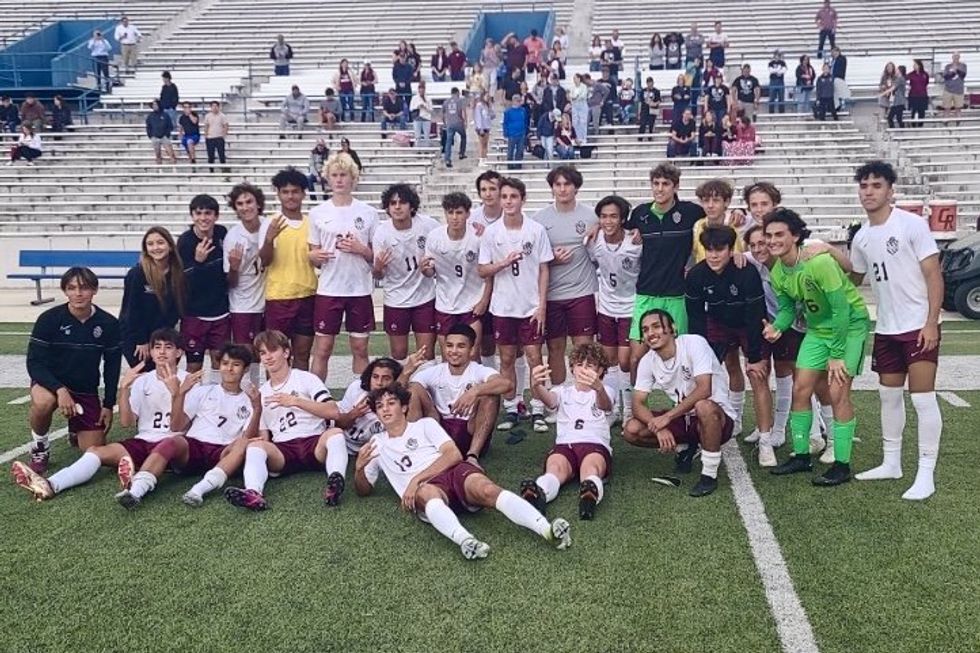 Cinco Ranch following their Area Round Championship
However, CRHS will have their work cut out for them against one of the best soccer programs in Texas -- Seven Lakes.
But, when teams are as familiar with each other as these two, anything can happen. This is something Cinco Ranch's coach Ryan Searle knows all too well.
"Seven Lakes is a very talented, well-run group," said Searle. "Coach [Jim] Krueger has that team running like a well-oiled machine. They'll be a tough team to beat, since it's hard to break them down, especially with the attack they have. With that in mind, we're going to need to be even tougher on defense and minimize mistakes. It will be a hard-fought game and since we are rivals, the boys all know each other which will make the matchup that much more motivating for us."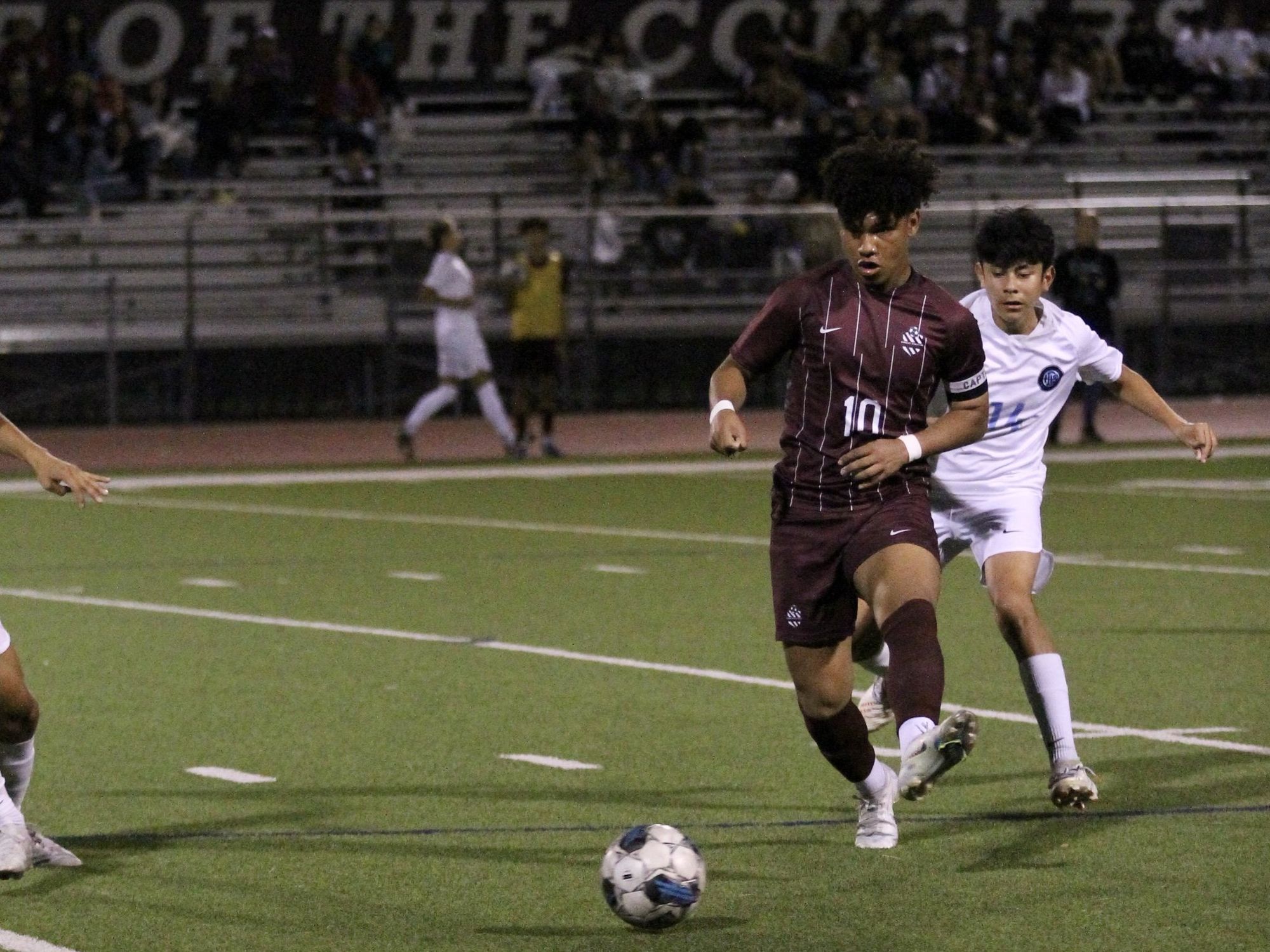 Cinco Ranch's Daniel VargasPhoto provided by HC Ryan Searle
This season marks Searle's second at Cinco Ranch, after he and assistant coach John Trautner, took the mantle of leading the Katy school's soccer program after their experience at Kingwood Park.
Fortunately for Searle, he has been provided the opportunity to work with the exceptional talent that makes up Cinco Ranch's stellar roster.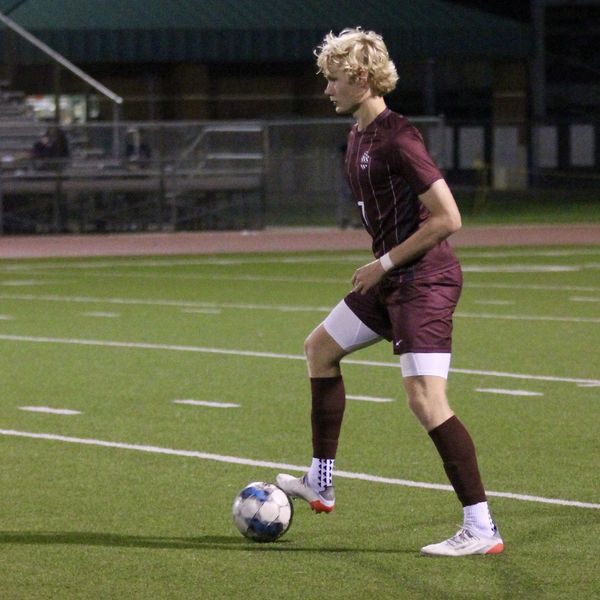 Cinco Ranch's Ossian ElgstromPhoto provided by HC Ryan Searle
"One of our biggest standouts this year has been Ossian [Elgstrom]," Searle said. "He's our junior center back, who is a phenomenal defender. He's hands-down one of the best in Katy and will be our rock in the back. Up front, we have Danny Vargas (Sr. Forward), who leads Katy ISD in career goals. He's been a four-year starter for Cinco and has been great for our attack with 17 goals on the season, with 15 in district."
As previously mentioned, Katy ISD is among the best in regards to the level of competition they bring, which Searle recognized almost immediately.
"Katy is a completely different ball game," he said. "The talent-level is something else, which means there aren't really any blowout games in the district and any team can become a contender for the State Title. The soccer is just insane here."
This matchup between Cinco Ranch and Seven Lakes is being hyped up for good reason. The winner of this game might just become the favorites for the 6A State Championship.
Seven Lakes Girls Soccer is your H-Town High School Sports Team of the Week after an undefeated district title and now they're in the 3rd round of the Playoffs!
Be sure to check out H-Town High School Sports Saturday's at 10:30pm on CW39 Houston, plus, throughout the week on AT&T SportsNet. CLICK HERE for more great video content from H-Town High School Sports.
*This segment was recorded before this Weeks games.
Join the #VYPETEAM
Get up to date news from all over the country!