AFTER A TOUGH 2020 SEASON, FORT BEND MARSHALL'S VOLLEYBALL TEAM IS HOPING THINGS GET TURNED BACK IN THE RIGHT DIRECTION THIS YEAR.
If the Lady Buffs are to do so, senior middle Brianna Johnson will play a big part.
The 5-foot-10 Johnson gives Marshall a force inside around the net. She is a natural middle up front because of her size and energy.
"My hitting, blocking, and aggressiveness at the net play a major part in the game," Johnson said. "My overall aggressiveness during the game comes naturally."
Johnson only started playing volleyball in the seventh grade. She struggled initially. But it didn't take long for her to find a niche because of her raw physical talent.
"I realized my potential with hitting and blocking," Johnson said. "I just knew that I would be great at this sport."
Johnson spoke more with VYPE.
...
VYPE: You had a strong season last year. What do you credit for your success last season and how do you think you can be even better this season?
JOHNSON: I would give a lot of credit to all of my coaches at Marshall. During the offseason, I took a deeper look into my weaknesses, studied film from previous games and questioned how I could become a better player to contribute towards the team.
VYPE: What did you work on this offseason in preparation for the upcoming season?
JOHNSON: I put a lot of focus on passing. Ultimately, I knew that if I could improve my passing skills, then I could increase my chances of becoming an all- around player.
VYPE: What has been your biggest growth/ improvement as a volleyball player, on and off the court?
JOHNSON: My greatest improvement is learning how to become a better leader for my team. I've also learned how to humble myself, take more consideration into my actions and lead by example.
VYPE: Who motivates you and inspires you?
JOHNSON: My grandmother and brother continue to be my motivation and inspire me daily to become the best player I can be.
VYPE: What is something people don't know about you? What is something that might be misunderstood?
JOHNSON: Honestly, I'm a very open-minded individual, so there's not a lot that people don't know about me. But some people may take my aggressiveness on the court as me being rude, but I just want them to have the same passion as I do for this sport.
This story appeared in the Inaugural VYPE Fort Bend ISD Fall Edition, which is now available to pick up at your local Fort Bend ISD High Schools.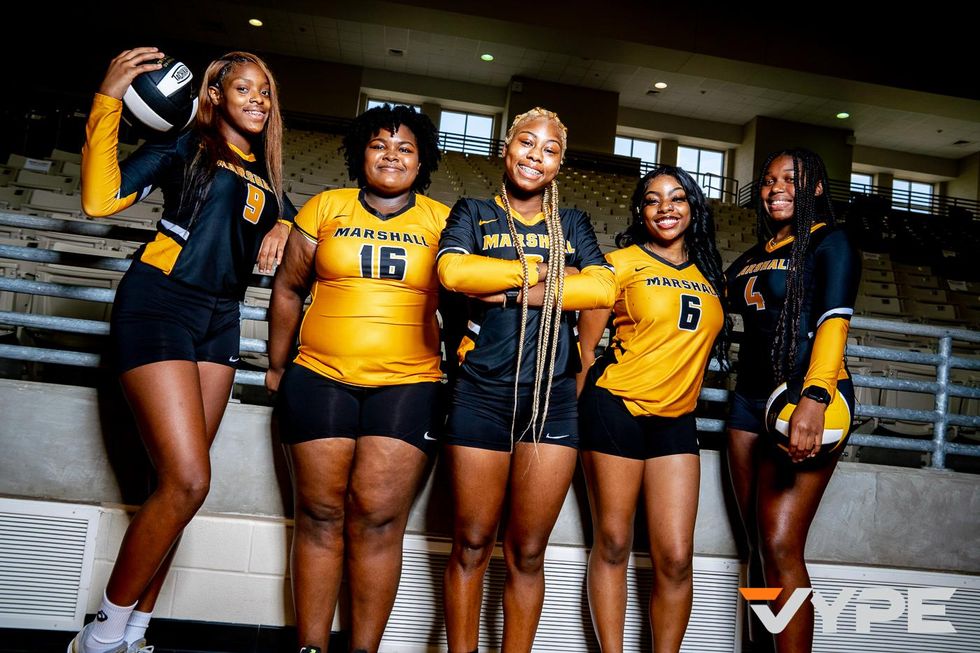 HOUSTON - For the past four years as Victoria Hunter would walk into her room inside her Houston home, the St. Pius X softball standout would be constantly reminding what she was working towards.

A burnt orange Texas Longhorns flag served as that reminder.
Now, the next time the 2023 softball prospect steps into her room, the flag no longer represents a dream being chased but rather one that has been achieved.
On Thursday evening, Hunter verbally committed to the Texas Longhorns, fulfilling a childhood dream.
"When I was about 7 or 8, shortly after I started playing softball, I knew I wanted to compete at the highest level," Hunter said. "I have played at the highest level ever since and the standards I set for myself really played a role in my development as an athlete and even as a person. I've been dreaming of playing at Power 5 school since I was 12, and it's been what I've worked for ever since."
Hunter has been an absolute force on the softball diamond.
Last season as a sophomore for the Panthers, Hunter crushed the ball hitting .649 with five triples, nine doubles, 11 home runs and drove in 51 runs in 30 games.
"Representing SPX softball is huge for me as well as for the program," Hunter said. "This program is something special and the environment helped me in so many ways, like improving my leadership skills as well as the mental aspect of the game. The environment that SPX softball gives to its athletes is truly unique, and with my faith being a huge part of my journey, it has helped me grow in my relationship with God as well as with the people around me. I cannot thank SPX softball enough for the role that they played in my athletic and personal development in my time at St. Pius X."
Back to the other shade of orange.
For Hunter, the junior was sold on the Longhorns the moment she "stepped on campus" and "fell in love".
"The whole atmosphere was amazing, and I developed a good relationship with the coaches and the players on the team," Hunter said. "I love absolutely everything about it, and I felt like that was the best place for me to improve as an athlete and continue my career."
Then, of course, once she arrives on the 40 acres, Hunter will most likely be playing SEC softball.
"I'm beyond excited," Hunter said. "The move to the SEC is huge for Texas, and I couldn't be more excited to be on the big stage."

Each week, VYPE Employees Josh W., Scott, Shana and Josh K, along with VYPEU Ambassador Will Turboff will make their picks from 5 different games for both Austin and San Antonio and keep track of their records throughout the year to see who can be the Pick 'em Champ.
Josh W has retaken 1st place, but can Will catch up with a rebound week?
Here are Week 8's Picks for San Antonio: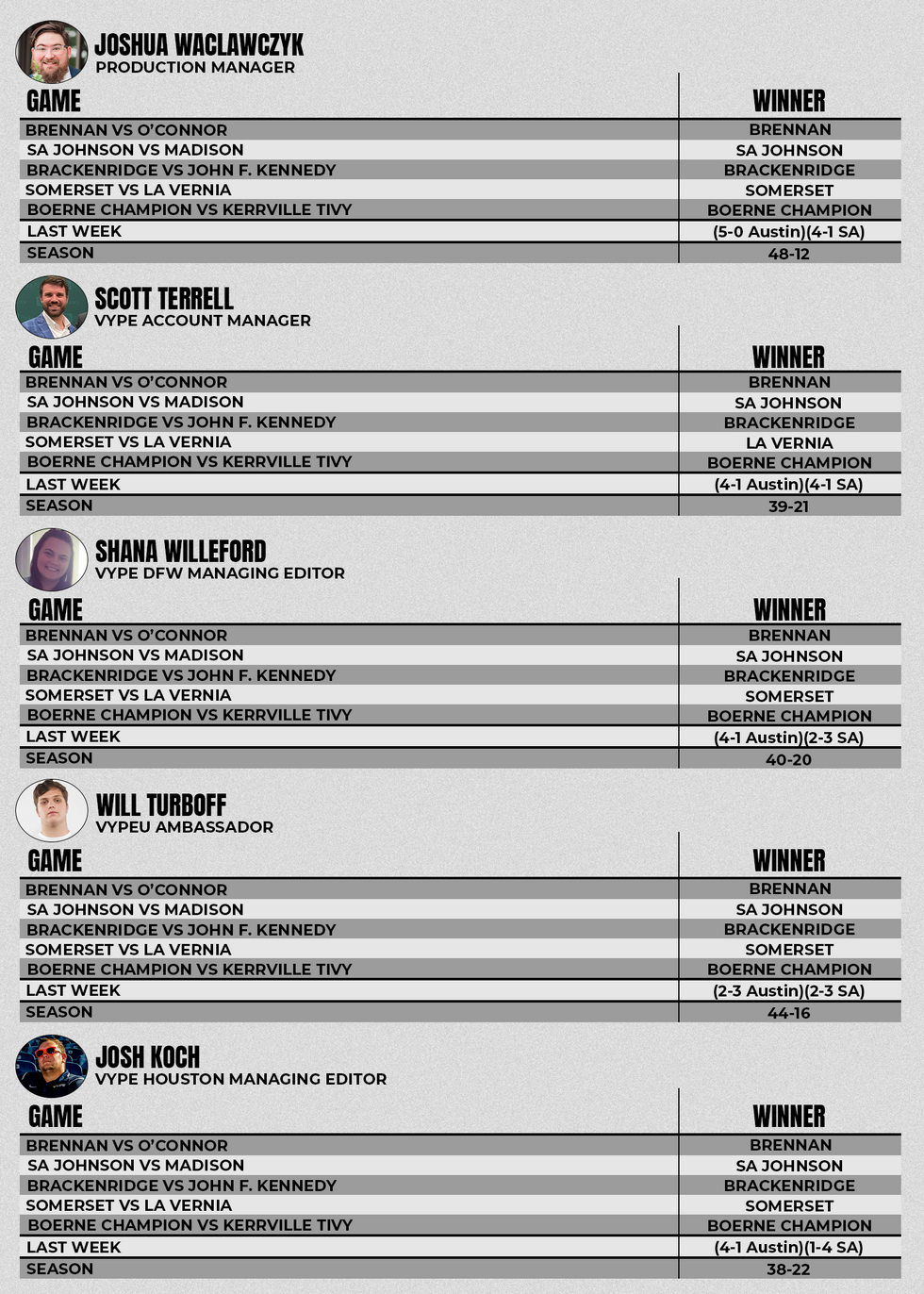 For all the ways you love to play, Academy Sports and Outdoors makes it easier than ever to gear up and have fun out there! Get free shipping on your favorite brands at academy.com or get free curbside or in-store pick-up at your Academy store. Gear up this Spring at Academy Sports and Outdoors.
Join the #VYPETEAM
Get up to date news from all over the country!