Brock Football
Brock football has been well-known since starting their program. The team is consistent, strong, and always on the hunt to shut the next opponent down. They play smart and have a high level of intensity when going head-to-head against their opponents. VYPE DFW takes a look into the season ahead for the Brock Eagles and lays out just what fans can expect from this program in 2022!
To continue reading this preview, become a VYPE Insider today!
A Look Back:
Last season Brock finished at the top of their district with an undefeated 7-0 district record. As the team fought hard through their season, they held their opponents to a combined 228 points. Through playoffs, the Eagles took down the likes of Wall, River Road, Jim Ned, Whitesboro, and Mount Vernon before making yet another appearance in the State Title game. Although the team put in a lot of effort, they eventually fell to Lorena in a 35-18 battle and finished their season as the state runner-ups.
Looking Ahead:
With a young team and an off season to rebuild, the Eagles are going to rely on the incoming senior leaders a lot. Athletes like Zachary Brewster, Tyler Moody, and Jake Lindberg can be expected to help piece the team together throughout the season with what could be a rebuilding year. The team is expected to face-off against a slew of strong opponents to open pre-season play, but will be able to pull of some pretty strong wins as they head into their district schedule.
What To Expect:
A young squad might mean some hiccups for the usually tough Brock program. However, a the challenge of "new" has never stopped the team before. With the taste of a state title still on the tips of their tongues, the determination to get back to the biggest stage in Texas High School Football, and strong team goals, fans can expect the Eagles to fight their way deep into playoffs again this season.
True
CLICK HERE for the All VYPE Public Boys Soccer Team
CLICK HERE for the All VYPE Private Boys Soccer Team
...
PUBLIC PLAYER OF THE YEAR FINALISTS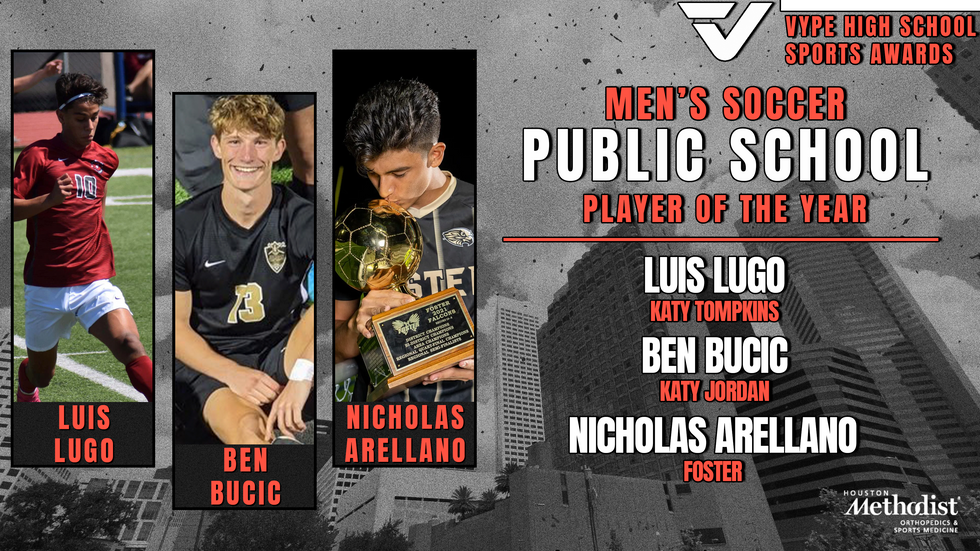 PRIVATE PLAYER OF THE YEAR FINALISTS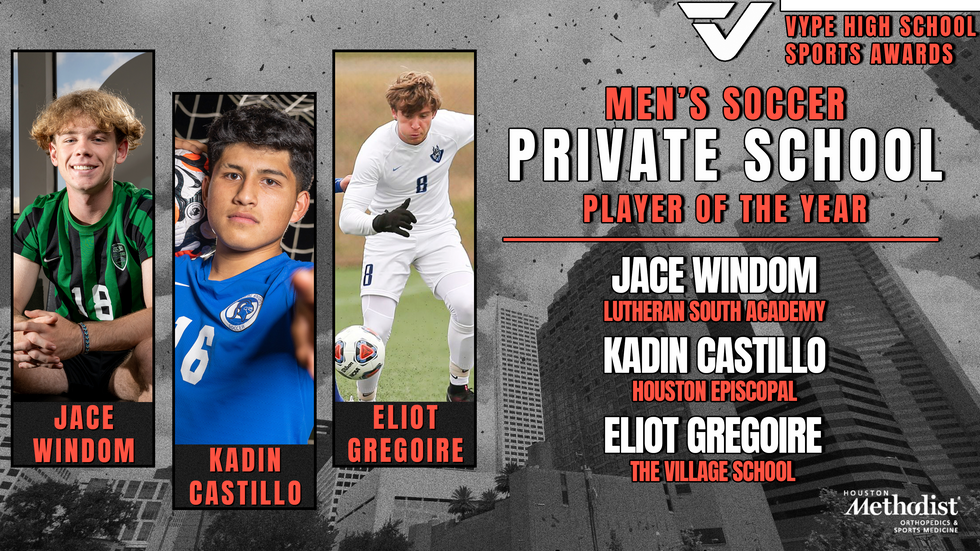 Watch the video below to find out who won the Public School Boys Soccer VYPE Awards presented by Houston Methodist Orthopedic & Sports Medicine
Houston Methodist Orthopedics & Sports Medicine is Houston's leading provider of orthopedic services, from sports medicine to joint replacement. Houston Methodist offers comprehensive diagnostic, treatment and rehabilitative services with a high standard of excellence for elite athletes, active adults and student athletes. Houston Methodist serves as the official health care provider for the Houston Texans, Houston Astros, Rice Athletics, Houston Livestock Show and Rodeo™, Houston Ballet, Houston Symphony and Houston Grand Opera.
After a brief break, we are back taking a look at the top football recruits of the 2023 class in the state of Texas. After looking at all the offensive weapons we now move to the defensive side of the ball to look at what some consider the "QBs" of the defense; the Linebackers.
**Rankings reflected as of June 21st **
**Positions from 247Composite**
**Stats gathered from Max Preps**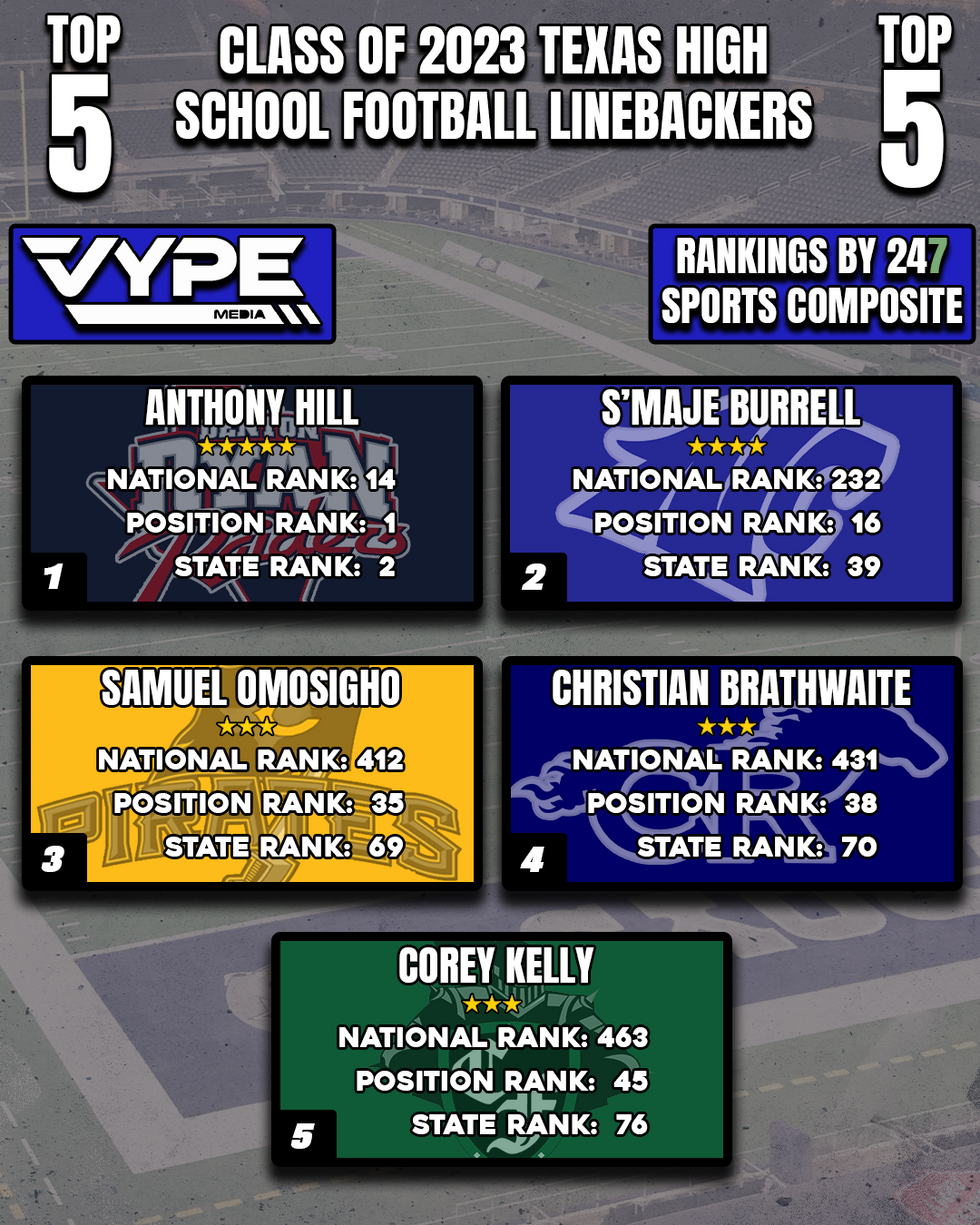 Anthony Hill-Denton Ryan: The 5-Star LB is one of the hottest commodities in the nation heading into his senior season. His offers list is a mile long, but in early 2022 he narrowed his list to six: A&M, UT, Alabama, Oklahoma, Miami and USC. He will head into his last year of High School football looking to get Denton Ryan back to the state title game.
S'Maje Burrell-North Crowley: One of the top players in the 2023 class, S'Maje didn't need to wait until his senior season to commit. Burrell picked Texas and will be looking to fine tune his craft as he heads to the 40 Acres after his senior season.
Samuel Omosigho-Crandall: The 3-Star Linebacker (4-Star outside of 247 composite) is down to 10 teams in his recruitment process: Oklahoma, SMU, Auburn, Florida, Ole Miss, Nebraska, Oklahoma St., Michigan, TCU, and USC. His athleticism will be a huge asset as an off ball linebacker not only for Crandall but for whatever college he commits to.
Christian Brathwaite-Cypress Ranch: Christian will be headed to Waco after his senior season, committing to Baylor back in January. The 6'3" 225 linebacker is perfect not only for his positions, with long arms and strong base, bur for the next level as well. He will look to continue to be a destructive force on the defensive side of the ball along with his teammate Ashton Porter for their senior year.
Corey Kelly-Clear Falls: Brathwaite won't be the only one heading to Waco after this season. Corey Kelly committed last week to Baylor and will help Baylor have a young core of talent on the defensive side for Dave Aranda to work with. Kelly had 97 tackles, 4 sacks and 11 pass breakups in his junior season. He will look to continue to bring continued success to Clear Falls in his senior year.
Join the #VYPETEAM
Get up to date news from all over the country!