CLICK HERE for the All VYPE Public Softball Team
CLICK HERE for the All VYPE Private Softball Team
...
PUBLIC PLAYER OF THE YEAR FINALISTS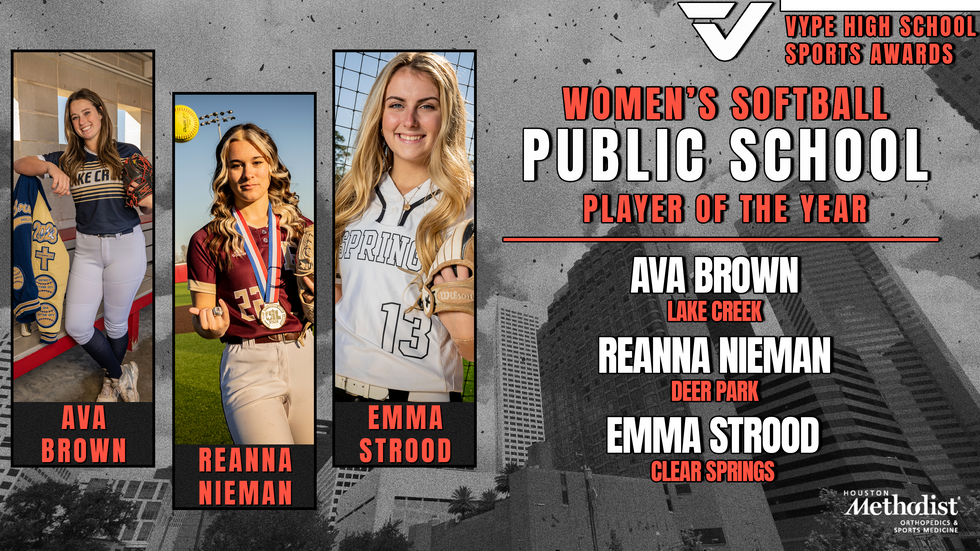 ...
PRIVATE PLAYER OF THE YEAR FINALISTS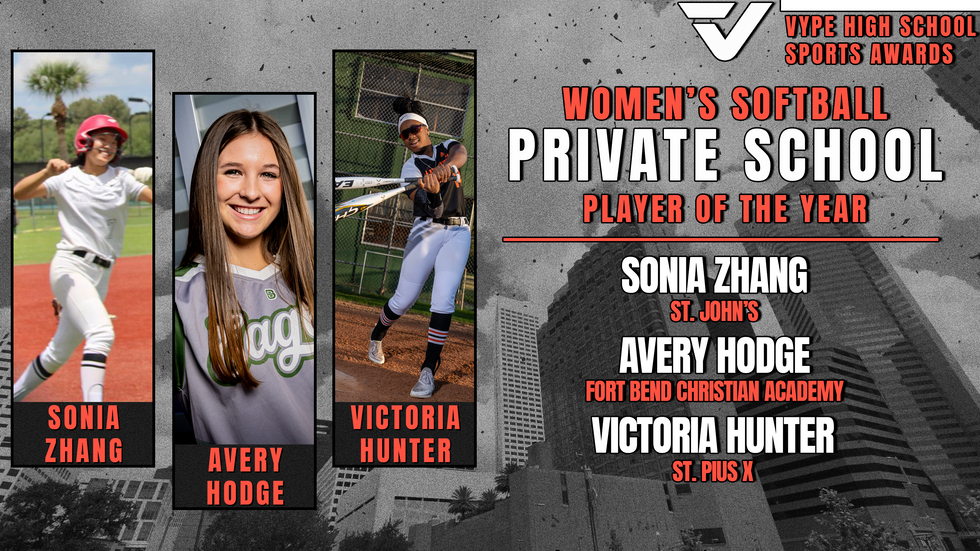 Watch the video below to find out who won the Public & Private School Softball VYPE Awards presented by Houston Methodist Orthopedic & Sports Medicine
Houston Methodist Orthopedics & Sports Medicine is Houston's leading provider of orthopedic services, from sports medicine to joint replacement. Houston Methodist offers comprehensive diagnostic, treatment and rehabilitative services with a high standard of excellence for elite athletes, active adults and student athletes. Houston Methodist serves as the official health care provider for the Houston Texans, Houston Astros, Rice Athletics, Houston Livestock Show and Rodeo™, Houston Ballet, Houston Symphony and Houston Grand Opera.
Duncanville has been inches away from a state title for years now and this season they are determined to shut down anyone who stands between them and hoisting that trophy in December. VYPE DFW takes a look at what fans can expect from the Panthers as they prepare to head into the Fall 2022 Texas High School Football season.
To continue reading this preview, become a VYPE Insider today!
A Look Back
Duncanville had a phenomenal season last year. The team finished at the top of their district with a 7-0 district record (13-2 overall) while holding their opponents to a combined 182 points (scoring 711 of their own). After an opening season loss to the Nationally Ranked No. 1 Mater Dei, Duncanville quickly adjusted and refused to let anyone else tear them down during regular season play. Blanking three opponents and holding six others to less than 10 points a game, the Panthers powered their way to the state title game before losing 17-0 in heartbreaking fashion during a state title rematch against North Shore.
Looking Ahead
With solid returners expected to make big waves in the upcoming season, the Panthers should have no trouble working their way to playoffs again. With Lontrell Turner, Davoderick Roberts, Javion Holiday, William Carrigan, Jameir Willis, and more needing to have big seasons to fill some pretty big cleats on the Panthers' squad, there's no doubt that the coaches will get everything aligned during summer workouts.
What To Expect
Big moves. Big plays. Big tackles. Big offense. Big football. It's the only way Duncanville knows how to play. Expect the team to come into the season like a freight train- hungry for another redemption shot at a state title. The team can be expected to steam roll their way through their regular season before shutting down playoff opponents- ending up back on the biggest stage in Texas High School Football.
True
Hillcrest volleyball has been doing a great job at making waves in the Dallas-Fort Worth area high school volleyball scene. The team is geared up and ready to go for this fall's season. VYPE DFW takes a look at what fans can expect from this tough squad when the season takes off.
To continue reading this preview article, become a VYPE Insider today!
A Look Back
Last season, the Hillcrest Lady Panthers put in the work to finish in the second-place spot in their district with a 14-4 district record (18-14 overall). The team finished just behind an incredibly tough Dallas Wilson squad. After a tough preseason, the Lady Panthers opened district play and never looked back while continuing to advance towards playoffs. Once in playoffs, Hillcrest ended Dallas Adamson's season before falling to McKinney North.
A Look Ahead
The team is expecting a huge return from many of their key players such as Alice Thackston, Alexa Sigaran, Ariana Singh, Lakell Williams, Cameron Adams, and more. With an upperclassman-heavy squad, there's no doubt that they have their heads on their shoulders and are poised enough to walk into this next season as strong as ever. The team has seen many of the roadblocks they will be facing and never backs down from a challenge!
What To Expect
Fans can expect fast-paced play from this Hillcrest squad. Knowing what they're going up against will propel the team into another strong season with what could possibly be an incredible start in the preseason. With power on the court, expect to see the Lady Panthers claw their way through regular season play and find themselves right back in the playoffs- maybe even further this time!
True
Join the #VYPETEAM
Get up to date news from all over the country!