Shana Willeford (VYPE Media)
After falling to Rockwall-Heath in the 2021 UIL Class 6A State Championship game last season, Keller has been on a mission to not only get back to playoffs, but make it to state and bring home a title. As the team inches closer and closer to taking another trip to Round Rock, VYPE DFW takes a look at their season so far and what fans can expect during the rest of their Regional Semifinals series against Flower Mound Marcus.
To finish reading this preview, become a VYPE Insider today!
A Look Back
Taking the preseason by storm, the Indians focused on getting better every single game- whether they won or lost the previous match-up. With victories over Amarillo, San Antonio Johnson, Flower Mound, San Marcos, and more, Keller set the tone for district play and made sure they did everything they could to continue displaying their dominance over some of the Dallas-Fort Worth area's finest baseball team. Going 10-2 in district play (currently 25-6 overall), the Indians played hard against all of their opponents in order to garner big victories over the likes of Fort Worth Timber Creek, V.R. Eaton, Trophy Club Byron Nelson, and more.
Playoffs
So far in playoffs, the Indians have ended the seasons of Fort Worth Paschal (3-2, 5-2), El Paso Pebble Hills (8-5, 5-1), and Midland Legacy (7-4, 8-3). The team heads into the second game of their Regional Semifinals series against Flower Mound Marcus on a seven game wins-streak with a 81% winning percentage. Having outscored their opponents by a combined 120 runs this season, the Indians have been able to showcase not only how tough their defense is, but how smart each batter is at the plate.
During game one of the series against Flower Mound Marcus, Jacob Sullens and Fisher Polydoroff started things off in the second inning with an RBI single each. Charlie Tomlinson hit an RBI double to get the scoring started before Zach Makarewich drove in another run with a nice grounder passed Marcus defenders. On the bump, Keever Vincent, Kyle Beaton, and Nick Robb combined for a six-hitter- totaling nine strikeouts.
What To Expect
Heading into game two of the Regional Semifinals series against Flower Mound Marcus, fans can expect much of the same focus and determination from this Indians' squad. The team has been known to leave the past behind them with a "next game" mentality. Although their goal this year is a state title, Keller has no trouble keeping their minds in the present. Expect strategic hitting combined with strong fielding as Keller fights to the next round of playoffs.
Game two of the series is slated to begin at 7:30 p.m. on Friday night at Denton Guyer. If a game three is necessary, the teams will meet up at 7:30 on Saturday at the same venue.
True
WHEN IT CAME TO THE POOL, SECOND BAPTIST SCHOOL JUNIOR LEIGHTON CHAPMAN TURNED IN AN IMPRESSIVE SEASON FOR THE EAGLES.
Chapman was a key piece to Second Baptist School men bringing home a fifth-place finish at the 2022 TAPPS Division II State Championships. The Eagles finished with 163 total points.
In the 200-yard freestyle, Chapman brought home the silver medal with a time of 1:44.93. In the 500-yard freestyle, it was another silver for Chapman with a time of 4:49.62. Other top finishers for the boys included Sam Milinski '25 taking fifth in the 500-yard freestyle (5:29.63), Brandon Young '22 taking 12th in the 50 and 100-yard freestyle races and Jackson Tidmore '23 placed eighth in the 100- yard breaststroke (1:10.70).
On the women's side, Second Baptist School came in 14th overall with a score of 69 points. Luella BakkerBarrink took 13th in the 100- yard backstroke (1:11.61).
WOMENS BASKETBALL
WHEN IT COMES TO WOMEN'S BASKETBALL POWERHOUSES IN THE CIT Y OF HOUSTON – FACTOR SECOND BAPTIST SCHOOL INTO THAT GROUP.
For a fourth-straight year, the Eagles advanced to the TAPPS Final Four and for a third-straight season reached the TAPPS Division II Championship game.
In February, Second Baptist School, which finished 27-9 overall and 12-0 in district play, rolled through John Paul II (78-38), St. Michael's (66-44) and Geneva (43-38) to advance to the title game. In the championship, the Eagles fell short to Dallas Christian (47-41) to finish as State Runner-Ups.
With another remarkable season under their belts, the awards flowed in. Olivia Sauvageau '24 earned a spot on the TAPPS first-team, all-state team as well as the All-VYPE first team. Olivia Walker '23 and Ella Ryan '23 both earned TAPPS secondteam, all-state nods as well. Kate Marshall '23 was an all-state honorable mention selection.
Sauvageau led the crew averaging 14.1 points per game, while Ryan racked up 10.4 points, 6.4 rebounds, 4.3 assists and 4 steals per game. Walker netted 12.4 points and 3.7 rebounds per night, while Marshall averaged 12.7 points and seven rebounds per game.
Sauvageau, Walker, Ryan and Marshall were all named first-team, all-district as well. Jazlynn Williams '24 earned a second-team, all-district nod, while Chloe Burton '22, Emma Wehring '24 and Riley Tackett '24 all were honorable mention selections.
This Second Baptist School squad is once again very young … meaning we should be writing about yet another trip to the TAPPS Final Four and title game in 2023 again.
WOMEN'S SOCCER
SECOND BAPTIST SCHOOL TOOK CARE OF BUSINESS IN DISTRICT PLAY. THE EAGLES WENT ON TO WIN THE DISTRICT CHAMPIONSHIP IN 2022.
In the playoffs, Second Baptist School advanced to the Regional Round after defeating Hyde Park 6-1 in the Area Round.
Mary Torn '24 was named to the TAPPS Division II second-team, all-state squad for offense. Honorable mention, allstate picks included Naomi Konuma '22 and Ryan Brooks '23.
On the all-district squad, Torn, Konuma and Brooks all earned first-team honors. Amy Menendez '25, Rylee Brooks '22 and Alexis Gill '22 were named second-team, all-district. Chloe McFarland '23 and Luella Bakker-Barrink '22 were honorable mention picks.
MEN'S SOCCER
DESPITE AN 0-8 START TO THE YEAR, WITH FIVE OF THE EIGHT GAMES BEING DECIDED BY JUST ONE GOAL, THE SECOND BAPTIST SCHOOL MEN FINISHED THE YEAR 6-3-1 TO GO 6-11-1 OVERALL.
With their success came postseason awards. Seniors Riley Good and Schuyler Clark earned first-team, all-district honors, while Stanford Tarkington '22 earned a second-team honor. Junior Nathaniel Flato also earned a second-team, alldistrict nod as well.
Good netted 11 goals but then created eight more goal opportunities. Clark is a "solid, consistent leader" and Tarkington is the "most fearless, resilient and passionate guy I've ever seen," described Walker.
"We preach in Second Baptist School soccer that we want everyone to be faithful to the commitment they've made, adaptable to playing different roles and teachable," Walker said. "Those are the three qualities we really look for in players and the seniors took that seriously."
MEN'S BASKETBALL
KEVIN MOUTON WAS ABLE TO ONCE AGAIN PUT TOGETHER AN IMPRESSIVE HOOPS SQUAD FOR SECOND BAPTIST SCHOOL IN 2022.
The veteran head coach led the Eagles to a secondplace finish in district play and then helped orchestrate an impressive playoff run. Second Baptist School defeated Regents School of Austin (66-49) and St. Augustine (66-54) to advance to the Regional Round.
On the TAPPS 5A All-State squad, Second Baptist School earned a pair of slots. Ralph Manginello '23 was named to the second team, while Cole Satterwhite '22 was an honorable mention pick.
Manginello and Satterwhite earned firstteam, all-district nods along with sophomore Michael Olaly. Second-team, alldistrict picks included Alec Scarborough '24, Cole Claypool '23 and Jackson Krueger '23. Senior Elijah Mouton and junior Zeke Bullington were named to the honorable mention squad.
As Kevin Mouton looks towards the 2022-23 season, the optimism around the Eagles' gym should be high with one all-state and six all-district picks set to return next year.
Photo by Bradley Collier
THE SPRING SEASON AT BAY AREA CHRISTIAN SCHOOL IS A BUSY ONE AS TENNIS, GOLF, TRACK AND FIELD, SOF TBALL AND BASEBALL ALL WRAP UP THE 2021-22 YEAR ON THE SPORTS SCENE. MEET SOME OF THE BIG-NAME BRONCS FROM THOSE TEAMS!
Tennis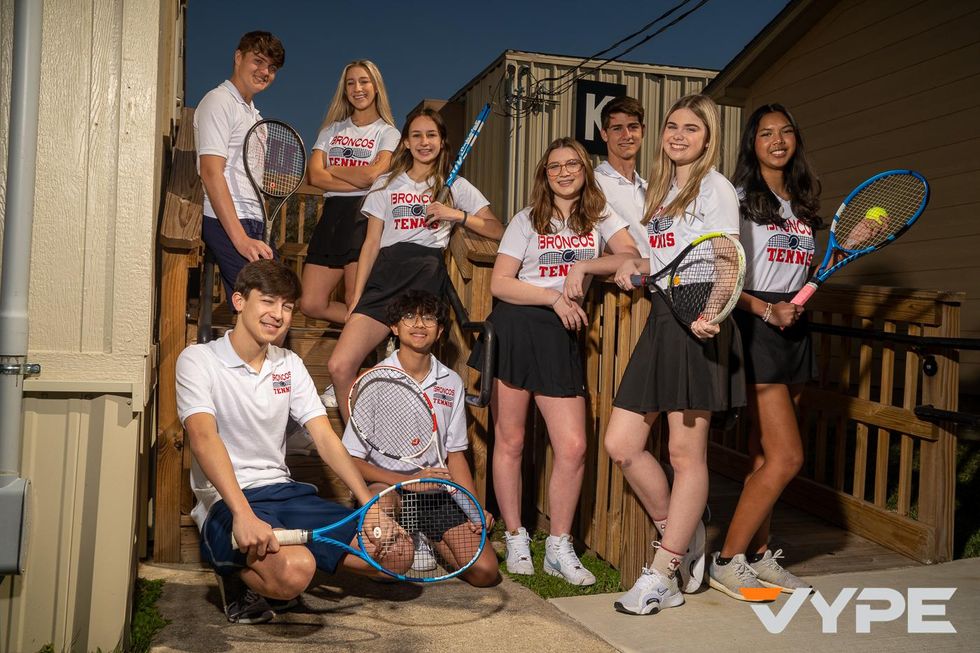 [Standing]: Ethan Gould, Avery Collins, Milla Martinez, MJ Sotirelis, Noah Box, Kaytlin Gadd and Olivia Chhlang; [Squatting]: William Fincher and Calvin Nguyen
The 2022 tennis season has come to a close for Bay Area Christian School, which sent a number of players to the TAPPS 4A State Tennis Tournament.
Madeline Sotirelis advanced in girls singles and Noah Box played in the boys singles. In the doubles competition, Olivia Chhlang and Claire Murphy made it in girls doubles and Jude Hebert and C. Bergvall reached the tournament in boys doubles
Golf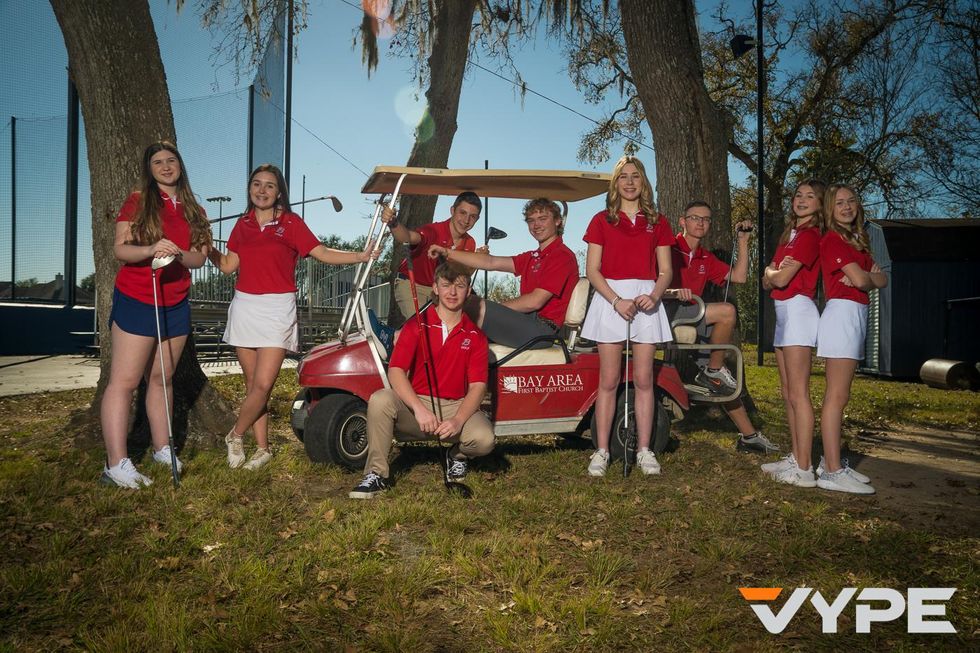 [Standing]: Ethan Gould, Avery Collins, Milla Martinez, MJ Sotirelis, Noah Box, Kaytlin Gadd and Olivia Chhlang; [Squatting]: William Fincher and Calvin Nguyen
The 2022 golf season was a solid one on the links for Bay Area Christian School.
At the District golf meet in April, the Broncos' boys and girls golf squads each finished third overall as a team. Both teams qualified to move on to the Regional Tournament. Individually, Emma Iles finished as the District Champion and was in line for another all-state season.
Track & Field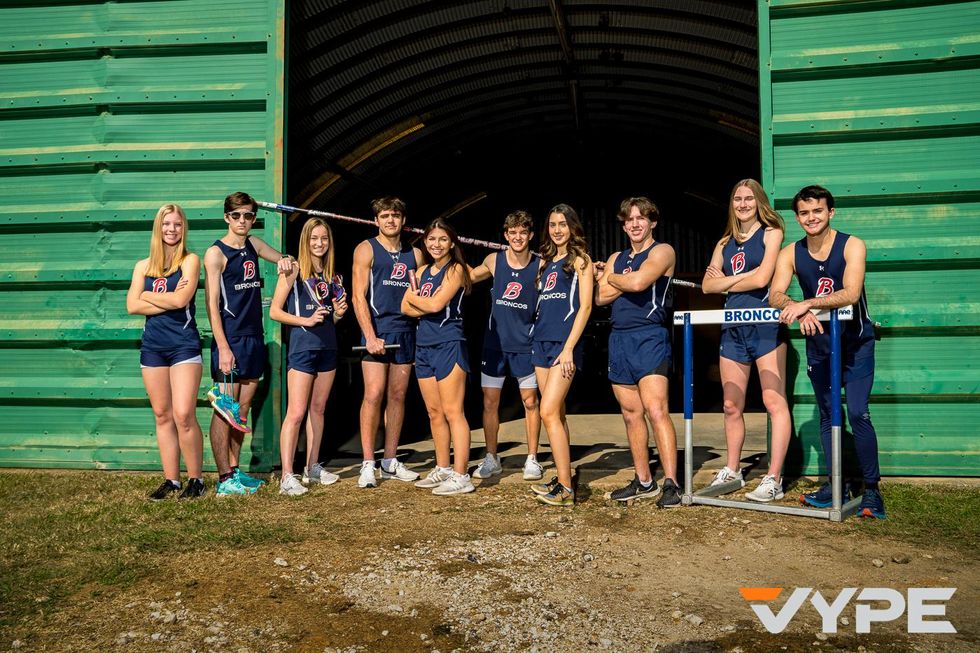 Grace Jermstad, Treyton Showen, Caroline Bonnecaze, Andrew Boyd, Annelise Shaw, Micah Collins, Skylar Wilson, Wesley Barnes, Sam Stanley and John Beltre
The track season for Bay Area Christian was one that saw a lot of personal bests across the board.
At the TAPPS South Regional Meet in April, plenty of Broncos made noise advancing to the 2022 TAPPS State Track & Field Meet. The field was led by senior pole vaulter Micah Collins, who cleared a personal-best 15 feet to win the Regional Championship and advance to State, where he finished second a year ago.
Other top finishers for the Broncs at the Regional Championships included Trey Showen (3rd in the 800-meter run, 3rd in 1600-meter run, 4th in 3200-meter run), Sam Stanley (3rd in 100-meter hurdles), Caroline Bonnecaze (3rd in the 1600-meter run) and Andrew Boyd (4th in high jump). In the relays, BACS 4x200-meter girls relay team qualified for state with a time of 1:53.72.
"It's good, we're young," BACS track & field coach Bret Sewell said. "It was a good year. I'm proud of this group right here. Especially for Micah, who had a difficult year last year."
Throughout the season there were other top performers.
Sophomore Grace Jermstad had some solid performances in the high jump, clearing a personal best of 4-feet-10-inches in April. Bonnecaze also did the long jump as well and reached 14-feet-7.5-inches. Younger sister Lauren has arrived at BACS and excelled in the 100- and 200-meter dashes as a freshman with personal bests of 13.10 (100-meter) and 27.94 (200-meter). Bonnecaze finished fifth in the 100-meter dash in the Regional Championship.
The boys team was well balanced.
In the field events, Kade Sink found success in the shot put, reaching 41-feet1-inch as a personal best in April. On the oval, Scott Farine stood out in the 200-meter dash, a personalbest of 23.38 in April as a freshman.
Softball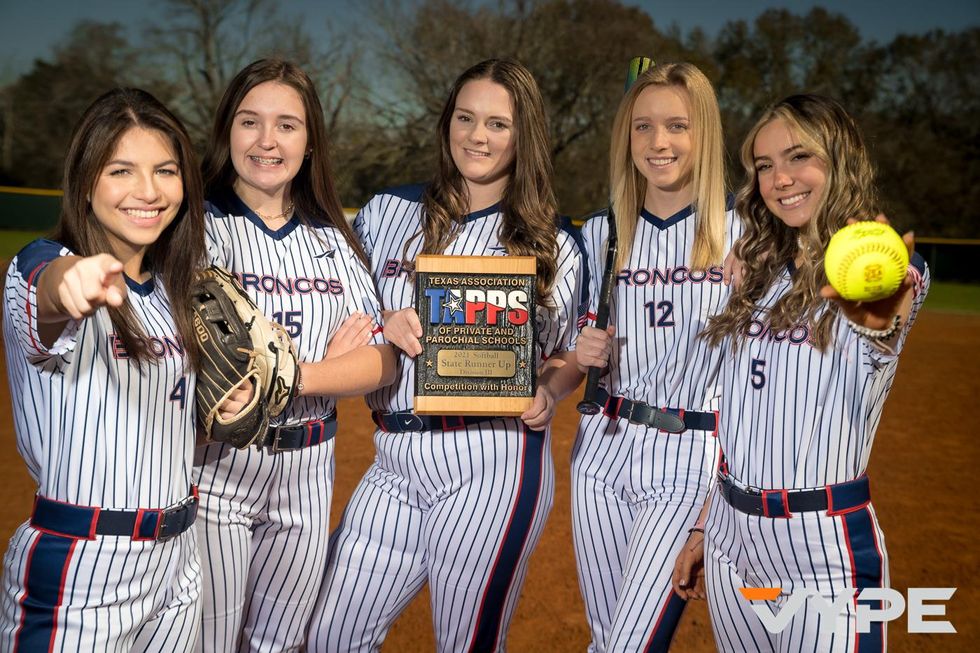 Annelise Shaw, Emma Iles, Amanda Pollock, Gracie Rambin and Calley Bennett
As the Broncos entered this season, they were eyeing another run back to the TAPPS Final Four at year's end.
Led by Schreiner University-signee Amanda Pollock (p), Calley Bennett (3B), Emma Iles (C, P, 3B), Gracie Rambin (SS) and Annelise Shaw (CF), the Broncos were primed for a big season. Other names to take note of from this past season were Allie Atwell, Alyson Griffith and Halle Hudgins.
Some of the highlights from the year included Pollock throwing a no-hitter against Westbrook in April, which capped a perfect district mark for Bay Area Christian School. Pollock at the end of district play had 10 wins and 77 strikeouts for the season.
Other highlight wins this season included defeating John Cooper School 8-4 and Alpha Omega 14-2.
Baseball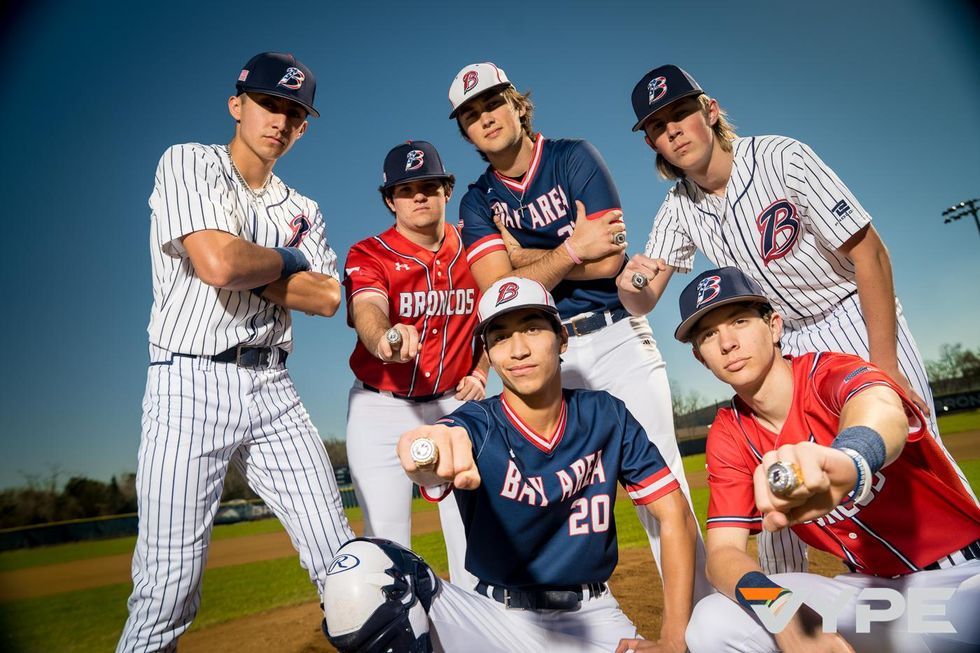 [Back Row]: Jordan Medellin, Lane Escamilla, Ethan Mann and Adam Atwell; [Front Row]: Michael Tweed and Grayson Thallman
As the Bay Area Christian School Broncos headed into the 2022 season, the target was firmly on the backs of the defending TAPPS Division III State Champions.
The Broncos, which had 10 seniors on the roster this spring, opened the season with a sweep of Danbury, Beaumont United, Brazosport and Hitchcock High at the Hitchcock Tournament in February. In March, BACS backed that performance going 3-1 in the Father Wilson Tournament, capping it with a 6-4 win over John Cooper, and going 3-1 in the Franklin Tournament.
On April 1, the Broncos defeated Westbury Christian 19-4, which gave Broncos coach Kyle Kennedy career win No. 200.
The Broncos went on to cap a perfect district mark in April punch their ticket to the playoffs as the No. 1 seed from their district.
The 2022 squad was anchored by Baylor signee Jordan Medellin, who crushed the ball at the plate and was lights out on the bump all in the same night. Jeremy Goza and Lane Escamilla also came up big on the mound as well. Escamilla could also swing the stick, including going 3 for 3 with a home run, triple and six RBIs against Clear Brook, as did Michael Tweed, Reese Brewer, Adam Atwell and Grayson Thallman, Ethan Mann and Josh Flory.
Join the #VYPETEAM
Get up to date news from all over the country!