Jamey Wright (VYPE)
For the first time since 2001, the St. Thomas Eagles have advanced to the TAPPS title game.
It doesn't come as quite a shock, given the expectation the team had prior to the season, although the dominant fashion (12-0; 4-0) in which they've proceeded has been something truly special for their fans.
However, it hasn't always come easily for coach Rich McGuire and company.
The Eagles have overcome various injuries to key players throughout the Fall including star RB Johann Cardenas, Michael-Anthony Okwura (Sr. DL) and Donte Lewis (Sr. QB).
"The good news for us at this point, is that we seem to be as healthy as we've ever been all season," said McGuire. "But, the team has just been resilient no matter who went down. We have the 'next man up' mentality. Somebody else needed to make plays, which speaks to the team's depth."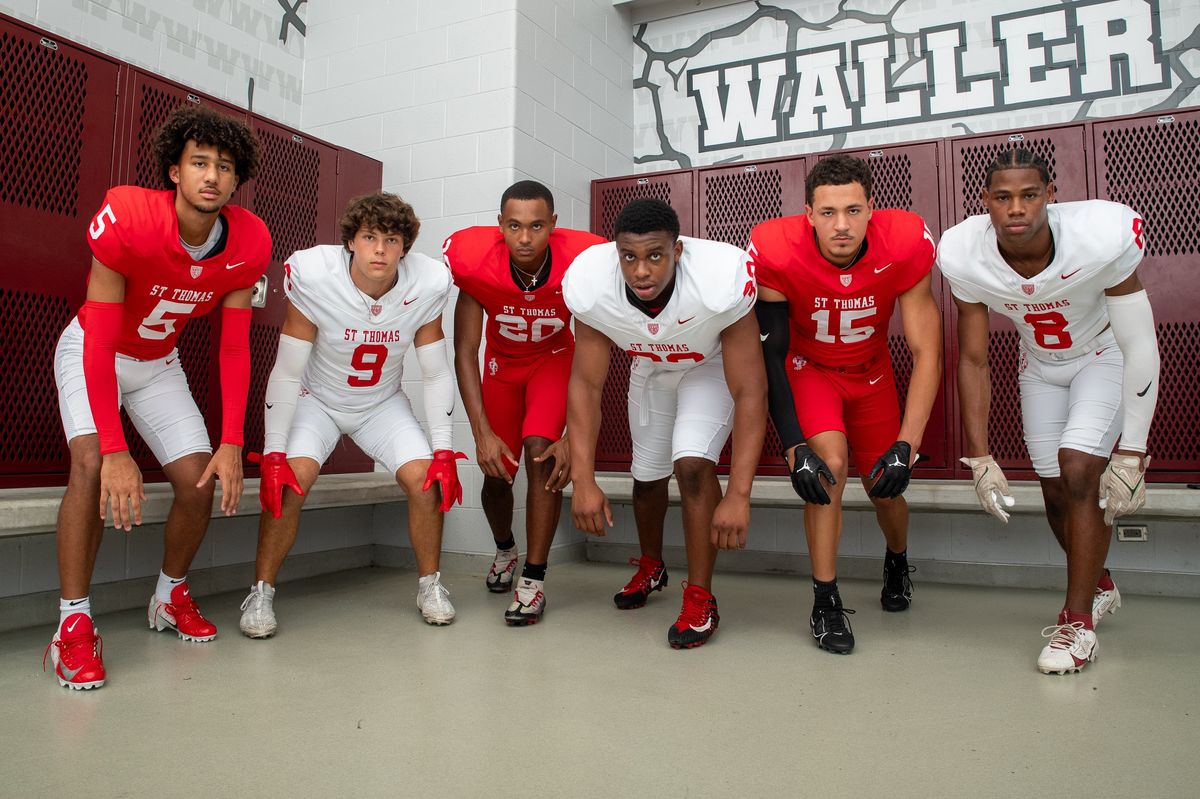 Jamey Wright (VYPE)
While most eyes may veer towards Cardenas on the field – for good reason, considering he's tallied over 2,200 yards rushing this season – St. Thomas has an entirely different threat behind center.
"He (Donte Lewis) is a different cat," McGuire said. "He's so dynamic athletically. People don't realize he runs a 4.4 (40-yd dash) which is probably the fastest on our team. Just like in baseball, he's got a cannon for an arm, and he's so elusive on the field.
"I've coached a lot of good quarterbacks here, but Donte can hurt you just as badly with his legs than with his arm. I've been very blessed as a coach to have this kind of talent."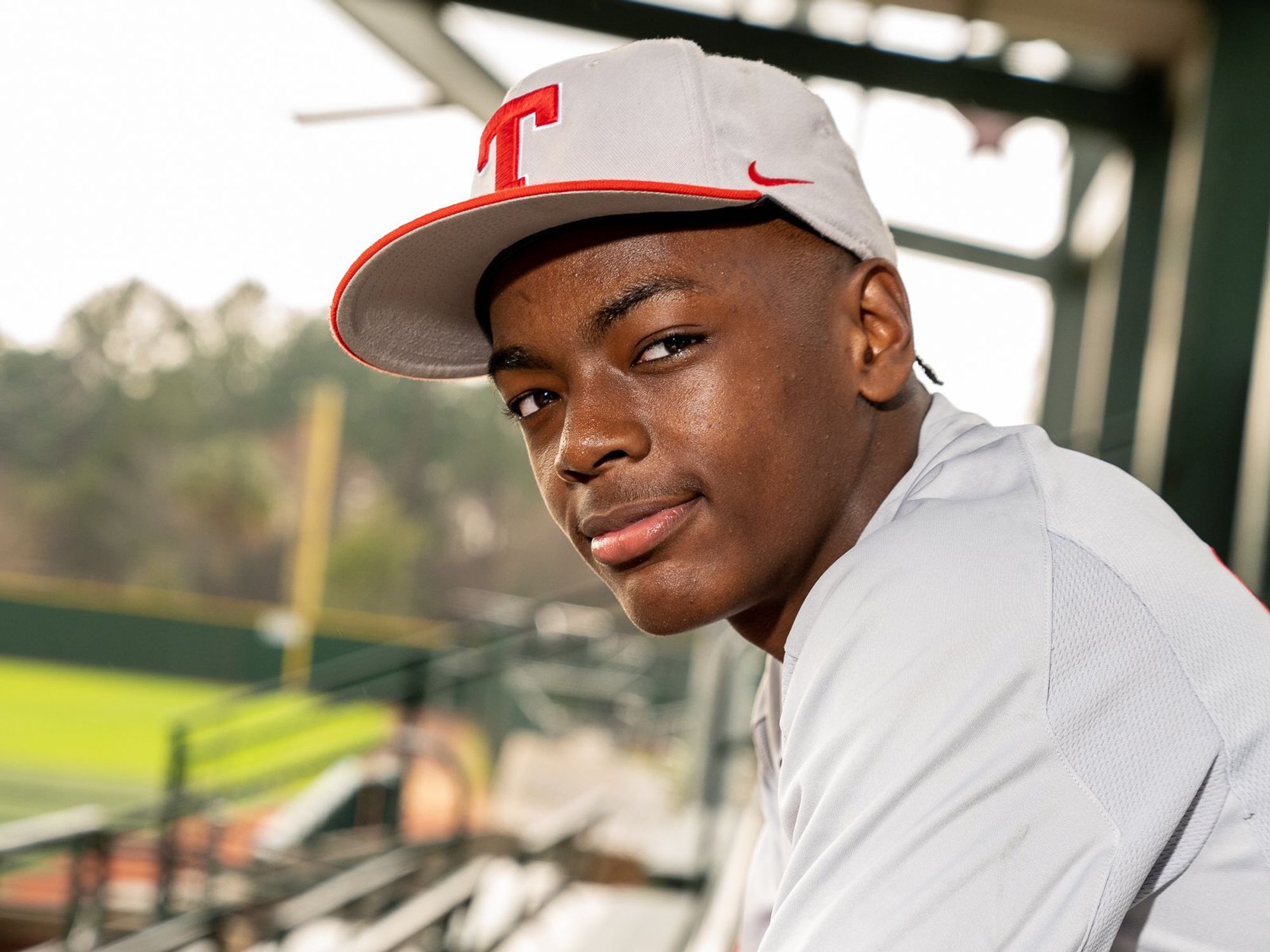 St. Thomas' Donte Lewis (2022-23 Baseball Season)Bradley C. Collier (VYPE)
Following their 73-62 victory over Prestonwood Christian a week ago in the State Semis, the Eagles are now slated to face off against Parish Episcopal this Friday at the Waco ISD Stadium.
While their offense has been a juggernaut, it will be the defense that decides the outcome, according to McGuire.
"It starts with the age-old adage – don't turn the ball over, don't make mistakes," he said. "We'll need to play clean offensively. At this point in the season both offenses are good, and the same can be said defensively. So, at the end of the day it's going to be a matter of which defense steps up and gets the necessary stops."
Said defense stops for St. Thomas will likely be a result of performances from the aforementioned Michael-Anthony Okwura (Cal-commit), senior LB Tyler Day (Rice-commit), and Aron Valentine (Sr. S).
The last time St. Thomas has won a TAPPS state championship dates back to 1996. Given the significance of the occasion, what's going through the mind of the long-time St. Thomas coach?
"I tell the guys all the time that if we get a gold ball on Friday, I may just get an Uber, drive to my lake house in Oklahoma with the ball and never look back," McGuire laughed. "All kidding aside, I'm still going to be around no matter what happens. This game and these kids definitely keep me young."
Tune in Friday to see if St. Thomas can finally end their championship drought once and for all.
For more than two decades, the Meekins' name has been synonymous with Westfield High School.
Corby Meekins became the head coach in 2004, before brother Matt Meekins took over.
That is the model of consistency.
"Westfield is a special place for me," Matt Meekins said. "Every day, I'm on duty before school and talk smack to the kids coming into school. I laugh at these kids and tell them that I've been at Westfield before their parents were even holding hands.
"These are great kids here. They are fun," he said "It's always a great day to be a Mustang."
The 'Stangs are 11-2 on the season and 7-0 in district play.
"Our early games got us prepared for the playoffs," he said. "Games against North Shore and Hightower taught us a lot against really tough competition, along with our district foes."
Next up is Duncanville Saturday afternoon. It's the Class 6A DI Region II Final and a State Final Four berth is in the balance. They know each other well.
"We are familiar with Duncanville," he said. "Last year, we gave ourselves a chance (28-21)."
Duncanville would go on to win the State Title over North Shore.
"It all starts up front with the offensive and defensive lines," he said. "We have to protect the QB and open up some lanes. It all draws up nice, but if you don't win the line of scrimmage, you don't have a chance."
QB Miles Dent has thrown for 1,800 yards and RB Taji Atkins has rushed for over 2,200 yards… 2,200 yards! WRs Austin Abram, Emmanuel Yancy and Desmond Dixon stretch the field, but it's all about the trenches.
Ray'quan Bell, Joseph Peters and Ryan Anderson are the bigs. They control the line of scrimmage.
"Duncanville has a strong defensive front," he said. "We are gonna need to get a push or have a stalemate up front to win the game."
On defense, District Player of the Year Bryson Balka and Xavier McCray anchor the defense up front. Linebackers Breylon Wyatt and Keshawn Monroe are solid in the middle of the field, while Carson Williams and Joseph Albright patrol the secondary.
The names change, but the philosophy stays the same.
"They go out there and do their job," Meekins said. "They just hit people. Play from the snap to the whistle and get ready for the next play. All of the other stuff is irrelevant."
In last season's game, both teams were heavily penalized for extra-curricular activities. The jawing, the personal fouls, the unsportsmanlike stuff.
"We just need to keep our heads," he said. "That is extremely important just to keep our composure. I tell the guys, 'Don't let it be you'."
Run the ball, play physical defense and play with pride and the Westfield Mustangs could take down the defending State Champs.
That has been the Mustangs' winning formula for over 20 years… the Meekins Way.
Join the #VYPETEAM
Get up to date news from all over the country!