VYPE Austin/San Antonio Helmet Stickers: Week 11 (11.9.22)
Nov 09, 2022
Welcome back to another edition of VYPE Austin/San Antonio Helmet Stickers for the 2022 Texas High School Football season.
There were tons of amazing performances last week across the Central Texas. We compiled all of those top performances in the VYPE Austin/San Antonio Football Player of the Week Fan Poll - CLICK HERE TO VOTE - but then we boiled that down to what we felt were personally the Top 7 performances of the week
These are Week 11's Helmet Sticker selections (in no particular order).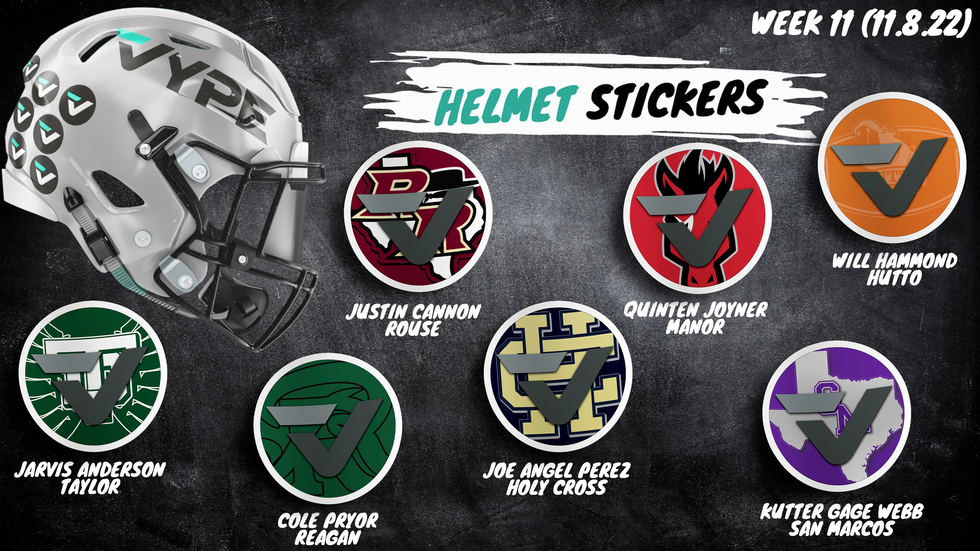 JARVIS ANDERSON-TAYLOR
Taylor needed ever single play from all their athletes this past week to make the playoffs with a 41-40 win over Burnet. Jarvis Anderson did it all for the Ducks in their win. He had 6 carries for 42 yards and 1 touchdown, 4 receptions for 65 yards and 2 touchdowns, 6 total tackles, with 4 being solo tackles in the win.
COLE PRYOR-REAGAN
In their 24-9 win over Brandeis to secure a 1st place district championship, Cole Pryor had 29 carries for 230 yards and 3 touchdowns.
JUSTIN CANNON-ROUSE
Rouse locked up 2nd place in their district with a 42-23 win over Elgin. Justin Cannon was unstoppable for the Raiders with 339 yards on 24 carries and 3 touchdowns.
JOE ANGEL PEREZ-HOLY CROSS
Holy Cross wrapped up an undefeated record in district with a 28-0 win over Geneva. Joe Angel Perez ran for 223 yards and 1 touchdown and had a receiving touchdown in the win
QUINTEN JOYNER-MANOR
Manor needed a win and a big game from Quinten Joyner and boy did they get both. In their 45-10 over Stony Point Joyner had 326 yards on only 15 carries with 4 of those going for touchdowns.
KUTTER GAGE WEBB-SAN MARCOS
With Kutter, the backup QB, coming in and taking snaps in a game San Marcos needed to win to make the playoffs, Webb came up big time and time again. Webb threw for 203 yards on 13/23 passing with 3 touchdowns. None bigger than the trick play touchdown to put them up with less than 2 minutes to go.
WILL HAMMOND-HUTTO
Playing for pride, junior Quarterback Will Hammond had a huge game to defeat Weiss 41-38. Hammond had 370 yards through the air on 26/41 passing for 4 touchdowns and added another 101 yards and 1 touchdown on the ground on 21 carries.