Time to Defend: Klein Forest out to fast start in defense of Class 6A T&F Crown
Mar 11, 2020
Photo by Bradley Collier/VYPE Media
HOUSTON – Defending Class 6A State Champion Klein Forest isn't wasting any time on stealing headlines to open the 2020 men's track & field season.
Beating Fort Bend Marshall in a relay race will do that.
This past weekend at the Generation Park Track & Field Invitational, hosted by Summer Creek, the 4X200 and 4x400-meter relay teams for Klein Forest were able to edge out the Buffs.
"I knew we had to work for it but I went into it with the mindset I have for any other race," Klein Forest senior Auhmad Robinson, a Stephen F. Austin-commit, said. "I was happy that each and every one of us executed."
The 4x200-meter relay race was ultra-exciting with the time difference between Klein Forest and Fort Bend Marshall being just 0.35 seconds. In the 4x400-meter relay, the difference was 1.92 seconds.
Klein Forest isn't just the best just in Texas though.
The Golden Eagles are ranked No. 1 in the country in the 4x200 (1:24.52) and in the 4x400 with their time of 3:14.81 from this past weekend. The last of the relays, Klein Forest is ranked No. 6 in Texas in the 4X100-meter relay (41.09), which is the best among Class 6A teams in Houston.
"I'm overall proud of our success and the reason we are getting these outcomes is because we're growing as a team, not only physically but mentally as well," Robinson said.
Even though relays do carry a ton of weight at the state track meet (20 points for a first-place finish), Klein Forest could get help in other areas.
One area is the throws.
Last year, Maurice Westmoreland's fourth place finish in the discus and fifth place showing in the shot put ended up being crucial points for Klein Forest. Compared to last year, Westmoreland has improved a ton with personal records in both events already in 2020.
"The biggest difference for me from last year to this year would be my focus and gaining trust in myself," Westmoreland said.
This past weekend, Westmoreland recorded his first-ever 200-plus foot throw in the discus with a mark of 204-feet- 6 inches (36-foot-6-inch improvement from state) – which is currently ranked No. 1 in Texas.
At the end of February, Westmoreland hit 61-feet-5.5 inches (1-foot-11-inch improvement from state) in the shot put – which is ranked only behind Katy Taylor Bryce Foster's mark of 61-feet-7.75 inches.
"It felt great to hit those marks because it shows that I am where I'm supposed to be," Westmoreland said.
With the relays going the way they are and the accession of Westmoreland's throws, Klein Forest looks like an early favorite to repeat as 6A boys track & field state champions come May.
"Knowing that we are one the better teams, we work harder than anyone else to achieve that greatness," Westmoreland said.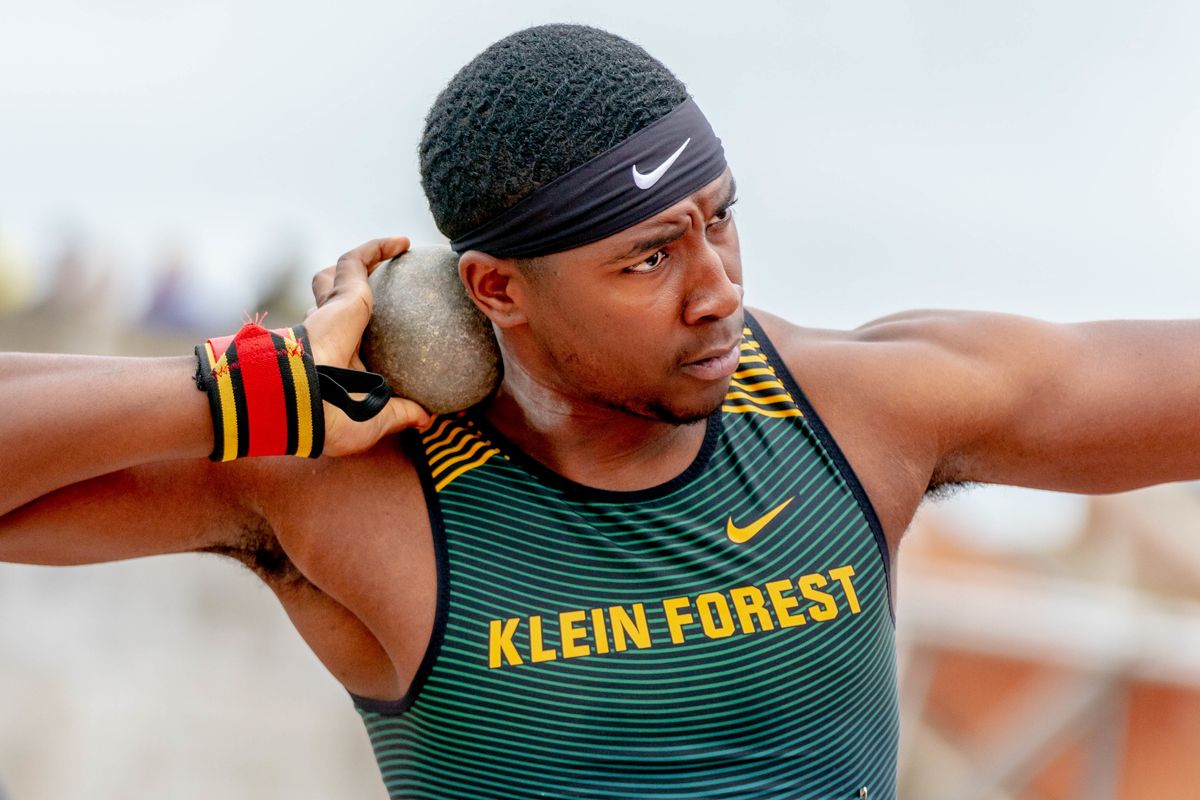 Photo by Bradley Collier/VYPE Media