The Marshall Buffs will stampede through District 11-5A-DII
Aug 21, 2019
District 11-5A-DII
The FB Marshall Buffs stole the headlines last season reaching the Class 5A DII state title game. While they fell to Aledo, the experience was a tremendous learning experience. The year prior, Manvel reached the state finals from this district. That just shows how good this district is. While the power is up top; the next two playoff spots are up for grabs.
VYPE is offering fans the opportunity to purchase a copy of the magazine and have it delivered to you, instead of waiting to find it in stores.
CLICK HERE TO ORDER - 2019 VYPE Houston Football Preview Magazine
FB Marshall
Manvel
Sterling
Northside
Willowridge
Waltrip
Madison
Milby
Sharpstown
...
VYPE PRESEASON AWARDS
MVP
Devon Achane, FB Marshall
…
Co-OFFENSIVE MVP
Frank Brown, Sterling
Malik Hornsby, FB Marshall
…
DEFENSIVE MVP
Warren Robinson, FB Marshall
…
BREAKOUT PLAYER OF THE YEAR
Tucker Yarbrough, Manvel
…
SLEEPER TEAM
Northside
…
Fort Bend Marshall Buffs
What a season for FB Marshall. They ran the table all the way to state, but also had a tragedy along the way with the death of a teammate. It was a tremendous learning experience that could propel the Buffs to another state run. Quarterback Malik Hornsby, who played only half the regular season before being cleared to join the team, returns to run a fast-break offense after a first-team selection a year ago. Hornsby passed for nearly 2,000 yards and rushed for another 700 last year. A full offseason and fall in the system should help tremendously. Devon Achane is a blur. He was the District MVP and can score whenever he gets the ball in his hands. Achane had 42 touchdowns and rushed for more than 1,300 yards on the year and is a major DI prospect. The OL is pretty solid with Daylan Malveaux and Larry Moore (Texas Tech-commit) in the trenches. The defense is fast and furious led by all-stater Warren Robinson (77 tackles, 12 sacks), who comes from the edge. Frank Miller and Sylvester Labome, Jr. are also notable defenders. Opposing offenses can't forget about Norman Baker (141 tackles) either. Avery Helm (Florida-commit) hopes to make a big return at DB after an ACL injury kept him out much of last season.
…
Manvel Mavericks
Manvel will be chasing Marshall for the district title but will have to do it with new talent. The Mavs finished 9-3 and second in the district before falling in the second round. Coach Kevin Hall will have his hands full, but the cupboard is not bare. QB Tucker Yarbrough got some varsity experience a year ago but will be the man in 2019. Donovan Eaglin will handle the ball-carrying duties as he has to replace 1,000-yard rusher Ladarius Owens, while Jalen Paxton will stretch the field. The offensive line will need to come together quickly. The defense could be sneaky good. A pair of first-teamers carry the flag for Manvel in defensive tackle De'Undre Potts and DB Vinson Brown. Other defensive backs include Mycah Sesay and Treyvon Jenkins. Linebacker Justin Medlock is a big-time 2022 linebacker prospect while Keelan Cox is another notable.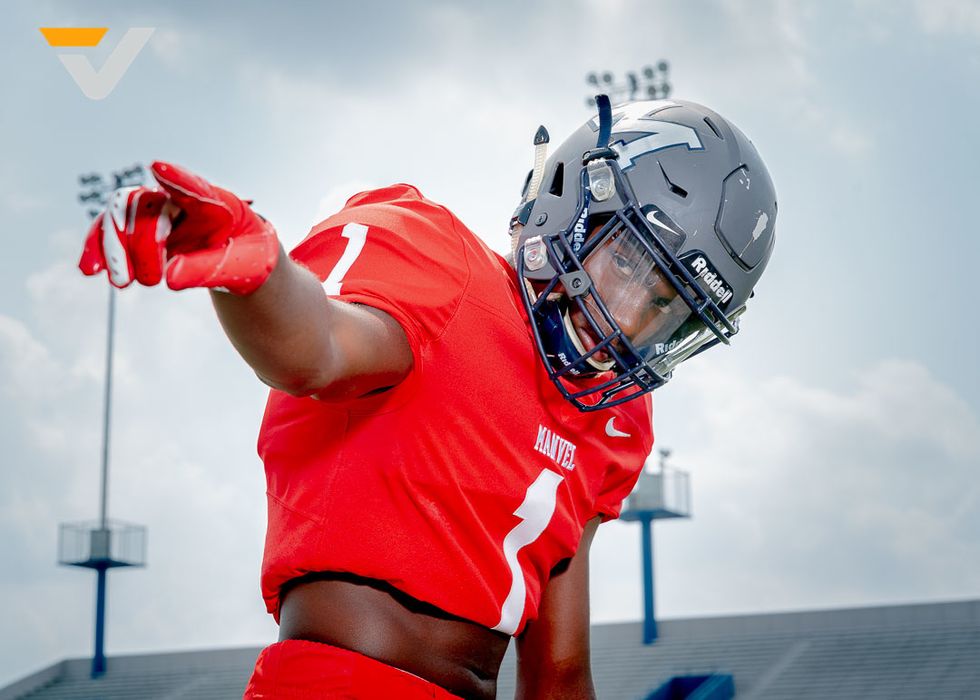 Manvell's Jalen Paxton
…

Houston Sterling Raiders
It's "Showtime." The Sterling Raiders just missed the playoffs in 2018 going 4-6. But this is the Raiders' year. Coach Kanavis McGhee has a bona fide star in Frank "Showtime" Brown, who was the District Offensive MVP. He's being recruited by programs and had over 1,100 yards rushing and 500 yards through the air. Brown is a home run hitter. Anthony Brown returns for his junior season at QB and should be a bit more seasoned. Leroy Joubert will be one of the primary targets, while Trameil Cotton will anchor both lines. Cotton was an all-district section. On defense, LaQuinn Harkless will fill the gaps at linebacker. Thomas Reed will also be a factor in 2019.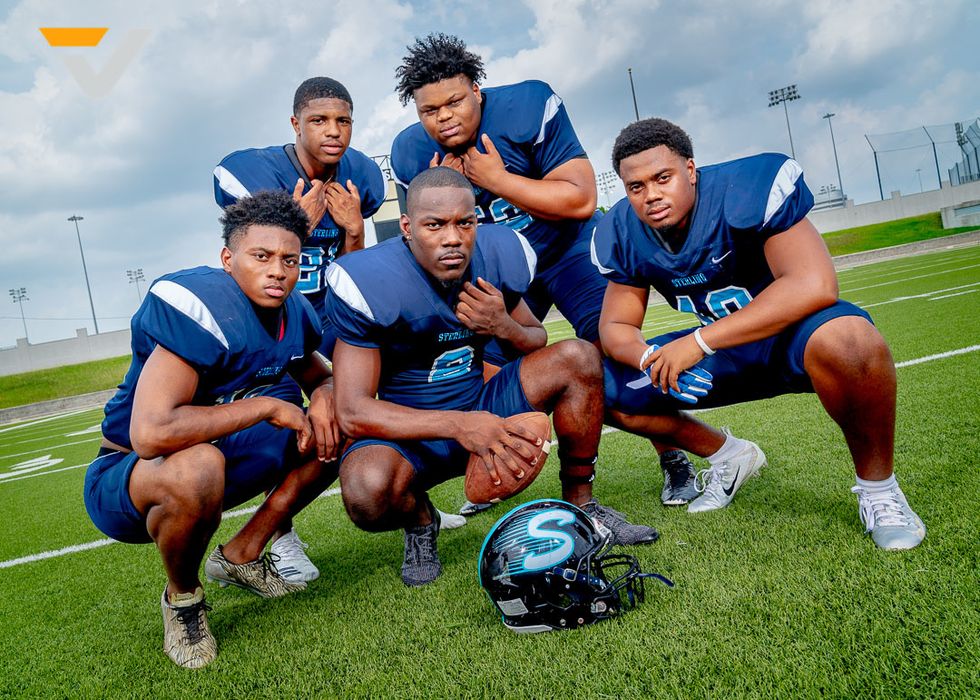 Sterling could have a big year
…
Willowridge Eagles
The Eagles were dealt a blow in the offseason as Latrell Neville transferred to Hightower. He was the key to the offense. Coach Richard Lazarou is doing big things at the 'Ridge but that was a big setback. But the show must go on. The Eagles reached the playoffs a year ago and will rely on receiver LiDarian Carter to fill the shoes of Neville. The offensive line is on point with Matthew McClennie-Brown. The district rushing leader Vaughnte Frederick, who also played quarterback for the Eagles, has graduated, so Javion Chatman and JaMarcus Buckner will platoon at RB. Expect Jace Wilson to step in at quarterback. The defense gave up 260 yards last year and must improve as the offense will take some time to catch up. Damion Hagan, Steven Olvea and Keshunn Lewis will have to come up big on that side of the ball.
…
Northside Panthers
How about the Northside Panthers? Northside reached the playoffs in 2018 with a 5-6 record. While they were bounced in the first round, coach Mike Porter's squad is on the map. They are competitive and return 11 starters who had a taste of the postseason. So, who are the headliners? QB Ronald Holmes earned a second-team nod after rushing for 900 yards and throwing for 1,500 yards. He tallied 28 scores combined. Holmes' top targets will be Justin Beaudion and Devondre Moore, while Jaylon Travis will carry the ball. The defense will be led by Gustavo Govea, but he will need help to slowdown the district's high-powered offenses.
…
Waltrip Rams
The Rams will be in the conversation for the fourth playoff spot with 19 returners back on the sideline. Coach Wayne Wheeler's squad went 3-7 in 2018 with the district's fourth-rated offense. Back on that side of the ball are first-team WR Orvis Fowler and second-teamer Daelon Lewis. Fowler led the district in receiving with 784 yards in the regular season, averaging 15.08 yards per catch and reeling in 13 touchdowns. That gives QB Jonah Brooks (1,921 yards. 21 TDs passing) some legit targets downfield. Joel Rodriguez will anchor the OL. The defense finished last in district, giving up 392 yards per game and pitched zero shutouts, and has to get it together. The secondary is solid with Brendan Stanley, Chris Williams and Ray Llanito back in the fold. Stanley led the district in picks with six. Will McGary is a notable man up front. According to Wheeler, the offensive line play will be key and the defense's ability to get quality stops are the keys to the season.
…
Madison Marlins
It's year two for coach Shawn Narcisse, who finished 3-7 in 2018. The Marlins return six starters but are desperately in need of a quarterback to emerge. The offensive line is solid with Zavion Henderson and Gabriel Shippard holding off defenders and opening holes for Avant Porter. Porter rushed for over 700 yards and was a second-teamer. The defense is somewhat salty up front with Maurion Williams-Jack and Dacory Ford. Second-teamer David Bradford will patrol the secondary at safety. The once-proud HISD program – the alma mater of Vince Young – is looking to make some noise after a bit of a lull.
…
Milby Buffs
The Buffs went 2-7 a year ago under the direction of Matthew Puente and will need some big-time athletes to step up to get in the postseason conversation. The offense will run through their best athlete Lorenzo Thompson, who is a converted WR. Thompson did get some playing time at quarterback a year ago as a sophomore and passed for three scores. At Milby, the best athletes play both ways and that will include Damian Ruiz, Edward Veliz and Dontrey Betts in both trenches. Veliz was a first-teamer along with Brian Ramirez, who is a weapon at punter.
…
Sharpstown Apollos
The Apollos are ready for lift-off. Coach Willie Taylor hopes that his football team can make some noise like Sharpstown's futbol team did last spring, which went to state. The Apollos are in a tough district and their football numbers are low. The best of the best? Trevon Banks is their go-to-guy at receiver but may play multiple positions in 2019. Others to watch include Tyrique Odom, JaJaun Bradshaw and Peyton Chandler.
Keep reading...
Show less