Sterling gets first true offseason under Toomer
Aug 21, 2019
By Bradley Collier
At the helm of the Sterling Rangers is coach Robert Toomer, who was hired in late May a year ago.
Getting a late jump last May, Toomer came out of this spring football period excited about the progress his squad made looking towards the fall.
"I love the fact that we got to slow things down and really teach for the first time," Toomer said. "We weren't in a rush. Last year, the kids were trying to figure us out and we were trying to figure them out.
"This spring we competed in the weight room and on the track. We could see who could really play what positions and got a true evaluation of our program. We could really see our strengths and weaknesses."
Unfortunately, for Toomer, gone is running back Calvin Hill, who signed with Texas State.
"Calvin was a tremendous football player and he carried this team for three years," Toomer said. "He's an amazing talent you just can't replace. We can't just wait on Calvin to make a play for us this year."
Hence the new mantra – "All Hands on Deck."
"It's time for other guys to step up," he said. "It's their time."
Toomer has been impressed with athlete EJ Hawkins, who played running back (400 yards rushing), quarterback (200 yards passing) and receiver (170 yards) last season.
Where will Hawkins play this season? Anywhere he wants.
"I've really liked how Jacob Landry has matured at the quarterback position and our receiving corps is physical and great route runners," Toomer said.
Hawkins, KJ Watch, Amari Jackson and Trinity Oliver lead the aerial attack.
"We aren't your traditional Class 6A offensive and defensive lines," Toomer said. "As a coaching staff, we have to get our personnel in the right positions to be successful. We aren't big, but we are pretty quick up front."
While Toomer made his living on offense as a player, he feels that the defense sets the tone for a football team. He likes what he has on that side of the ball.
"Because of our lack of size up front, we are going to bring an extra man on the edge or up the middle. We have to cause some havoc," he said. "Our strength is our secondary, where we are long, athletic and experienced. They just don't make mental mistakes."
Shawn Jackson, Micah Campbell and Tayvion Haggerty are interchangeable defensive backs, who can cover or come up and defend the run.
"The defense sets the tone for your program," Toomer said. "It's about physicality, a sense of urgency and being blue-collar workers. That philosophy will bleed over to the offense over time."
Toomer is in year two of the Sterling (2-8 in 2018) overhaul, and expectations are to beat the teams they are supposed to beat and compete against the powers.
Powers?
North Shore won the Class 6A DI state title and West Brook narrowly lost in the Class 6A DII state title game. CE King and Channelview were the remaining playoff teams, but don't forget about Deer Park, La Porte and United in Beaumont.
"I received an email from our superintendent, who understands that we play in the best district in the state of Texas," Toomer said. "It's like the SEC. We know who Alabama is, then LSU and Texas A&M, right?
"We aren't going to whine and complain, but play the hand we are dealt," he said. "Just because you work hard, doesn't mean you are going to win games. It's about being a team with great chemistry. All of those factors change the culture."
Toomer understands it's going to take time to turn the corner at Sterling. His staff is digging into the junior high programs and is excited about the incoming freshman class.
"We are starting from ground zero and it's going to take some time, but we are building something special here," he said.
...
THE MAGAZINE
VYPE Goose Creek August 2019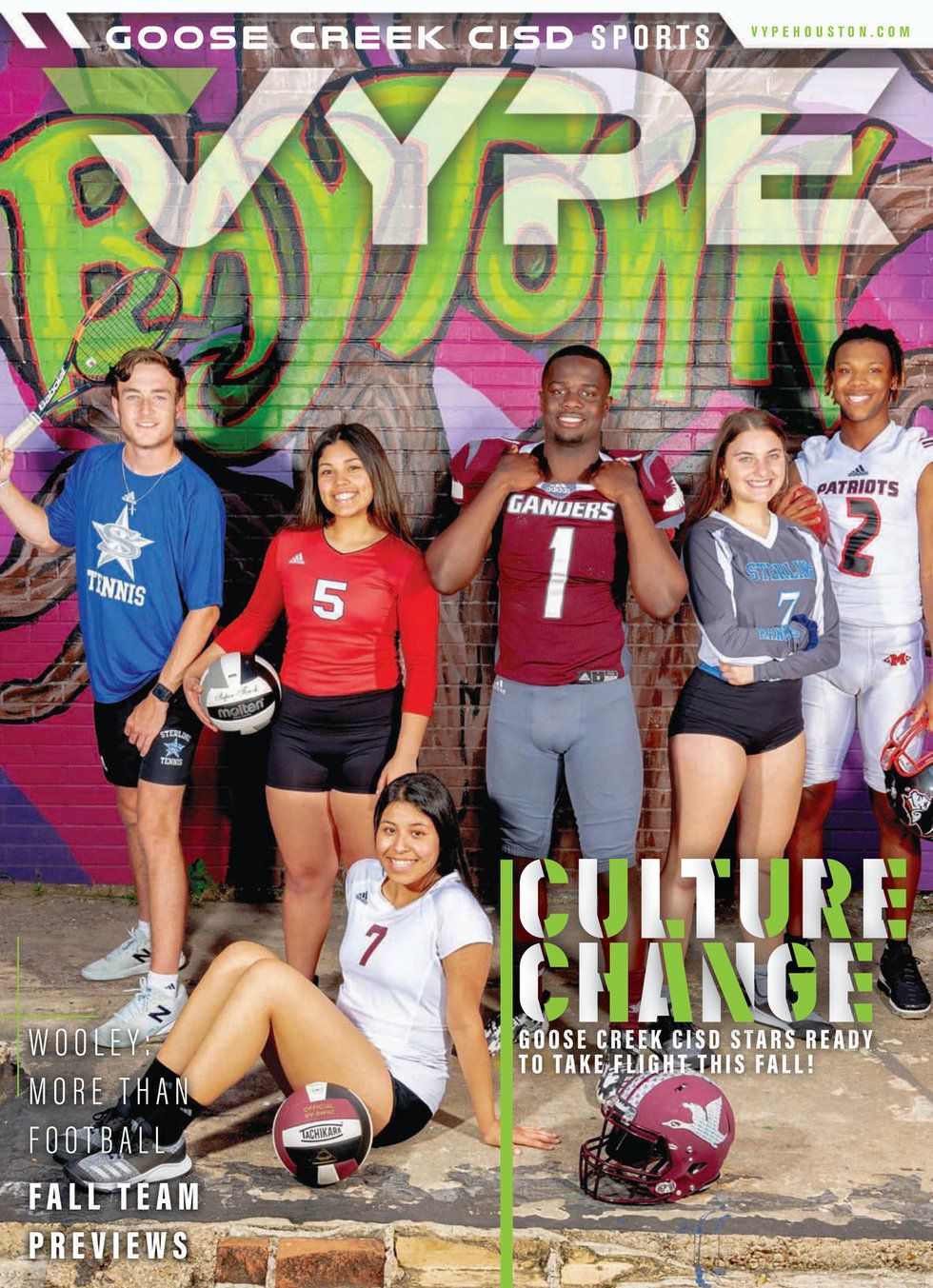 VYPE Goose Creek August 2019 www.ourdigitalmags.com
Keep reading...
Show less