2019 Preview: Private School Dark Horses
Aug 20, 2019
By Bradley Collier/VYPE
This is the group that is fun to pick because these are the teams who could jump up and surprise at year 's end.
Don' t bet against these teams because they have the pieces to be contenders if every thing falls into place.
So, who's in this group? Here are VYPE's Dark Horses!
VYPE is offering fans the opportunity to purchase a copy of the magazine and have it delivered to you, instead of waiting to find it in stores.
CLICK HERE TO ORDER - 2019 VYPE Houston Football Preview Magazine
VYPE Preseason Awards
MOST VALUABLE PLAYER: Trevor Manning, Rosehill Christian
OFFENSIVE MVP: Brett Simcox, Concordia Lutheran
DEFENSIVE MVP: Cooper Thomas, St. Thomas
BREAKOUT PLAYER OF THE YEAR: Leo Gerst, Emery/Weiner
SLEEPER TEAM: St. Thomas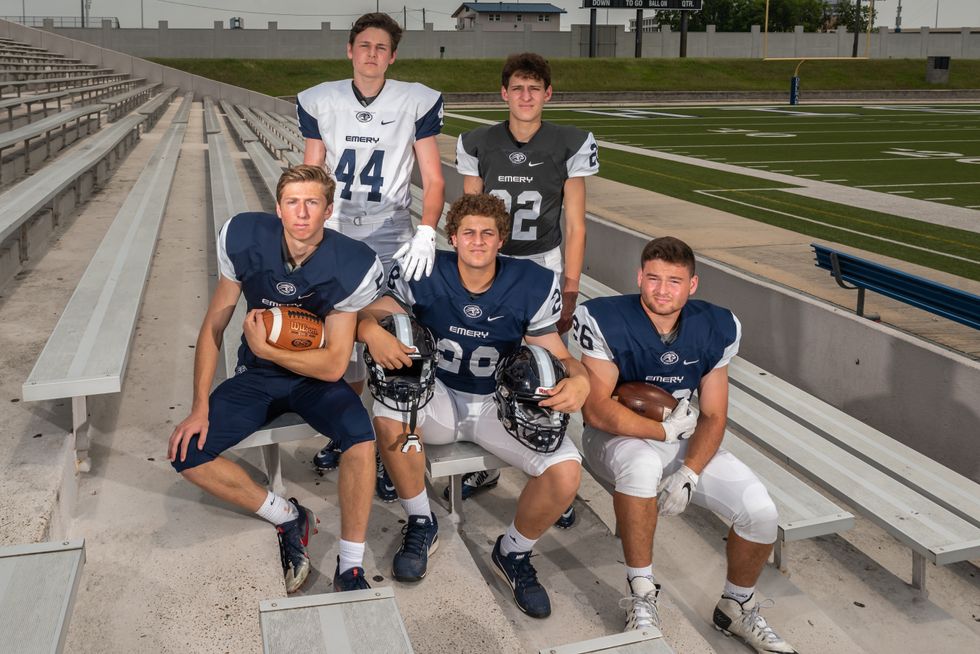 Emery/Weiner Jaguars
Emery Weiner had a nice run a year ago, finishing 10-2 overall and making it to the state quarterfinal before losing to the eventual champions, Veritas Academy, 22-21. With two offensive and three defensive starters back in the mix, a sixth-straight playoff trip could be assured. Second-year head coach Jason Reimers will lead the Jaguars into battle with RB/CB Ben Dauber, who is coming off a year where he had 64 tackles. Dauber was a TAPPS second-team, all-state defensive back selection. Reimers considers Dauber the "fastest player in the program and an excellent cover corner". Coming back from injury is Austin Smith (RB/CB). Smith missed six games in 2018 with a Lisfranc foot injury. Fully recovered for the 2019 season, Smith will be a key to the defense. Connor Koenig returns as a top receiving target at tight end and a bruiser on the defensive line. Koening had three receiving touchdowns, 40 tackles and five sacks last season. In the 2021 class, watch for Jack Greenberg (DL), who was a second-team, all-district selection. Reimer considers him the "strongest player" right now and expects big things from him. A group of rising sophomores to watch include Leo Gerst (RB/WR/ CB), who had 900 total yards last season and led the team with 22 total TDs; and Elliott Ellis (QB/WR), who can play any position and be productive. Josh Blum will be a key on the offensive and defensive line. The Jaguars do have to replace a big chunk of offensive numbers. If they can do that, they could end up being a contender.
Rosehill Christian Eagles

It is not very often that a team's quarterback is also the squad's leader in tackles. Well, you haven't met Trevor Manning. As a sophomore, Manning emerged as the best quarterback in the room, passing for 797 yards and 11 scores. On the other side of the ball, Manning racked up 112 tackles and four sacks. That is the true definition of a two-way player and expect more of the same from Manning in 2019. Another star to watch is junior running back Kyle Floris. Floris led the team with 870 total yards (721 rushing, 103 receiving) and was big on kick returns. Flip to the other side of the ball and watch out for Vonte Green (MLB/FB), Nate Crawford (DT/ OG) and Ben Nicholson (FS/WR). Green was named to the Touchdown Club's Preseason Team. This team has potential and should be fun to watch with a talented group of sophomores with another year of experience under their belt.
St. Thomas Eagles
Rich McGuire has a big job in 2019 – replace Peyton Matocha. The outgoing senior quarterback was the Touchdown Club of Houston's co-Offensive Player of the Year. Matocha passed for 3,697 yards and 35 scores last season. That is a lot of offense to replace. Joshua Crissmon will be a big weapon on the offense for whoever takes over at quarterback. Crissmon finished last year with 845 yards and 10 touchdowns receiving. Jordan Augustine finished the year just behind him at 738 yards and 12 scores. That duo will be tough to cover. Defensively, Cooper Thomas returns after recording 99 tackles (51 solo) in 2018. Also, back is Daniel Coco, who had 78 tackles last season and was selected first-team, all-state. Another player to watch on the defensive line will be Chidera Umeh. This team will have to find a quarterback to distribute the ball to Crissmon and Augustine. If they do, watch out.
John Cooper School Dragons
It's a new era at the John Cooper School as Erik DeHaven moves over from the ultra-successful St. Pius X to take over the Dragons' program. John Cooper is coming off a stellar year, where the Dragons went 9-1 and played for the SPC 3A State Championship, falling short to Fort Worth Country Day. Now, turning the page to 2019, John Cooper has some big pieces to replace, including quarterback Evan Minarovic. Whoever the new quarterback is will have a top target in Thomas Elkhoury to throw to. Elkhoury finished last year with nearly 1,000 yards receiving and 17 scores. Other players to watch include Cameron Reed (LB/QB), Kase Harris (OL), Ben DeLoit (RB/DB) and Jake Peterson (LB/ WR). Reed and Peterson combined for more than 130 tackles last season. DeHaven was a key part to St. Pius X's recent run of success and should carry that over to John Cooper.
Concordia Lutheran Crusaders

The Crusaders are coming off a bit of a down year, finishing 4-7 and being ousted in the first round of the playoffs. But Bobby Lindquist should have this group primed for its 16th-straight playoff appearance in 2019. The Crusaders return eight starters (three offense/ five defense) off last year's team. The biggest player Concorida Lutheran lost was Colin Howard (2,302 total yards - 1,477 yards receiving), who was the Touchdown Club of Houston's Ironman of the Year in 2018. So, who steps up this year? Start with Brett Simcox. The second-team, all-district quarterback returns for his senior year after passing for 2,207 yards and 24 scores last year. The Crusaders have strength up front to protect Simcox as Cade Gaskill and Zach Sly return on the line. Both were honorable mention, all-district selections. Jack Johnson will lead the defensive unit at linebacker. Johnson registered 56 tackles (38 solo), one sack and one fumble in 2018. Also, watch for Cale Hellums at the safety position. Concordia Lutheran has been a top-tier program for years in Houston, expect 2019 to be no different.
Allen Academy Rams
In TAPPS Six-Man, Division II-District III, the Allen Academy Rams have the chance to make some noise in 2019. Adrian Adams enters his second season leading the Rams. The 2018 season ended with a 7-4 mark and reached the first round of the playoffs. So, what do the Rams bring back? Start with Brandon Boyd at quarterback and free safety. Boyd (2,108 yards passing, 416 yards rushing) was selected second-team, all-state last season. His backfield-mate will be Brent Tucker, who plays running back and defensive back. Tucker (980 yards rushing, 14 TDs, 64 tackles) was honorable mention, allstate and a first-team, all-district defensive back. Other players to watch on both sides of the ball will be Ryan Hassell (RB/LB), Aaron Boegner (WR/ FS), Luke Meadows (C/ DL), Cuatro Hanover (K), Sam Deupree (WR/DB) and Jihu Lee (WR). Adams believes "experience and confidence from the 2018 season will be a big key to success" along with a full offseason program.