Neches sweeps Round Top-Carmine for 2nd-straight 1A State Championship
Nov 22, 2019
Joe Lorenzini
The only returning champion to the 2019 UIL State tournament took the court Thursday looking for its second-straight championship.
The Neches Tigers not only swept Round Top-Carmine in three sets ((25-11, 25-12, 25-18) but they left their own fans wondering about a three-peat next season.
Round Top-Carmine, in the state tournament for the 21st time in school history (including the sixth time in the last 10 seasons), finishes the 2019 season with a 22-12 record.
Tournament MVP Kacie Kimbrough (a junior who received all the media votes for the award) led a power offense with 18 kills (while hitting .364) and added nine digs, four aces and three total blocks. Junior Lexi Rogers pounded 10 kills and added six digs, an ace and an assist while junior setter Emily Hill dished out 33 assists and had one block-assist, two digs and one ace.
"Our experience here (after winning the 2018 state title) helped our girls," Neches coach Morgan Roberson stated. "Our girls were still a bit nervous but they settled in nicely.
"Eight of our nine roster players were on last year's team and seven of them played in the state tournament last year. That definitely helped us."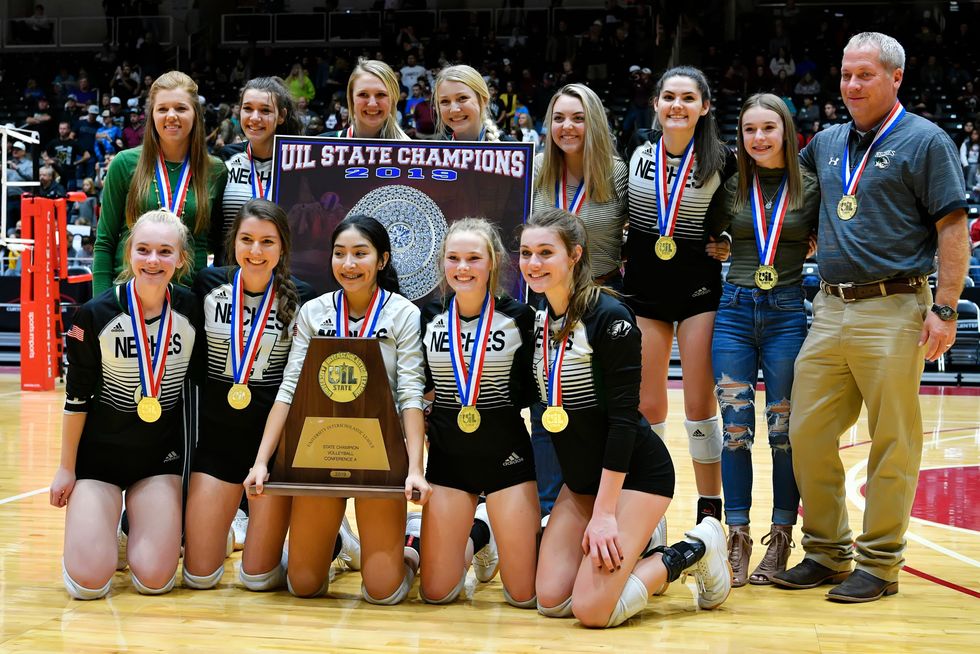 Asked about Round Top-Carmine, Roberson commented: "They're a good and well-coached team. Our girls could tell they were a little tight and nervous early on, and we tried to take advantage of that. They had some unforced errors early in Set 1 and we went after them."

Round Top-Carmine's first-year coach, Caitie Carney, was proud of her girls, including her three seniors - Bailey Ward, Cassidy Tiemann and Megan Krause.
"These girls had a vision from Day One this season to get back to the tournament," Carney said. "They're great student-athletes and great young ladies; I'll take great young ladies over great volleyball players any day of the week."
About Neches, Carney said, "They flat-out beat us. They're a good all-around team; they're well coached and they have some great players. We look forward to playing them here next year."
RTC was led by Krause (seven kills and five digs) and Brooke Schobel (seven kills, six total blocks, three digs and one assist). The Cubettes graduate the three seniors but have 10 players returning to next year's squad, including seven juniors, two sophomores and a freshman.