Katy coaching legend McPherson set to retire after season
Apr 21, 2022
Dennis Silva II | VYPE Media
Caleb Matthews is one of the best pitchers to come out of Katy High. A 2021 graduate, Matthews is now pitching for Rice.

And every now and then, though he's almost more than a year out from playing in the red and white, Matthews gets a call from Katy coach Tom McPherson.
"He still calls to offer help or guidance," Matthews said. "Coach Mac believed in me and taught me more than baseball. He helped me strengthen my leadership skills, how to develop a routine and helped cultivate my fierce competitive spirit. I trace my learning back to the baseball field. Coach Mac is a role model for me."
McPherson has had a similar effect on thousands of thousands of players.
Senior pitcher Brayden Powers said McPherson was critical in helping him battle through elbow surgery last year.
"As he always said, 'The bigger the moment, the bigger the breath,'" Powers said. "From just that alone, he has helped me boost my confidence."
Junior Graham Laxton said McPherson taught him how to work hard and be a leader. Senior Jhonnatan Ferrebus said McPherson has been "one of the most influential coaches in my life."
"There's a reason why he wins every year," Ferrebus said. "Every year, he is always ranked in the top teams in Texas because he works with everyone in the program, from the freshmen to the seniors. He has dedicated all his time to us and we could never repay him, just thank him for everything. He is truly one of a kind and deserves to be in the hall of fame one day."
Stories like these are a dime a dozen, which is why it was an emotional and trying time when McPherson announced earlier this month he is retiring after this season.
After 45 years in coaching—the last 34 years at Katy—and 881 career wins and two state tournament appearances and many, many more district championships, McPherson, the winningest active coach in Class 6A Texas high school baseball, decided to put away the lineup card for good.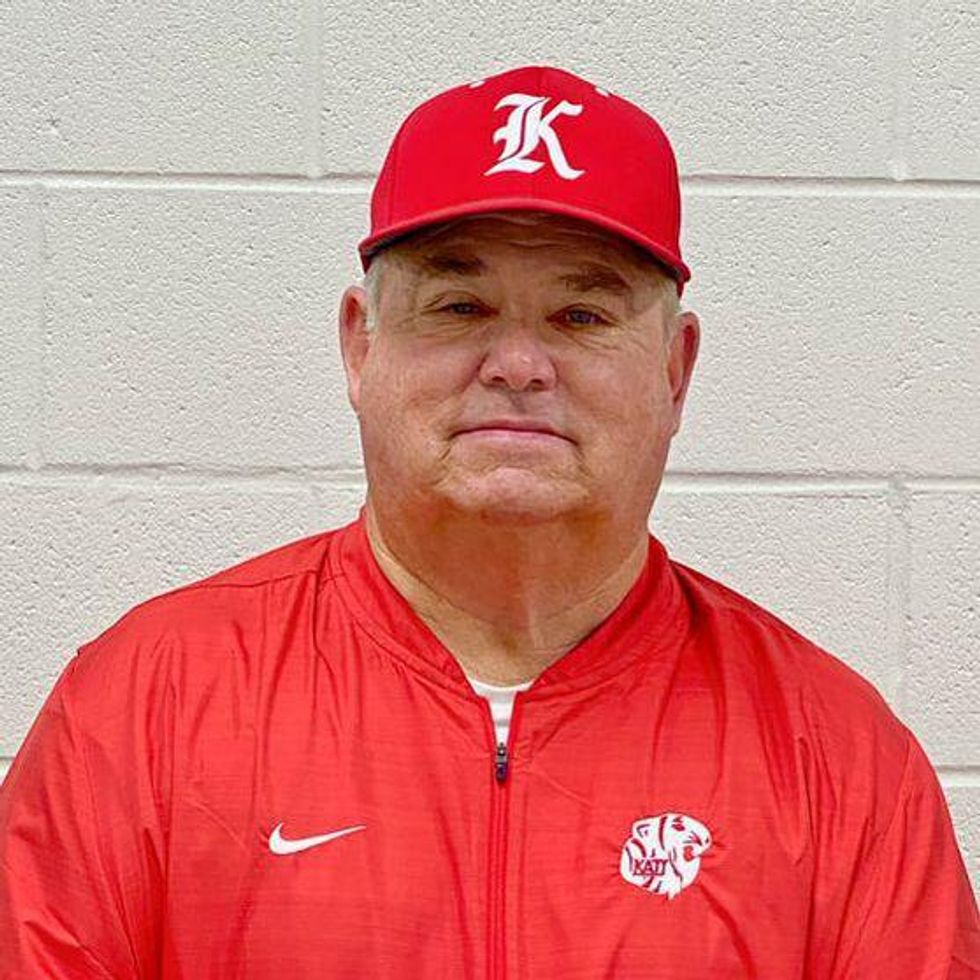 Katy baseball coach Tom McPherson.Courtesy photo
"It's something I struggled with at the beginning of the season," said McPherson, who also coached football at Katy for 32 years, mostly as an offensive line coach. "I've had some medical issues that keep me from doing some of the things that I enjoy, like throwing batting practice or hitting fungo. I just felt like I wasn't doing enough out there for the kids. I've had some great assistant coaches that have helped pick up the slack, so I figured this was probably the best time for me to get out."
McPherson told his kids following the Tigers' 4-2 win over Cinco Ranch on April 12.
"Our kids had been playing really, really good and I knew I had to get the information out before I let it out where people could apply for the job," he said. "We had a non-district game after that (against Atascocita), so if there were any repercussions after the announcement, it wouldn't hurt the team as far as district play."
On Tuesday evening, as part of the program's 'Alumni Night,' dozens of former players gathered postgame to honor McPherson and exchange memories following the Tigers' game against Taylor.
Tuesday was Alumni Night for @katyhsbaseball, and dozens of former players showed up to honor coach Tom McPherson, the winningest active coach in 6A baseball who is retiring after this season. @KatyISDAthletic @KatyHSPrincipal @THSBCA @katyisd @6ATxHSBaseball @MaxPreps @khs_livepic.twitter.com/HpMdavo1uL

— Dennis Silva II (@Dennis Silva II) 1650470600
McPherson, who was born in Florida, raised in California, grew up in Lubbock and has been part of 17 state championship games as a Katy baseball and football coach, spoke more with VYPE about his upcoming retirement:
VYPE: What is it about Katy High School and this community that made it so special for you to spend 34 years here and finish your coaching career?
McPHERSON: They didn't fire me, for one (laughs). But I also coached football for 32 years and enjoyed coaching with Coach (Gary) Joseph and Coach (Mike) Johnston. They both have quality programs. In baseball, we built the program literally from the ground up. It took a while to get things going here, and you always want to succeed wherever you're at. You don't want to just leave. All my kids went here. One played football for me. Three played for me in baseball. My daughter was in the band. Katy provided a great opportunity to raise a family.
VYPE: What is your favorite moment from your years of coaching?
McPHERSON: In 2006, we took a team here to play for the state championship and lost to the No. 1 team in the nation that year in The Woodlands. We had a great team. Fond memories. Great kids. Almost every single one that played in that state championship game played college baseball, and probably about seven ended up playing D1. It was a great athletic team we had that year.
VYPE: How would you define your coaching style and the way you saw the game?
McPHERSON: I'd like to be known as one that's still old school. I have not bought in to all the technology. It's great to have, but you've still got to execute the basic things in baseball. Throwing, catching, throwing strikes, putting the ball in play. In high school, you want to put the ball in play and make the other team make a play. I'm a fundamentalist at heart.
VYPE: What has been the biggest change in high school baseball over the course of your career?
McPHERSON: When I first started, high school baseball was the main show. As time progressed, it got more and more to where kids believed they had to play select ball for major teams to even get looked at. To a certain extent, it's true, as far as getting more exposure. I have a lot of connections to a lot of college coaches throughout the state, and we have different programs we send out and videos and highlights to all the different colleges. The main difference is the way everything is spread now. You can do everything through social media. All the coaches look at it. If you get one kid that starts getting hits from different people, all the coaches jump on the bandwagon and start calling.
VYPE: What are your thoughts on this year's team, which will be the last of a distinguished career?
McPHERSON: I'm blessed with a lot of great kids. They've got a lot of talent; in fact, some of them don't know how good they can be. We have a lot of juniors that start and a sophomore that starts. I have more arms on the bench than I've ever had. We've got a bunch of kids coming back; I'll leave a couple of quality players. They've been able to play pretty good ball. We've gotten breaks and made our own breaks. Hopefully our kids continue to do that. These are great kids and a good bunch to go out on.
True