Gibson, Brandeis rally to win tourney championship
Aug 16, 2021
Dennis Silva II | VYPE Media
Among substantial, outstanding volleyball talent, between two undefeated teams, San Antonio Brandeis senior Jalyn Gibson shined the brightest Saturday afternoon in Katy.

The TCU commit had 30 kills, four aces and three blocks in leading the Broncos to a 3-2 win over Cy-Ranch in the gold bracket championship game of the Katy/Cy-Fair tournament at Katy Taylor High School.
Brandeis, which trailed 2-0 in the title game, is 9-0 and handed Cy-Ranch (8-1) its first loss.
"It took a lot to fight back, and I knew we weren't going to give up," said Gibson, named the tournament's all-around MVP. "We really wanted this, and we fought for it."
The Broncos lost the first two sets, 25-19 and 25-21, and were on the brink of being swept before coach Madeline Williams made changes.
Williams switched from a 5-1 to a 6-2 offense and altered the lineup, including playing some girls who had yet to play a varsity game. Her team responded with three straight wins, 25-23, 25-21 and a demonstrative 15-5 fifth set win.
"We came in here with the goal to win it," Williams said. "We have high, high expectations. A lot of these seniors have played with me for years now. We had matches where we were behind, and for us to win and not give up, it's pulled us together closer."San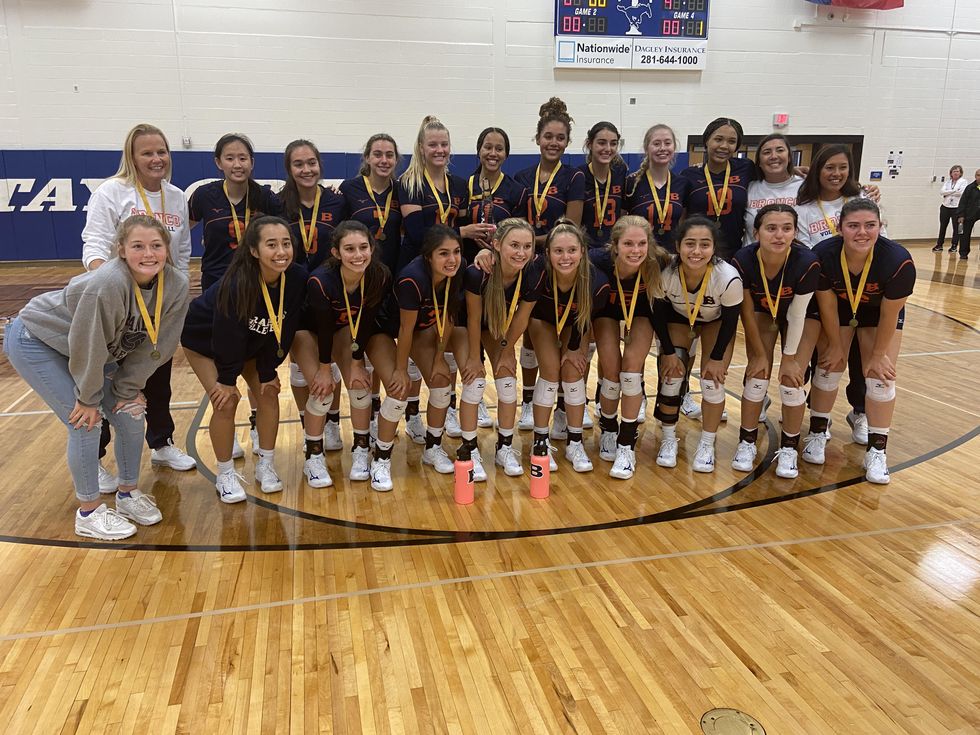 San Antonio Brandeis won the Katy-Cy-Fair volleyball tournament, going 8-0 and winning 18 of 22 sets.Dennis Silva II | VYPE Media
Gibson was phenomenal all game long. She had nine kills and two aces in the first set but had little support early.
That is, until Wilson's changes opened things for everyone else. Senior setter Carlee Pharris, freshman outside hitter Lola Isaeff and senior outside/right side hitter Leila Smalls were crucial in the final three sets, all contributing big plays at various points.
"That was not our team those first two sets," said Pharris, who had 15 kills and 36 assists. "It was a good wakeup call."
Gibson continued the hot start to her senior season. She is averaging 5.4 kills per set with a .287 hit percentage.
"It's my confidence," Gibson said. "I just never let that shut down. When I was a freshman, I wasn't so confident. Now, being a senior, I know I have to be more confident. Reading the blocks, connecting with my setters. Everything was working."
Gibson kept the Broncos afloat early on until her teammates could get into a groove. That helped keep Cy-Ranch from blowing out Brandeis, which looked likely early on.
"She's super coachable," Williams said of Gibson. "She's been a starter since her freshman year, a six-rotation player since her freshman year. Running her in the middle or outside, we see what works and we go with it. It's the adjustments.
"If I tell her a spot to hit, she'll hit it. She's just so talented. We use her from the back row, too."
Brandeis runs a fast offense, creating splits for Gibson and moving blockers due to the terrific chemistry between Pharris and Gibson. The two are best friends and both will be playing for the Horned Frogs next fall.
"Jalyn is so talented, skill-wise," Pharris said. "She's so confident in hitting. No matter what situation we're in, I know she'll get the kill. She's just super dependent."
.@Brandeis wins the gold bracket championship of the @kcfvballtourney, topping Cy-Ranch in five and taking the fift… https://t.co/nuY69Zjt6c

— Dennis Silva II (@Dennis Silva II) 1628977024.0
Gibson and the Broncos have put Region IV on notice that they are a force to be reckoned with. The Broncos went 8-0 at the tournament, which consisted of a 48-team field. They won 18 sets and only lost four.
"We're definitely a close team, and that's been big for us," Gibson said. "Just hoping we can stay that way. I'm hoping to not have one bad game, and just fighting and sacrificing for everyone."
True