FEATURE: Impairment does not keep Orangefield player down
Oct 25, 2019
Photo by VYPE
Ad·ver·si·ty:
noun
difficulties; misfortune.
"resilience in the face of adversity"
Orangefield senior, Clayson Choate, was born with a condition called Sensorineural Hearing Loss, a condition that affects sensory cells of the inner ear and is usually permanent, according to American Speech-Language-Hearing Association. The severity of the condition is diagnosed as mild, moderate, severe, or profound, and it can affect one or both ears.
In Clayson's case it affects both ears.
Choate was not medically diagnosed with the condition until he was two-years old. His parents, Josette and Van, kept noticing their infant son acting strange when they spoke.
"I noticed Clayson kept tugging at my face when I was talking to him," said Josette.
"As parents, we knew something wasn't right, so we went to get his hearing checked."
The Choates would travel to Texas Children's Hospital in Houston, where Dr. Sarah Nagel, Au.D, would examine Clayson's condition.
Dr. Nagel diagnosed Clayson's hearing loss as profound, the most severe. His hearing level was at 35%. Josette was told Clayson would need hearing aids. Challenges would lie ahead, but Josette Choate would begin a regiment of hard work and determination that would serve to define her son.
"I decided right then, we were not going to live in fear," said Josette.
The family purchased high-end hearing aids that would help Clayson adjust to a new world of sound, but there was another concern. Since his condition centered within the inner ear, it was medically possible he could lose his full hearing at any time.
His mother went to work.
She was determined, that in despite of her son's condition, they would always be able to communicate. Josette put her former teaching background to work and homeschooled young Clayson as a four year old to read and write.
"I was not going to wake up one day and not be able to communicate with my child," said Josette.
"It was all 'hooked on phonics'. He was well prepared for kindergarten."
With the hearing aids, Clayson would have a typical grade school experience which included competing nationally in motocross. When he entered the sixth grade, Clayson made the decision to play tackle football in Orangefield's little league division; and his play flourished.
He would play quarterback and defense his seventh and eighth grade years; he was finding his groove. As a freshman, he would be Orangefield's junior varsity quarterback and would soon gain the notice of Bobcat head coach, Josh Smalley.
"As a player, you couldn't tell any difference from Clayson and the other players," said Coach Smalley, who was into his eighth year at Orangefield.
"To his credit, he doesn't show any liabilities on the field. Friday night you're trying to holler at him on the field, and he's not looking at you, he's not going to turn around, and then you realize, he's not going to hear us. You can holler all you want."
A three-year starter since his sophomore year, Clayson has developed into a bonafide playmaker. Earlier this year, the senior RB/FS had a career game versus Kirbyville. Clayson ran a rushing touchdown, two kickoff return touchdowns, and an interception return for a touchdown along with seven tackles and 83 yards rushing.
His performance would spotlight him across Texas with "Player of the Week" nominations from "Dave Campbell's Texas Football Magazine" and "Built Ford Tough," garnering statewide recognition.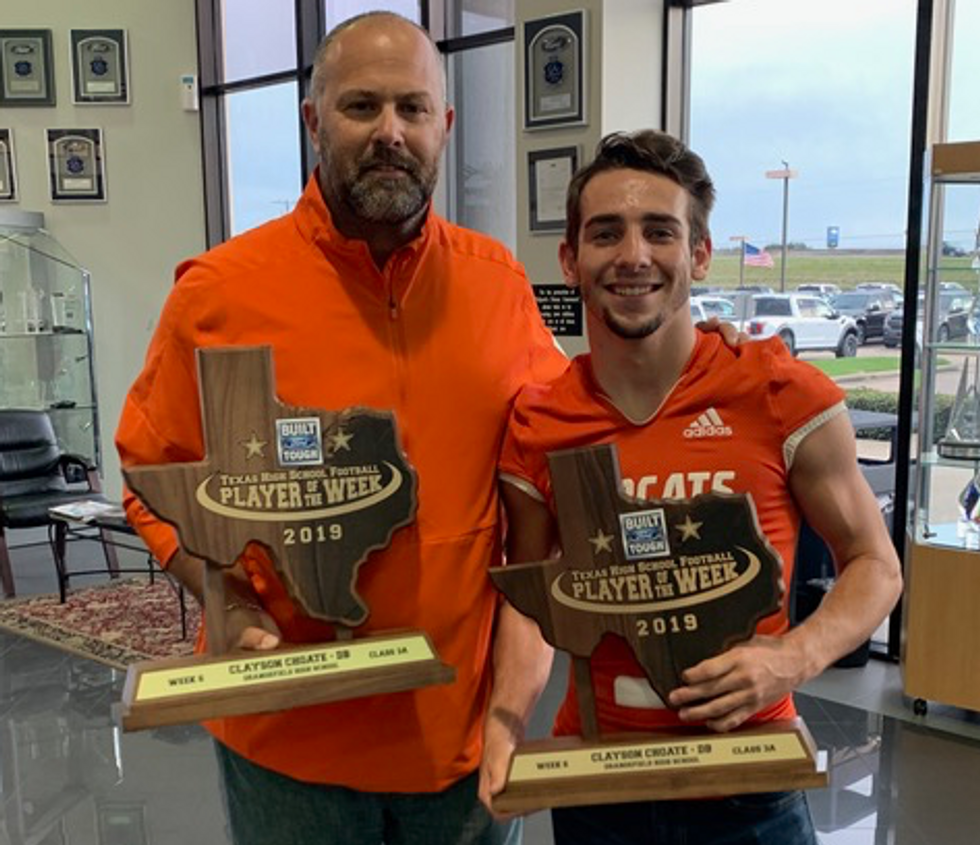 Photo From Darren Hoyland Photography
"This kid is not afraid of anything," said Coach Smalley.
"That's what I admire about him; he hasn't let the disability scare him. Whether it's riding dirt bikes or playing football, he's all in on whatever he does."
The support the community of Orangefield and southeast Texas have provided Choate is unmistakable. The community has been there to support his development as a football player and success as a student. Clayson is an honor student ranked in the top 15% of his class. He credits his coaches and parents for providing him with the tools to succeed at both football and academics.
"It was my decision to play sports and they supported me from the beginning," said Clayson.
"If I've shown interest in something, they've always been there to support me."
Josette credits her son's success to his desire to succeed and to the Orangefield athletics coaches for providing a family atmosphere and teaching Clayson the importance of a good work ethic.
She says, "Coach Smalley has done a tremendous job of building character through his program. We want to win, but also be gentlemen after that. All of the coaches have helped Clayson – the offensive coordinators, the defensive coordinators; they all have built him into who he is."
"The basketball coaches and track coaches all have pushed him into so many different areas. From little league to varsity sports, all the coaches he's been with have helped get him to the athlete he is."'
Southeast Texas brings with it a grit and texture of toughness built into the DNA of its residents. It is made up of helping neighbors and strangers rebuild homes after floods, surviving economic recessions, and showing pride in a football player with a silent disability. It is the epitome of "resilience in the face of adversity".
"People don't understand why we take vacation days to help neighbors knock out sheet rock when their homes are flooded," says Josette.
"We have our own hashtag here. It's #OFAM."
After graduation, Clayson wants to continue his football career, and says he is looking to play "anywhere I can".
The Orangefield Bobcats are currently in 3rd place in District 12-3A and play Friday night at Hardin.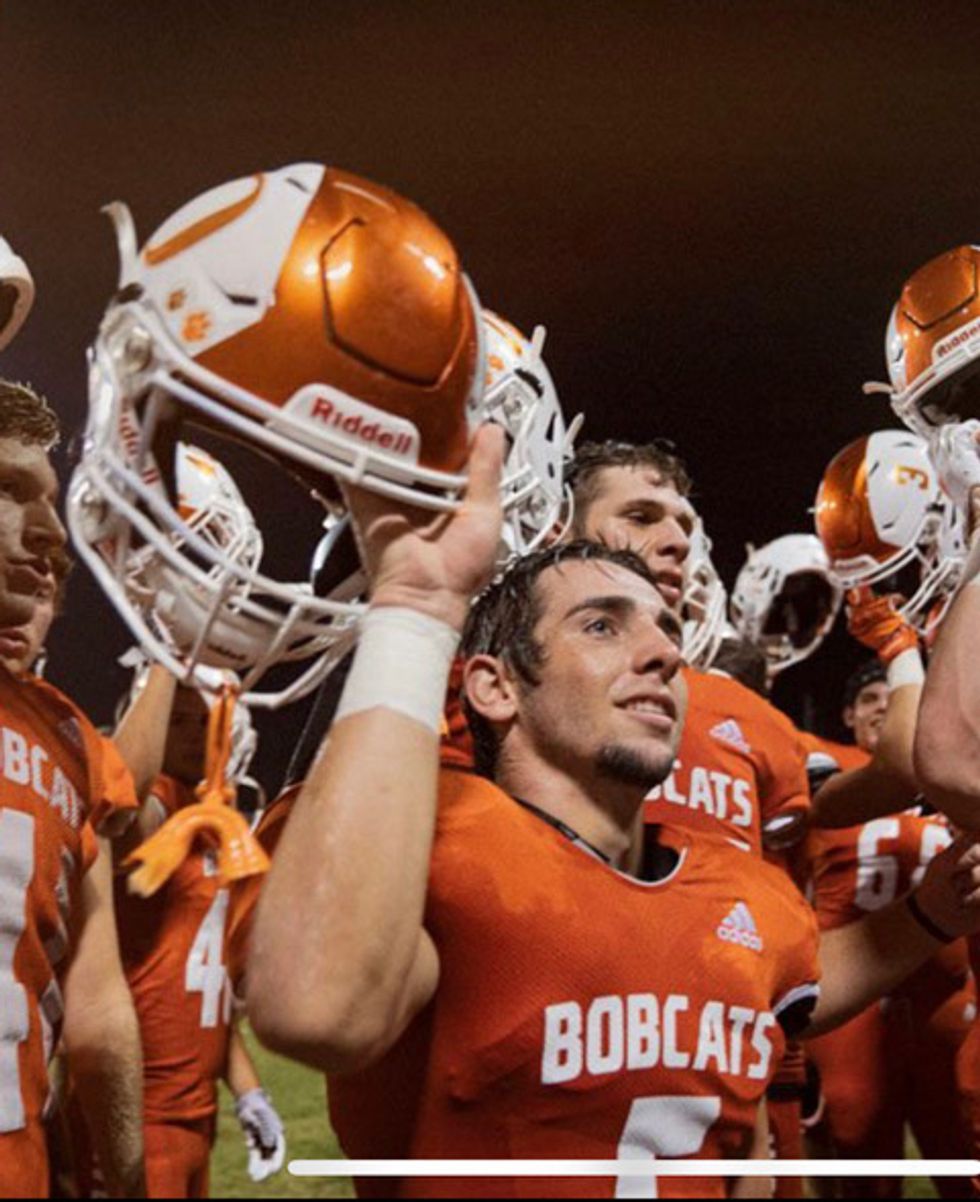 Photo From Darren Hoyland Photography