ALDINE ISD FALL WRAP; Nimitz has Surprise Season in Volleyball
Jan 18, 2023
(Vype)
ON THE HARDWOOD, THE NIMITZ COUGARS WERE THE SURPRISE TEAM OF DISTRICT 14-6A, ENDING THE SEASON IN THE SECOND-PLACE SPOT WITH AN 11-3 DISTRICT RECORD
.As a result of her team's success, Nimitz coach Shannon Harrison was named the Co-Coach of the Year and senior Mia Briggs earned the Outstanding Setter award. Holly Richardson was named Outstanding Hitter of the Year.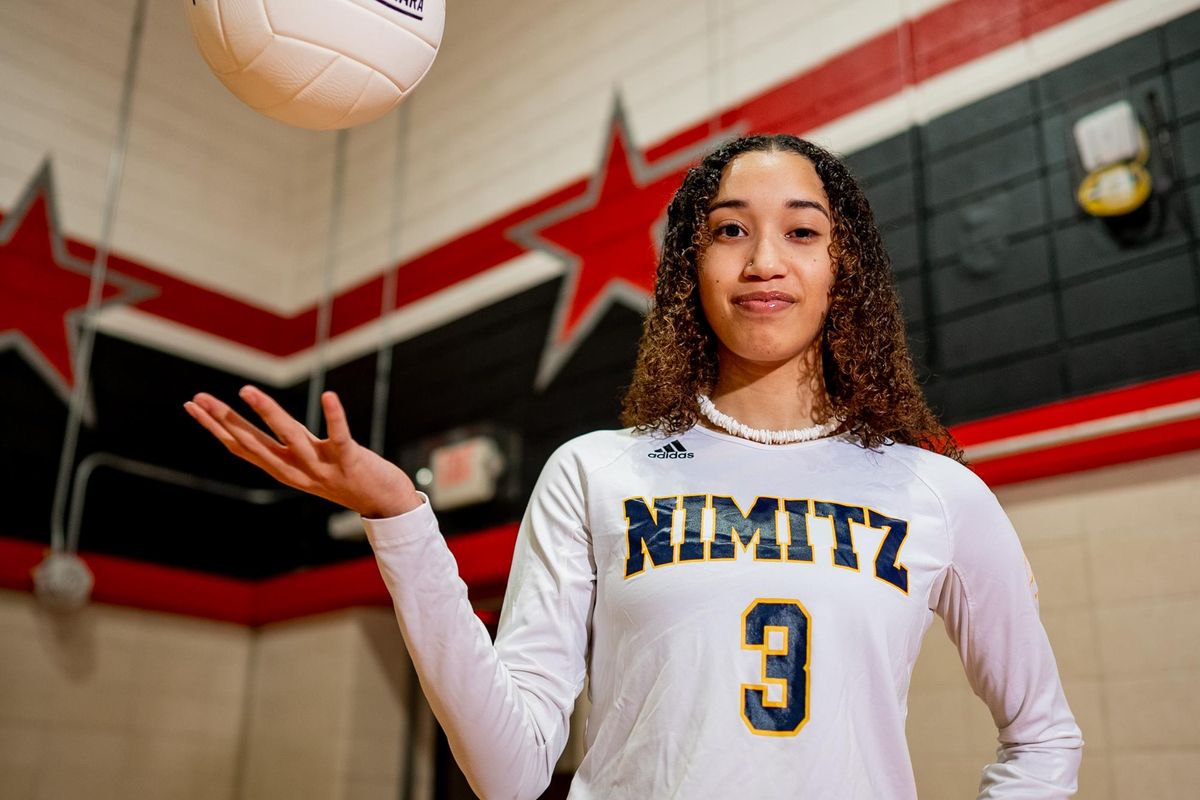 Nimitz's Mia BriggsDriskill (Vype)
Davis finished third in the district going 10-4 led by Ariel Andrade and Asia Davis. Both were first-team, all-district selections at the conclusion of the season.
MacArthur earned the final playoff spot behind the outside hitting of Jessika Martinez.
Eisenhower and Aldine tied for sixth in the district. The Mustangs' Elda Zuniga enjoyed a stellar season, earning Defensive Player of the Year honors.
POSTSEASON HONORS

OUTSTANDING HITTER OF THE YEAR: Holly Richardson, Nimitz
OUTSTANDING SETTER OF THE YEAR: Mia Briggs, Nimitz

DEFENSIVE PLAYER OF THE YEAR: Elda Zuniga, Aldine

FIRST-TEAM ALL-DISTRICT

Ariel Andrade, Davis
Asia Davis, Davis
Karisma Garcia, Eisenhower
Jessika Martinez, MacArthur
Gabriella Ruiz , MacArthur
T 'Asia Green, Nimitz
Malaijah Williams, Nimitz
Gisselle Cabieles, Nimitz
SECOND-TEAM ALL-DISTRICT

Veronica Cantu, Aldine
Tatiana Rodriguez, Aldine
Alayna Vincent, Davis
Erin Ferguson, Eisenhower
Choyce Washington, Eisenhower
Estefana Negrete, MacArthur
Jaden Harrison, Nimitz
Arriana Flowers, Nimitz