St. Pius X Magazine: Leading by Example
Jun 03, 2021
WALK INTO ANY SCHOOL DURING THE YEAR AND YOU WILL MOST LIKELY SEE PAINTED PAPER SIGNS PROMOTING THE NEXT FOOTBALL GAME, HOMECOMING EVENT, DANCE OR FIELD DAY COMING UP.
At St. Pius X, the hands on the paint brushes for those signs are students in Kimberly Holik and Katie Anderson's Student Leadership Class.
"It is a class where students are able to come in and do project planning, take surveys, have brainstorming sessions with each other about where they feel the needs are that the school should focus on to build school spirit," Holik said.
But just making signs isn't all that this class does.
The Student Leadership Class helps host food drives, toy drives, Teacher Appreciation Week, Red Ribbon Week, Orientation, Homecoming, Christmas and much more within the walls of St. Pius X.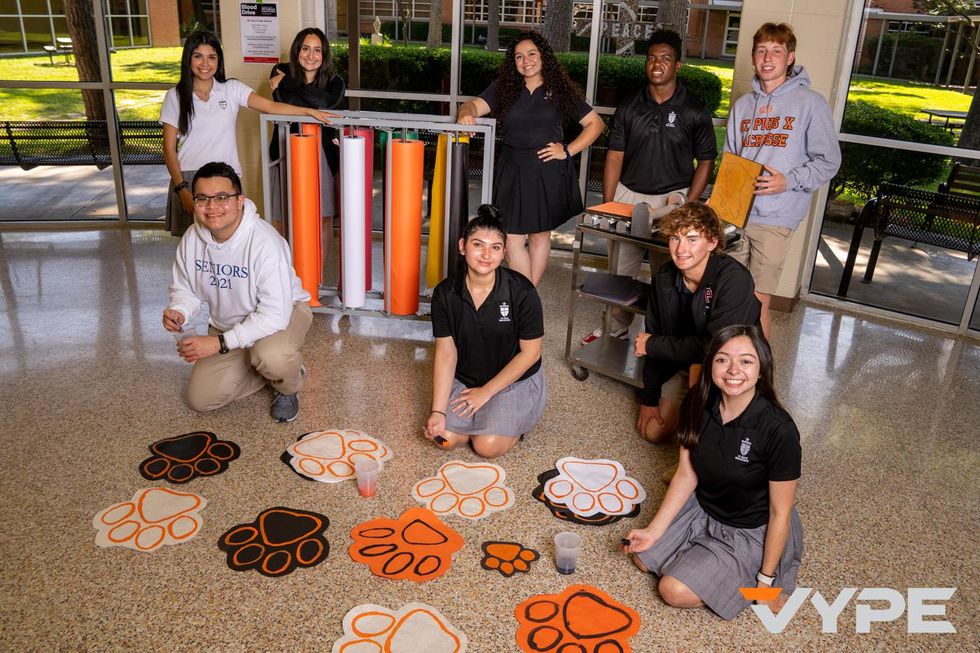 Some of the highlights from this year included a pep rally held at dusk in Kubiak Stadium with an obstacle course relay and different class competitions; helping Campus Ministry with their Fill the Bus initiative, which was gathering school supplies for a school damaged by a hurricane in Louisiana; a hand sanitizer drive and their annual field day.

"I love watching the kids come up with the ideas and seeing them make them happen," Anderson said.
One of the other big projects around the holidays is the Student Leadership Class helping put together and wrap presents for families that the SPX teachers have sponsored for the year. Due to COVID-19 protocols, they were unable to deliver the presents to the families like in previous years but still assisted with the project.
"I love it when I see that the kids feel good about what they produced and that the community says 'wow, this was awesome'," she said. "The kids know it was their efforts and their ideas that were put out there for everybody to participate, and they feel that it was worth their while. I also love it when I see them take charge and do the stuff themselves."
The Student Leadership Class is also used as a sounding board by school administrators anytime they are wanting to do something for the students. They will ask their opinions on the matter. So, Student Leadership is much more than painting a few signs.